We're all about getting organized digitally, but there's a certain appeal to writing down your plans in a gorgeous paper book that you can stick on your desk, or drop in your tote, then refer back to forever. These three customized day planners fit the bill for beauty, brains, and a little thing called never running out of batteries.
If you're looking for fewer doodads and calendars and more classic elegance, we want to pet the creamy Italian textblock paper inside these handmade journals from Oh Pangaea Books on Etsy. You get to choose your exterior from dozens of papers and designs, including book cloth, oilcloth, and linen. Each page includes the month, date, and twenty-two lines, which means that whenever you buy it, it's good for a full year.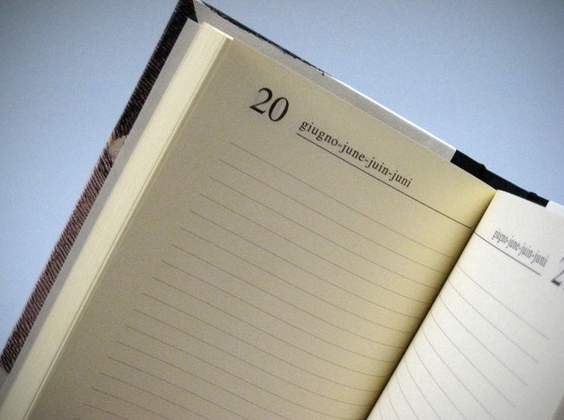 Calm, simple elegance, inside and out. Even if your house and life can't quite strike that note, Oh Pangaea's day planner is like a small island of beautiful tidiness in a sea of confusion. What, your house isn't a sea of confusion? Ahem. Just me, then.
Merging the two ideals of beauty and brawn in a day planner, this 2013 Planner from Plum Paper Designs on Etsy is highly customizable and cute as a button. You can choose between dozens of ready-made covers or design your own with a custom photo, then select from two weekly spread options and the month you'd like the calendar to begin. Add whatever text you'd like on the cover, and you've got an affordable planner made just for you. Plus, check the site for wedding planners, teacher planners, student planners, and meal planners, too.
For years we (and thousands of moms!) have loved MomAgenda, thanks to lovely design and sanity-saving tools created specifically for moms, by moms–but useful for anyone who has to juggle multiple activities, people, and jobs. They have tons of customizable exteriors and several price points from $21 to over $200 (if you need an embossed leather folio). You can insert a new spiral middle every year to reuse that beautiful cover, too.
And don't be scared by the name: MomAgenda planners aren't just for moms.
In short, if you need to plan something on paper, one of these options should have you covered. Slip that pretty book in your bag, and you don't have to worry about tiny fingers accidentally deleting something, or an iPhone in the toilet making you miss that big deadline.
There's a certain beauty to pen on paper, don't you think? –Delilah