Owls, foxes, hedgehogs. They've all had their day. But if you want to stand out from the creature crowd, we recommend narwhals. Not only are they adorable, but they're the unicorn of the sea!
And this one's handmade…and way affordable.
Which is pretty magical.
The Narwhal Necklace from oneeyeddog on Etsy is hand-sculpted and painted with several layers of glimmering gold, making each one unique. The wee narwhal is around 1.5″ long and hangs from an 18″ gold-plated chain.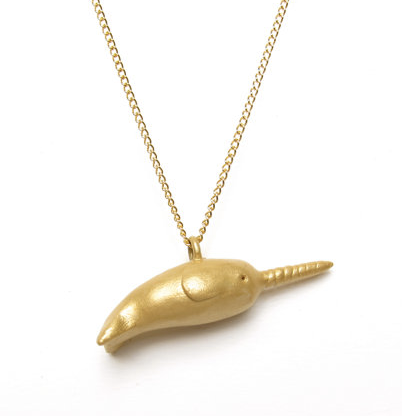 We can't promise the narwhal will actually be magic, although Vikings once traded their unicorn-like horns for gold. And did you know it's not actually a horn, but a tusk that grows only on the males and from the upper left canine tooth?
Top that, foxes.-Delilah
Find the Narwhal Necklace in the oneeyeddog shop on Etsy. If your narwhal will be a gift, there's also a special gift set that comes with a gold box and a card. And if you're still into foxes–and we can't blame you–she makes a fox necklace, too.