When the weather turns warm, I am on the hunt for fun new ways to get the kids outside–and off their various electronic devices. My latest find may be low-tech, but it's so high on fun, we're all waiting in line for our turn to play.
Slacklining is one of those new-to-me outdoor activities that's growing in popularity this season, as companies like Gibbon Slacklines and Slackers promote this sport for fun families hankering for more exercise and outdoor time together.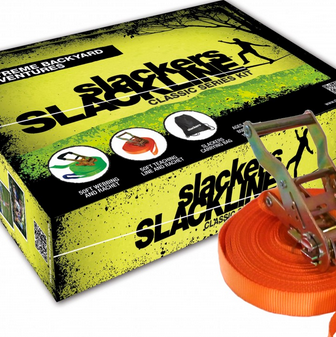 For families who are just starting out, I love Slackers' soup-to-nuts Slackline Classic Series kit which has everything you need to set up a line in just a few minutes. Just find a couple of trees or sturdy posts within 50 feet apart, wrap the traps around just a foot or so off the ground, and then tie the "leader line" a few feet above that. For us newbies, the leader line gives us all something to hold onto as we try to get our balance, pretending to walk the "highwire," 12 inches off the ground.
If you like options, check out Gibbon Slacklines which has almost a dozen 2″ slacklines, and a couple 1″ styles–apparently the traditional width for slacklining. Unfortunately, there are no 5-foot widths for people like me who fall off curbs.
While Gibbon's Funline X13 is their pick for kids under 12, older kids and teens may prefer starting with one of their bouncier styles like Jibline X13, which lends itself to more tricks. They also make super-long lines, like the Surfline X13, which is 98 feet if you've got a child who can stay on that thing all day long.
As a true tree hugger, I was concerned that all this slacklining could hurt the trees. It turns out I'm right. So I appreciate that both Slackers and Gibbon Slacklines sell separate tree-protection kits. (Keep in mind that carpet scraps or foam camping pads will do the trick too.)
With both company's lines able to hold more than hundreds and hundreds of pounds, there is little chance of overdoing it, even when my kids play "How Fast Can We Knock off Mommy?" Yep, they're having way too much fun with this. –Christina
Slacker's Slackline Classic Series kit is available on their website. Gibbon Slacklines 2″ and 1″ slacklines are available on their website as well.