I just finished spring cleaning my kids' bedrooms and, while I was able to part with many things, I held onto almost anything that had been personalized with their names. If you too find that personalized gifts hold a special place in your heart, then you won't be puzzled by my enthusiasm for something beautifully made–yet affordable–that could become a treasured plaything to hang onto for a long time.
We've loved TinyMe's colorful personalized labels, and we're also smitten by their adorable wooden jigsaw puzzles that come in a huge array of styles and colors.
The lovely muted color schemes and retro designs are one thing that make me think "keepsake" whenever I see the wide range of styles, most of which are also personalized with a first name of your choosing. What a great, unique birthday gift for a special child.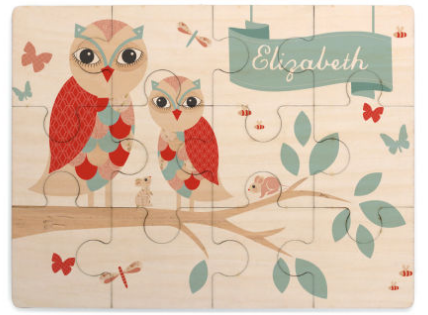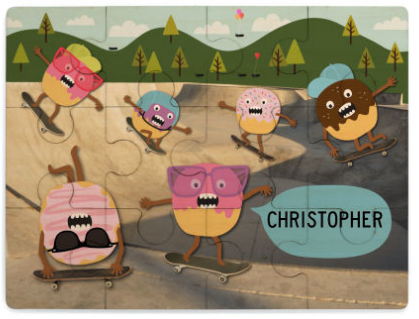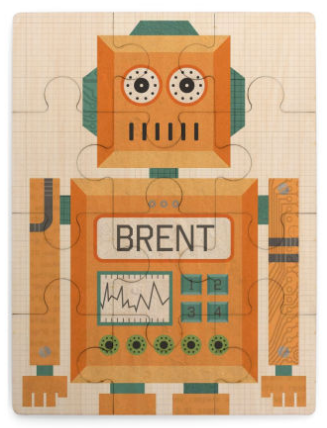 With almost two dozen styles, from cool race cars, to sweet woodland owls, to crazy cartoon skateboarding donuts (yes!), it's easy to find a style that would fit the child you have in mind. And I love that so many of the designs have a choice of color palettes too so you can decide if you want your robot in blue, gold, or red.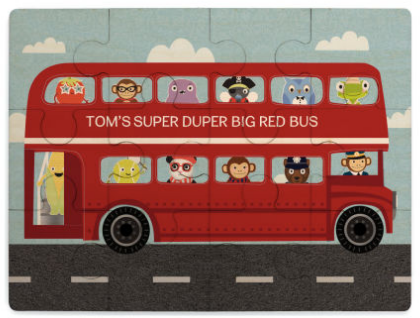 These puzzles come in two sizes and are made of lasercut plywood covered in non-toxic paint, making them suitable for kids one year old and above. I'd recommend that once your kids have moved on to more complex puzzles, I'd have the puzzle framed and hung in their room for some personalized wall art that will remind you of those days when chunky little fingers worked to fit the pieces together triumphantly. -Christina
Check out Tinyme's Wooden Jigsaw Puzzles at their website. But hurry! From now until June 23 (Sunday!), get $5 off any puzzle.