The heat of summer is on, so I'm turning the heat of my oven off. I'm bidding a temporary farewell to cookies, cakes and brownies until the weather cools down, but fear not, there's plenty of dessert to be had with these 5 no-bake, all-time-great sweets.
Icebox cakes, puddings, cheesecake, oh my! It's going to be a cool, delectable summer. –Stacie
This Strawberry Milk Cheesecake (above) from SprinkleBakes is proof that bakeless doesn't mean slacker. How gorgeous is this? It's a little bit involved, I'll admit, but it's also the perfect no-bake solution if you've got a summer birthday party coming up. And, if you're willing, skip store-bought and make homemade strawberry milk to keep the filling au natural.
Looking for something more appropriate for a BBQ than a birthday soiree? This No-Bake Greek Yogurt Cheesecake from Food Doodles is low-key perfection. I love the healthier take on no-bake cheesecake…and I especially dig that it only takes 20 minutes to prep.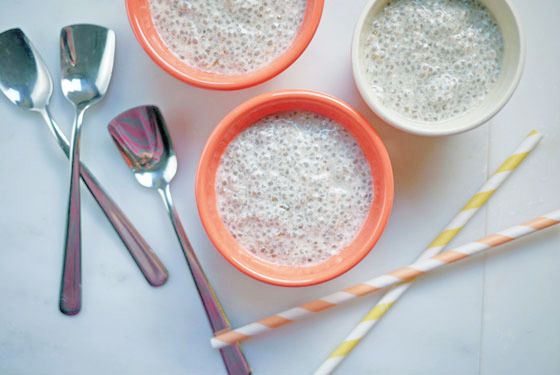 I can usually spare 20 minutes (especially to prepare dessert!), but when time is in short supply, I whip up this Coconut Chia Pudding from my own site, One Hungry Mama. Whisk together 5 ingredients, stick in the fridge for at least 3 hours, and you're done. I also make an allergy-free Chocolate Chia Pudding that calls for only two ingredients. Two!
When most folks think no-bake desserts, they think pudding, icebox cakes and frozen treats. This Thai Coconut Sticky Rice with Mango (one of my favorite desserts of all time) is a totally different take on no-bake. This version comes from She Simmers, one of the best food blogs around and a must-visit if you're interested in cooking Thai food at home. Be sure to scroll all the way down for several ways to prep the coconut sticky rice. I swear it's easier than it sounds and worth every minute.
Back to puddings and icebox cakes: this Lemon Cream Icebox Cake spied on The Kitchn looks amazing. The recipe is from Bakeless Sweets, the latest cookbook by The Kitchn executive editor, Faith Durand. Not only is Faith a fabulous lady, but she also knows her no-bake desserts and chose to feature this one from her book. That's enough to keep me non-baking all year round.