Despite all the water play of the season, summertime means extra bathtime for my kids to wash off the grimy residue of the day's sunscreen, sweat, and sand. To keep the kids company, long-time favorite Corolle offers plenty of dolls for the bath, and this new one is adorably suited up for some serious bathtub swimming.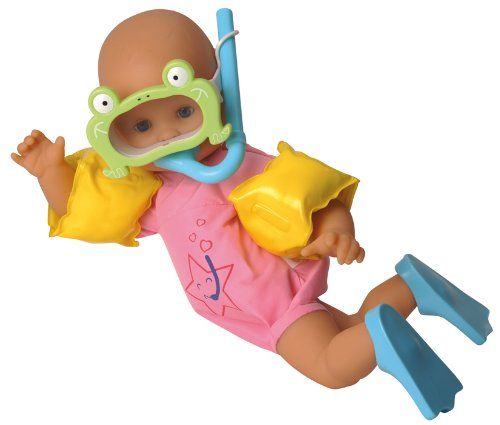 We've always liked Corolle, which make about the least creepy of all baby dolls. (Admit it: some are very creepy.) And since kids want to take them in the tub anyway, the new Corolle Mon Premier Bebe Bath Doll comes outfitted for snorkling in the tub with little flippers and a cute removable frog mask. As she's still a wee babe, she's also outfitted in water wings, though her soft, lightweight body will also float without them–pretty neat.
This baby doll can even do a little pool or salt water swimming, just as long as you give her a good rinse afterward. Best of all, she dries out quickly, meaning there won't be a whole lot of funk growing inside on these hot summer nights.
Another nice thing? Mon Premier Bebe Bath Doll smells deliciously sweet with Corolle's signature vanilla scent even before her bath. Which is more than I can say about my kids. –Christina
You'll find Corolle's Mon Premier Bebe Bath Doll for sale at our affiliate Amazon