My family and I are hitting the road soon and, having learned the hard way to never be caught empty-handed on a long trip, I'll be prepared with an arsenal of travel snacks. Ideally healthy ones. Since you might be traveling soon too, whether a flight across country or just an afternoon in the local park, I have tracked down 5 seriously genius and creative DIY ideas for packing travel snacks that kids will love.
You'll not only save money, and possibly back seat fights if you're driving, think of the time you'll pick up not having to stop at rest stops for refreshments between traffic jams.
TURN A TACKLE BOX INTO A SNACK BOX
Turns out a tackle box isn't just an essential for fishing, but for road snacks. Kristen at Dine and Dish shows us how to turn a clean tackle box–or, really, any compartmented box, like an art supply box or small jewelry box–into a DIY road trip snack box for kids. (At top.) Don't worry about the portions being small even if your kids are a little older. They all add up, and anyway, variety is the spice of life. Especially while traveling.
MAKE PEANUT BUTTER AND CELERY TO GO

This reuse of a jar to neatly pack celery and peanut butter from Thrive is pure genius. You can of course use a peanut butter alternative if your child is allergic, or go another route: substitute carrots and hummus, cucumber sticks and dip, even graham sticks and yogurt if you can keep them cold. It's all the same idea. And all smart. Though needless to say, this one is not TSA approved.
MAKE A CHEERIOS SNACK BRACELET

I love this idea of making a Cheerios snack bracelet–or, perhaps if you have older kids with bigger appetites, a snack necklace–for the road. Instead of making it ahead of time, I like that you can pack cheerios in a travel bowl or plastic bag, along with some string or a pipe cleaner so you can let your little one get crafty and snacky herself. (Provided you don't mind picking up a lot of Cheerios off the floor mats later.) Yay for a travel snack that doubles as a time killer.
DIY MARSHMALLOW CONSTRUCTION KIT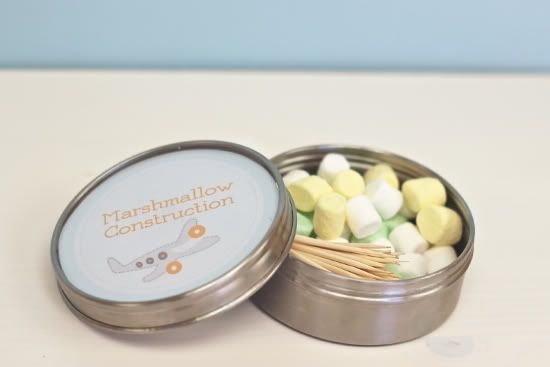 Okay, this one isn't particularly healthy, but what a fab idea from Polkadot Prints to pack a marshmallow construction kit with plenty of extra marshmallows for snacking and playing. A snacktivity to the travel day rescue! Just be careful of toothpicks if you've got toddlers.
DIY INDIVIDUAL SNACK PACKS

The ladies at Eighteen25 came up with this clever idea for DIY individual snack packs using clear take-out containers and basic baker's twine. Fill each container with an assortment of packaged snacks and–here's the best part–a Ziploc to be used as a personal garbage bag (yes!). You can of course save more money by individually wrapping portions yourself. Sharing not required, which might be the smartest part of all of this, and yes, everyone got the same thing so stop fighting back there.