I can totally justify buying new things to decorate my kids' rooms if they're useful. And we're all huge fans of bins for storage. That's why I'm completely falling over these adorable Japanese storage solutions from an awesome online shop. I might even clean up while my kids are at school, just for fun. (yikes)
Remember the cute unicorn and gorilla storage bins we mentioned a couple weeks ago? Well, now My Sweet Muffin (possibly my new favorite online shop) has brought us some sweet and functional designs from Japan that will make your heart–and kids' rooms–happy.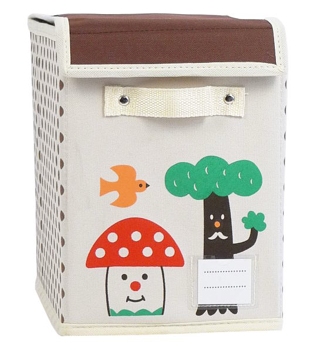 Their Small Collapsible Storage Box ($29.50) is canvas with metal rivets and a clear vinyl pocket on the front, so you can put your kiddo's name or list the contents of the box, if you're type-A like me! I love the canvas flap that covers the top, so just in case they happen to get action figures into the cars box, it won't drive me crazy! (deep breath)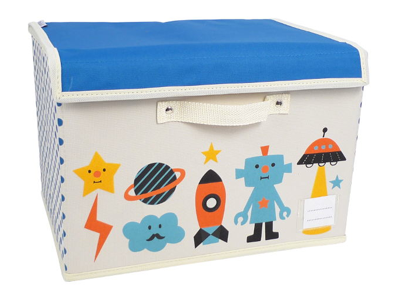 They also have a Large Canvas Box ($42) to accommodate those bigger trucks, dinosaurs, or Fancy Nancy dolls that you can't quite shove into the smaller cubbies. As with all of their storage boxes, you simply pull out the bottom panel and they store flat. And the designs are pretty gender neutral, which we always appreciate–like this robot design which also coordinates with the cute robot lunch containers we featured in our back to school guide this year.
I'm also loving this Kids' Shoe Rack! How smart is this? Your kids can easily put their own boots or tennies away, and the vertical orientation is brilliant–a total space saver. It's available in white (with a bird), green (frog), pink (bunny), or this cute little blue elephant for $32. –Kate
Check out all these goodies and more at MySweetMuffin.com. Trust me, you'll love it all.