I still remember opening up my lunch each school day and looking for something sweet from my mom. While nothing could beat a handful of chocolate kisses or a few homemade cookies, a "sweet" note tucked in between the sandwich and apple often did the trick.
That's why I've rounded up a bunch of cool printable lunchbox notes–and okay, a couple that you can purchase but they were too great not to share. They're so easy to include on those days when you think your kids could use a little treat, minus the sugar
Great for hanging off a bag of treats, I love the look of the lunchbox notes gift tags (above) designed by West and Main Design. Plenty of room on the back of each note to pen your own special message too. (free printable)
Related: From bookmarks to lunch notes, 12 motivational printables to help send kids off to school with a smile
Skip to My Lou's Printable lunchbox notes are cute, colorful, corny ('Dino'mite!), and so full of love, they are bound to make your child smile, even if they aren't too psyched about turkey-and-cheese, again. (free printable)
These cheerful and free printable lunchbox notes from Paper Crave for Living Locurto  are so easy to print onto cardstock. With seven different styles, there are enough messages to include in several days' lunches, whenever you think your child could use a little midday boost. (free printable)
Related: The cutest lunch box notes, whether your kids love Star Wars, Pokémon GO, or Dr. Seuss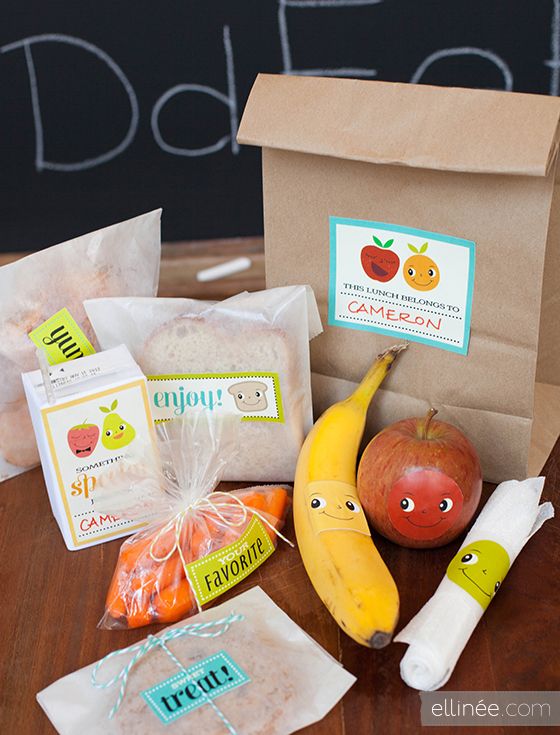 Ellinee's entire set of printable lunch stickers could turn a ho-hum lunch into something special. I especially love the smiling fruit stickers and the perfectly sized juice-box label. Just print out the sheet onto a full-sheet label, or you could also print them onto plain paper and affix with double-sided tape. (free printable)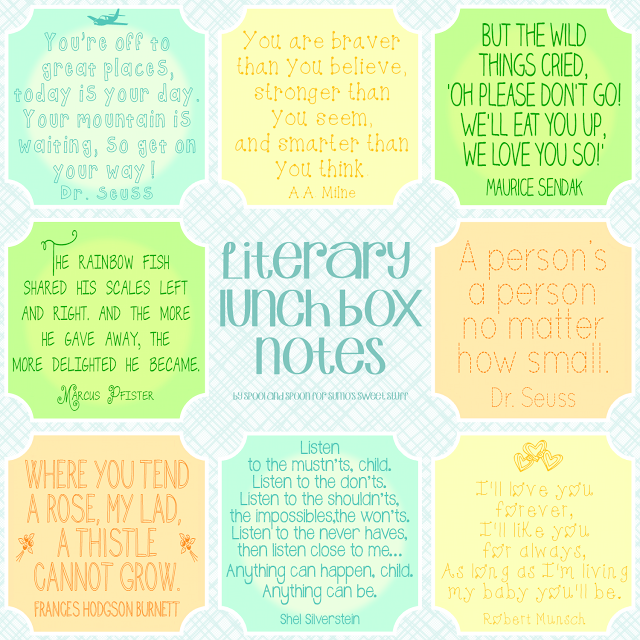 My book-loving heart goes pitter-patter for Spool and Spoon's printable literary lunchbox notes. With quotes from Shel Silverstein, Dr. Seuss, Maurice Sendak and others, each note offers up food for thought, like A.A. Milne's "You are braver than you believe, stronger than you seem, and smarter than you think." (free printable)
My young Jedi would love to find a little Star Wars lunchbox printable tucked next to his Wookiee cookies (heh.) Make sure you remind him that Luke always finished his carrot sticks before a battle. (free printable)
Related: The coolest back to school printables: Lunch notes, planners, labels and more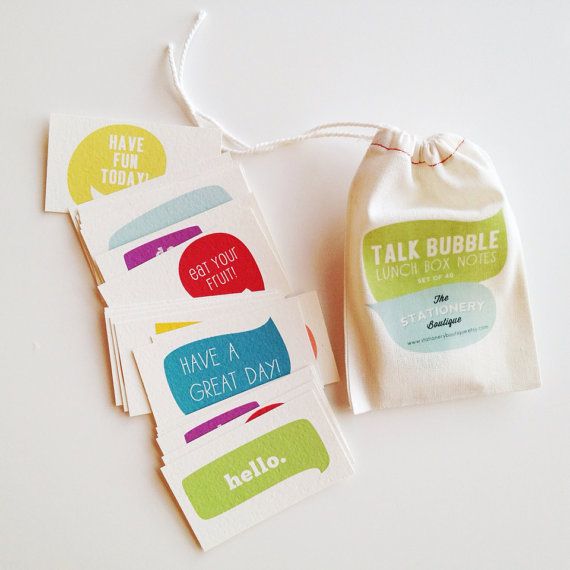 No time to download, print, and cut individual notes? Then check out the ready-to-go Talk Bubble lunchbox cards from Stationery Boutique. Ten different phrases say everything for you, or take a pen and include your own special note on the back. (40 cards for $25)
Perhaps one of the most clever lunchbox notes I've seen, Inklings Paperie's scratch-off notes take just a minute to assemble. I love that you write the message, so they can be as topical as "Good luck on your math quiz!" Each set of 20 notes comes with scratch-off stickers, and everything fits into a little muslin bag that you can keep in the same drawer with the lunchbox supplies. (20 notes for $15)
Don't miss the lunchbox notes, and other treats, we featured in our recent roundup of Best Lunch Containers for Kids (and other goodies that make lunch boxes more fun) in our Back to School Guide.