Back to school time isn't just about shopping! (Not that there's anything wrong with shopping, of course.) One of our favorite annual traditions is sharing our favorite back to school printables that help make the school year easier, more organized, and just more fun. This year, we're sharing 22 favorites, most of them free!
And we're so pleased that this year's Back to School Guide is made possible by our terrific partner BIC, who's celebrating handwriting through their Fight for Your Write campaign. (And you all know how much we value handwriting, parents.) Visit the site, sign the pledge to encourage handwriting at home like we do, and they'll even donate a pen or pencil through AdoptAClassroom.org, to help support classrooms in need.
Besides, you'll be needing some new pens and pencils to fill out all these printable calendars, color these doodle pages, and sign your kids' lunch box notes, right?
Other Back to School Guide Posts:
– Cool, colorful school supplies to make September a little more fun
– 34 of the coolest lunch boxes and bags
– 23 cool backpacks for teens and big kids
–22 of the coolest preschool backpacks for little kids

Free printable lunch notes by Tiny Me 
We've found tons of cute printable lunch box notes over the years, but Tiny Me, makers of some of our favorite custom lunch boxes and cool personalized backpacks for kids offers a nice selection of free printables from time to time, including these. Check their blog for plenty more options.
Free printable lunch box notes by West and Main Design
We also love the fun gift tag shape and the clean, modern design of these printable lunch box notes, which makes them a favorite around here that we love sharing every year around this time.
Free printable fill-in-the-blank lunchbox notes from 100 Layer Cakelet
For a totally different take, we named these notes from Good on Design among our 16 favorite free printable lunch box notes for kids last year, and they're still a favorite! Kids can color them in themselves, or you can go to town drawing silly faces, funny family portraits, or your kids' favorite cartoon character to greet them before they dig into that sandwich.
Printable Weekly Planner by 505 Design 
Of course a new calendar or planner is a must, and this Etsy artist offers a lovely, affordable option that we could hang in any room of the house. Great for keeping the kids' schedules and after school activities straight, use as a chore chart, or put it to use as a simple meal planner.
Free printable weekly planner by Wild Olive
We also found a free weekly planner thanks to the talented Mollie Johanson of Wild Olive. This rainbow honeycomb design is available for printing absolutely free in a full page or half page size, which is so convenient.
Printable chore chart sets from Pixels and Company
For just $3, this PDF set by Gennifer Bursett comes with six chore charts in 11 different colors and 3 styles — one for each member of the household perhaps? One is even editable so you can print it out with a kid's name or set up a weekly list of chores and print out of them all at once. (In our dreams.)
——–
About our partner
Who here believes in the importance of handwriting, raise your hand! (Well, as long as it's the one you're not currently writing with.) Visit the BIC Fight for Your Write campaign, sign the pledge to commit to handwriting practice in your own home, and one pen or pencil will be donated to a classroom in need through AdoptAClassroom.org.
——–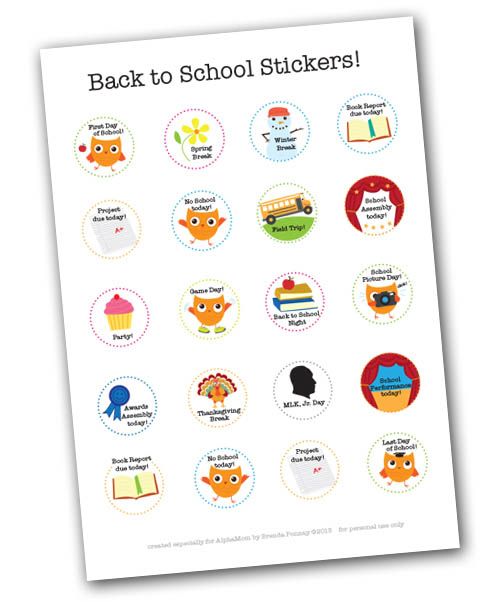 Free printable date stickers for back to school at Alpha Mom
Whether you're using a printable calendar or any wall calendar or date book at all, these free, kid-friendly printable stickers are so fun for getting it organized. Your children can add their own important dates, events, and vacation days from the first day of school to the last.
Free printable morning routine cards from Living Locurto
In our post featuring helpful tips to get kids to school on time, we discussed setting up some kind of morning routine list or chart that even young kids can follow. One simple way to get it going is with cool printable cards like these, which can be stuck to a magnetic board at eye level, then handed to you as they're completed, or put into a basket by the front door.
Free printable bookplates for kids by Orange You Lucky 
To customize your kids' books or notebooks, not sure we've come across free printable bookplates as awesome as the set of four from talented illustrator Helen Dardik. How lucky we are that she's made them available free of charge at her blog.
Free printable personalized bookplates for kids by Alpha Mom 
We are so smitten with these adorable new free printable bookplates, created by Cindy Hopper for Alpha Mom. The best part (besides the super cute woodland creatures) is that the downloadable file is easy to edit so you can type in your child's own name. Or, leave it blank and let them write in their own names for a little extra handwriting practice.
Free printable lunch box jokes by Handmade Charlotte
We admit we're giggling at these cute jokes (some of which you may remember from your own childhood!) that you can pop in your kid's lunch box to make the first few days a little more fun. Just scale them to size, print them, then cut and pop them in with the sandwiches.
Free printable optical illusion lunch box notes at Mr. Printable
We know our older kids would go nuts for these fun, trick-your-friends optical illusions cards. And hey, they get a little science lesson in there when you start talking about impossible shapes and peripheral drift patterns. (P.S. Dare you to try and stop staring at the spinning circles card.)
Free printable kawaii bookmarks at Wild Olive
Also from Mollie Johanson come these adorable kawaii style bookmarks. The ruler and pencil (and yeah, the bandage) are totally perfect for back to school season. But seriously, who can resist a slice of bacon holding your place in Junie B. Jones or Captain Underpants?

Free printable coloring bookmarks by Alice and Lois
If your kids are crafty, let them grab their favorite set of watercolors, colored pencils or markers and decorate their own bookmarks. If it turns out really great, you can even have it laminated.
Free printable binder cover coloring pages by U-Create Crafts
For older kids with required binders, one way they can make them their own is with doodles. Two different designs are available for free download, including more traditional back-to-school icons and then — our favorite — one with emojis, text-speak, high-tops and hearts.
Free printable school supply labels by BIC
BIC actually has a whole series of printables for back to school time on their Fight For Your Write site, including these cute labels that help make sure that what goes to school comes back from school!
Free printable back to school labels by I Heart Naptime
Another option are these cute generic labels you can use for any items at all. Her site comes complete with printable sheets of labels in different colors, and directions for which labels to use.
Free first day of school printable signs by How Does She
In our post on 5 creative ways to capture a first day of school photo, we found these cute free printables that help you mark this year — or any year. Print them all and start an annual tradition if you haven't already.
Another choice: These fun free printable first day of school signs by Elegance and Enchantment for Remodelaholic which are ready to print for every school year, preschool through 12th. Though good luck getting your high school senior to pose.
Free printable foreign language alphabet flash cards by Mr. Printables
If your kids are starting to learn French, German, Danish, Portuguese, or even tighten up their English, there are super cute sets for all of them at Mr. Printables that are perfect for learning some alphabet basics.
Free printable alphabet coloring pages by Lost My Name Book 
Also for younger kids brushing up on alphabet basics, these alphabet coloring pages designed by real children's book illustrators are some of our very favorites. Print out the whole alphabet, or just the letters to make up your child's name. The PDF comes with all 26 letters covered.
Free back to school party printables by Printabelle for Catch My Party
The beginning of the school year is cause for celebration for a lot of reasons, and if you're planning a get together for classmates or new school friends, this free set has everything you need from invitations to treat toppers to a welcome sign for your front door. There are also non-party goodies, like the lunchbox notes shown here, and bookplates. For an extra $3 you can even have the designer customize it with your child's name — but it might be cute to add a classroom name. Ms. Greiner's 4th Grade class party, anyone?
Thanks so much to our amazing 2016 Back to School Guide sponsor BIC, who's celebrating handwriting in fun ways through their Fight For Your Write campaign. Visit their site for more info.