I'm always looking for cool ways to preserve my kids' artwork. Sure, we've got plenty of it taped up in the kitchen, plus boxes of the really great stuff stored in the hall closet. But now my kids are going to be able to sleep with their favorite drawings at night as they transform into stuffed animals. I'm not sure who's more excited, me or them.
We've found services like this before, with companies like Art2Believe and My Pretty Monsters and now there's one more (because there can't be too many): Budsies.
Budsies is pretty sensational. The company started because one big sister wanted her little sister's artwork to become a keepsake she could play with. So she turned children's artwork into stuffed animals using her little sister's drawings, word got out, and Budsies was born.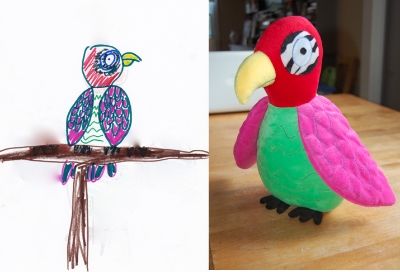 It's easy: You load a digital image of your child's favorite drawing on a simple drag-and-drop screen. Just in case your toddler's artwork is like mine (um, what the heck is that supposed to be?), they have a section for you to clarify your Picasso's artistic intentions (I swear, it's a cow).
You can also give them special instructions–for example, when I tried it out, my daughter didn't want the bird stand in her Budsie, just the bird. Then their seamstresses make them from hypoallergenic material and inspect them all for loose parts to make sure your littlest ones are safe. Yay.
When our Budsies arrived, my kids were so excited. They tore into that box like it was Christmas morning. The bird and the green guy turned out amazing–I really think they look just like their drawings. And my kids are so proud–my daughter took hers to school right away to show her art teacher!
I highly recommend having your child write your name on the drawing–I love having that little-kid handwriting on there as a nice little touch.
My littlest guy's self-portrait was a pretty tough one to interpret, and they did a good job…except that he's supposed to be a boy, something I maybe should have clarified with my order. Still, when I pointed out the mistake to the Budsies folks, they went above and beyond with some of the best customer service I've ever experienced. Nevertheless, I recommend being very detailed in your description or let your child customize one of the templates they provide so it comes back perfect the first time.
Be forewarned: because each piece is handmade, the wait time for your Budsie to arrive is 4 to 6 weeks–admittedly a pretty long time for a little one to wait. If you're thinking holidays, I'd order ASAP. But can you think of anything more worth it? –Kate
You can upload your child's artwork or check out some template suggestions at Budsies.com.