Every year, without fail, I discover that we are missing at least one of my three kids' trick-or-treat bags. I'm not sure where they go, but I think there is some sort of black magic involved. But this year, I'm not going to sweat it since I've found a bunch of cool ways to turn regular, boring old bags into something fit for going door to door tonight. And they look better than that pillow case yanked off a bed. –Christina
Turn any black bag, paper or cloth, into this Mummified Loot Bag (above) with some first-aid tape taken from the medicine chest. (I know my kids would love to do the wrapping themselves.) In a pinch, I'd just grab some googly eyes from our craft stash, or even hand-draw some eyeballs on cardboard and stick them onto the bag.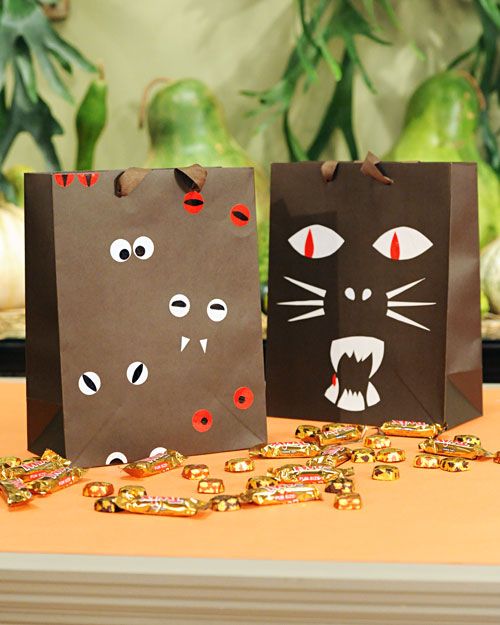 Plain gift bags look extra cool after Martha Stewart transforms them into these Reflective Trick-or-Treat Bags. Using reflective tape, available at most hardware stores, a Sharpie, and her printable templates, let the kids create something totally unique. I love that car headlights will bounce off the tape designs, making it easier to see your kids as they run down the street.
Duct tape and reflective tape together make cool racing stripes on large brown grocery bags for a trick-or-treat bag that will hold a ton of candy and still help your child be seen by vehicles in the dark. Extend the stripes to form super-sturdy handles on your bags, because there is nothing worse than total bag failure when you are a block from home. D'oh.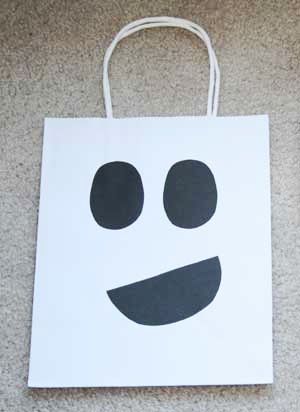 This Ghost Trick-or-Treat bag is so easy (and inexpensive) to make, I wouldn't care if it disappeared after the 31st. With just a white bag with handles and some black construction paper, your kids will be ready to go. If your kids expect to bring home a huge stash, you could even recreate this with a white pillow case and a black Sharpie or fabric paint for something more permanent. (Hint: stick a piece of cardboard between the sheets if you don't want the color to bleed through.)
My trio would love to help turn gift bags into a toothy pumpkin, scared ghost, or not-too-scary Frankenstein's monster. Faces are drawn on in black marker, making these so easy to prepare even if you are about to run out the door. Leave the handles on, since they'll need something to hold on to as they go door to door, or use some duct tape to fashion handles in a pinch. We've got loads of other Halloween ideas, from easy dinners to last-minute costumes, in our Halloween collection.