"Let life be merry" with gorgeous literary temporary tattoos that let you flaunt your favorite books without needles or accidental misspellings. We're big fans of Litograph, since we first discovered their awesome literary tees. And now they've launched Litograph literary tattoos via a hugely successful Kickstarter campaign.
There are some great classics on the list, each quote made even more powerful and pretty through hip design and modern typography. Shakespeare, Jack London, Jane Austen, and Sir Arthur Conan Doyle (for you Sherlock fans) are all represented. The Litograph creators have even perfected their designs and technique by working with a Hollywood FX studio to create temporary tattoos that look real.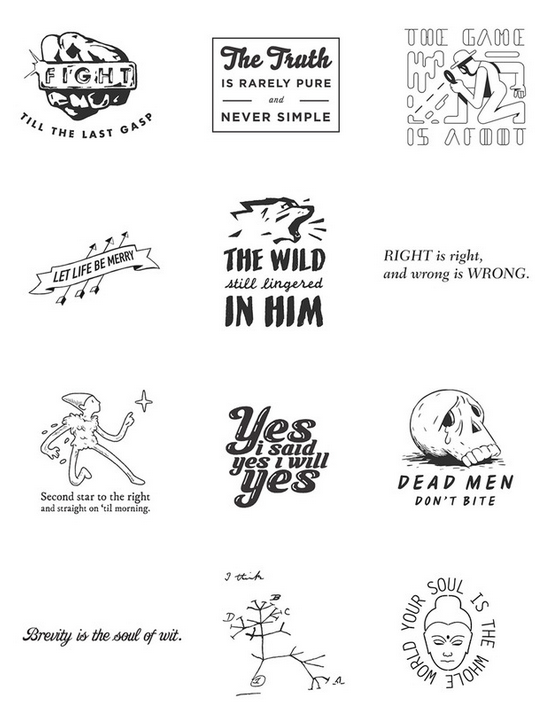 The Kickstarter runs through August 21 but has already been completely funded, so basically you're now just buying the tattoos you want. (Not that they'd turn down the extra funding to bring more coolness to us.) A $3 contribution gets you one tattoo, and $30 gets you all 15.
I was super excited to share their attempt to make the World's Longest Tattoo Chain by printing and shipping the entire text of Alice in Wonderland, one each, to the first 2500 backers…but it's no surprise that so many enthusiastic Alice fans have already snatched up those rewards. Fortunately they're now doing the same with Through the Looking Glass.  Sure beats "Mom."
Check the selection of Litograph literary temporary tattoos on Kickstarter. The campaign ends on August 21, and tattoos are scheduled to ship in November. Also check out the very cool Litograph t-shirts if you don't want your favorite quote to wash off in the shower.