While yes, you can–and I have–let the kids go to town on that plain canvas pencil case with Sharpies, I've been on the lookout for cool back to school crafts that might be more fun and interesting. And I do mean cool ones; I spent ages really combing the web for craft ideas that look fantastic, they're not ridiculously hard to do, and none of them suck up to the teacher with something with an apple painted on it. (Save that til holiday time, eh?)
This is the kind of stuff we'd gladly buy, but if you have the inclination, some of the most brilliant crafters and bloggers on the web show you just how to DIY.
And let me just say I'm more of a "put washi tape on a notebook" kind of a crafter, so if you're looking for perfectly Pinterest-ready custom backpacks made from 132 individually hand-cut appliques, this is not the spot. Simple, functional, fun and easy? Have at it.
DIY Duct tape binders for back to school: Tutorial at Aunt Peaches

We are so impressed with how well these turn out, especially if you use several styles and patterns of tape in different widths. Since our kids hate "matching" things anyway, what a perfect craft for them to personalize their school supplies.
DIY Mini Taxidermy Pins: Tutorial at And we play

With backpack decoration all the rage, not to mention toy taxidermy, we're dying over these mini taxidermy pins that are pretty easy to make and hey, if these animal head embellishments last past November we'll call it a win. One of my favorite cool back to school crafts for older kids, for sure.
Personalized pencil case: Tutorial at Madigan Made
Swap the duct tape for washi tape at a craft store, or just shop for the now ubiquitous Scotch Expressions tape or Martha Stewart Crafts paper tape.  This is a great way to turn a simple bag or plastic box into something more special, as well as functional.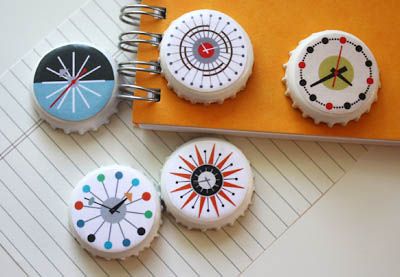 DIY mid-century clock magnets: Tutorial at How About Orange
To keep things organized on a magnetic board or the fridge, these simple decorated bottle caps look fantastic! That's thanks to the free printable clock graphics, in case you were expecting to need to hand paint each one. Or hey, just find inspiration with the basic tutorial, then let your kids go to town with paint or permanent markers. You know that they always love the stuff they make themselves the best.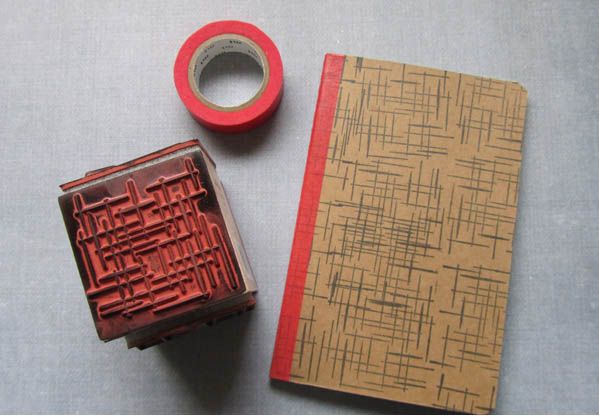 DIY mid-century notebook: Tutorial at Joy of all crafts

A plain, inexpensive craft notebook plus some stamps is all you need for this easy craft. Even our preschoolers would love it, whether they are going for mid-century results, or something more… different–like trees and birds and a random letter B, because that's all we can seem to find in our stamp box these days.
DIY chalkboard t-shirts for kids: Tutorial at The Crafting Chicks
If you're a make-your-own t-shirt kind of a person, it's hard not to be totally taken with this fairly easy how-to, that creates a homemade version of the number of chalkboard tees we were so taken with a while back. If you're not comfortable with a child's name, an initial, drawing, or super hero name would be awesome too.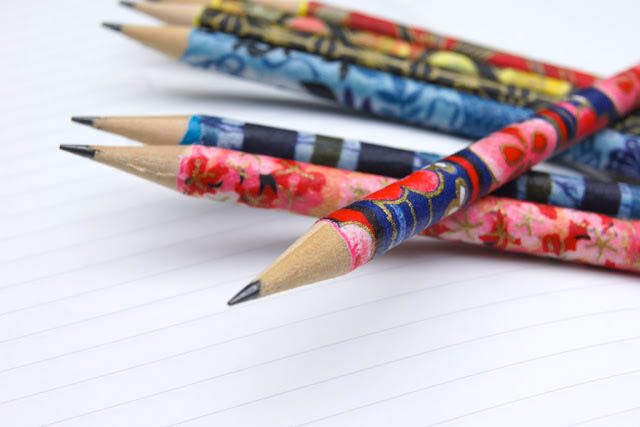 DIY pretty washi tape pencils: Tutorial at Omiyage Blogs Pretty Crafty Things
While I love the cool wrapped literary pencils that Delilah recently found, check out this tutorial if you want to do something similar yourself. If you pick the right paper, they look stunning.
DIY custom backpack and bag tags: Free printable from Anders Ruff
With the free custom printables from our friends at Anders Ruff, just type your kid's name into the template, print, laminate, and you're done. If you don't have a laminator at home, take it to your nearest Kinko's or Staples. There are four fun designs that can help ensure that backpack makes it home at the end of each day.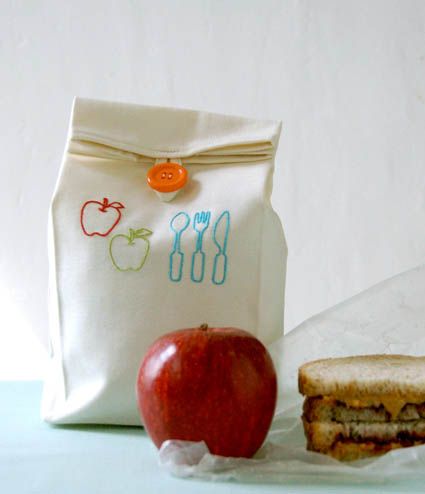 DIY embroidered lunch bag : Tutorial at The Purl Bee
You embroiderers and sewers are probably already well familiar with the fantastic tutorials at The Purl Bee, and we love this sweet, eco-friendly lunch sack, just in time for back to school season. I might suggest starting with a color other than white though. Just a thought.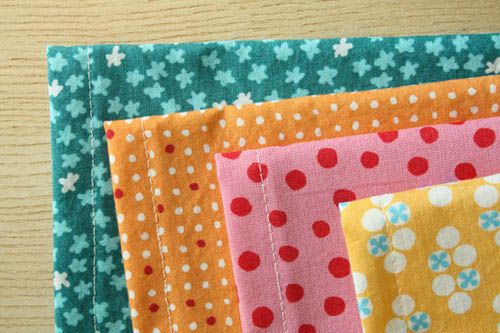 DIY lunchbox napkins: Tutorial at Alpha Mom
Believe it or not, some of us around here have managed to transition to more eco-friendly cloth napkins in our kids' school lunch boxes, and if you have enough on hand it's really no more difficult than popping in a paper napkin. This easy tutorial at Alpha Mom can help get you going. Let your kids pick out the fabrics and they'll feel more invested in this easy project–and their lunches.
A DIY dry-erase wall with Idea Paint
When we first told you about the launch of Idea Paint, which turns any wall into a white dry erase board, we knew it was something big. Five years later it comes in multiple colors including black, and even a clear coating so that you can paint it over any sealed, non-porous surface including stained wood, painted drywall, plastic, metal and more. We love how you can make a calendar right on the wall, or turn the entire wall in your kid's room into a creative work (and doodle) space.
DIY LEGO Minifig cord organizer
I have been dying to do this ever since I first saw it on Cool Mom Tech. Turns out a LEGO Minifig's hands are the perfect size to hold an iPhone or tablet cord. Just add some Sugru to the back of a desk and everything is awesome.
 Looking for more back to school ideas of all kinds? Don't miss our 2014 back to school guide!