We all know that apples shine in sweet recipes for tasty apple snacks and delectable apple desserts, but this versatile fruit also rocks the dinner table. And not just in salads, I'll have you know. There are lots of ways to use apples in all three meals of the day. Here are 8 of my favorite apple recipes for dinner.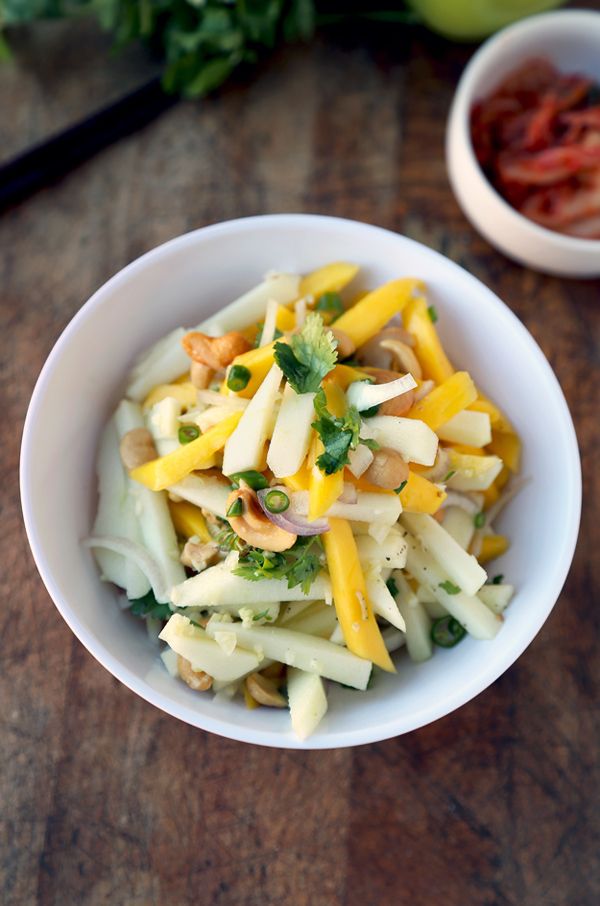 In salads, apples are often paired with blue cheese, walnuts, fennel, or kale, which is why I love this unexpected Spicy Thai Mango Apple Salad at The Pickled Plum. It's refreshing in concept and taste, and can be turned into a complete dinner simply by adding chicken or shrimp. If you want to keep this tame for your little ones, just reduce or skip the Thai chilies.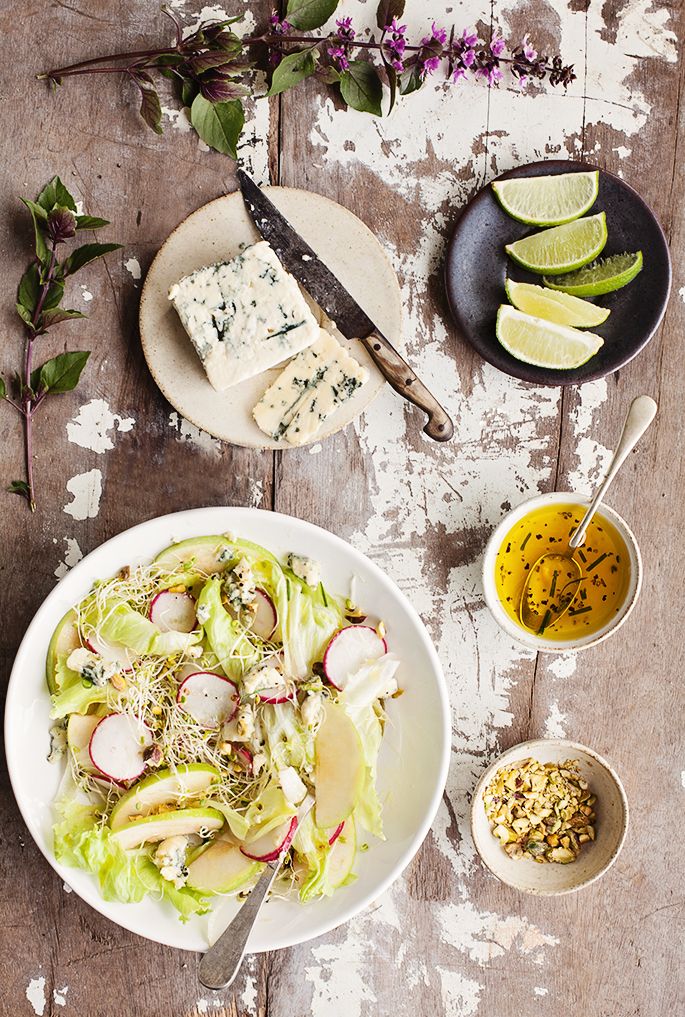 This fresh Green Apple Salad from La Casa Sin Tiempo is a more traditional take on apple salad, with radishes, iceberg, and Gorgonzola. The addition of sprouts and pistachios gives this gorgeous salad a nice twist.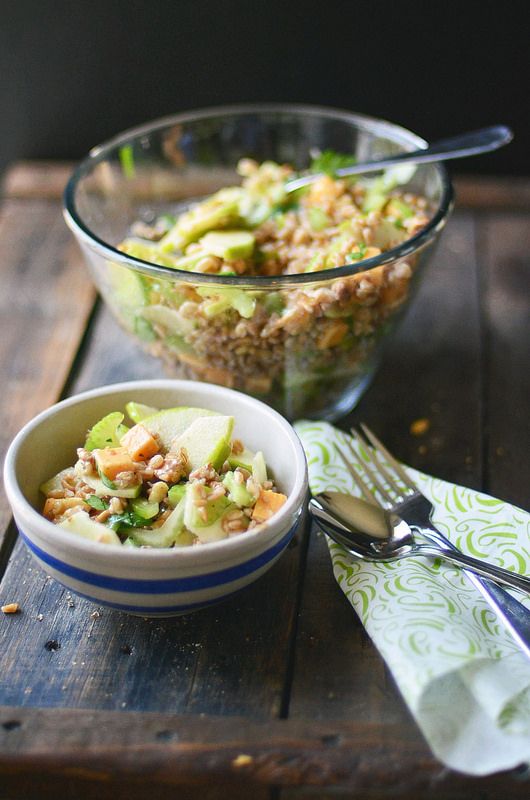 Farro, Cheddar, Walnut, and Apple Salad from Fork vs. Spoon is the way to go if you're looking for a hearty salad that can double as dinner all on its own. It also makes a nice side dish, and make sure to have leftovers if this is the kind of thing your kid would eat for school lunch. Or save it for yourself; it's a perfect, healthy midday meal.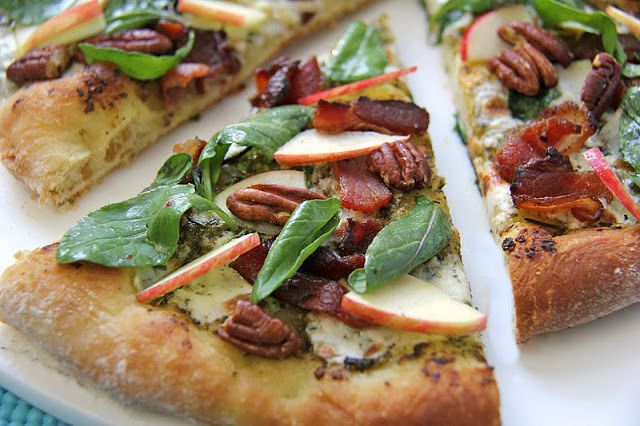 This Pesto, Bacon, Arugula, and Apple Pizza from The Cafe Sucre Farine (also pictured at very top) is an elegant and inventive way of using apples at dinner. You can't go wrong with this brilliant combination of salty and savory ingredients that pair so well with apple, all piled onto pizza dough.
I love serving Chicken Milanese, a tasty grown-up dinner that the kids think of as chicken fingers, because it makes everyone happy. It goes great with a plain arugula salad, but I'm digging this seasonal Chicken Milanese with Green Apple Salad from Just a Taste. The addition of a Granny Smith apple adds a bright flavor without adding much cooking time; Kelly says that this meal can be on your table in 30 minutes.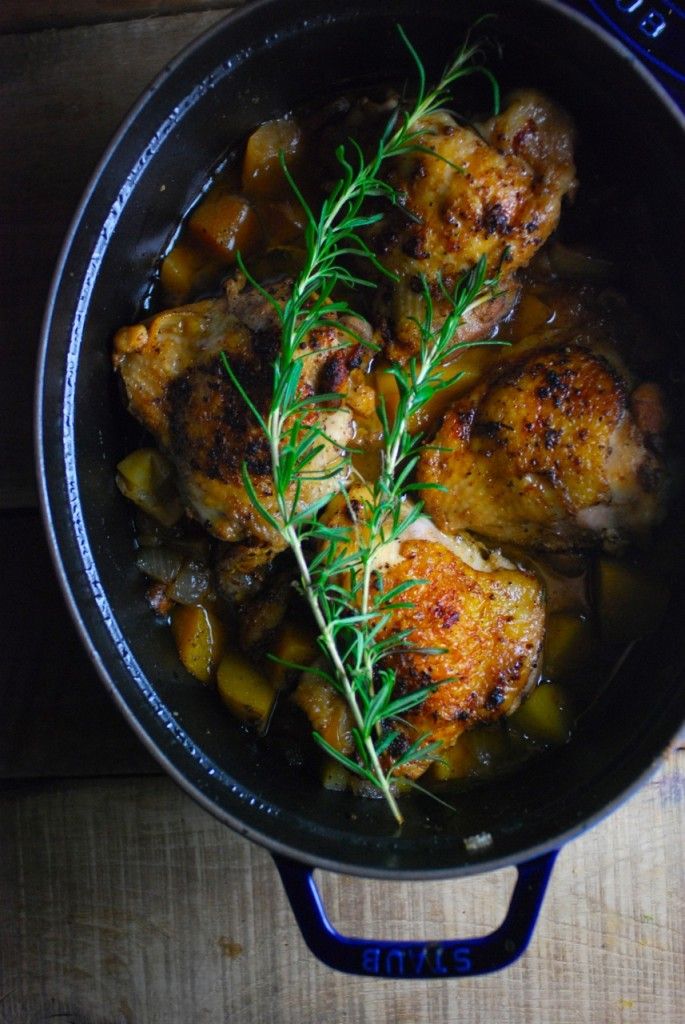 Pan Roasted Chicken with Apples and Fall Vegetables from Three Beans on a String is fall food perfection. The recipe takes a little longer to make (about an hour), so you might want to save this one for the weekend. Can you think of a better Sunday family meal than this chicken cooked with mushrooms, bacon, wine, apples and fall veggies? I absolutely cannot!
These Apple Cider Sage Pork Chops with Caramelized Apples from Good Life Eats are a nice way to pair apples with meat in a quick weeknight meal. Katie makes her dish using a flavored butter starter, but I promise that this will taste just as good if you substitute regular butter or olive oil.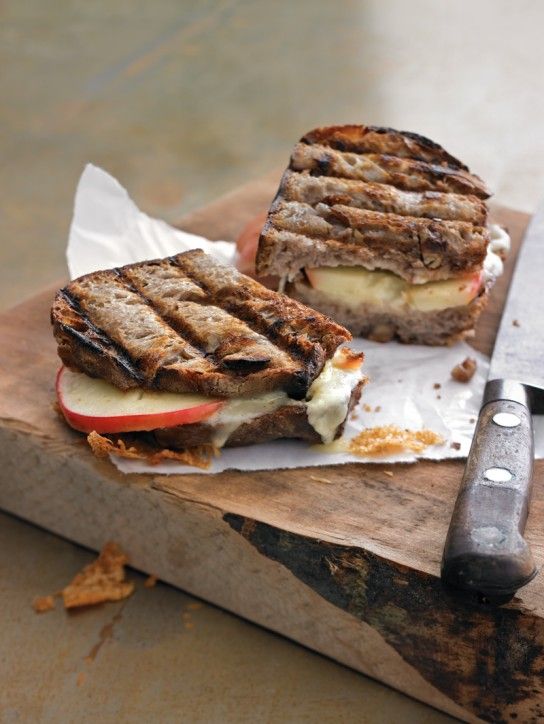 As quickly as you can pan sauté pork chops or throw together a salad with grilled shrimp, sometimes dinner needs to be make-a-sandwich fast. That's when it's time to pull out this Apple and Cheddar Panini recipe from Taste, the Williams-Sonoma blog. This recipe only calls for four ingredients, so the higher the quality, the better the taste. At the end of the long day, though, use whatever apples, cheddar, and bread you have on hand. It's hard to do this wrong.
Visit our food board on Pinterest for more delicious inspiration.