Halloween parties may be the most fun for me, because there are just so many cool Halloween party ideas, especially for kids. Instead of just going with a standard "Halloween" theme, you can get more specific and find a theme that lends itself to creative decor, invitations, activities, and of course, lots and lots of snacks. So we've taken the time to track down tons of ideas we love, starting with a monster Halloween party.
Of course monster means something really different when you're seven than when you're 17, so with these ideas, we're erring on the side of your younger kids actually being able to sleep again at some point before they're college-aged. If you've got younger kids who aren't quite ready for seriously scary monsters, fly past Elmo, avoid the licensed Monsters Inc. stuff, skip the horror movie grade stuff, and instead enjoy these ideas for invitations, decor, activities and of course, snacks to help you create a super memorable monster party for Halloween.
Monster Party Invitations
For one, I'm in love with this printable Monster Halloween invitation from Pesch Designs that guests can assemble themselves into an actual 3D creature.
If, like so many of us these days, you're more of an online invitation sender, the Party Monsters e-invitation at Paperless Post is colorful perfection for a child's party with a lighthearted monster theme.
For something more traditional, this monster party invitation at Minted is about the cutest monsters can get. It's designed for a birthday party–perfect if you have an October baby–but since you can customize it, you can change the wording to be about Halloween, and the designers can even change the age to a '14.
Monster Party Snacks and Food Ideas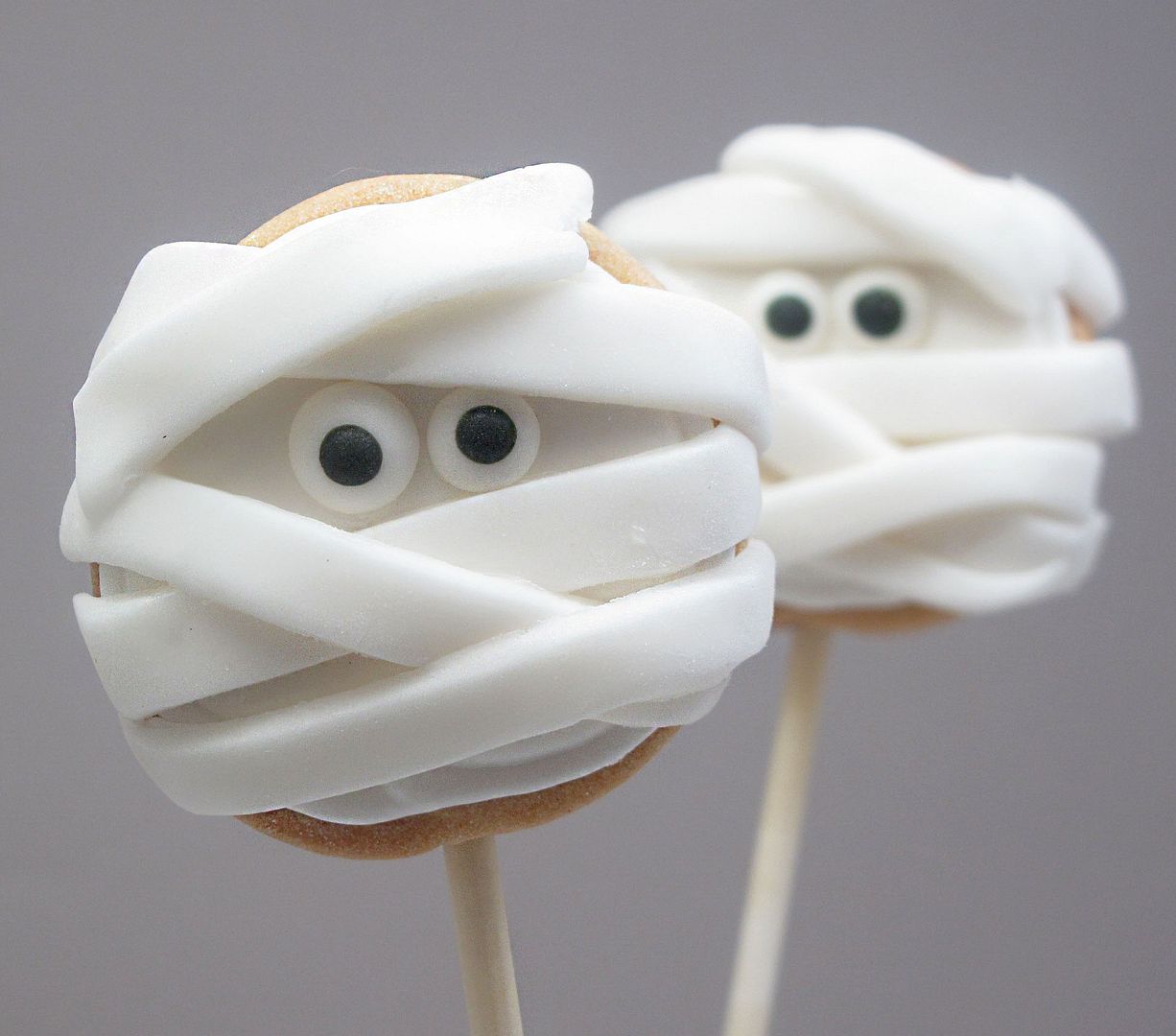 Snacks are the fun part with this kind of theme. Because with the addition of googly eyes, nearly everything is a monster. Like the monster eye cake pops at The Barefoot Baker, or the Mummy Cookie Pops we fell in love with last year from The Decorated Cookie, which is even easier to make.
For slightly more sophisticated sweets, I love the Monster party treats at One Charming Party, featuring macarons and mini cupcakes. You can even buy store-bought then just embellish with your own little edible peepers.
Of course you might want to eat something that isn't packed with sugar (maybe) in which case, I dig these monster party sandwiches found on Jen's Own Road – even if my kids would take the olives right off the bread and refuse to eat any part of the bread that touched said olives. The key to the success is cutting the cheese and once that's done…easy.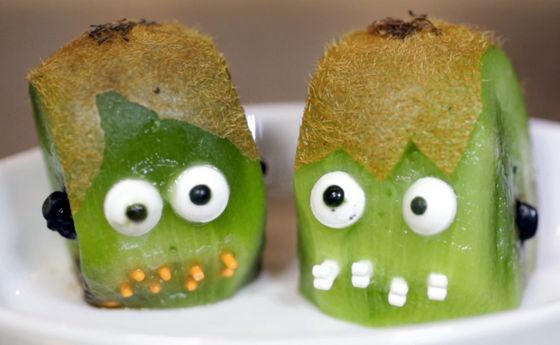 If you have a mind to sneak in a healthy treat, how fun are these DIY Frankenstein Kiwi Snacks from our own Stacie Billis?
Hostess with the Mostess has a ton of downloadable monster party printables around a Monster Mash theme that are more cute than creepy. I think the water bottle wraps are particularly fun, to keep your own monsters hydrated and healthy.
There's also this terrific DIY for Halloween juice boxes – you just need to tape them up like mummies and add–right–googly eyes.
Monster Party Activities and Decor
Be sure to decorate the house with monsters of all kinds, whether the kids make them or you go for store bought. As far as DIY projects, I've seen a lot of knock-offs, but the original DIY Monster Wreath Craft from Jill at Baby Rabies is just fabulous. (Also, why the knock-off crafts you see around the web aren't nearly as good.)
How great is this DIY monster board made from plywood, on the blog Pittr-Pattr? It doubles as decor but makes such a fun photo opp idea. Use instant film and you can even send kids home with their pics.
The second most popular spot at your party, besides the snack table, might be a photo booth. We have tips on how to make your own photobooth, then just add printable monster party photo booth props like this charming set from Cherry Imprint Design.
There are so many monster crafts and activities you can download like coloring pages of all kinds, and even color-your-own printable Frankenstein mask–this one from She Knows is one of the friendliest I've seen. Set it up on a table with lots of crayons or washable markers and let the kids go nuts.
Monster Party Favor Ideas
It's easy to make your own DIY monster goodie bags, as you can tell from these, spotted on Repeat Crafter Me.
I'm so taken with the so-cute-it-hurts monster party favor box DIY from the Minted blog.  Kids can help decorate them, then fill with your favorite disgusting gummy creature of choice.
For non-edible favors, think beyond the snack-packs. You can fill your bags with goodies like pencils, craft supplies, stencils, or temporary monster tattoos from our friends at Tattly. I also love these Frankenstein soaps from Etsy's LoveLeeSoaps which smell like lime and and are about the cheeriest reanimated monsters ever.
Another super creative idea: This adopt-a-monster favor  I've seen on a few blogs, like Meet the Dubiens, that only requires a basket filled with Ugly Dolls. They can be as affordable as $5-8 each on Amazon, too. What a perfect way to end a kids' monster party on a decidedly unscary note.
Be sure not to miss our Halloween Coolness Pinterest Board for more Halloweeny ideas!