Every year, my family looks for cool ways to decorate Easter eggs that doesn't require crafting skills far beyond what I have myself — which is not much. That said, my kids adore the tradition and love experimenting with new ways to play around with decorating eggs. As for me, I like them to look pretty when we're done. (I've never been one for all those stickers that come in the egg-dyeing kits.) So I've tracked down 17 really great tutorials that are all about color and pattern, but that the kids can still have fun with on Easter Sunday without getting too fussy.
Related: 20 of the best, easy, artful Easter egg decorating ideas that look very very impressive.
Oh, hello awesome glitter dipped Easter eggs. Could this idea at Frugal Mom Eh (she's Canadian) be any cooler looking? And yet, so easy. It's the right balance of fun for the kids, but pretty enough to gaze at until you start to ask yourself how long you should be keeping those Easter eggs around.
My stepfather is a purist. He only wants simple, solid colored eggs in the brightest color possible. At Urban Comfort, I found a really comprehensive, simple chart for using Rit Dye in the right combos if you want to know how to make vibrantly colored Easter eggs the traditional way.  If ours come out half as nice as hers I'd be thrilled.
Another way to color your eggs if you like them bright bright bright is via this tutorial on making neon dip-dye Easter eggs at Oh Joy. It's actually simpler than it looks, if you can be patient enough to wait for each layer to dry. I may or may not be that patient.
If you prefer a single color over a whole rainbow of eggs, German site Living at Home has neat ideas for decorating easter eggs in monochrome accents using bright label printers and tapes. Cool, right?
Similarly, you can wrap an Easter egg with thin masking tape in various patterns, before dying in a single bright color then remove the tape. (Unless you understand German, just be sure to click the little "translate" button at top of your browser, and get ready for instructions like the best hand that holds the egg, protect it with a glove.)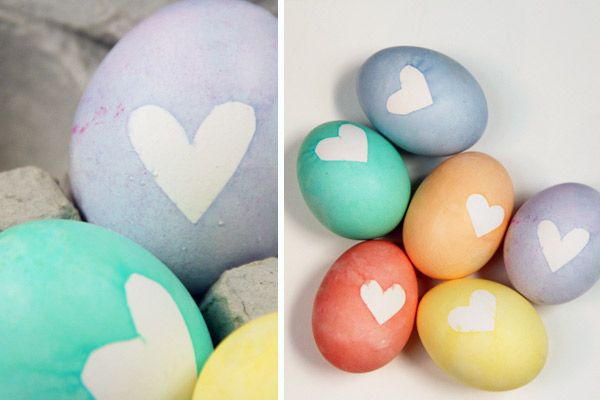 Last year, we discovered this adorably simple DIY heart cut-out Easter egg idea from The Sweetest Occasion. You can make the color as subtle or vibrant as you'd like, but it only requires stuff you have around the house, which is my kind of craft project.
Haeley at Design Improvised has a really clear DIY for decorating Easter eggs with stencils. She applies the second layer of paint with a nice foam brush for great results, but I might break out the colored Sharpies. Which is why she's the design pro, and not me.
If you love the look of naturally dyed eggs, I am so taken with the pretty cabbage dyed Easter eggs tutorial at Design Mom. She has a super clear DIY on site for making the dye with regular red cabbage, then playing with the timings to get that create various shades of vibrancy. Plus, you have to check out her beautiful photos.
For even more ways to dye Easter eggs naturally, we have a comprehensive tutorial from natural dye-from-the-garden expert Chris McLaughlin. If you've got ingredients as simple as red and yellow onions, beets, turmeric, and berries, you have so many amazingly beautiful, natural colors at your disposal. Plus it's a fun science lesson for the kids. #TeachingMoment
 Related: 9 ways kids can decorate Easter eggs without dyeing them
Keep your fingers crossed for good weather on Easter, because it would be so fun to get outside, and go all Jackson Pollack on your eggs with these splatter paint Easter eggs from Squirrelly Minds. Be sure to wrap the kids in aprons and old t-shirts; this one is going to be messy.
Speaking of messy — just a little — at Hello Wonderful, I found these awesome watercolor Easter eggs. it's so refreshing to find something that's not impeccably styled and symmetrical, right? I especially love her ideas because the more imperfect your kids make them, the more perfect they are. Perfection is overrated when it comes to crafting with kids.
For an alternative to just painting with those watercolors (and nothing wrong with that), I am so drawn to these easy painted watercolor Easter eggs from Teri Lyn and Jenny of Spoon Fork Bacon — who you might recognize as the culinary masters behind so many of our favorite recipes. I bet even preschoolers would have a great time with this cool Easter egg decorating idea, dripping the different colors carefully over the eggs with plastic spoons. Be sure to follow her clear instructions carefully.
At the Pink Doormat, she brings to life one of my favorite easy dyeing techniques, crayon resist Easter eggs. My kids really dig the fun of doodling on the eggs with the crayons, then dunking them in the dye to create contrast. You can also use the bottom of a plain white wax candle which we've been known to play around with too.  She offers some inspiration for egg designs, but I am sure your kids will have their own creative ideas. (Guaranteed one or more of ours will end up with the word fart on it. Sigh.)
Related: How to hard-boil eggs perfectly.
And here's another way to decorate Easter eggs using a white wax crayon, from Rainy Day Mum. Easiest for even the smallest of hands.
I have not tried this idea from Only Deco Love, but I'm fascinated by the premise that you can dye Easter eggs using whipped cream. It imparts this gorgeously pastel tie-dye effect.
Also in the pastel realm, I like this lovely pointillistic-inspired painted Easter egg tutorial from Leslie of Color Me Pretty, created for Decor8. It's really a matter of touching a fine-tipped paintbrush to the eggs in a series of dots until it feels like an impressionistic painting. And of course a lot of that has to do with the soft color choices. (Monet eggs, anyone?)  Leslie offers full instructions that are definitely worth a read, because I think kids would have a lot of fun with this
Also from last year's great Easter egg decorating ideas, is this smart idea from Lovely Indeed. All you need is a gold metallic paint pen, the dye and then…eggs. They're especially gorgeous when you work with all shades of one color, though knowing my children, that's about as likely to happen as them actually eating any of these eggs in the first place.