Easter egg decorating ideas have risen to a whole new level what with Pinterest Easter ideas and all. I've been a holdout, still sitting at home with my kids popping dye pellets into cups of vinegar, mostly because I've been afraid of how complicated these new egg dying methods seem to be. But thanks to some amazing bloggers who've come up with fantastic free printables and tutorials, we can come close to achieving glossy magazine level artistry, even if we don't have a crafty bone in our bodies.
I'm planning to try a couple of these easy Easter egg decorating ideas with my kids this year. My goal was to find ones that are simple enough to be more fun than frustrating. Who's with me?
Note: For many of these ideas, you'll want to get tattoo paper for the printables. Blogger How About Orange recommends Silhouette brand tattoo paper which can be found at our affiliate Amazon.
Really Easy Easter Egg Decorating Ideas
This cute thumbprint Easter egg idea at Childhood 101 is simple and fast. Very little kids can  participate by putting thumbprints on the eggs, and parents or older siblings can draw in the other details. The options are endless.
Photo: Christina Refford @ Cool Mom Picks
Coloring & decorating Easter eggs by hand may be the easiest idea of all. If your kids like to draw, just hand them some markers (permanent seem to work best), stickers, gems, etc. and let them go wild.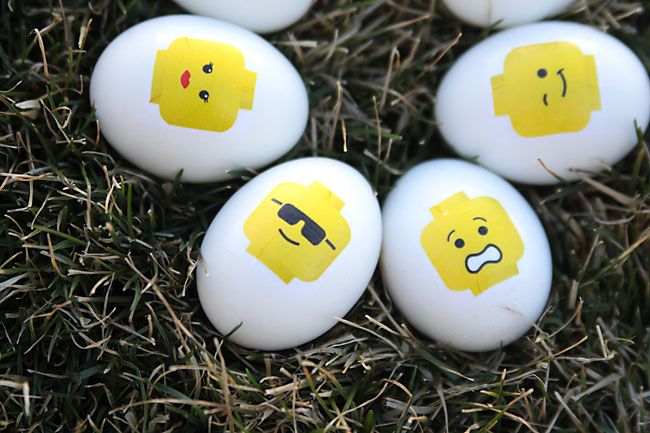 There's a big trend of printing designs onto tattoo paper and transferring to Easter eggs. Our kids are going nuts over these DIY LEGO Easter eggs–free printable included, thanks to It's Always Autumn.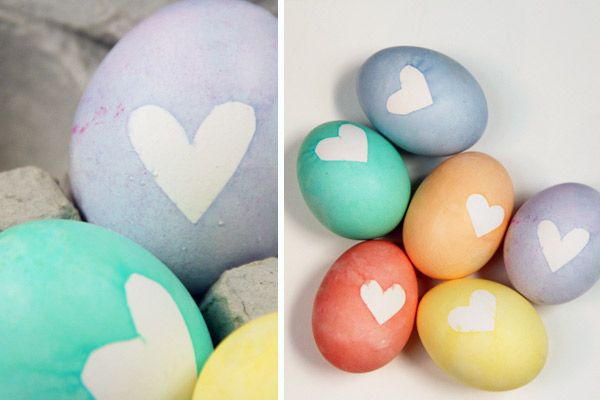 Grab some scissors and masking tape, and you can create these beautiful DIY heart cut-out Easter eggs, with instructions at The Sweetest Occasion. Try them with some all-natural dyes for really beautiful color.
We discovered these awesome little egg people via these free printables from Mr. Printables. Just use your fine-tipped permanent marker for the faces, and you've got yourself a little village of egg people. (This craft is so much fun, you can even use wooden or foam eggs so your kids can play with them for more than just a couple days.)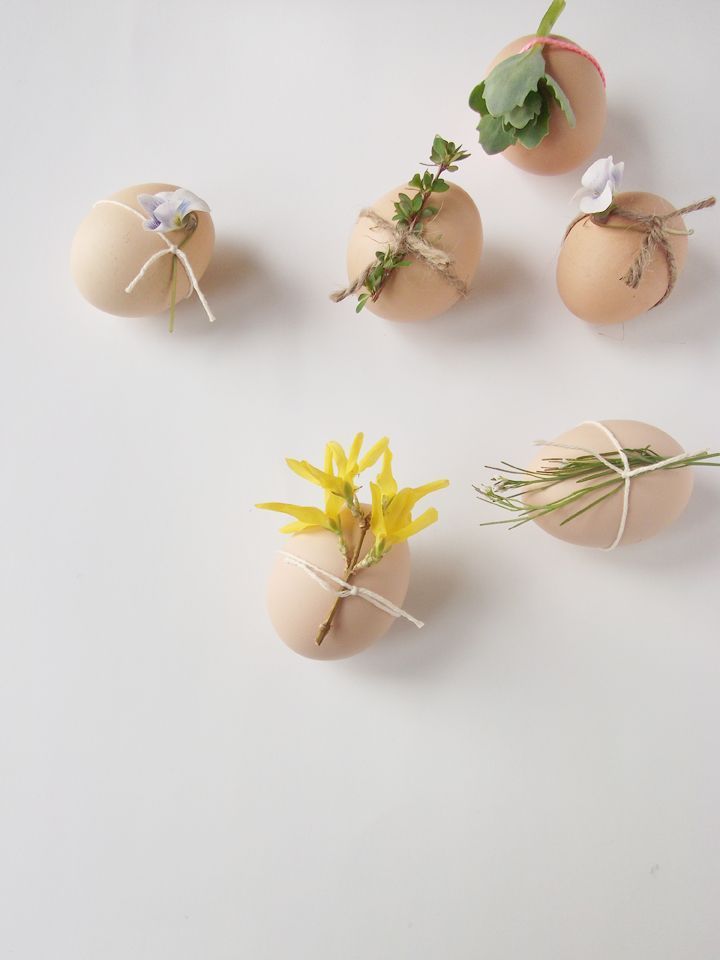 For a truly last-second decorating idea that looks sophisticated and pretty, decorate Easter eggs with fresh small flowers and twine. So simple but so pretty, and so easy, with the full instructions at A Daily Something. These might not be one for the kids, but they'd look great as a centerpiece for Easter Brunch.
Use a monochromatic color scheme for Easter eggs, then decorate Easter eggs with a metallic paint pen like these seen on Lovely Indeed. It's a great way to make holiday decor a bit more glamorous (even if mine won't come out quite so perfect). And it's easy enough that kids can do it.
Another way to use metallics is these gold dipped Easter Eggs created by Jeran of Oleander and Palm for the Land of Nod blog. She free painted them all, which gives them a nice, freeform look that's not quite so perfect.
I love the idea of writing pretty messages on plain Easter eggs, but my handwriting is not nearly as beautiful as this pretty calligraphy at Oh Happy Day. So I'm thrilled about these free printable Easter egg calligraphy tattoos that Jordan created just for people like me. (Also seen at top.)
Slightly More Complicated Easter Egg Decorating Ideas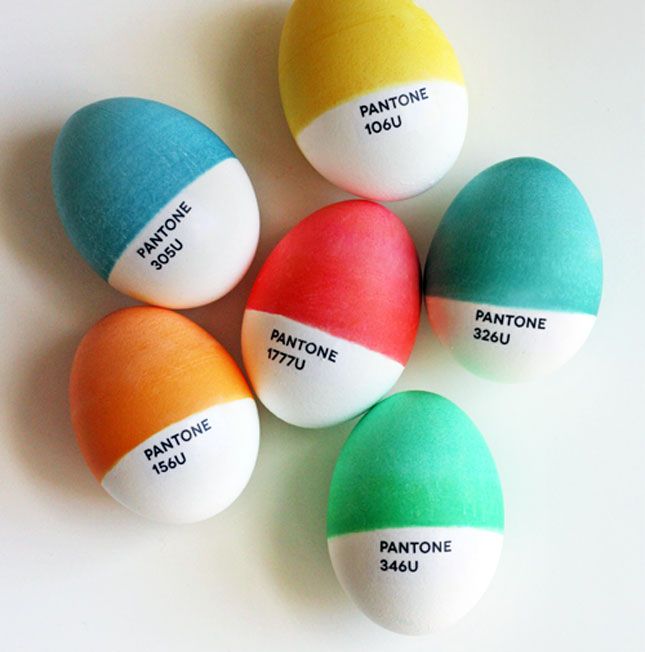 We're always into checking out the hot new Pantone colors in fashion, so we love this Pantone Easter egg decorating idea from How About Orange. It's slightly more complicated because you'd have to create the Pantone codes yourself, reverse the type, and then print them on tattoo paper. But if you're handy with a computer, you can do it.
These ombre Easter eggs from Ashbee Design are just so pretty. This technique is slightly more complicated because the dye has to be just right with each successively darker round, but mostly that just means timing it so that you leave some eggs in the dye longer than others.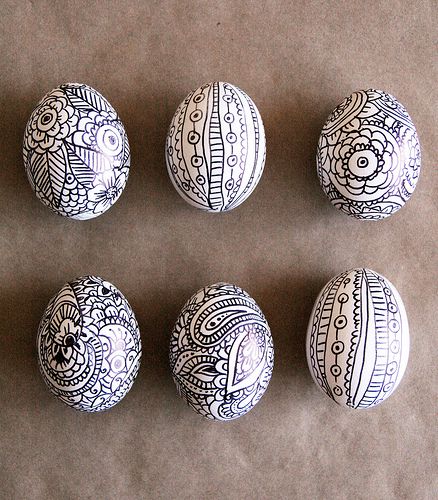 While we've established that Sharpies on eggs aren't the toughest DIY project, some are harder than others. I'm amazed by the intricate patterns on these Sharpie Doodles Easter eggs by Alisa Burke. Simple designs (like the top center one) would be easy enough for anyone, but the more complicated patterns are truly stunning. Like henna tattoos.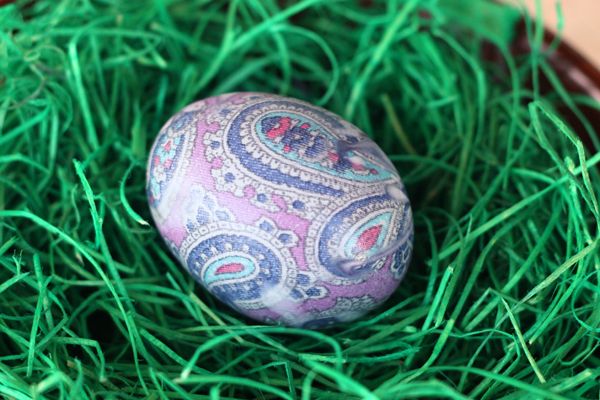 Years ago, we discovered the Tie Dye Easter Egg kit which our editor Liz swears by (and still uses). While the kit is no longer, the instructions are alive and well around the blogosphere, particularly with this really comprehensive tutorial for DIY Silk Tie Dyed Easter Eggs at Our Best Bites. It's really not hard at all, as long as you leave 20 minutes for the pattern to imprint itself on the eggs. Don't expect them to look perfect by the way–which is what's cool about them. In fact, kids will love unwrapping each egg to see how it came out.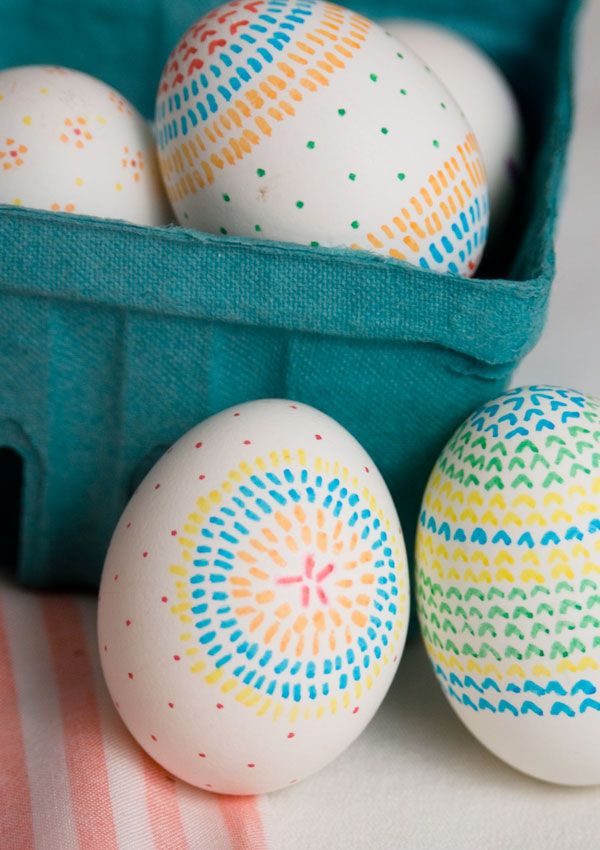 One more no-dye Easter egg decorating idea, this from Confetti Sunshine: If you've got an eye for pattern and a steady hand, a simple hand-drawn Easter egg DIY concept is a great template to follow. [via TheGirlCreative]
Let's Be Honest, a Bit of Skill is Required for These Easter Egg Ideas
The process to create these beautiful marbleized Easter eggs by Camille Styles involves nail polish and bowls of water and precise dipping and twisting. But it's probably a DIY that would keep those tweens interested enough to stick around and help out.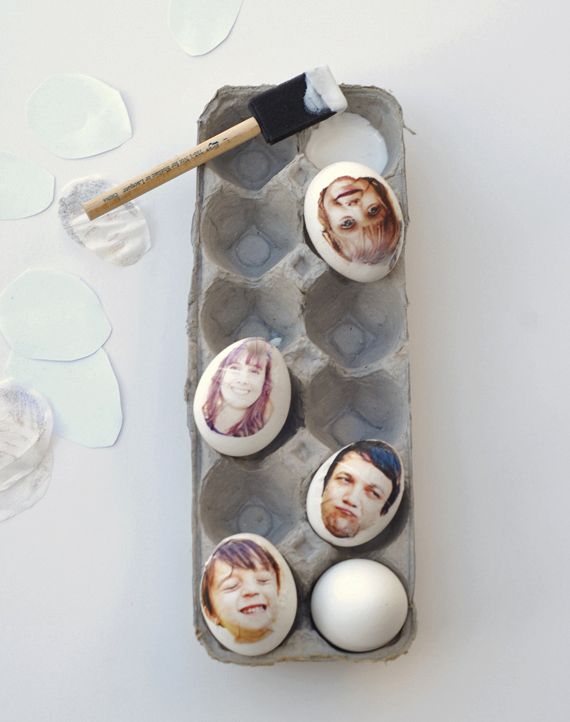 The main thing that makes this family photo Easter eggs project from A Subtle Revelry complicated is taking the time to pick and print out the best family pictures. That said, it's definitely more involved than "let's dunk some eggs in a mug of dye." I think the giggles from the kids when they see everyone's faces in egg form will be priceless.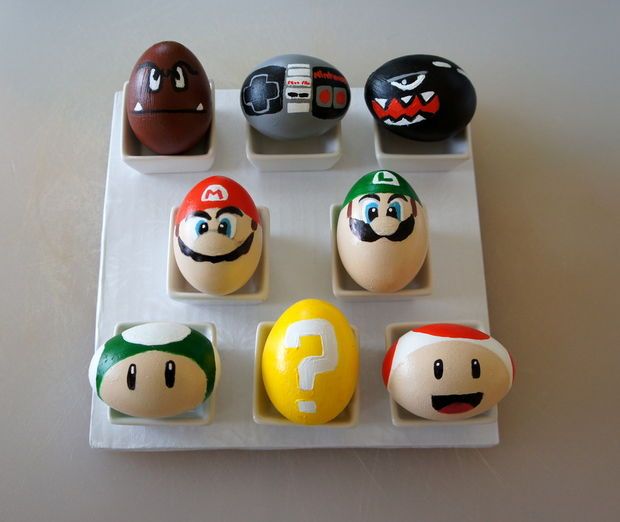 If you (or your kids) are truly artistically gifted, try your hand at recreating your favorite video game characters (or book characters, or movie characters, or family members) on Easter eggs, like this Instructables guide for creating DIY Mario Brothers Easter eggs. Wow.
Some of you parents out there really amaze us.
For more Easter inspiration, check out our Cool Mom Picks Easter Pinterest board or visit our post on 9 ways kids can decorate Easter eggs without dyeing them.