I love hosting holiday brunches for family and friends, but cooking holiday brunches is not so high on my list. I'd much rather ease into my day sipping a latte or, now that it's spring, one of these amazing iced coffee drinks, than slave over a stove first thing in the morning. So I've put together 7 really wonderful make-ahead Easter brunch recipes that make it possible to serve an impressive breakfast spread and get out of PJ's before the first guest arrives.
Hey, there's a first for everything.
Related: 6 fab Easter brunch recipes that you can prep in 30 minutes or less.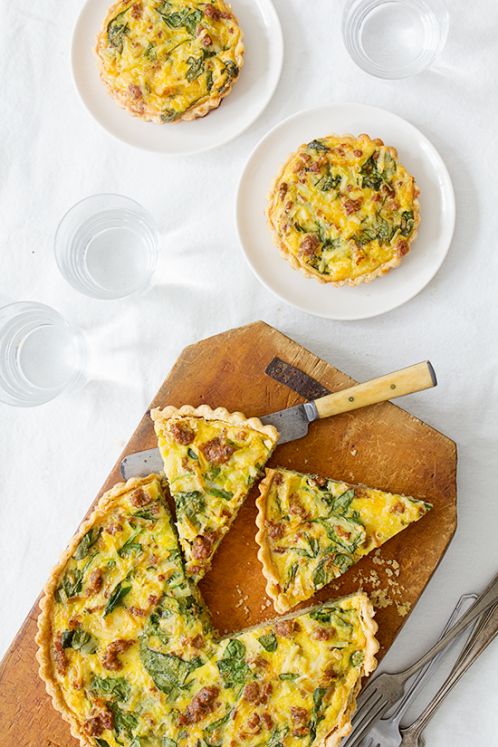 Quiche is a classic make-ahead brunch recipe with good reason. You can find a million recipes for quiche online, but I'm particularly loving this one for Breakfast Quiche at Real Food by Dad. Matt is one of our top food bloggers to read in 2015 and this crowd-pleasing recipe packed with sausage, leeks, potatoes, Fontina, and Parmesan (yum!) is a perfect example of why. Matt takes the time to make a scratch pastry shell, but you can certainly substitute an all-natural store bought pie crust. We love the ones from Immaculate Bakery.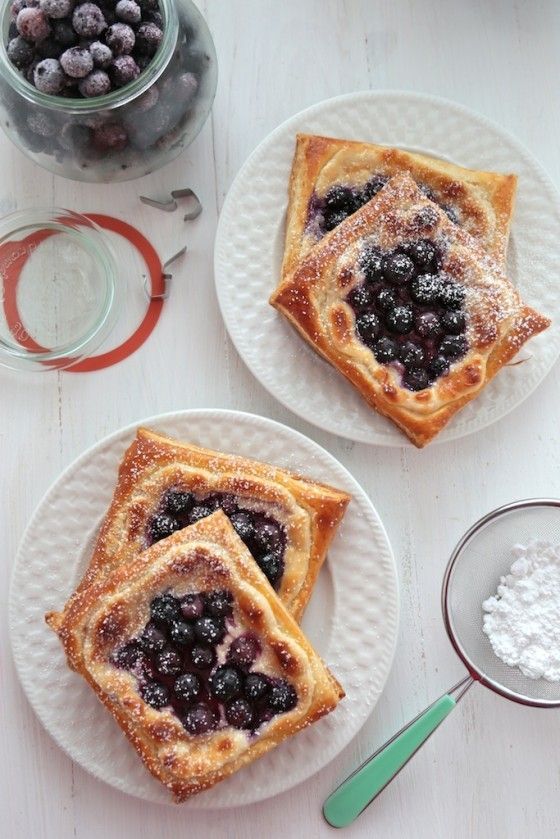 If you're putting out a brunch spread, pair a savory quiche like the one above with a smaller sweet bite like these 20-Minute Blueberry Cream Cheese Danishes at Country Cleaver. These look beautiful, can be made the night before, and call for little more than puff pastry, cream cheese, and blueberry. Check the easy recipe and I think you'll have a new staple.
 Related: Last minute Easter recipes from easy brunch to marvelous sweets.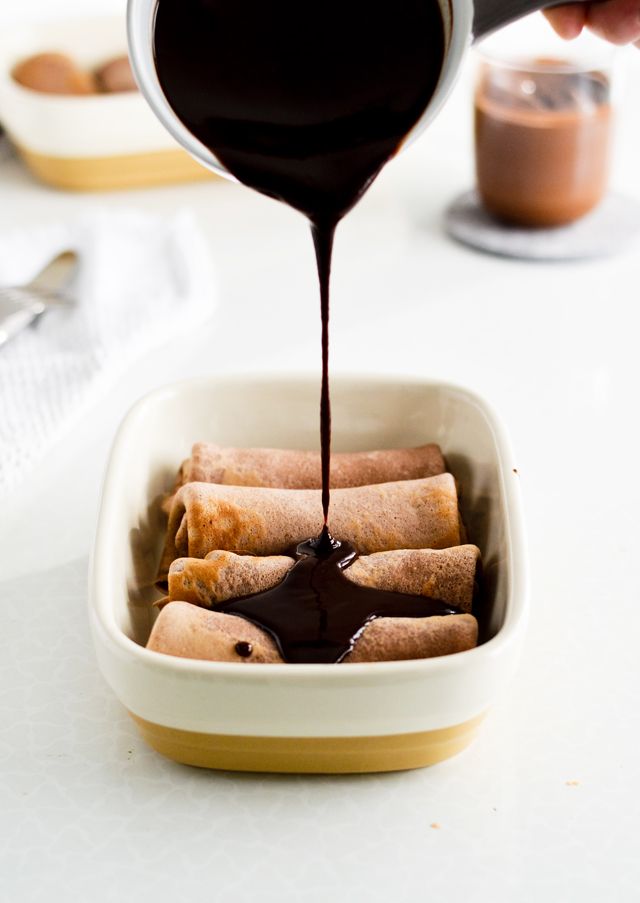 If you're thinking sweet over savory, check out these  Triple Chocolate Crepes from Mitzy At Home. As if the fact that they are made three kinds of chocolate including Nutella (and you know how I feel about Nutella breakfast recipes!) isn't enough, I also love that they don't come out like a make-ahead recipe. "Oh these? It was nothing." (Dust yourself with a bit of cocoa powder before guests arrive for added drama.)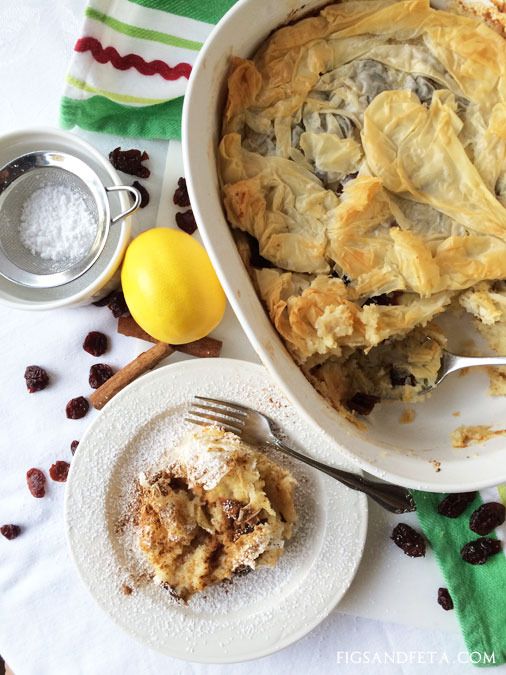 I'm first generation Greek and grew up eating bougatsa, a Greek pastry made with honey-soaked phyllo (surprise, surprise) on top of a warm, cinnamon scented custard. If you think that sounds heavenly, allow me to assure you that it is. It's my favorite, in fact, so I'm excited to have found this make-ahead Bougatsa recipe at Figs & Feta. Alexandra's take is an adaptation of a more traditional recipe, but that's okay. It makes this treat easier to prepare and more appropriate for breakfast, especially a festive Easter brunch.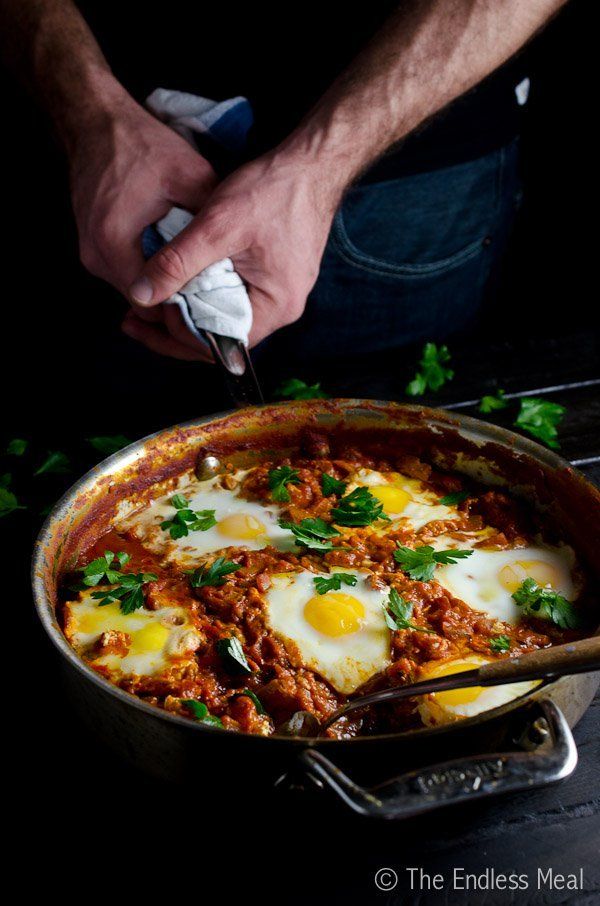 From Greece to Israel, we're hopping around my favorite global brunch recipes. Kristen at the Endless Meal shares her make-ahead version of Harissa Shakshuka, a one-pan middle-eastern dish of eggs cooked in tomato sauce. If you love savory breakfasts, you must try this. And, if you like it, you get a bonus: This makes a great dinner, too. If you don't have or can't find harissa, which, you should know, can be spicy, just skip it all together. This will still be totally delicious.
I can't round up fantastic make-ahead brunch recipes without including a delicious french toast. The bright flavors of this Baked Blueberry Lemon French Toast at Damn Delicious are perfect for spring, and the crumb topping makes it a wonderfully decadent holiday entertaining choice. Chungah's recipe calls for sweet Hawaiian rolls, but any fluffy, yeasty bread will do. I'm dying to make this with Challah bread, in fact.
 Related: 6 cool cakes for Easter that are actually easier than they look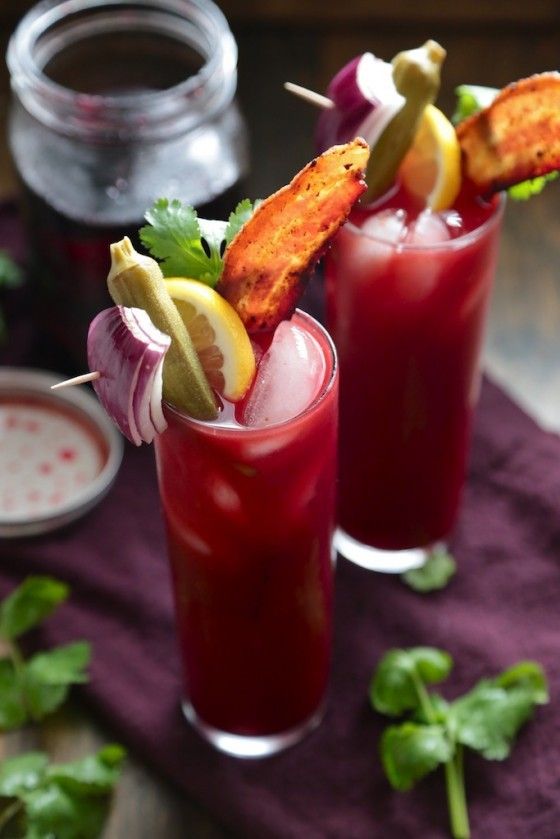 One more thing: While on the Country Cleaver, I spotted this Beet Infused Bloody Mary recipe and I'd be remiss not to share it with you. I think that the recipe sounds amazing, and it's not too hard to infuse your own vodka (there's time still time!). But if you want to make it even easier, skip the beets, make a big batch of Bloody Marys or Virgin Marys however you like, and steal this garnish idea