There aren't many vegetables that I don't like, but asparagus is among my least favorite. When my kids bellyache about the green stalks (and, yes, how their pee will smell afterwards), I get it. I pretend like I enjoy asparagus more than I do but, really, I serve it on principle, and to save us from yet another night of string beans and broccoli. This spring, though, I'm on a mission to turn our attitudes about asparagus around. April is peak season and the perfect time to ditch the steamer for these super tasty, kid-friendly asparagus recipes.
Or hey, maybe you're the type who loves asparagus! If so, more power to you. Then hopefully these recipes will help get your kids on board the "one more green vegetable" train too.
Related: 6 delicious, easy spring recipes to celebrate the season.
Soup is always the first way that I try to re-introduce a less-than-popular vegetable in my house, and I'm looking at this Creamy Asparagus Soup at Feasting at Home to help me on the asparagus front. With a smooth, creamy texture and super fresh flavor from fennel, tarragon and basil, this easy-to-make recipe is sure to be a hit. At least with me, if no one else.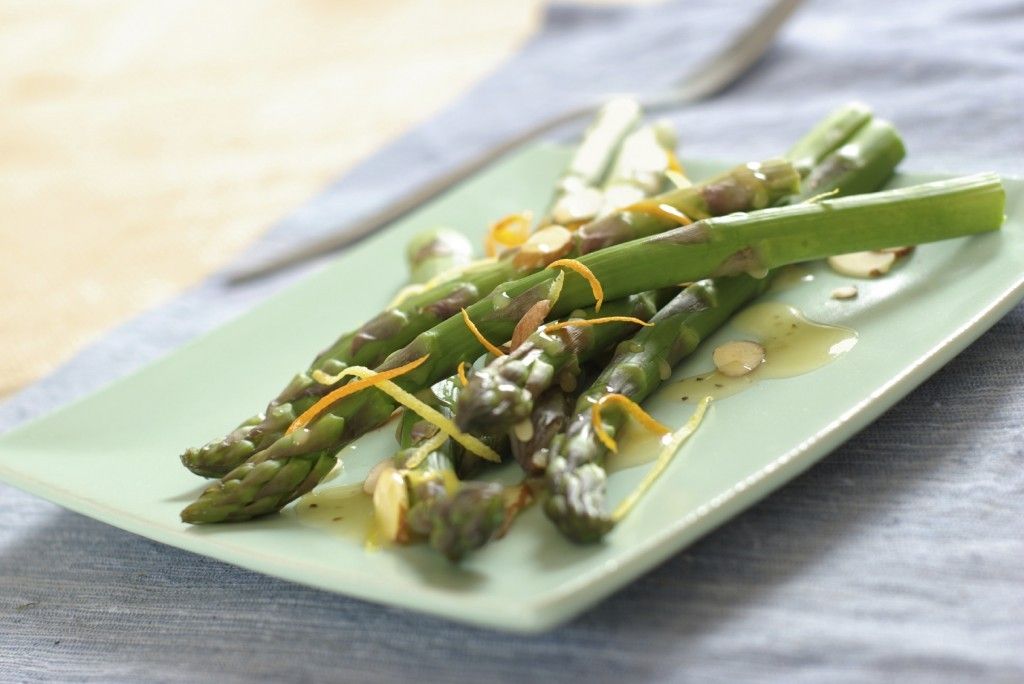 I found a post about 9 vegetables kids like that might surprise you at Super Healthy Kids. The idea is that while these veggies aren't usually popular with little ones, they can be with the right preparation. And, yes, asparagus is on the list. To my surprise, their secret to making it more appealing is to cook asparagus with a little brown sugar. Whoa! Check out their quick cook formula and give it a try. I know I'm planning to.
I love this simple Asparagus and Egg Quesadilla at Foodidies because, well, I hadn't ever thought of preparing asparagus this way. Asparagus and eggs are a classic combo that becomes instantly kid-friendly the minute you throw it between tortillas with cheese. The recipe lists ingredients in grams, which is easy enough to convert using an online calculator, but I bet you'll be able to put these quesadillas together on your own with just one quick read through the ingredients.
Related: 6 fast veggie side dishes your kids might actually eat.
This recipe for Crispy Chicken with Spring Vegetables at A Calculated Whisk had me at "crispy chicken," but it gets even better than that: The spring vegetables in this dish are cooked with yummy bacon and finished with bright lemon juice. What doesn't go better with bacon? This is a delicious combination, for sure, and, bonus, the kids can eat peas as their veggies should the asparagus fall flat.
Put pretty much anything on a pizza and you're in business. I love the looks of this Asparagus and Potato Pizza with Pesto and Caramelized Onions on Kohler Created. Jessica adapts a homemade flatbread crust from Mario Batali but feel free to cheat with store-bought. Same goes for the pesto, though basil starts to get so good this time of year. Then it's basically preparing the spears, the potatoes, and the caramelized onions which always make anything taste amazing.
If your family loves Chinese take-out, give this recipe for Lo Mein Noodles with Asparagus, Broccoli and Carrot at Pantry Full of Recipes a try. The recipe is very simple and surely packed with flavor thanks to hoisin sauce, ginger, and garlic. If you're worried about little hands picking out the asparagus, rest assured that there are plenty of other veggies in this quick weeknight meal. And, if your kids don't like broccoli or carrots, substitute veggies that they do like so that you can be sure they take in some plant-based goodness.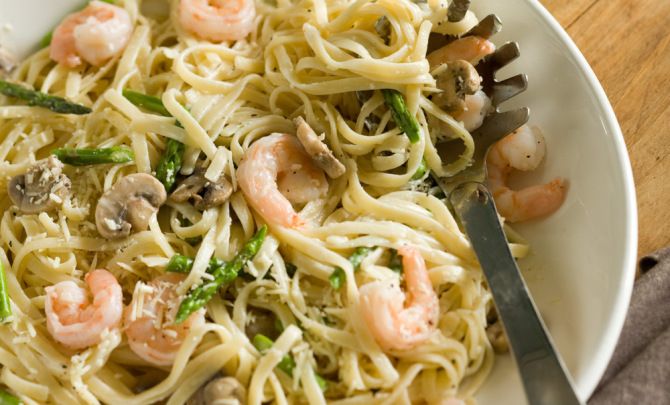 What better way to end any round-up of family-friendly meals than with a creamy pasta recipe. This Fettuccine Alfredo with Shrimp and Asparagus at Relish is a great option for any family with mac and cheese loving kids (which I think includes 99% of the families out there). Coated in a creamy sauce and tangled with pasta, asparagus is sure to win major bonus points with the kids and the grownups, whether you substitute the shrimp for chicken or just go vegggie.