With Mother's Day just around the corner, you may be like us, thinking hm, I have 8 bazillion amazing photos on my computer and my smart phone — maybe I can finally do something with them? Like say turning them into some really cool but affordable photo gifts for Mom or Grandma.
That's where Pinhole Press comes in, a family-run photo gift company we've loved and supported for many years now. Which is why we're so happy to welcome back them back as a sponsor. They've got no shortage of wonderfully spectacular but still affordable keepsake photo gift ideas for Mother's Day, all of which they print just beautifully for you.
Their simple drag and drop photo designer makes everything super easy to create and order. Just add gift wrapping option at check-out and all you'll have left to do on May 10 is watch her open your masterpiece — and maybe whip up a breakfast in bed. (Incredibly strong unsubtle hint there.)
Here, we're sharing our favorite keepsake photo gift ideas for Mother's Day from Pinhole Press all under $50 — and some a lot less. We hope one is just right for you.
Keepsake accordion brag book ($24.99)

If she loves any chance to whip out her smart phone to show off photos of the kids, she'll love this pretty accordion brag book in all sorts of leather or cloth covers that feature a few very favorite pics. It's a classic gift that's done very, very well here.
Custom photo magnets ($24.99)
Here's a fun gift idea: Wrap up a bunch of your kids' favorite art pieces along with these adorable photo magnets. It'll be like you're giving her the gift of her own personal refrigerator-ready art gallery. Or, just pick 12 of your very favorite photos keeping in mind a theme: Baby's first year, favorite black-and-whites, silly family portraits, photos of your preschooler's artwork, you name it.
Personalized Mother's Day relaxation gift box ($44.99)
How cool is this personalized gift box? It's filled with a few special snacks, some relaxing hibiscus berry tea, and sealed with a custom photo card and photo notebook. All you need to add is a bit of quiet time for her to enjoy it.
If you happen to be a little looser with your budget be sure to check out the other personalized boxes at Pinhole Press that are so beautifully packaged. Like the Refresh and Rejuvenate personalized spa gift box (above) or the Green Thumb personalized gift box, which come to just about $55 with our discount. And both of which would be high on our own wish lists. Not that we wouldn't love anything with our kids' photos on it, of course.
Custom framed photo collage ($27.99)
This simple, sweet photo collage is the perfect grandma gift; include photos of all the grandchildren and you've got an affordable keepsake she'll truly treasure. Plus it comes with a lovely frame so that's one less thing to scramble for on Mother's Day. Or, if you've so many great photos you can't pare them down (trust us, we get it), the 10 x 10 framed photo collage is a lovely option too.
Custom mommy and me photo board books ($29.99)
This idea for making a custom board book meant for reading with a child or grandchild is so clever. You can choose family members for kids to identify first words, objects around the house, or even special times all with Mommy.  Of course the best part is getting to enjoy it with that special little kiddo later.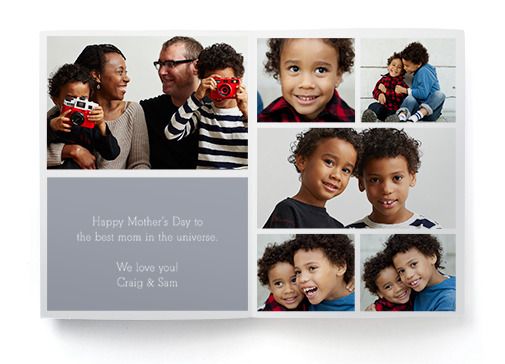 We love that you can order individual photo cards for Mother's Day, which add an extra special touch to any of these gifts. Just make sure to pop a special note from the kids in there too, even if they're only big enough to scribble. Trust us, she'll love it. ($1.99)
Thanks to our sponsor Pinhole Press for offering so many cool ways to turn photos into beautiful Mother's Day gifts.