From Eat, Pray, Love to The Best Exotic Marigold Hotel, we've been enamored with the colors and textures of India for a while now. And now Tea Collection (we just can't quit you, Tea!)  has us obsessing once again with their spring/summer collection of brightly-colored, durable, intricately-patterned boys and girls clothing inspired by Jaipur, India.
So we are so so happy to welcome them as  sponsor, especially since we can safely say that everyone on the Cool Mom Picks team has had our kids in head-to-toe Tea from their very early days.
– Don't miss an outrageously amazing family travel giveaway below! –
Tea's co-founder Emily brought her husband and young children back to Jaipur a year later to retrace the designers' original steps. You have to check out the amazing photos from Emily's family trip up on Tea's website (they painted elephants together!) and check out some cool activities and free printables there for kids. Because you don't have to travel the globe to embrace Tea's philosophy of #MakingTheForeignFamiliar.
It can be as simple as making your own mandala, coloring a cobra or painting your own elephant, learning about cricket, or just trying a new Indian restaurant in your neighborhood.
An excuse to eat naan? Any time!
And of course we just love the children's clothing designs that resulted from Emily's family's journey, so we've browsed through them (oh, maybe six or seven times) and put together just a very few favorites for you, whatever your kids' ages.
What's even better: When you purchase a style from Tea's new collection, including any of our picks below, a portion of the proceeds will be donated to Gram Bharati Samiti, a grantee partner of The Global Fund for Children that helps educate and empower young girls in 17 villages in Jaipur. Wow, we love that.
Indian Inspired Clothing for Girls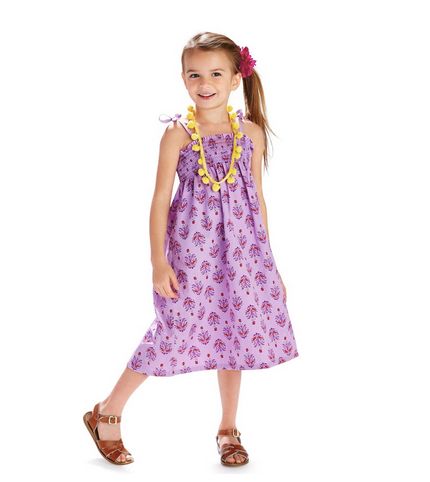 Tea always makes the most fantastic, beautifully constructed dresses that are meant to last. And look pretty, too. The name of this adorable purple smocked sundress is Kalavathi, an Indian girl's name meaning artistic. Isn't that breezy sundress style so pretty?
Tea's cotton dresses are always favorite because our girls wear them four-seasons, layering them with leggings and sweaters or going adorably bare-legged with sandals. The stylized tree graphic on the new pink Mithila dress for girls was inspired by a Indian painting that used paint made from powdered rice paint. Besides the pretty print, we're smitten with the sweet (and functional!) tie in the back — check it out, it's very cool.
Striped capri leggings are perfect for keeping dresses and tunics casual, layering under shorts for a funky look, and for overall pattern mixing, three trends we're seeing all over our kids' schools right now. These Kala leggings will get a ton of use in your girl's wardrobe and are a nice break from the solid colors we tend to gravitate too.
Indian Inspired Clothing for Baby Girls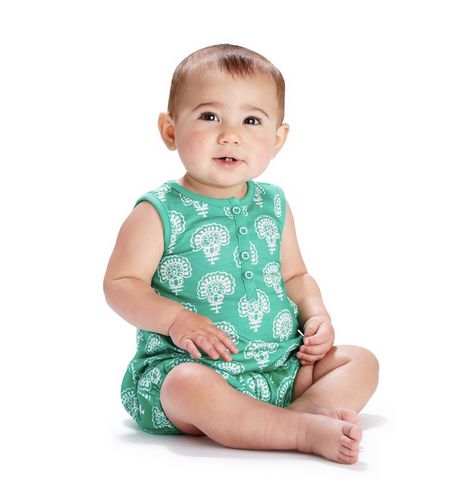 We love finding baby girl clothing that goes beyond pinks and purples, like this patterned henley romper in the sweetest shade of wintergreen. Don't worry — there are diaper snaps galore. It's always the first thing we look for in a baby romper!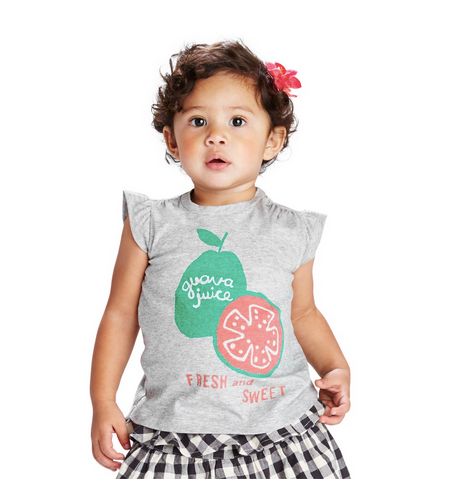 This graphic tee with ruffled sleeves for babies was inspired by a drink at The Farm, a boutique hotel in Jaipur where the designers stayed. How good does guava juice sound? We love the flutter detail on the t-shirt which makes it just a little more feminine, even though girls can wear any of the fun boys' tees too, of course.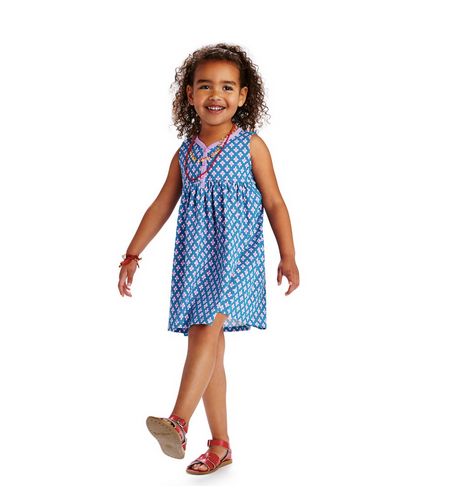 Your little girl won't know that the tree-like pattern on the Aakriti henley dress is reminiscent of traditional Indian woodblocks. She'll just think it's funky in blue and pink. This is a great style you can get a ton of use out of, since it turns into a tunic a few years after it looks a little short as a dress.
Indian Inspired Clothing for Boys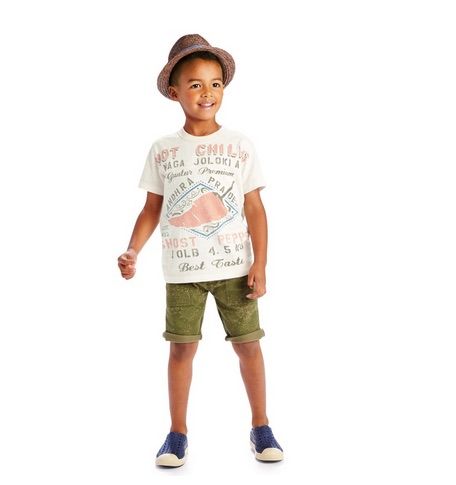 While some Indian clothing for kids can look a little costumey where we live, we love what Tea is doing with graphic prints on their boys tees like this one, inspired by Indian grocery bags. This graphic tee for boys is cool — or rather, hot — because it features a ghost pepper, one of the hottest peppers in the world.
Finding patterned shorts for boys that aren't stripes (or palm trees) these days is hard, which is why we dig these Preet shorts in blue. Terrific staple that gives moms of boys a break from khakis and denim.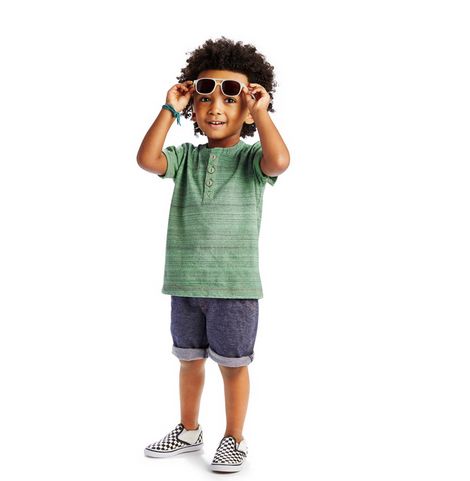 French terry shorts that look like comfy, worn-in denim? A win for adventurous little boys everywhere. It goes so well with any t-shirt or even a button-down. And we dig the styling here with a pair of retro Vans, which isn't necessarily a look we would have considered.
Indian Inspired Clothing for Baby Boys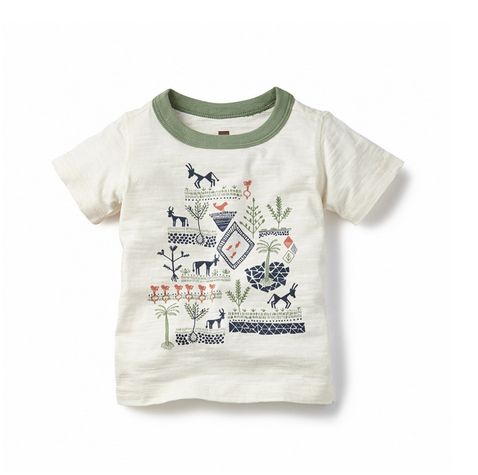 If Old MacDonald had a farm in western India, it might look something like this graphic tee for baby boys. Actually, the design was inspired by the tradition Warli style of tribal art, in which murals are a form of visual storytelling. We bet your kids could make up a great story from this shirt alone.
What's cuter than madras plaid for minis? We'll go with the Jahan check pants that will take your baby boy from late spring to early fall in style. Definitely a big favorite among our staff from the new collection.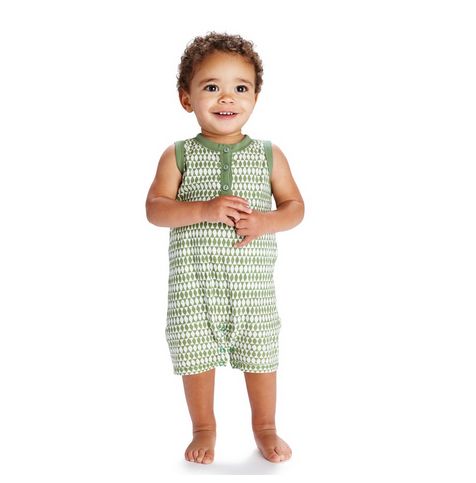 Sleeveless is always a perfect pick for the hottest summer days, and this patterned henley romper features a diamond motif inspired by Indian woodblock printing. When you check out the cute photos of Emily's kids learning woodblock printing, you can totally see where she found her inspiration.

Thanks to our sponsor Tea Collection for making clothes our kids love as much as we do, while helping girls and women in need around the world.

EXTRA COOL: WIN IT! Want to get your actual passport stamped in India? Tea Collection is partnering with AFAR, Artifact Uprising, Flight001 and The Farm to offer an epic Journey to Jaipur sweepstakes. One family of four will win a trip to India to explore Jaipur just like Emily and her family did! Enter Tea Collection's Journey to Jaipur giveaway on their website between May 7th to June 3rd. We'd love one of our readers to be the big winner!