We talk a lot about toys that inspire creativity and imagination, and the thing is, in a kid's world, pretty much everything is a source of creativity and imagination. (See also: Pillow forts, scarves that become hula skirts, and monsters under the bed.) So as much as we're all for handing a kid a blank sheet of paper and saying, "here you go, kid," of course they like getting new toys as much as anyone. So I'm always looking for ways to help make my kids' toys more fun for them — that is, if they don't beat me to it.
Plus these are the ideas that give your toys longer life. And not having to buy lots of toys as often? That's a win for me, especially with four kids!

The Chomping Velociraptor Head: One of our new favorite "girls' toys." 
Case in point, I recently let my youngest girls loose with the new Jurassic World toys from our sponsor Target, and whoa, so much fun! My kids were occupied for hours. (Yes, literally hours). I've said it before and I'll say it again: Girls love dinosaurs as much as boys. Sometimes, even more. Just because they're fierce animals with scaly skin and ridiculously large teeth doesn't mean they are somehow less fun than princess toys. Or ballerina dolls. Or anything, really.
So I thought I'd put together some lessons learned from watching my kids play, that can help make your own store-bought toys more fun and creative than they already are — or even breathe some new life into the toys you already own.
1. Let Them Get Crafty
Meet Princess Triceratops, benevolent ruler and lover of purple
Don't just think that "craft toys" have to come in ready-made kits or boxes. It's amazing how much kids can do with little more than some old fabric I had lying around, scissors, and duct tape — and of course, some new dinosaur toys. The end result was pretty impressive, if I do say so. I don't think they're going to have their own @DinosaurFashion Instagram feed anytime soon, but their giggles made it worth vacuuming up some fabric scraps at the end of the day.
2.  Don't Throw Out the Box! Or Any Box
Every parent always jokes that kids tend to be more interested in the cardboard box than the toy that came in it, half the time. But what's cooler is putting them together for two, two, two toys in one.  Watch them turn that box into a bed, a park, a skyscraper, or a rocket ship. Because if there's one thing that NASA should be working on right now, it's a dinosaur rocket ship. I always keep a few shoeboxes or clean boxes from deliveries on hand for this very thing.
3. You Don't Need a Dollhouse to Play House

T Rex thinks it's time for a new look since being told to embrace those natural curls.
Kids have the remarkable ability to play house and create play scenarios with anything we have around — dollhouse dolls, finger puppets, pinecones, rocks, and now dinosaurs. Help them create a space with an existing dollhouse, a wall of pillows, building blocks, an overturned chair, that cardboard box…voila! House. Or in this case, Salon.
4. New Toys + Old Toys = Magic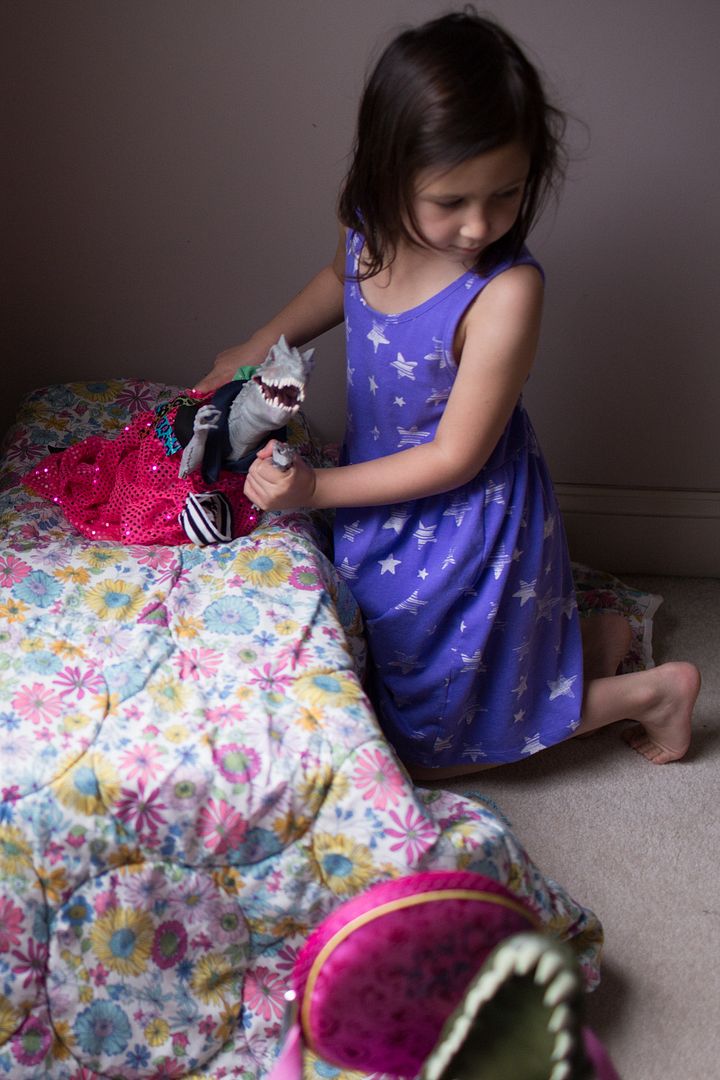 Another lesson learned from the above?  Interestingly, when my girls opened the Jurassic World dino toys, they immediately wanted to grab all their doll clothes and accessories to dress them up. And to be honest, they hadn't played with some of those things in a long time. So it turns out a single new toy gave some new life to some old playthings too, which is pretty great.
5. Put on a Play
You don't need puppets to put on a show for the family. My kids each grabbed a character and started working out a role for each. And let me just say, you haven't seen anything until you've had front row seats to opening night of Dinosaur Ballet with the original Broadway cast. (Charging for tickets is optional.) My girls even asked for my old make-up from the medicine cabinet and when I said yes, they went nuts! Hey, better on the toys than on their own faces.
6. Change the Scenery

It's a bird…it's a plane…it's back from extinction!
I find that my kids are often relegated to certain spots in the house with their toys, so I've found by moving things outside, or even into a different room, it actually gives them ideas to play with the toys differently. For example, I put their play kitchen on my deck, and boom, they played outside for hours. Or if you normally think outdoor toys are things like balls and jump ropes and pogo sticks…try dinosaurs. (On the other hand, you don't have to bring the balls and pogo sticks into the living room.)
7. See What a Little Chalk Can Do
Especially with the weather so nice now, another way to get kids outside is to hand your kids some chalk and let them hang out in the driveway or on the sidewalk with their new toys and see what they come up with. A dinosaur racetrack? Hopscotch for a T-Rex? A school playground? In my kids' world, everything is a school playground. Actually, "dinosaur school" sounds like a pretty awesome game.
8. Hand Over the Camera

Self-Portrait with Chomping Velociraptor Head
Ever let your kids go nuts with your smartphone's photobooth app? Then I hardly need to say more. Or take it one step further with video; my kids love to make their own pretend "YouTube videos" and a hand-me-down smartphone with a video app is perfect for that. It just allows them to add another level of creativity to their playtime — even if the final videos only stay on my phone for friends and family to see. You know, the people who only leave supportive comments about their creative endeavors.
Thanks so much to our fantastic sponsor Target for allowing us to show a photo of my daughter's head in a dinosaur's mouth, and a T-Rex beauty salon. You can share your own cool creations and fun experiences on social media with the hashtag #JurassicWorldatTarget. We'd love to see them. 
This post is brought to you by Target.
All photos: © Cool Mom Picks / Aaron Adler