It's that time of year that we're all digging up all sorts of easy Halloween craft ideas for kids to share with you. And yet I've said it before (and I'm sure I'll say it again): I'm not a very crafty mom. I hardly ever have the urge to DIY, and my hobbies have nothing to do with paint, scissors or glue. My son, on the other hand, loves to do art projects, which challenges me to come up with crafts that are manageable for the both of us So I've been busy bookmarking Halloween crafts easy and fun enough for preschoolers, to keep us busy through October 31.
Most preschoolers I know are into pumpkins, candy, costumes but not necessarily the scary parts of Halloween. Luckily, there are tons of fun Halloween crafts out there featuring happy witches, friendly ghosts, and cute bats that'll get little kids in the holiday spirit without totally freaking them out.
Related: 9 fun free printable Halloween coloring pages for kids 
ADORABLE GHOSTS AND GHOUL HALLOWEEN CRAFTS

You see a lot of handprint spiders this time of year, but these footprint ghosts from Crafty Morning are much more of a novelty. Michelle recommends using black card stock instead of construction paper so the ghosts won't get wrinkly when they dry. My suggestion is to keep a package of baby wipes nearby to quickly clean up your kids' feet — and don't forget to use washable paint!
In fact, as with all of these, even if kids can do most of them themselves, I'd sit with your budding artist to supervise the painting and cutting and gluing — not just for safety, but for the sake of your kitchen table, floor, and walls.
I suppose ghost bowling is more of a Halloween activity rather than a craft, but somebody has to draw those adorable ghost little faces! To knock down a pyramid of toilet paper, MJ of Pars Caeli found that tossing rather than rolling a mini pumpkin worked best. If your kids would rather bowl in the traditional sense, swap the pumpkin for a small ball and the T.P. for paper towel rolls or plastic bowling pins with construction paper eyes and mouths.
Now whether you want to use the toilet paper again after this is up to you; maybe just to make mummies on Halloween night?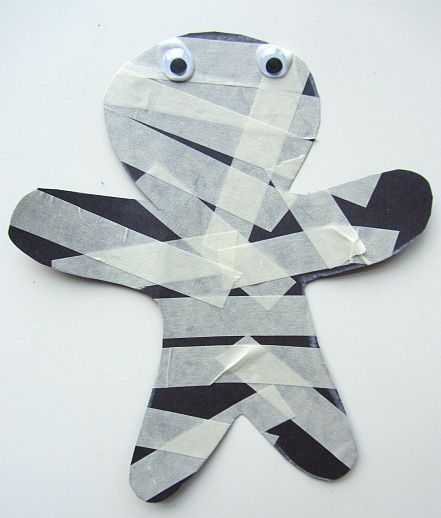 Since my son is obsessed with both my washi tape collection and cutting with scissors, this Halloween mummy craft at No Time For Flash Cards is at the top of my list of crafts to try. The only thing I'd need to buy would be googly eyes, although I think a black marker could work in a pinch. Depending on your child's handiness, you may want to pre-cut pieces of tape and cut out the mummy yourself. But the imperfection is just perfect.
Related: 11 easy, semi-homemade Halloween snacks for last-minute party treats
Over on Simple As That, Rebecca demonstrates how to turn inexpensive paper plates into non-scary Halloween characters with a whole post on paper plate Halloween crafts which are perfect for preschoolers The pumpkin is obviously the easiest, but I think the bat and Frankenstein are much more fun. For younger kids, you'll want to pre-cut all of the shapes ahead of time, but older kids will probably enjoy doing the cutting themselves. Also, Rebecca used black craft foam for many of the pieces, but if you don't have any, black cardstock or construction paper will work, too.
PLAYFUL PUMPKIN HALLOWEEN CRAFTS
(CARVING KNIFE NOT REQUIRED)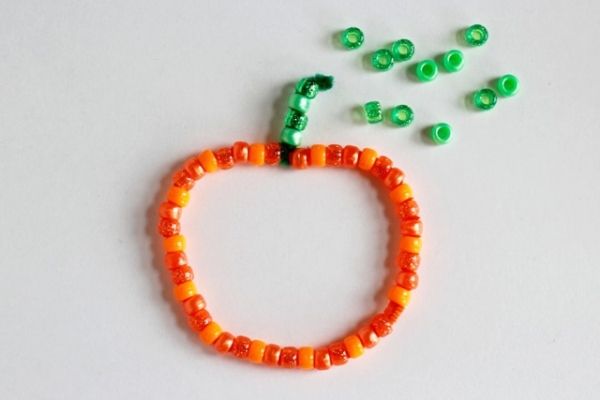 Stringing beads on pipe cleaners is a classic fine motor activity for preschoolers and toddlers. For Halloween, let your kids pick out only the orange and green beads (make it a sorting game!) and then twist them to create a beaded pipe cleaner pumpkin craft. As you know, pumpkins come in all different shapes and sizes, so don't worry if your beaded pumpkin isn't perfectly round.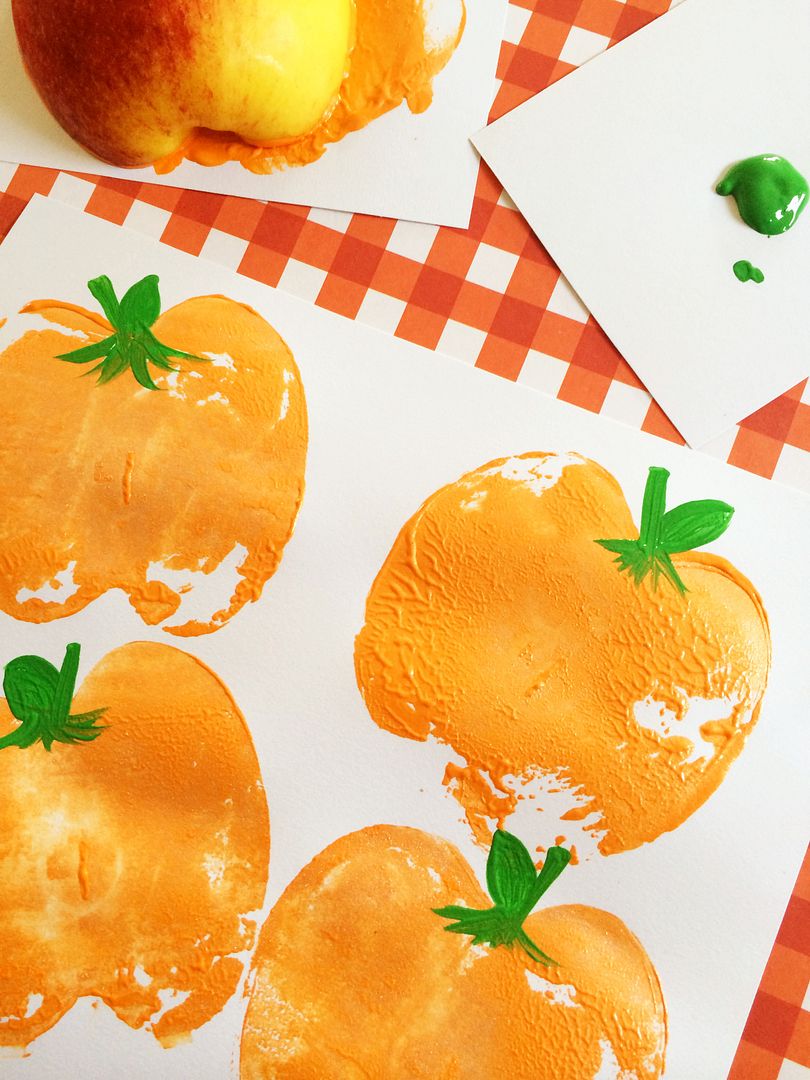 Went a little overboard at the apple orchard this year? Yeah, we've all been there. Turn a couple of extra apples into easy DIY pumpkin stamps simply by cutting them in half and then stand back and watch your kids try to stamp everything in sight. You'll need a small paintbrush for the stem and a black marker if they want to transform their pumpkins into jack-o-lanterns. Visit Frugal Mom Eh for all the instructions.
Related: The coolest, not-so-scary monster party ideas for Halloween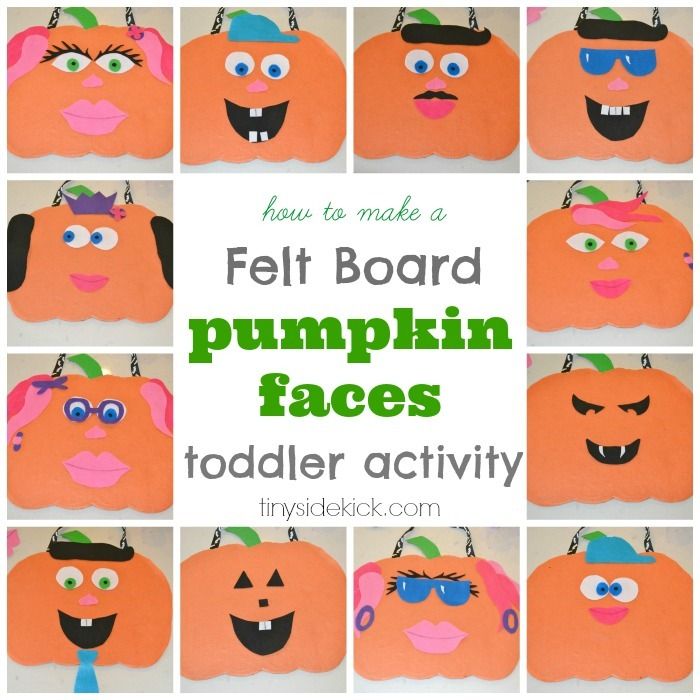 Let your preschoolers explore their silly sides with this Halloween pumpkin faces felt board. Yes, this Halloween activity at Tiny Sidekick is slightly more time intensive than the other crafts and requires a tiny bit of craftiness from parents or other supervising adults, but I think the result would be worth the effort. And once the felt board pumpkin face and accessories are cut out, you can reuse them year after year.
HALLOWEEN PUPPET CRAFTS FOR KIDS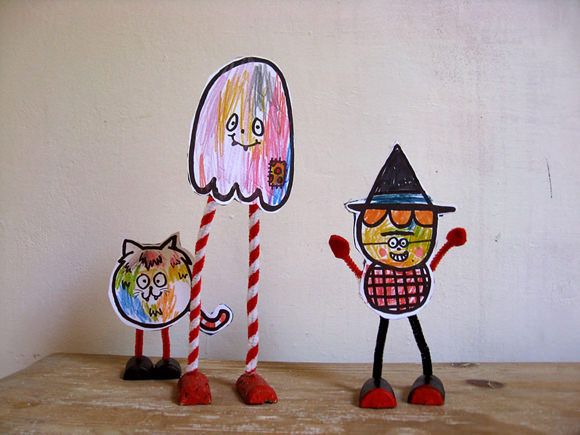 Handmade Charlotte calls these creations Halloween character puppets, but they look more like dolls to me. She's got a great tutorial, but if you don't want to bother with making half-cork feet, you can simply let your kids color and cut out the characters from the provided template she offers, then glue them on colored construction paper. At least, that's what I'd do.
Finally, another Halloween activity that starts as a craft project: DIY Halloween shadow puppets! If your kids have a low tolerance for creepy, you can also make the faces of the pumpkin, cat, and scarecrow found on the Minted blog a little more friendly. Parents will have to do most of the cutting for this one, but preschoolers can certainly help glue the Halloween-inspired shapes to straws or dowels, and then the best part — making up their own plays and stories with them! Hang up some parchment paper, grab a flashlight, be sure to have room on your smartphone for lots of video.