If thinking about your holiday card photos already is stressing you out, take a deep breath. Because we're about to make it easier for you in a whole lot of ways.
First off, our amazing sponsor Minted (yay, Minted!) is back with a brand new indie designer-created holiday card collection for 2015 and we're sharing some favorite holiday cards from Minted to help you pare down your choices from the zillions of gorgeous designs. Trust us, it was tough. If you're familiar with them, you know that we've all been huge fans of their cards for years, because they not only support small designers from around the world, but the results are exquisite — including thick paper, hand-pressed foils, die-cut shapes, and unique designs that let you even put more photos on the back of the card. It all looks way more expensive than it is and that's a good thing.
But there's more good news to help you check some stuff off your to-do list.
Since addressing envelopes probably isn't your favorite of all things to do with your precious time (personally, we prefer eating the heads off gingerbread cookies and freaking out our kids), the Minted Envelope service will do it for you, totally free.
Free!
Gorgeous, right?
No more hand cramps from sitting at the kitchen table, addressing hundreds of Christmas cards. The results are way better than anything we could do ourselves anyway. And there are even styles that match your card design, so it looks like the whole thing was custom made just for you. Plus, you look very fancy, without hardly lifting a finger.
More good news?  Minted is giving away two $250 gift cards to our readers when you visit through this link! All the details are below. Be sure to enter, because the only thing nicer than finding the perfect cards and having someone else address them for you, is getting the entire thing for free.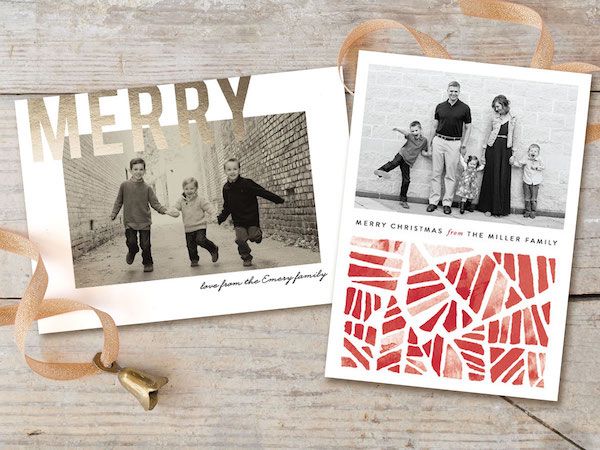 And now the fun part — shopping! Hope you love some of our favorite designs below, which include Minted's foil-pressed holiday cards,  ornament cards, booklettes, and evenholiday birth announcementss for your winter babies. (Aw.)
Foil-pressed holiday cards
Sometimes, no matter how hard we try to get that perfect family photo, it just doesn't work out. But that's okay, because the Merry Sparkle card by Bethan — which we think has just the right amount of sparkle — lets you capture a good photo of up to four family members whenever they're in the mood for a photo shoot, and the result is adorable. If you have a bigger brood, use group shots. If you've got one kid, maybe four different shots of him would be awesome too.
When you you've got that one amazingly perfect photo of your kid or your family, the Abundant Happy holiday card design by Alston Wise displays it beautifully. This is one we'd totally keep on our fridge doors well past January.
A gold foil-pressed card is pretty much made for Hanukkah, so this simple, lovely Happy Hanukkah card designed by Annie Clark fits the bill. If your kids get along as well as these kids do when it's time to take photos, well there's your modern Hanukkah miracle right there.
If you want a simple, classic design that's going to really show off that great family picture, I like this modern Full Hands and Heart holiday card by Carrie Oneal which is a nice, simple choice. You can choose different paper colors, as well as gold, silver, or rose gold foil. (To match your iPhone 6, ha.)
– Don't miss a chance to win one of two $250 gift cards to Minted below! – 
Booklette Holiday Cards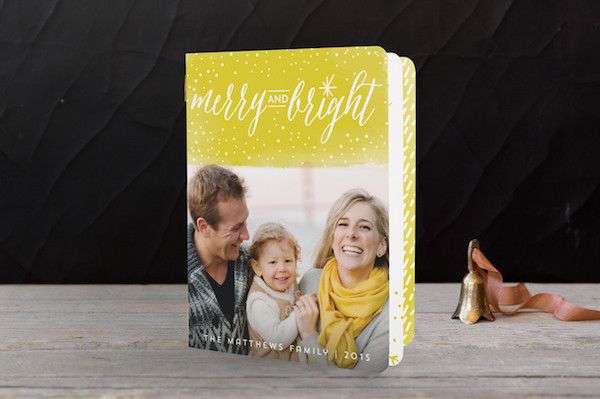 If you want a break from all the red and green, I really like the sunny yellow color of this Bright Snowy Day holiday booklette by Susie Allen which really makes it pop off the mantle. (Although she does have a few other colors you can choose from too.) With 8 pages of photos and text to fill out, this design will let you really recap your whole year — or get the most out of a family photography session you invested in.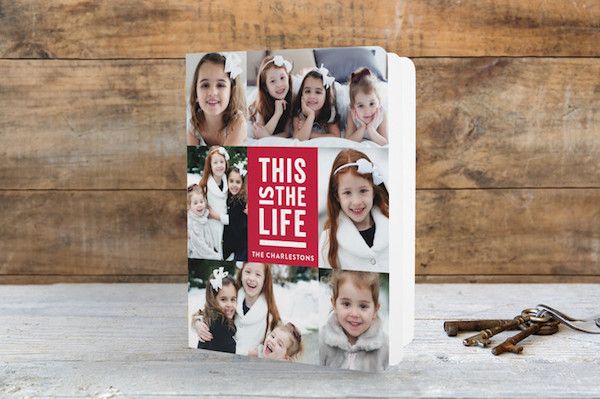 How sweet is the sentiment behind the This Life holiday booklette?  Jody Wody's design really speaks to me.  Because sure, the days can be long sometimes. But when you think about it, having little kids around the house really is the life.
Now that the heavily designed chalkboard-art trend is starting to fade away, we're loving this minimalist Geo Peace holiday booklette by Stacey Meacham. It has a clean, modern design that almost brings its own kind of peace into our busy holiday schedules, whether it's Christmas or Hanukkah you're celebrating, or sending out New Year's greetings.
Ornament Holiday Cards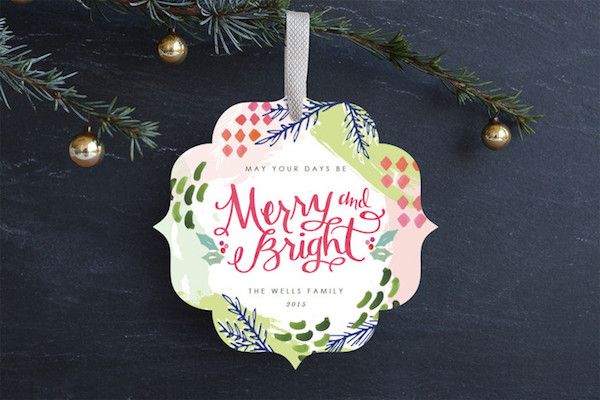 If you're not the family photo type, or you send yours as their own photos separate from the card, Try the Extra Merry and Bright ornament card by Makewells. The non-traditional colors are refreshing, but the sprigs of holly still make it so festive for your Christmas tree — and that thick linen ribbon that's included with all their ornament cards will last you for years, unlike my cheap box of ornament hangers from the drug store.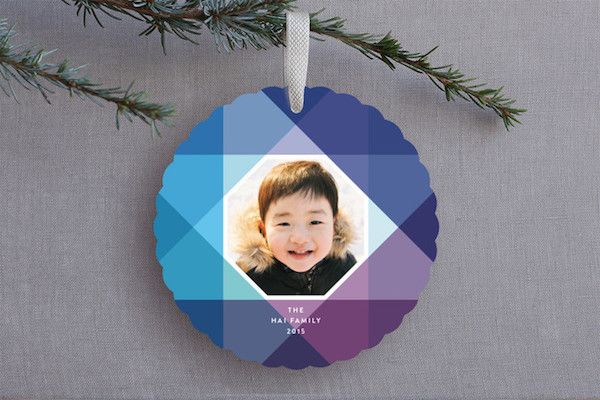 This Bright Overprint holiday ornament card designed by Up Up Creative comes in a few different color schemes, but I'm loving these blue hues which is so modern. It could even be nice as a Hanukkah card, whether it ends up on a tree or just hanging over the corner of a picture frame on the entryway table.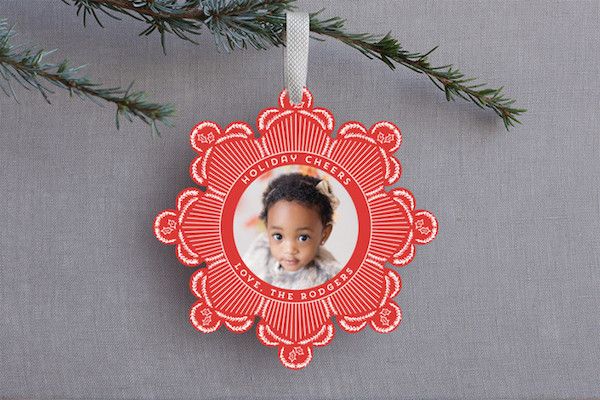 Thanks to the vintage-look of the design details on this Snowdust holiday ornament card by Chris Griffith, this ornament is a classic I'd still pull out to decorate the tree with even when my kids are heading to college. Sniff. (See it at top in a very pretty mint green, too.)
Holiday Birth Announcements
If a new baby is the big change in your family this year, then let your holiday cards focus on your big news. (Whoo, two-in-one time saver!)  This Santa Came Early holiday birth announcement by Alicia Schultz is about as precious as they come.  In a good way. And if you can't duplicate that exact pose, this design should accommodate almost any fantastic photo you have of the baby.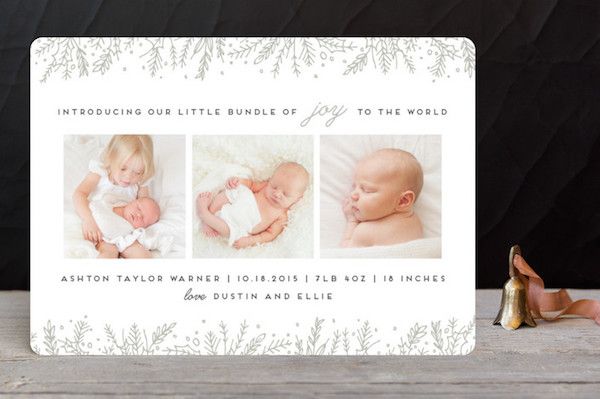 You probably already have 2,461 photos of your new baby, so if you can't choose just one to use on your card, no problem. The Introducing with Joy holiday birth announcement by Bethan feels sophisticated and classic. And if you like even more than three of your photos? You can add more with Minted's custom back designs.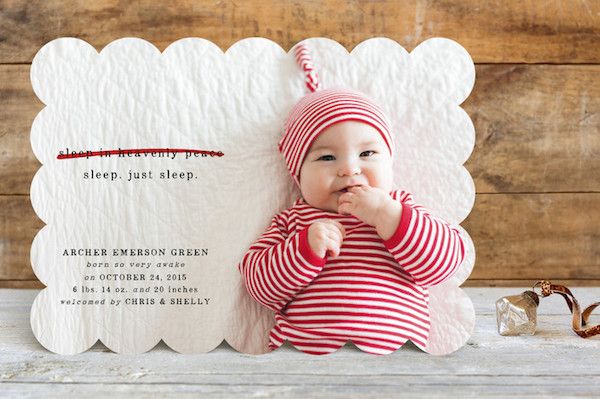 We're all totally cracking up at this Just Sleep holiday card by Erin L. Wilson. Because yeah. She gets it.
EXTRA-COOL: WIN IT: We're giving away two $250 Minted gift card shopping credits to our readers! Visit Minted through this link to enter before Thursday, November 5 at 11:59 pm PST.  One entry per person, 18+, US only please. GOOD LUCK!
And thanks again to our sponsor Minted, for making Christmas card shopping so much easier, especially now that we don't even have to address our own cards because The Minted Envelope is doing it for us. Best pre-Christmas gift ever.