We've got a strong competitive gene in my family, which means when we all get together, we like to hang around the dinner table playing board games. The kids get in on the action too, but that doesn't mean we're relegated to playing kiddie games all the time. We've found a lot games that the kids and adults both enjoy, from silly, laugh-out-loud games to more complicated strategy games that take a few hours to play.
So, we've rounded up our favorite board games for 6 players or more. We hope they help get you through the throngs of friends and family you'll be visiting with this holiday. And hey, maybe they'll even keep more people out of your kitchen.
CMP is an rstyle and Amazon affiliate.
Wits and Wagers Family Edition is like Trivial Pursuit meets Vegas. On each turn, a trivia question is read out loud, and the answer is always a number. You write your guess on a card, and everyone takes turns betting on the right answer. It's not so important that you know the exact answer, but that you can estimate well. Even the little kids can play this one without messing up the serious competitors — as long as the parents act like their outrageous answers are perfectly reasonable guesses. (up to 10 players)
If your family is less about winning at any cost and more into creativity and storytelling, you'll enjoy Dixit, or any of its expansions. It's a fun bluffing game where one "storyteller" tells a story to describe the illustration on his card. Then, each player looks through the cards in his or her own hand to pick one that fits that description, and slides it secretly to the storyteller. They're all laid out on the table, and the players have to guess which one was the storyteller's card. (3-6 players, but you could easily play in teams with larger groups.)
We've had countless laugh-so-hard-you-snort moments playing Scene It together at our place. Sure, it's been around forever, but with so many specialized editions this one can get really fun. My mother-in-law is a Disney fanatic (fanatic, you guys) so it's always fun for the whole family to see who can beat her at trivia about the happiest place on earth. Or, if Scene-It Sports, Scene-It Marvel, or even Scene-It 80s Edition are more your thing, you can battle it out on those fronts to see who's the bomb in your family. (2 or more players)
For a very short, fun strategy game full of deception, get a big group together to play The Resistance. Warning: this one can get rowdy. The players are each dealt a card at the beginning of the game, which tells them whether they're part of the Resistance (the good guys) or they're spies (the bad guys). Then, everyone closes their eyes so the two to three spies can look around the table and find each other. Now's where the fun starts — the spies have to work together secretly to sabotage the Resistance's mission, and everyone else is trying to figure out who the spies are as you play. Lots of lies, accusations, and trickery going on here. Lots of fun. (up to 10 players, the more the better)
If you're looking for a good laugh, get everyone together to play HedBanz. Each player places a card in their headband facing away from them, then asks the other players questions to figure out what's on their card. It sounds simple but it can really keep you going for a long time. Our editor Liz tells me her family is still laughing over her eight-year-old trying to act out "parking" while everyone was guessing, "gorilla attack?" Hilarious. (up to 6 players)
When we have serious board game geeks over, we pull out Power Grid. This game is no joke: it can make Monopoly look short and sweet. But if you get into strategy games, it's a great one to play with a group — and even our 8 year old loves it. To play, you take part in auctions for power plants, then buy resources to power up those plants. Ultimately, you want to be the one who can light the most cities by the end of the game. (up to 6 players)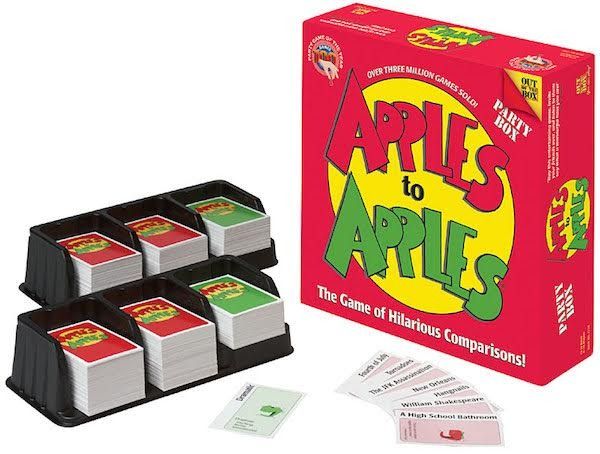 We end up in hysterical fits of laughter when we get together and play Apples to Apples. Players take turns being the judge, which means you draw a card with a descriptive word on it, like ridiculous. Then, each player looks through their hand and finds a card (with nouns on them) they think matches that description — maybe, "political debates" or "my first boyfriend." The comparisons can get you so tickled you really can't stop laughing. (up to 10 players)
Liz and Christina combined their families to play Ultimate Werewolf this summer, and it sounds like it was so much fun that I'm inviting myself next time they play. This is massive fun — the game works with up to 75 players. Whoa. But you can play with as few as six. It's like The Resistance in concept, only the group is divided into various kinds of Villagers (the town drunk is always a favorite) and a few Werewolves out to get everyone else — only no one knows who's who.  Both teams work to eliminate each other from the game, and when all of one group is gone, the game is over. The manufacturer suggests playing with kids 13 and older, but Liz says you can play with kids as young as about six or seven, especially if you're willing to bend the rules a little to accommodate them. (up to 75 players, seriously)
And don't forget the classics, just because they've been around for ages. Pictionary and the really smart Trivial Pursuit Family Edition, which has different cards for kids and adults, are still some of the most fun we've had around the game table.
You can find all these games online through our affiliate Amazon or support your local indie toy stores or local shop that carries games. My own favorite go-to indie game shop: Big Move Games. Rod, the owner, has an uncanny ability to direct us to the next board game we'll binge on with prices you can't beat.