As avid readers ourselves, it's probably no surprise we try to get our kids excited about reading every chance we get. But, some kids are harder than others (funny how that works), and finding creative ways to motivate less eager readers can be tough.
And that's where LeVar Burton comes in. Yes  that LeVar Burton! He happens to be our very special guest on this week's episode of Spawned with Kristen and Liz. (Is it so wrong if we insert toddler-decibel squealing here?)
We're beyond thrilled that he took time out of his busy schedule to chat with us about how he got started, why it's essential to inspire kids to read, the importance of diversity in children's books, the connection between literacy and the election year — and of course, his brand new project, Reading Rainbow SkyBrary, a web-based digital library of hand‐curated children's books and story‐driven educational video field trips that's now available for schools.
Let's just say both Liz and Kristen got a little weepy speaking with him.
We're biased of course, but this episode is really worth a listen. You can listen to LeVar Burton on Spawned right now on Soundclound, or on listen on iTunes or through your podcast app.
While there's so much more to be learned from LeVar on the episode, we've distilled his three simple tips for parents to help us all get our kids more excited about reading:
1. Your kids need to see you read. As with so much of parenting, you're setting the example for your children in what you do day to day. In other words, if they see you read, they'll understand its value to you and your family and it will help them understand its importance in your family.
2. Know your kids' passions. Since all kids aren't the same, they aren't going to like the same books. Figure out what they enjoy, whether it's Star Wars, ballet, bicycles, history… and find books that help feed those interests. It doesn't matter what the book is, as long as it gets them to read. Yes, even comics.
3. Make library time family time. The public library in your town is such a wonderful and sometimes overlooked resource and hello, it's free! If you're looking to spend time together with your family, the library is a fantastic place to visit, and can really have a strong impact on a child's love of books and reading.
And if you want to learn more about SkyBrary (your kids will love it) or get Skybrary School in your own kid's classroom, visit the websites and see just how to do it.
Cool Picks of the Week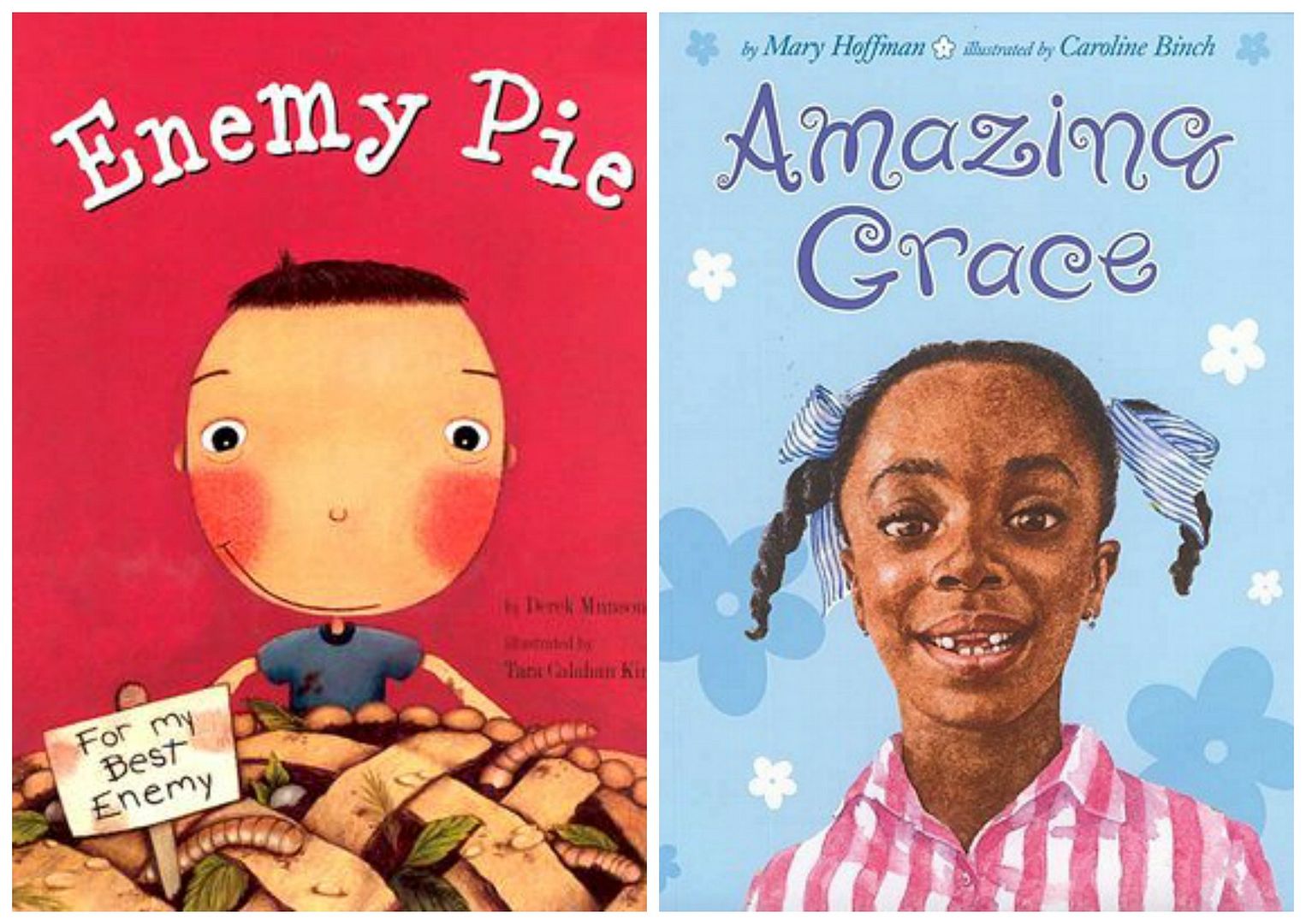 LeVar: Two fabulous books for kids to check out: Enemy Pie, by Derek Munson and Amazing Grace, by Mary Hoffman and illustrated by Caroline Binch.
(And hey, when LeVar recommends books for our kids, we listen!)
Liz: The Grammar Girl website and podcast.  Do you know the right times to use lay, lie, lain or laid? She can help!
Kristen: The series of free printable Ruth Bader Ginsburg coloring pages. Because they are awesome and so is she.
*****
For our entire chat with LeVar Burton about getting kids excited about reading, listen to Spawned with Kristen and Liz right here on SoundCloud, or over on iTunes where you can even subscribe so you don't miss an episode. And please, share Spawned with a friend!
If you have ideas to add, want to suggest a guest? We'd love to hear them in comments! Or you can catch us on Twitter (use the hashtag #spawnedshow) or email us with your comments or show ideas at spawned@coolmompicks.com.