Along with eating an entire bag of Cadbury Mini Eggs (ugh), I've kicked off the Easter season by dyeing dozens of Easter eggs with my kids. And since our family consumes a ton of hardboiled eggs, I like to use natural dyes on them whenever possible.
I've used the eco-kids eco egg coloring kit before and this year it has gone even more green, so to speak, with the inclusion of a grass-growing kit that is way more eco-friendly and educational than packages of neon-colored synthetic grass.
Related: How to dye Easter eggs naturally: Step-by-step instructions and inspiration
I have to admit I was a bit skeptical that anything more than a single blade or two would grow but, in just a few days, an entire patch of grass has sprung up in our pot! In fact, the grass is growing so fast, we had to replant it into a larger container with more soil in the hopes of having an abundant green grass display for our Easter eggs.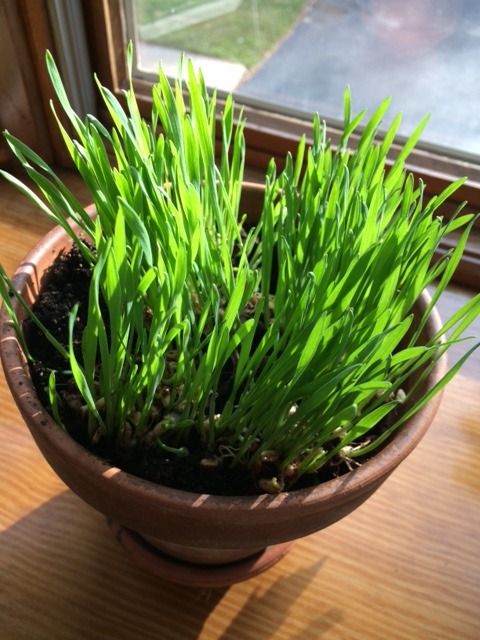 I still can't believe we grew this!
Eco-kids' egg dyes use 100% natural and organic fruit, plant, and vegetable extracts from annatto seed, purple sweet potato, and red cabbage. And while I know I could DIY my natural egg dyes, sometimes the convenience of a ready-to-go kit is exactly what busy parents need.
Just know this isn't a quick project — it takes about 15 minutes to color a single egg — so give the kids something else to do while they wait.
My tip for best results is that you dissolve the powders in a mason jar with a lid and shake to remove any clumps. This way, you can also store any leftover dye in the airtight jar in the fridge.

As I found back in 2011 when I first tried eco-eggs, the powdered colors make gorgeous pastels, so as with all natural dyes, don't expect bright, bold colors with this kit. I still haven't had much luck getting a pretty pastel green, but in the end, I'd say my eggs look just as pretty as mini chocolate ones. If only I can resist the urge to choose them over the ones from Cadbury.
Eco-kids eco-eggs egg coloring kit, with the grass growing kit included, is available at their website for $9.99. Thanks to eco-kids for sending CMP a kit to test.