Ever had that feeling of irritable jealousy when you caught your pregnant friend still rocking cute cotton dresses and jeans without expandable waists? Yep, me too. In a blink of an eye I was in clothes that made me look like I was due any moment. . . and let's not even discuss how long I wore those saggy maternity clothes after my baby was born. I could have used some pieces from the new-to-the-US Mayarya: More than Maternity line, which has so many gorgeous outfits that are designed to work with a woman's changing body, whether she's expecting, nursing, or not expecting at all.
Created by Japan's Reika Kato Shetty, Mayarya's cornerstone is that they have what I like to call "transitional" clothing: Pretty wrap dresses that look as stunning on a ballooning pregnant body as they do on a woman pre- or postpartum, and sweet tops designed for a nursing mom that can easily cover a third trimester belly. Think of them as pieces that are made to make a woman look and feel amazing no matter what trimester — or non-mester — she's in.
Related: Cake Maternity's lingerie offerings. Moms-to-be need to feel sexy too.
I love that Mayarya's pieces, which are primarily in the $50–$150 range, do a great job of flattering a woman's changing body instead of just trying to hide it under more and more fabric. I was a bit self-conscious about wearing something so fitted as this striped dress, but I found the soft and stretchy fabric so forgiving even on my I've-had-three-kids body. And should I ever decide to give my husband a shock and announce a fourth pregnancy, I know that I could easily wear this dress for the duration.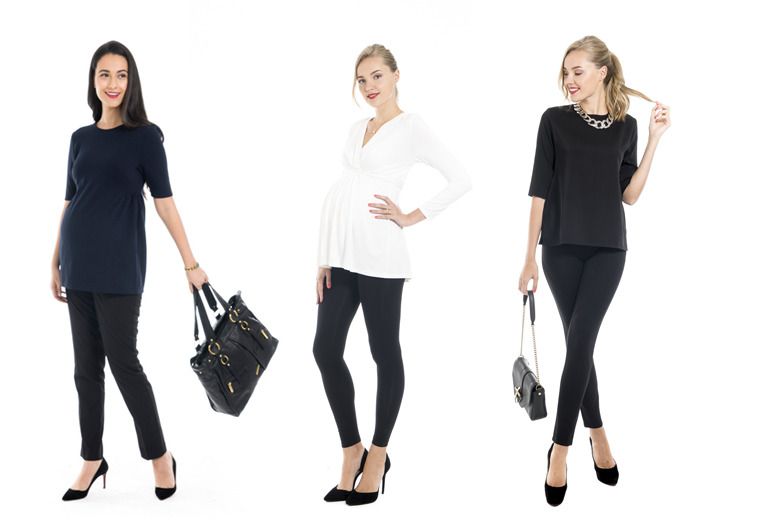 One thing to note though: Mayarya is not a plus-size or even a slightly-bigger size fashion site. Their size "large" corresponds to a US women's size 8 — so unfortunate, considering many of us waved goodbye to a size 8 long ago.
In addition to these multi-purpose pieces that can be worn by (petite) women before, during, and after pregnancy, Mayarya also has an extensive line of clothing for breastfeeding mamas, and high-style options like skinny maternity jeans or sexy undergarments that will make you feel ultra feminine, even when you can barely get out of a chair.
Check out Mayarya's new worldwide website for maternity and breastfeeding clothing that can also be worn long before and after pregnancy. Make sure you change the currency shown to US dollars since the default Hong Kong dollars will give you quite a shock. Mayarya offers free shipping and returns worldwide. Thank you to Mayarya for sending me that shapely striped dress that I will wear, often.