True fact: This book is so cool that I had to go steal it back from my fifth grade daughter to review it. It's called Women in Science: 50 Fearless Pioneers Who Changed the World, and it's geared toward celebrating the contributions women have made to science and the hurdles they've faced doing it. Whoo. These ladies were doing STEM before it was STEM. From Hypatia in ancient Egypt to Maryam Mirzakhani, an Iranian mathematician who was the first-ever woman to win the Fields Medal in 2014, this book perfectly balances well-researched facts with gorgeous, whimsical illustrations making it a favorite you just can't put down.
CMP is an rstyle affiliate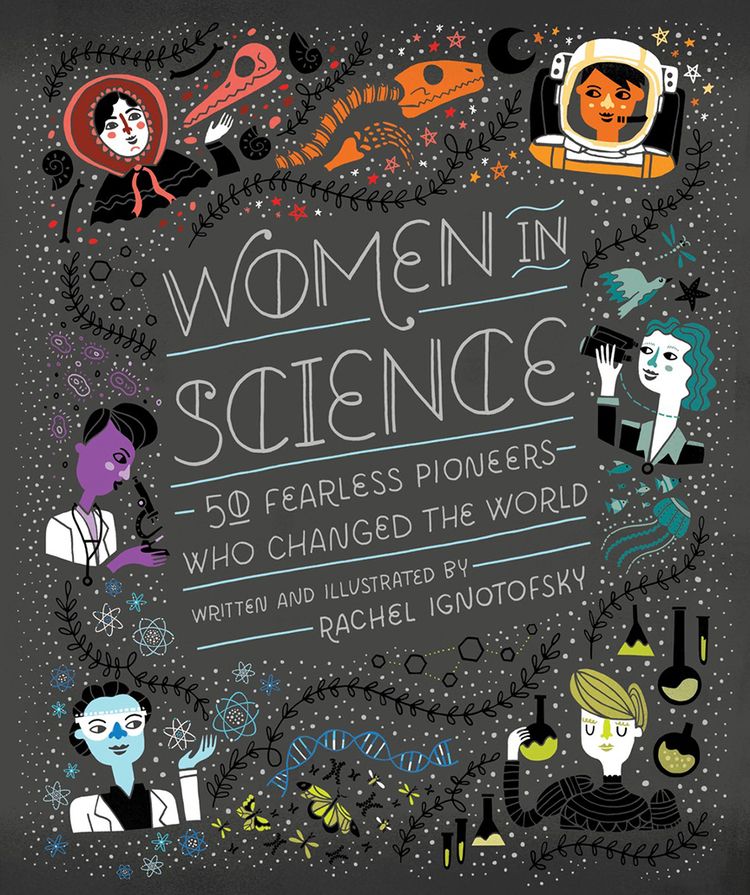 Ignotofsky pulls no punches in relating the struggles her heroines have faced. From women whose contributions were erased or lessened because they weren't men to suffragettes and women of color who were denied their rightful place in history, the text focuses on these fierce women and how they fought hard to help the world. Curing diseases, spying during wars, discovering new species — women have been busy! Although there are plenty of Americans in these pages, Ignotofsky has included influential scientists from all around the world — such as Mamie Phipps Clark who rose above racial segregation in the south to become a psychologist and Civil Rights activist, and Lise Meitner who escaped from Nazi Germany and discovered nuclear fission.
Related: 12 cool STEM gifts for girls. (And hey, for boys too.)
Because the illustrations feel so inviting, my kids were drawn to explore all the quotes and side notes and ask questions about lab tools, cell structure, and gluons. And breaking up the parade of awe-inspiring ladies are statistics on women in STEM, a glossary, and a timeline of events.
Women in Science is a beautiful book to have around the house, and to keep accessible at all times (my daughter reads it while eating her oatmeal). It's a fantastic gift for the STEM girls in your life, and a kick in the pants for any young scientist with aspirations of greatness.
My only two questions: When will we get a book on Women in the Arts, and can I get all these illustrations as tattoos?
You can purchase Women in Science at our affiliate Amazon or look for it at your local bookstore. And psst… for each kick-butt STEM lady featured in the book you can buy posters and T-shirts from the author herself on Rachel Ignotofsky's Etsy page. She's even got some adorable onesies for your favorite bouncing baby scientist.