If you've done any back-to-school shopping lately, you may have noticed, like we have, that llamas are taking over the world. Quietly. And with deceptive cuteness because let me tell you, llamas mean business.
The takeover may be inevitable at this point, so I've rounded up some of the most adorable llama-themed back-to-school items from around the web that I've found. Isn't it nice when trends are stuff we can say we liked "before they were cool?"
Yeah, foxes are kind of 2015. Don't even get us started on owls.
Related: Cool, colorful school supplies to make September more fun | Back to School Guide 2016
CMP is an rstyle affiliate
In our roundup of 34 of the coolest lunch boxes and bags, we, of course, had to include the No Prob-LLAMA lunch box by Fashion Angels. We spotted it at Nordstrom and it's been on our minds ever since. It's not only affordable, but no llamas were harmed in the making of this lunch box.
They say first impressions count, and these "Hello Llama" Rubber Stamps from Creatiate on Etsy make a solid greeting for all of your kids' cards and notes — like the one they'll be giving their new teacher to welcome them back to school, right? Plus, stamp these fuzzy guys into a pattern on craft paper for very cool wrapping paper or on-trend journal and textbook covers.
I love many of the prints from Modcloth, but they're really crushing it this fall with their beyond adorable Llama, I'm Coming Home Hamper. I think a college kid would love this bin, as would any child who needs a fun reminder to put away their dirty clothes or to stash away toys or stuffed animals. (Like llamas, perhaps.)
Related: Panda school supplies! One trend we're down with
For the kid who loves llamas but still wants to make straight As, I present to you the Mr. Llama laptop sleeve from Society6. This guy's all business, from his nerd glasses to his popped collar (at least I think that's what that is).
If Mr. Llama is a little too serious for you, meet his cooler cousin — also from Society6 — Hipster Llama laptop sleeve, who Kristen introduced us to in her round-up of cool llama phone cases. Note: Cool Mom Picks is not responsible for any earrings or tattoos inspired by Hipster Llama.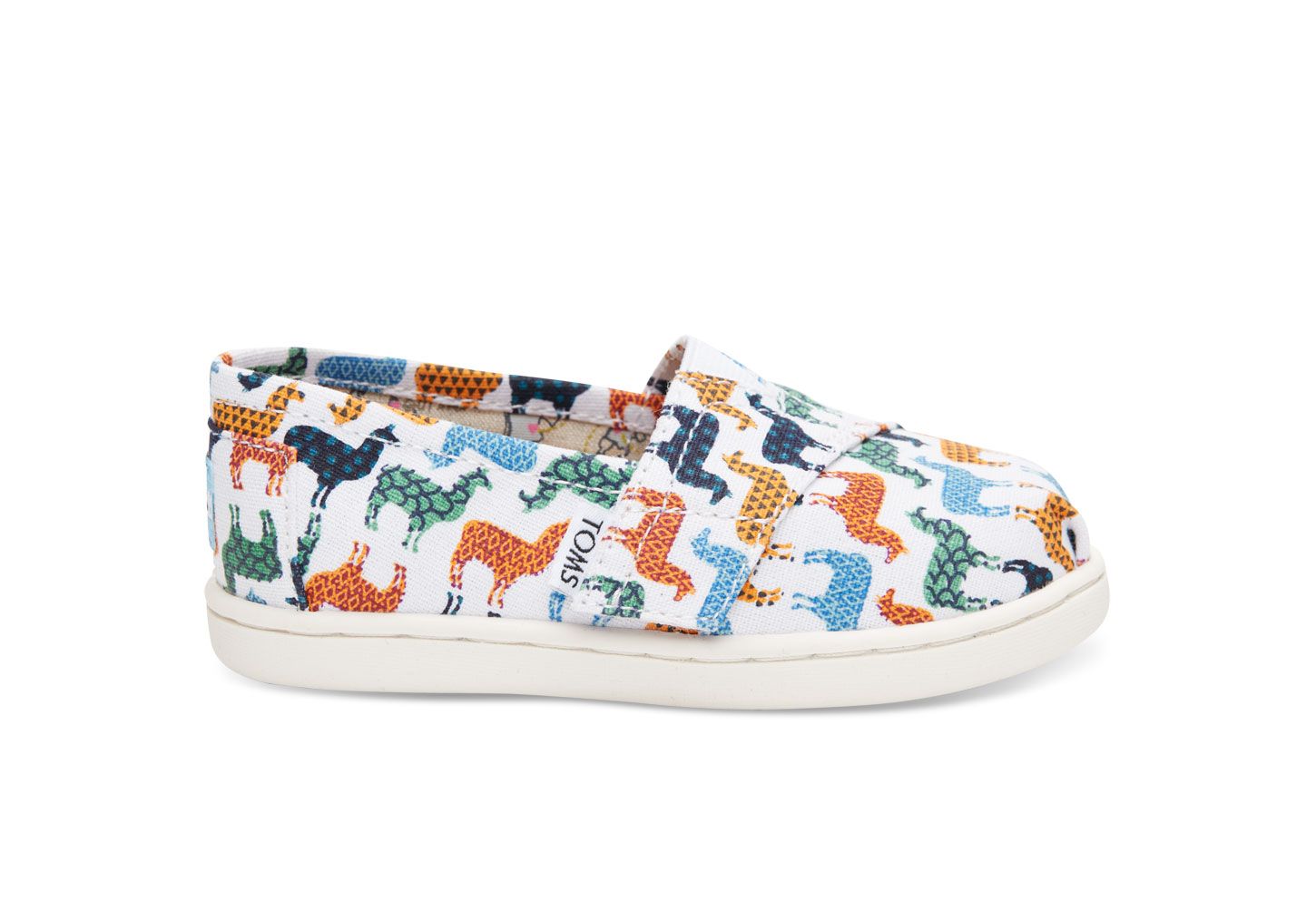 TOMS delivers their trademark slip-ons to lots of underprivileged regions of the world, but this particular pattern was inspired by their charitable work in Peru, a major hub for llamas. I'm loving the geometric patterns on these Llamas Print Canvas Youth Classics, which I think will be a big hit for girls and boys this year.
Related: These metallic shoes for kids are winning back-to-school
So many awesome llama puns, so little time. I typically don't like to encourage drama, but these Drama Llama stickers from Planner Penny are so cute, I can't help myself. Stick these on any basic notepad or textbook for an instant fun upgrade.
If you can't get enough of the lunch box above you can also find the cool mint design in this Llama Backpack found at Target. Because what's not to love about a llama jamming to his favorite tune on a boombox?
For a younger kid just starting kindergarten or preschool, I think this brass llama enamel pin from Boygirlparty is such a sweet little companion. Attach to a backpack or jacket for an instant friend.
For older kids who already have a cell phone (for parental texting purposes only, of course), why not dress it up in these whimsically patterned llamas? Just looking at this colorful iPhone Skin from Society6 gives me a little happiness boost, which may come in handy for kids (and their parents) during those early school mornings.
Since we're fast moving into fall, I had to include one winter-esque llama scene. And this Aztec Llama Pencil Case from Zazzle hits the spot, with a print that evokes all the feelings of a warm fuzzy sweater and hot cocoa. Storing writing utensils just got a lot more exciting.
Clearly, we have a soft spot for hilarious llama-themed notebooks. From top left: Llamacorn $12.00, jezkemp | llama portrait $12.00, Jean Gregory Evans | Llama $18.34, Zju-Zju | Bananas About Llamas! $12.50, AParry
Obviously, I had to include one cool llama tee, and I pared it down to this Harper & Elliot Llama Graphic Tee at Kohl's, since it features our favorite creature wearing a kazoo and a party hat. Which is not humiliating at all. I mean, don't you ever wear party hats? Exactly.