Yes, we know — announcing a pregnancy used to mean making a phone call to your parents, or maybe having a dinner if you wanted to go big. But now, so many couples are looking for creative ways to announce a pregnancy and, I get it. Especially as someone who's now expecting for the first time. (Whoo!)
I know how hard it was keeping the big secret under wraps for those long, long first 12 weeks — partly due to my own excitement, and partly due to the fact that I've never been known to turn down wine at a dinner party. (Dead giveaway.) So it makes sense that you may want to do something more creative, if only to celebrate the fact that you've kept such a huge secret for so long.
I also know it can be hard to find a fun pregnancy announcement idea that's the right balance of heartfelt and creative, without veering into seriously cheesy territory or over-the-top flash mobs caught on video. (Eek.) So I've reigned in my sentimentality, at least to the best of this pregnant lady's abilities, and gathered some clever, tasteful, but still fun ideas to break the pregnancy news to the future aunties and grandparents and godparents in your new baby's life.
And don't worry, I've seen the Prego spaghetti sauce pun a few too many times too. You won't find that here.
Related: 10 of the most outrageous gender reveal party ideas. Cool or just . . . whoa.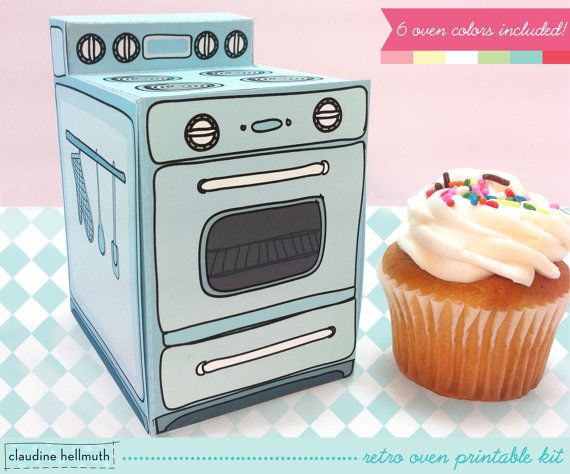 1. Put a bun in that (printable paper) oven
I think we can all agree that the "bun in the oven" pun is a bit overdone. But then I saw this adorable retro oven cupcake box from Claudine Hellmuth and thought — cute! For this pregnancy reveal idea, just print the paper oven, fold, put a bun in it, and…surprise!

2. Let them eat cake
If you don't want to get too clever with family members — considering they'll be overjoyed with or without a big pregnancy reveal — this simple pregnancy reveal cake idea from Design, Dining, Diapers may be the perfect solution. It's sweet and celebratory, with just the right hint of Wait! Does this mean what I think it means? I also like that it's straightforward, it doesn't take much effort to make it yourself. Or make it simpler, and just decorate a store-bought cake or even a large cookie.
3. Send a messenger
If you're announcing child #2 or beyond, capitalize on the cuteness of your older kids by having them announce the news. Dress your little one in one of these cool big sister tees (or big bro tees) from Etsy's I Love Co. for your next family gathering. I think your kid will love being the center of attention (at least for the next few months). If your loved ones are far away, snap a pic and send it out.
4. Drop a playlist
Since getting pregnant, I find myself fixated on baby-themed songs like the Talking Heads' Stay up Late, despite its constant reminders of future sleep deprivation. So it's not hard to put together a cute baby playlist (actual cassette not necessary) that you can blast on a family road trip or at a gathering to see who picks up the hint first. Some ideas:  Macklemore's relatable Growing Up,  the Dixie Chicks' Lullaby, Stevie Wonder's Isn't She Lovely. Not recommended: Cat's In the Cradle.
5. Claim your new little deduction
Since the future granddad of my baby is an accountant, this Tax Deduction baby onesie I saw on Cafe Press definitely stood out as perfect for us. Wrap it up for any relative who appreciates tax humor. If there is such a thing.
Related: The Ultimate Baby Shower Gift Guide: More than 175 of the best baby gift ideas
6. Write your own fortune.
Several companies, like Fancy Fortune Cookies above, or Fortune Cookie Planet (at very top), ship you cookies with your own customized fortunes, so you don't have to spend time baking your own. I think this would be such a fun pregnancy reveal idea to cap off a dinner party at home (if you can make it through the entire meal without blowing it), or you can even sneak them to your server to hand out to the table after dinner at your favorite restaurant. Just get creative with the fortune like our idea at the top. You can even just print, your lucky numbers are 2-16-2017 and see if they get it.
7. Give them a jolt.
In my experience, expectant relatives love to use their new titles. That is, when they have one. (My own mom has been frantically hunting for the perfect grandma name for weeks now — time to check out a book like You Can Call Me Hoppa for inspiration). So I'm pretty sure this idea from Events by Elisa would be a big hit for plenty of expectant parents. If the barista will scribble nicknames on each cup for you, awesome; otherwise bring your own Sharpie, then hand-deliver a tray of specialty coffees to your family's table, each with their own more-special inscriptions.
8. Toast to that.
I think this pregnancy announcement custom wine label is such a cool gift for sisters, brothers, and close friends. You can pretty much customize it to say anything you want but TenTwelveDesigns has lots of creative options from Drink this for me, I'm a mom-to-be to The best sisters get promoted to Aunt. Or keep it super simple with a modern graphic like this baby bottle accompanied by your due date. Then, cheers to the news together — with your own non-alcoholic beverage, of course.