It seems the days of simply announcing whether your baby is a boy or girl seem to be long gone. The latest trend in baby showers that shows no signs of waning is the gender reveal party — personalized, meticulously planned, sometimes messy events with executions that can be so time-consuming, we can only imagine that these ideas are conceived by parents who know they will never, ever have this much free time available to them ever again.
On one hand, we have to say we're wildly impressed with the creativity. On the other hand, you kind of have to ask yourself honestly whether there are actually more than a couple of special people in your life (i.e. the grandparents) who are truly as excited as you are to find out "boy or girl"–or whether they're all just pretending to be as excited as you are because you have really nice friends.
So what do you think? Would you consider any of these gender reveal party ideas?
-Christina + Liz
2021 Update: Since this post was first written, we want to be abundantly clear that while a sonogram may reveal the sex of the baby, gender is nothing something determined in utero or from birth. We apologize for using the inaccurate term "gender reveal" even though it's what you may be looking for.  Also, girls like blue too, and boys like pink.We have proof — our own kids. 
Related: The Best Baby Gifts of the Year: The ultimate guide to shower new parents with love
1. Bring In a Live Ultrasound Technician
Instead of bringing your friends and family into the OB-GYN exam room with you, why not bring the exam room to you? Couples are now hosting live gender reveal parties at home while enlisting the services like Santa Monica's Peek-A-View Mobile Ultrasound so your personal viewing of your little growing fetus can now be a semi-public event. Or at least invited guests only. (We hope.) Their services start at $500, so this is a serious splurge and it doesn't even include mocktails and cake.
Oh, and don't worry–in case you're wondering, they use an abdominal probe. Not the other kind.
[via daily mail]
2. Host a Gender Reveal Paint Fight

Congratulate us! We're having a…paint fight! One couple decided to squirt guests with bottles of pink or blue paint and host a Gender Reveal Paint Fight as a way of breaking the news. We actually kind of appreciate a not-so-fussy idea like this in a sea of perfectly styled party themes. At least provided all your guests remember to show up wearing old clothes and sweats. And hey, it will make for some good Instagram fodder.   [photo: kaitlyn nicole photography]
 Related: 10 unique baby gifts that are still cool and not silly
3. Smash a Gender Reveal Pinata
Admittedly, our first thought about a Pinata Gender Reveal Idea was, "Dear lord, someone just handed a hormonal woman a baseball bat!" But the more we looked at the photos, we realized the couple looks like they're having a really good time.  Which is a far cry from our own experiences getting the news over the phone from our OB when we were home alone. [photo:  Chelle Nicole]
4. Bake a Gender Reveal Surprise Cake That's Superior to all Other Gender Reveal Surprise Cakes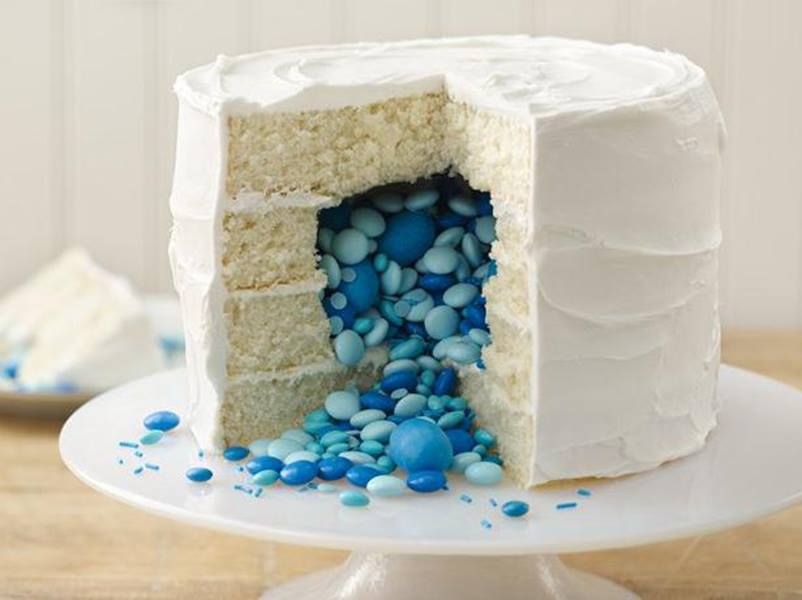 Cutting into a pink or blue cake is pretty common at gender reveal parties and baby showers, but in a world of "my Pinterest photo is more impressive than yours," clever bakers are upping the ante. Like this Gender Reveal Surprise Cake idea from Betty Crocker, which spills the news with a clever cascade of candy in the appropriate color.
Related: The absolute best food gifts for new parents, according to new parents
An easier option: Pay someone else a hefty sum to prepare a lovely cake for you. We've seen some mindblowing options with the requisite pink or blue tinted layers of the cake inside. Like this stunning gender reveal cake from Pelin Agkun (and future mom of a girl, evidently) on her Instagram account.
This amazing gift wrapped gender reveal cake was spotted at Baby Bird Art, reminding us that each baby is a gift, no matter what the sex. (That's how we read it at least.) It was served at a friend's party, so unfortunately we can't bow down to the fondant magicians who created it.
Not satisfied with mere colored layer cake? I Am Baker blew our minds with this Surprise Inside Gender Reveal Cake. No matter what she says, there is no way ours would come out as perfectly as hers. Or even close. You need to beg a pro to do this one for you. (Also, for some reason it reminds us just the teeniest bit of some fairy tale child baked in a witch's cake but that's probably just us.)
5. Bake Jaw-Dropping Gender Reveal Cookies
Cake seem too ho-hum for you? Try gender reveal cookies like these amazing ones from Craftstorming. Here, the secret surprise is…loads of tiny little candies all over the place! Or at least that's what would happen in our kitchens. If you're interested, the instructions are right on the blog; all it takes is a cute onesie cookie cutter, royal icing, three layers of cookies, and a professional food stylist and photographer from Cake Central Magazine.
Related: The best baby shower gifts under $15
6. Force a vote.
Nothing like a little friendly competition at a party. On Etsy you can find this Gender Reveal Chalkboard Printable Sign from Simply Modern Design X and make each person vote. Then make them wear Team Boy or Girl buttons (these cute ones from Put on Your Party Cap) and only eat Gender Reveal Cake Pops (instructions at Rose Bakes) in the color of choice to further alienate them from one another. Finally, when you present the big reveal in some outrageous way, make the losing team clean up the party. Ha, kidding.
Actually one reason that this gender reveal idea is perfect, is it prevents your mother-in-law who swore you were going to have a boy, from spending the next 18 years insisting she always knew it was a girl. You will have the photo evidence and lots and lots of witnesses.
7. Pop a Balloon Filled with Pink or Blue Confetti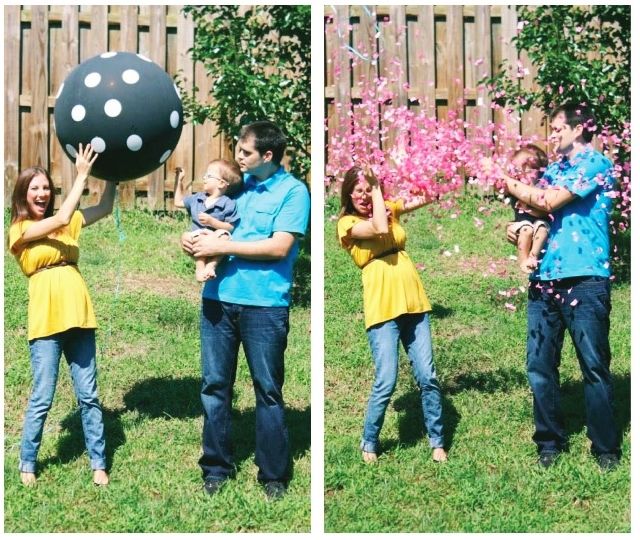 While we imagine that it's hard enough to get the confetti into the balloon in the first place, we honestly hope that the pregnant woman isn't the one having to clean it all up afterwards. Also, judging from this photo, hopefully the confetti is fully pasteurized and contains no raw shellfish.  (Just kidding–she actually looks thrilled about her future baby girl in the subsequent photos.) The full instructions for a Gender Reveal Confetti-Filled Balloon are on the Ever Love Design Blog.
And if you're looking for balloons, you can find them made for this very purpose at an Etsy shop called Gender Reveal. Yes, there's an entire shop dedicated to this trend.
8. Make a Gender Reveal Glitter Egg
Along the same lines, in a move that's definitely made for Pinterest, mom-to-be Paulina at a Homemaker's Journey created an impressive Gender Reveal Glitter Egg (update: the site is no longer around, unfortunately) by hand-blowing the yolk out of the egg, painting it, then painstakingly filling it with pink glitter before cracking it open. We bow down to her crafty commitment. Can you imagine doing one of these for each of your party guests? Also, it's clear she's a first-time mom because she has not yet discovered the seventh circle of hell that is a glitter bomb in your home when the kids decide to get crafty.
Of course you can save time and frustration by ordering gender reveal party eggs from Etsy shop Cascarones, then hand one out to each guest for the big reveal moment. These, however, are filled with confetti, not glitter. Because clearly this artist already has children. We're giving her the knowing wink and the secret anti-glitter handshake
9. Host a Gender Reveal New Year's Eve Style Countdown Party
If you're still feeling bad about falling asleep at 9:40 on New Year's Eve, you can recreate the overrated excitement with a gender reveal countdown party. We're blown away by this sophisticated party at Hostess With the Mostess, complete with cookies and milk in cocktail glasses, a string of (presumably) non-gender specific ultrasound pictures clipped to a line with clothespins, and the big finale: Actual fireworks.
Seriously. This couple had both pink and blue fireworks at the ready, to herald the announcement.
Just don't try this on the roof of your NYC co-op. You will be evicted and then have way bigger issues to worry about than hosting the gender reveal party of the year.
10. Have a Balloon Launch Gender Reveal Surprise
1. Hire Mallory Buck, evidently the coolest, kindest, most creative, try-anything photographer ever.
2. Give her permission to consult with your ultrasound technician or OB to find out the gender even before you do.
3. Assure your OB that yes, this person really does have permission and it's fine. Sign some forms.
4. Have your photographer assemble an adorable DIY box filled with pink or blue balloons in your backyard or other scenic, photo-ready locale. (Editor's Note: they should really have strings attached so they don't float away and harm or kill wildlife or birds, because hurting living creatures is not the point of this celebration.)
5. Get your hair and makeup done — even though you're already gorgeous.
6. Optional: Strategically place an older child to hide your growing hips. We speak from self-conscious experience here.
7. Open the box. Surprise!