My favorite fall break destination with the kids is unquestionably Asheville, North Carolina. Even though it isn't a kid-centric destination per se (no Mickey Mouse for miles), there's still so many fun, family-friendly activities we can enjoy in the city and surrounding area. Plus, getting a chance to see the leaves change in the Appalachian Mountain region? Stunning.
Asheville is kind of like a smaller, quainter little sister to Portland, Oregon. You'll see hikers coming off the Appalachian Trail, art galleries on every corner, and even a few drum circles. I just love its slower pace and refreshing outlook, plus the cool, crisp mountain air is such a welcome climate change for us that we go any chance we can.
We've been visiting for 15 years and still find new things to do each trip, that it's actually difficult to summarize everything I love about the area. But I managed to winnow down the long list of likes to my kids' very top choices of things to do in Asheville, so that you can make the most of a long weekend there with your kids, too.

Visit the Biltmore
My kids are obsessed with the NYT bestseller Serafina and the Black Cloak by Robert Beatty, which is about a strange girl who secretly lives in the basement of the Biltmore. Therefore, a trip to see it in real life is a must for us.
Visiting the Biltmore is like walking onto the set of Downton Abbey. It's the largest privately owned residence in the US; it's so huge that even your kids will be impressed by the architecture alone (for a while at least). You can tour the home — my kids loved seeing their private bowling alley inside — or just visit the grounds, which has a winery, gardens, and tons of other activities like biking, horse or carriage rides, and river float trips. They even have segway tours and paddle boarding.
Of course, it gets pricey — this is the life of the rich and famous, after all. Consider an annual pass that gives you 10% off activities, buy tickets at least 7 days in advance for $10 off each ticket, or use one of their other special discounts to try to get the best deal.
Related: Stowe – One more reason to love Vermont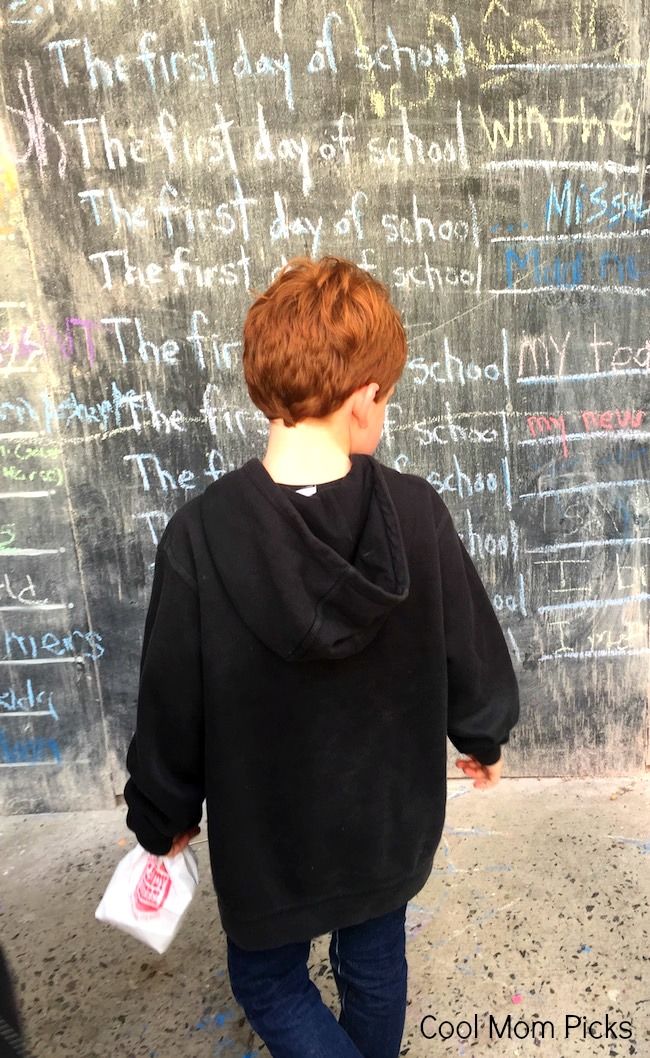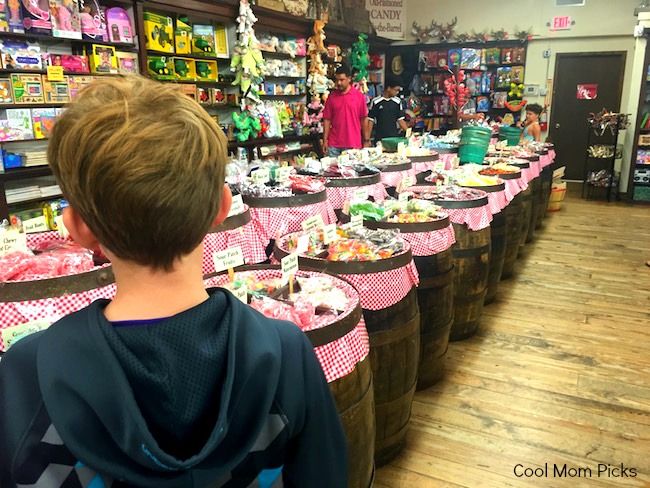 Shop in the Historic District downtown
Take one afternoon to walk the historic district of Downtown Asheville — starting near the intersection of Patton and Broadway. It's not very crowded, and your kids will enjoy looking in the windows of the art galleries and shops. And there are even some interactive art installations right on the sidewalk, like this one above asking people to share details about their first day of school.
We have a tradition of visiting Mast General Store to load up on the old-fashioned candy stored in huge barrels, and we usually end up splurging on a vintage toy or two. Then we eat at one of the restaurants nearby. There are tons of great, local places within walking distance — like Salsas for delicious, fresh Mexican-Caribbean food, or the original Tupelo Honey Cafe for responsibly sourced Southern fare. Most of the restaurants are smaller, so tables are scarce, but really worth the wait. It's a good idea to put your name in first, then stroll the block.
And another BDTD tip: leave the stroller in the car and opt for the baby carrier instead; it's just a whole lot easier to get around the neighborhood streets this way.
Related: How to travel with kids when you've outgrown a hotel room

Try an adventure sport
I'm pretty much the wimpiest when it comes to heights, but so many people have told me that flying across ropes courses and ziplines at the Asheville Adventure Center was the best part of their vacations. Sometimes ropes and zipline courses can feel like, Oh yay, more trees, but this one has built-in cool features like skateboards and slides to make it even more interesting. If you're like me and prefer your feet firmly on the ground, they have 4 miles of mountain bike courses to try too.
I found white water rafting thrilling as a kid, and have a feeling that going as a parent will be a whole different kind of thrill. (Yikes!) Beginners like me may prefer French Broad Adventures, because it offers a calm water raft trip you can take with kids as young as 4 years old, in addition to their more adventuresome white water trips. They're the closest outfitter to downtown Asheville to offer both white water rafting and ziplines, so if your family has their heart set on both we'd recommend starting there.

See the Grove Park Inn & Spa
I've asked a couple families who recently stayed at the Grove Park Inn what they liked most about Asheville, and they said they actually never left the hotel — it was that incredible. There's a 1920s vibe here that makes you feel like you're going back in time. In fact, you can even stay in the room that F. Scott Fitzgerald lived in for two years, and it's preserved just like it was when he was there. Maybe this place was his inspiration for Gatsby?
I suggest you visit it, even if you don't stay there. I've taken my kids multiple times just to walk the grounds and see the mountainous overlooks and cool waterfalls. There is a plush spa, shopping arcades, and a sports complex with activities like golf, tennis, ping pong and pool, hiking, and kids' classes (so you can go enjoy that spa).
Don't miss cozying up by the massive stone fireplace in the lobby or enjoying the huge (like, three full rooms huge) buffet dinner on weekend nights. It's a really fun splurge for the whole family.
But, of course, here, it is really all about the views.
Related: Budget family travel tips: 5 smart do's and don'ts to save you a ton of money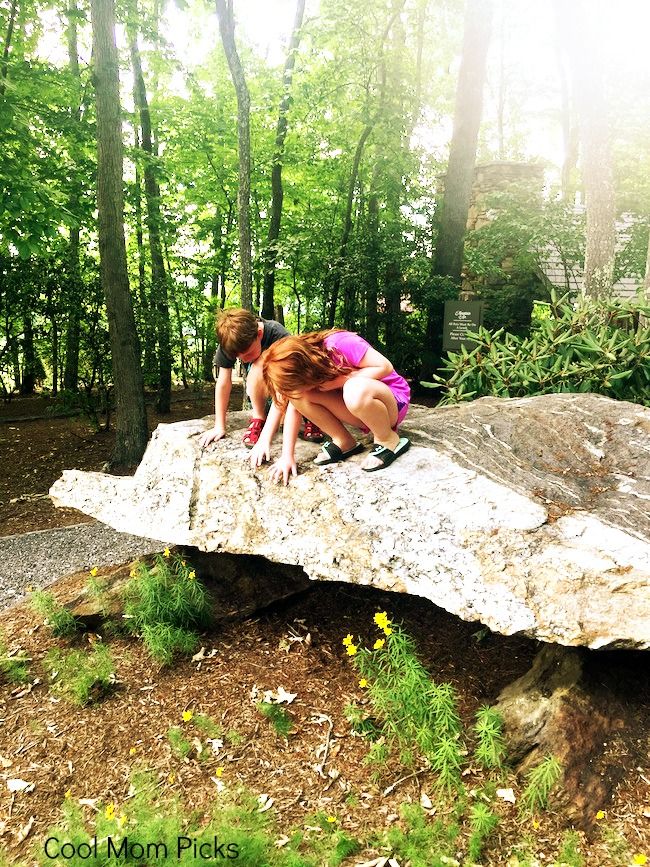 Go to a state or national park
If you didn't budget for ziplining and white water rafting, there are still so many ways to get outside and explore nature. About an hour southwest of the city is one of our favorite excursions: Sliding Rock in the Pisgah National Forest. Take cash — it's $2 per person to enter the park — then you can line up to slide down this 50-foot natural rock waterslide. When you hit the 7-foot pool at the end it's cold enough to knock the breath out of you, but not to keep you from doing it all over again. (And yes, there's a lifeguard on duty at the bottom, so it's safe for kids who know how to swim. Although be sure to pack life jackets for small kids — that cold water is a shocker.)
Or go the opposite direction and hit Mount Mitchell instead — you can hike, rock climb, swim, boat, or fish there. They even have guided hikes, if you're afraid you might get lost or see a bear (which is possible). Another 30 minutes past Mount Mitchell you'll find Grandfather Mountain, which has their big-deal attraction: the mile-high swinging bridge. If a trip through the mountains in the car won't bother your crew, this is worth the drive. Our tip: stop in the quaint town of Burnsville for lunch at the Garden Deli or to get ice cream at Cool Catz Candy and Cream on the way. Yum.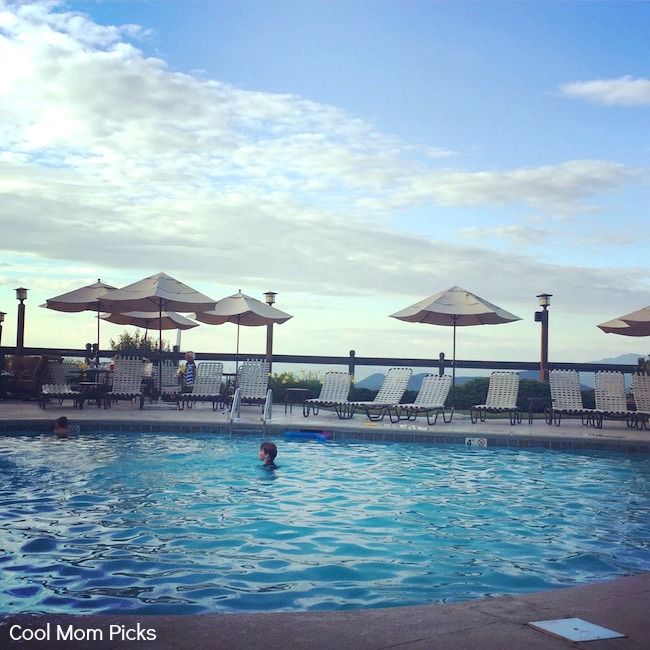 Stay at Mountain Air
Our favorite place to stay when we visit Asheville is actually just outside the city, about 30 minutes north, in a town called Burnsville. It's a relaxed little vacation community called Mountain Air that's full of hiking trails, amazing playgrounds, tennis, golf, and swimming at the top of the mountain. We go slow up there: eat breakfast on the porch, play at their three-story treehouse, sit by the pool while the kids swim (and food and drinks are delivered to our seats), grill out at one of their picnic pavilions, or eat at the open-air restaurant, again with the amazing view. Sometimes you can even hear a bluegrass band playing nearby.
Down the mountain from the resort is the small town of Burnsville, where you can find quaint restaurants, a top-notch toy store, and some silly but fun attractions like gem mining (we actually found some really great stuff!) and horseback riding.
Mountain Air even has a runway perched on the side of the mountain, if you happen to have a private plane you want to fly in. And yes, they have roads and parking spaces for those of us who drive our minivans in too.
For more information on planning a trip to Asheville, North Caroline visit Explore Asheville for restaurant, hotel, events, and activity recommendations. They even have package deals that can save you some money on your trip. It's beautiful in the fall, but it's also lovely in the winter, spring, and summer too.