A few months ago, I decided I wanted to celebrate my 40th birthday with a big trip, but whoa, family vacations are certainly not cheap! Especially when you're traveling with kids — or in my case, four of them.
Even though I'd been saving for a while, I was determined to keep my spending down as much as I could. After scoring a great deal on plane tickets (hooray for off-season vacations), I did some research to figure out how I could stick within my vacation budget while still having a great time. And, it worked!
So I've put together 5 simple do's and don'ts that really helped me save money on my recent family vacation. I hope you'll find something that works for you too as you're planning your own summer trips.
Related: Helpful tips for flying with kids from been-there-done-that moms who survived. Mostly.
DON'T: Eat breakfast and dinner out
DO: Eat lunch at a restaurant
It may sound like a "duh" that eating out can rack up the credit card bills, fast. On the other hand, man it's convenient. I've found if you're going to eat out at all, lunch is surprisingly the most affordable meal out. It makes sense with all the lunch specials and deals that most restaurants offer.
So, instead of the pricey breakfast (which I find kids never really eat much of, even with those prix fixe buffets) and dinner which always gets spendy unless you're up for pizza, I'd suggest keeping some breakfast basics in your room or rental home if you can, then spend money instead eating out in the middle of the day.
Also, don't forget the leftovers. They make great later-in-the-day or next-day meals.
A very affordable and delicious breakfast in bed.
But I feel like one absolute must when you're traveling with kids is to have as much food and snacks on-hand as possible. Of course, the more you can purchase at a grocery store at your destination and make yourself — even if it's just oatmeal for breakfast, dry cereal with milk, and your own bottled water (and booze, ha, but not for breakfast) — you will save so much more money than ordering those exact same things at a restaurant or raiding the minibar.
Related: 5 ways to eat healthier when traveling with kids
DON'T: Buy event or theme park tickets at your destination
DO: Score advance ticket deals online from unexpected sources
I was pretty surprised to discover on my trip that there is a decent difference between the on-site ticket prices for museums, parks, and zoos, versus the prices I saw — and thankfully scored — online beforehand. Whether you discover a deal at the destination's own website or find a discount through a third-party website or app, you can save a lot of money by purchasing your tickets before you go. Or, if you're running late, on the way on your phone. Just be sure to check the ratings of any third-party discount services before you use them!
Also, be sure check out cities that offer GO passes or similar, which combine several popular destinations in order to provide discounts on the sites and attractions you may have been planning to visit anyway. You may even find deals that are so good certain times of year, that you plan your whole trip around it.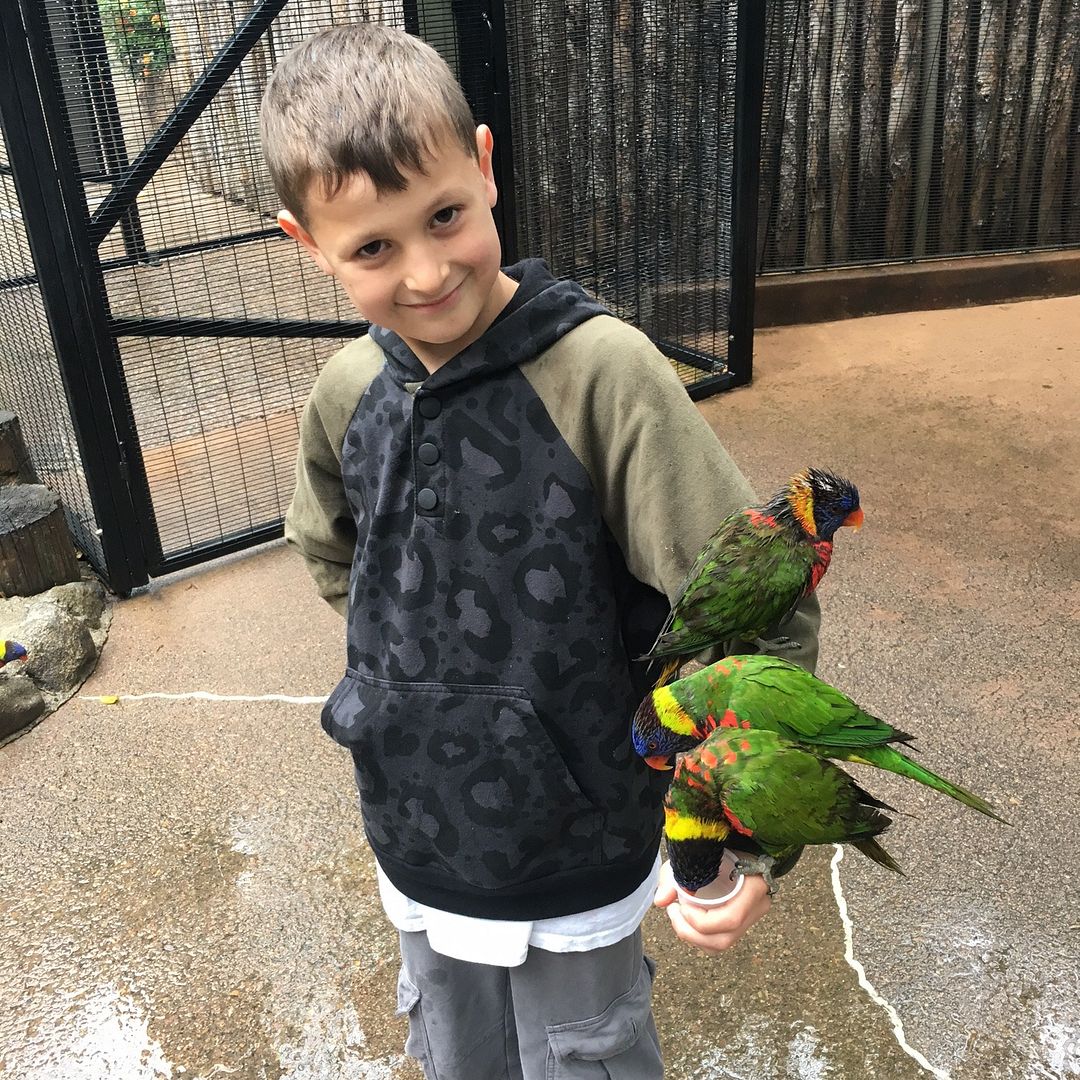 Use the money you save on cool extras, like feeding the lorikeets at the San Diego Zoo Safari Park.
And don't forget about all that discount potential through AAA membership, military benefits, and even special credit card discounts that come with your card, or as part of rewards programs you may already belong to. You may be amazed to find how fast 5% off here and $10 off there adds up, especially with a family.
My other experienced traveler tip for you: lots of museums and zoos have partnerships with museums in other towns, so you may be able to put your own hometown museum memberships to use, to score a special rate wherever you're traveling.
Related: The Cool Mom Picks guide to money-saving tips on an Orlando vacation
DON'T spend a ton of money on souvenirs
DO give your kids a vacation allowance
One of the smartest choices I made, if I may say so myself, was to give each of my kids a vacation allowance at the start of our trip. They each had a specific amount they were allotted, and then I shared the itinerary with them so they could plan out where they might want to spend it. (Hello, LEGOLAND San Diego on Day 4.)
Not only did my plan alleviate the whole Mommy, but I want this! pain at every single shop at every single park, museum, zoo, and bodega, but it also taught the kids a great budgeting lesson, forcing them to be more resourceful and mindful of their purchases.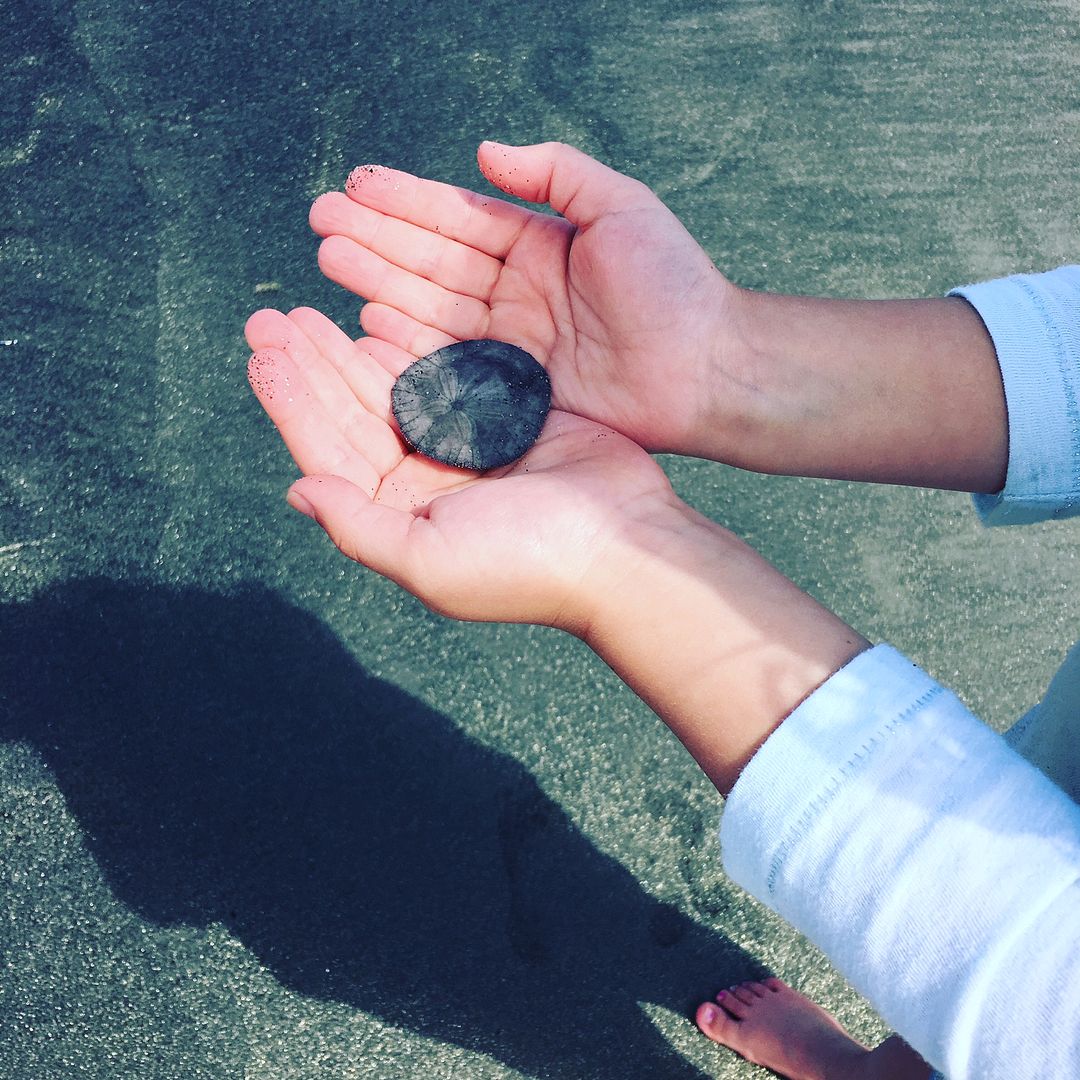 Or, get the free souvenirs, like these sand dollars we found on Coronado Island beach.
One more tip: if you are shopping for souvenirs, go as authentic as possible. Avoid the tourist traps and "exit through the gift shop" locations, and try to buy fun souvenirs at places where the locals shop. You might have to go few blocks off the beaten tourist path, but I always think it's worth it, both in terms of the selection and the savings.
DON'T: Book a hotel for a family
DO: Rent a home, apartment or townhouse
While you might look at the cost of a hotel room versus a home rental and see similar prices on paper, remember you're pretty much always going to spend way more at a hotel that shows the same base rate, thanks to room fees and taxes, possible resort fees, parking or valet charges, and the way-too-easy ability to sign for amenities like room service, drinks at the bar, pay-per-view entertainment, and various sundries. Not to mention all those 25% tips and "convenience charges built right into" the hotel meal checks. Eek. It can add up in unexpected, budget-breaking ways.
These days, there are no shortage of rental options at pretty much any destination under the sun. However, for my recent trip, I was pleased to be offered the opportunity to try out Kid & Coe, a sort of luxury Airbnb for families, that offers carefully vetted, child-friendly properties for rent all around the world. They are completely dedicated to families, and even specify amenities like strollers, baby toys, high chairs, books for kids, or game rooms for teens.
I've rented a lot on past vacations from various places, but I have to say that with Kid & Coe, it was immediately clear to me that their properties are really carefully curated and pre-approved for families. Like the home where I stayed during my trip to San Diego (seen above) which had so many amenities and perks I never expected.
Like many of their rental homes, this particular property had some really great features, like a one-block from the beach proximity, loads of beach toys (saving us even more money not having to buy them there), beach chairs, boogie boards and more, all available for our use. This property even offered up access to a babysitter, though we didn't end up using one during our stay.
Overall, I would absolutely do this again. Not only is it way way more affordable than a hotel stay — especially when you have a family like mine that requires two adjoining rooms — but it made like we were at home. Well, a more upscale, fancier version of home with a hot tub in the backyard and three full bathrooms.
Not sure which I valued more!
The backyard hot tub was terrible. Clearly.
The other benefits to a rental property for me was that I was able to save money by grocery shopping for food and preparing it myself; plus, I could pack lunches and water for our day trips.
But really, so many of our staff have discovered the benefits of services like Kid & Coe, and keeping you on budget is really just the beginning. It's actually hard to go back to hotels once you've done a trip this way with family.
Related: 6 simple tech tips for travel with kids that save us every time 
DON'T rent a car at the airport
DO consider these smart alternatives
Before you decide whether you absolutely must have a rental car, look into whether you can get around without one. Services like Lyft and Uber — especially now that they have children's cars seats available via UberFAMILY — have made it a lot easier to survive a destination that might not have a lot of taxis cruising around.
Consider how much you're going to be going "off property," the costs to-and-from the airport through public or private transportation, and whether where your hotel or property has its own shuttle or walking/biking access to popular destinations.
While a lot of us just expect we'll need a rental car when we travel, you really might be able to get away without one.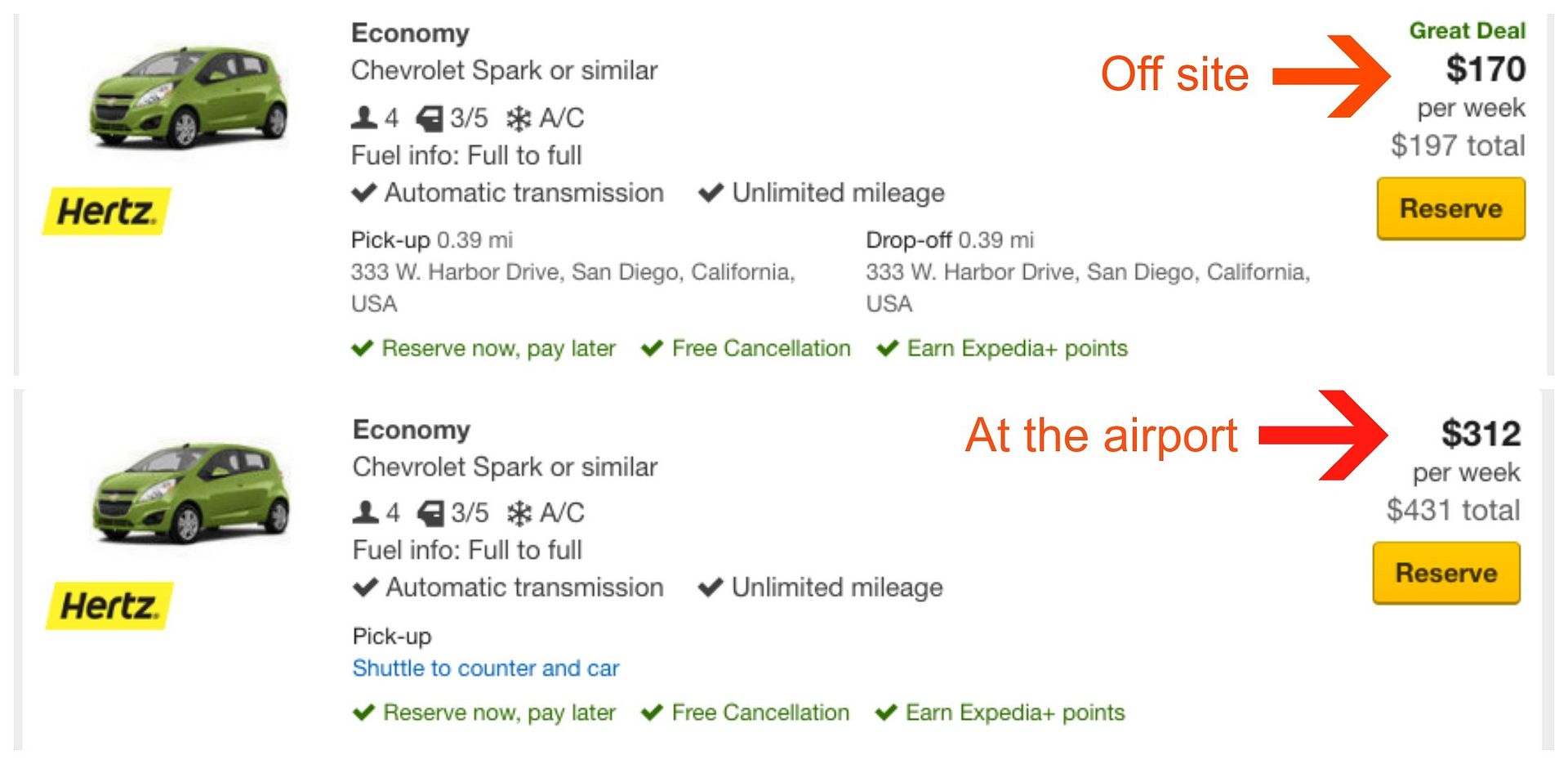 If you do decide to rent, you might want to rent a car off the airport property. The price difference can be insane as you can see above from a quick search I did for an economy car in San Diego. You will need a taxi, shuttle or Uber/Lyft from the airport to the rental car pick-up — and yes, that can be a bit of a hassle when traveling with kids — but the savings could be hundreds of dollars. Totally worth it.
And, of course, look for discounts from rental locations, the same way you did with your attraction and museum tickets. Always check your credit card benefits, AAA memberships, military discounts, and booking engine deals before you rent. You can even get a rental totally free with a program like Plenti or Amex Membership Rewards.
Thanks so much for Kid & Coe for providing me with a complimentary stay at one of their properties.
And for our readers:
Special Offer: $100 credit for all Cool Mom Picks fans that are first-time users of Kidandcoe.com
Code for the $100 credit: COOLMOMTRAVELS
Expires: 8/23/2016
If you have your own money-saving travel tips, please share them in comments! We can always use more.