This year, with all five of my nieces dressing up as Star Wars characters, I couldn't think of a more perfect Halloween craft than creating Star Wars Halloween pumpkins together. So I've searched the web for them — and all of you! — and rounded up some of the most fun, DIY Star Wars pumpkin projects for a front stoop that will impress the galaxy.
We've got droids. We've got Stormtroopers. We've got Yoda. And if you're still wondering, Where is Rey? Well, we've got her here too.
Related: 13 fabulously easy no-carve pumpkin ideas for the kids.
We recently spotted this little BB-8 pumpkin and shared on Cool Mom Tech because, how could we resist? From the clever Desert Chica, I think it's so adorable, and requires no disgorging of pumpkin guts or robotic parts. Rey couldn't bear to part with her droid, and I'm guessing your kids won't either so you may have to sneak this one into the compost sometime in November.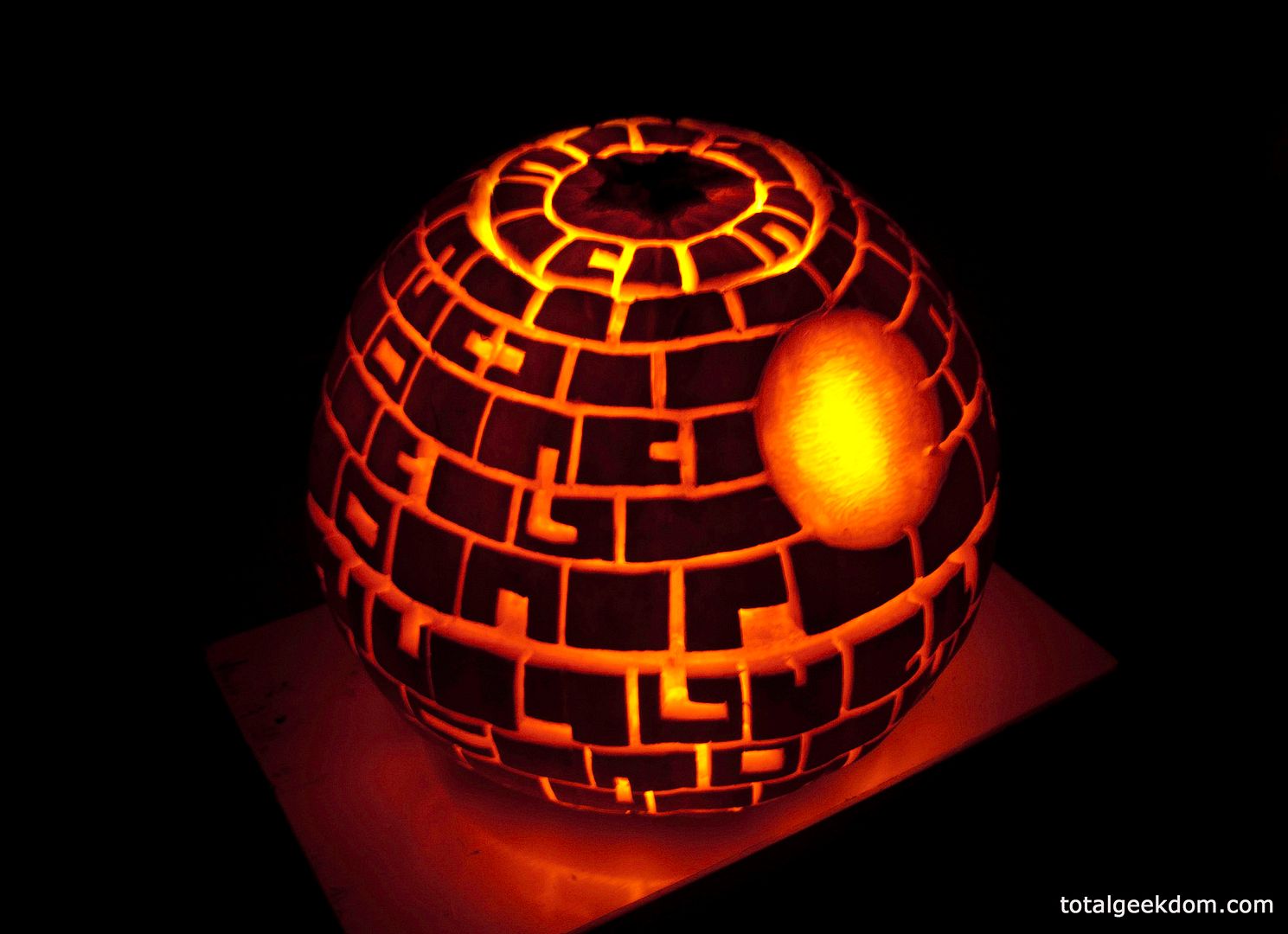 For being such a friendly vegetable, pumpkins lend themselves to Death Star transformations surprisingly well ("Extreme Pumpkin Makeover!") — provided you have many hours and Jedi-like patience. This Death Star pumpkin carving tutorial from Total Geekdom definitely demands commitment. But so worth it. Just as long as your own little Rebel Alliance doesn't blow it up before Halloween.
This Rey Speeder Star Wars pumpkin template is totally doable if you've got the right tools. I think the challenge is perfect for bigger kids, too. But if your children lean more toward the dark side, check out HalloweenCostumes.com for 10 different Star Wars pumpkin templates including Kylo Ren, a Stormtrooper, and Luke's grandfather, whats-his-name.
Related: 17 cool DIY Star Wars costumes for kids that you can make, from Han and Leia, to baby Ewoks, to the droids you're looking for.
I love this Star Wars pumpkin craft idea from Frugal Fun 4 Boys (though of course girls will love it too) that ditches the carving knives entirely for a cool, connect-the-dots set of drilled Star Wars pumpkins. Let your kids do the tracing, then parents can use a power drill to punch the holes. Don't they look so cool all lit up?
To some Halloween traditionalists, painted pumpkins may seem like a cop-out, but we always love them since, hey — no carving, no pumpkin guts, no mess. If that sounds your speed, check out the inspiration for DIY painted R2-D2 and C-3PO Star Wars pumpkins I found on DIY Candy. If I may venture an opinion…you can also opt to paint fake pumpkins, so you can leave your favorite droids on your doorstep year after year.
For those serious Star Wars fans out there, PopSugar has published a whole collection of 11 free free Star Wars pumpkin carving templates. If you want to make this a kid-friendly craft project, you can trace and paint, instead of carving. The possibility of messing up this kind of pumpkin decorating is approximately 3,720 to 1.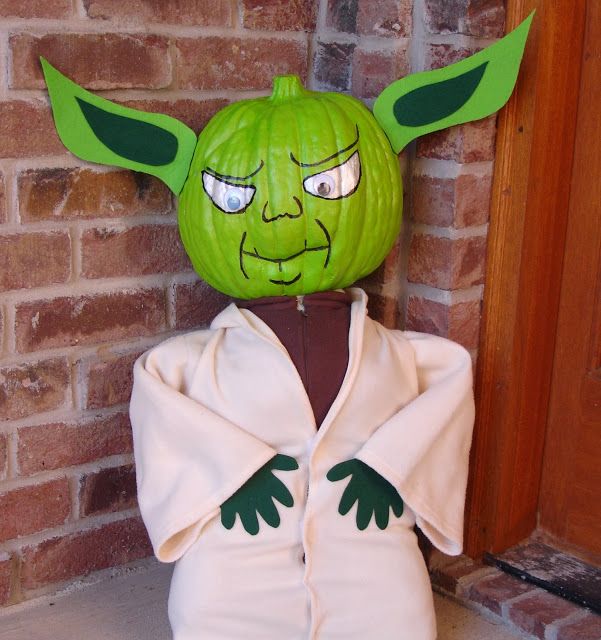 I absolutely love this fun Yoda Star Wars pumpkin spotted at Mama Bear Bedtime Books, especially for the littlest Star Wars fans. It doesn't require any sharp objects, but patience you must have for all that painting. (And you will need to borrow Grandpa's brown turtleneck.)