If your kids are begging to be a Star Wars character this Halloween–or if you are just dying to turn your baby into Yoda for their first trick-or-treating–we've rounded up an entire galaxy of DIY Star Wars costumes that cover a variety of characters and ages.
From the not-too-difficult, to the Whoa, you made that?, I think your young Padawan, Leia, or Droid will be thrilled with any of these out-of-this-world Star Wars costumes that you can totally pull together yourself, thanks to some incredibly crafty — and dedicated — parents.
Related: More than 40 of the coolest Star Wars party ideas for your little Padawan
DIY Han Solo Halloween Costume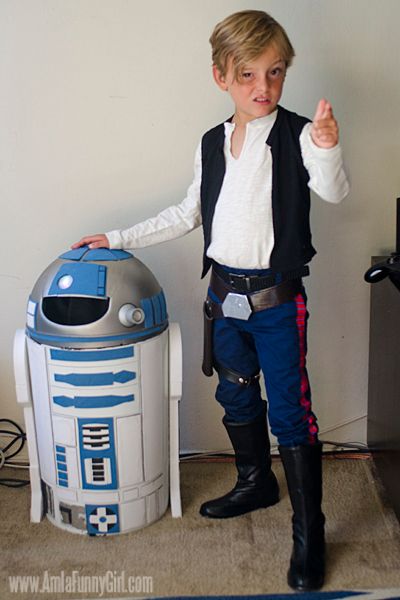 With just a few articles of clothing, some electrical tape, and that great sneer, you can make your own DIY Han Solo Halloween Costume following tips from the Am I a Funny Girl? blog. And while the handmade R2D2 in the picture is an amazing prop, I'd probably just hand my Han a light saber (we found a really cool one in our Star Wars party ideas post) and send him on his way. Or her. In fact a girl could totally pull off this look, and my own girls already have that sneer down perfectly.
DIY R2D2 and C3PO Halloween Costumes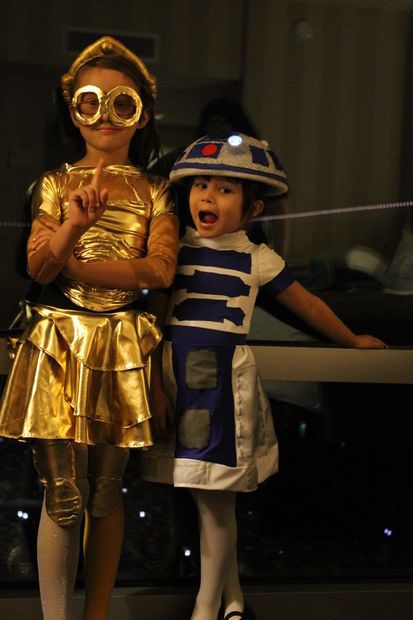 Now, these are the droids you have been looking for if you've been searching for the cutest DIY R2D2 and C3PO Halloween costumes for kids. We think you can improvise a bit from the Instructables tutorial using bright yellow fabric instead of gold, or even turn those skirts into pants, if your child prefers. But I definitely think you should go for those gold glasses and little light-up droid headpieces. They totally make the outfits.
Jedi Robe DIY Halloween Costume

If you can follow a basic sewing pattern, check out the cute, simple, and comfy DIY Jedi Robe costume idea using Bayberry Creek's instructions at her Etsy shop. This is a great option to keep kids warm while trick-or-treating (hey, I'm a mom), plus it would make a great dress-up robe for all those days when your young Jedi wants to practice his or her lightsaber skills.
Star Wars X-Wing Fighter Halloween Costume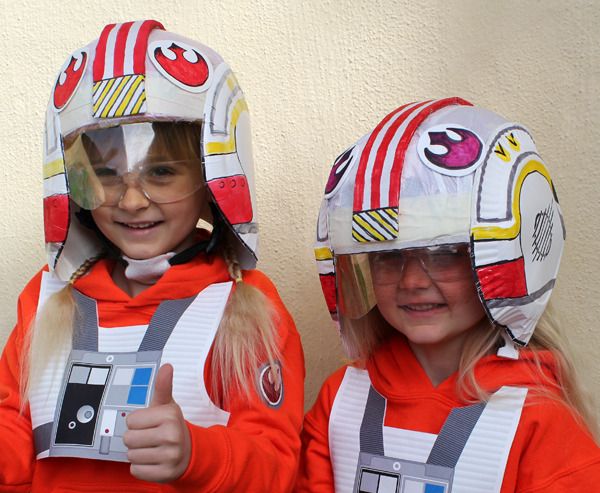 If fighting for the Rebel Alliance is in their blood, Filth Wizardry's clever DIY Star Wars X-Wing Fighter Halloween costume will get your kids suited up for a serious battle of trick-or-treating. Be sure to check the instructional posts, which include free printables that you can use as a clothing decoration. There are also details on how to turn a regular bicycle helmet into these awesome fighter helmets. Cool!
Easy DIY R2D2 Halloween Costume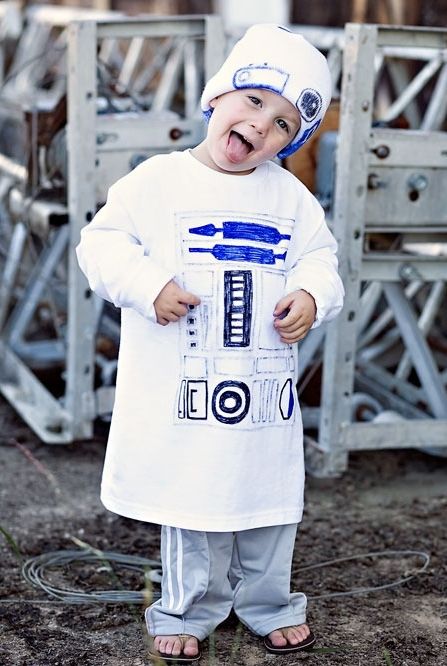 There are some pretty spectacular R2D2 costume ideas out there, but I'm partial to this hand-drawn DIY R2D2 Halloween costume courtesy of Under the Sycamore. All you need is a large men's white tee shirt and a cotton cap, which keeps this Star Wars costume comfy and easy to play in. And though I'm not much of an artist, I think even I can handle these illustrations which were created by using Sharpies. You'll definitely want to visit her site for even more clever Star Wars costume ideas.
Homemade Star Wars Baby Yoda Costume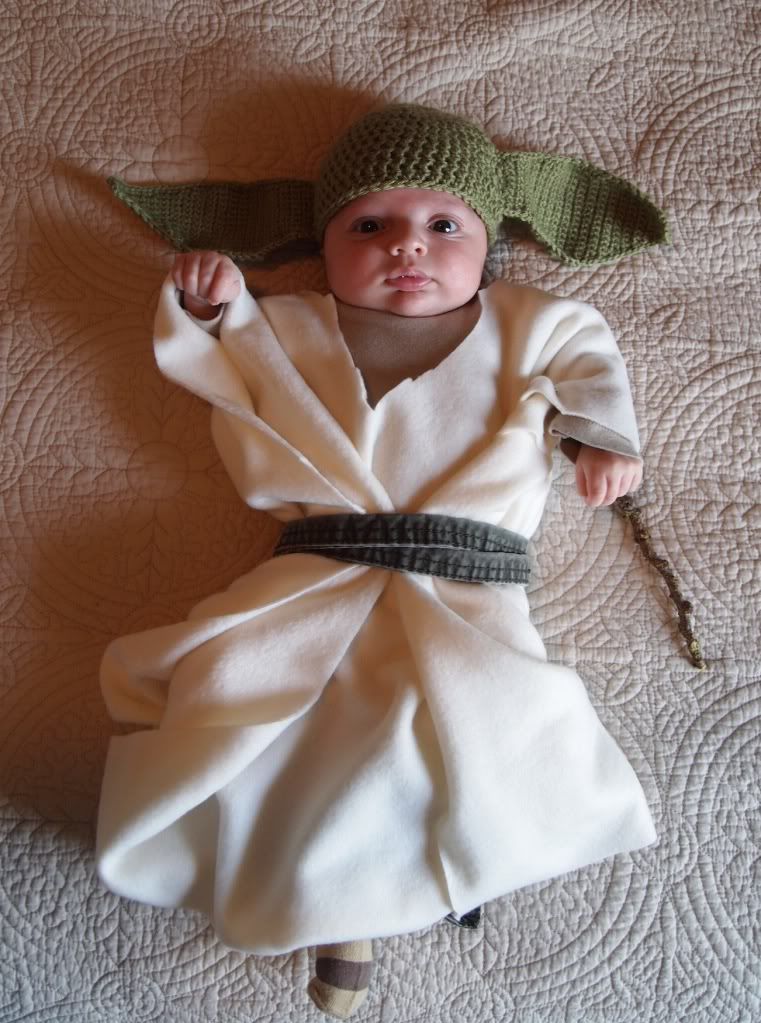 Susannah Bean's Yoda homemade Star Wars Yoda costume for babies may not come with a complete tutorial, but I think it would still be pretty easy to copy for your own little Star Wars fan-to-be. I love her use of a piece of fleece cloth for Yoda's robe, though, of course, it's the ears that really make the costume. Follow her basic sewing pattern to make the beanie and then freehand the ears; or if you're not so crafty, hop over to Etsy and search for "yoda hat" for a pattern or ready-made hat to top off this super-easy costume idea.
Related: 25 of the most adorably creative DIY baby costumes for Halloween…that you can actually make.
DIY Princess Leia Yarn Wig Tutorial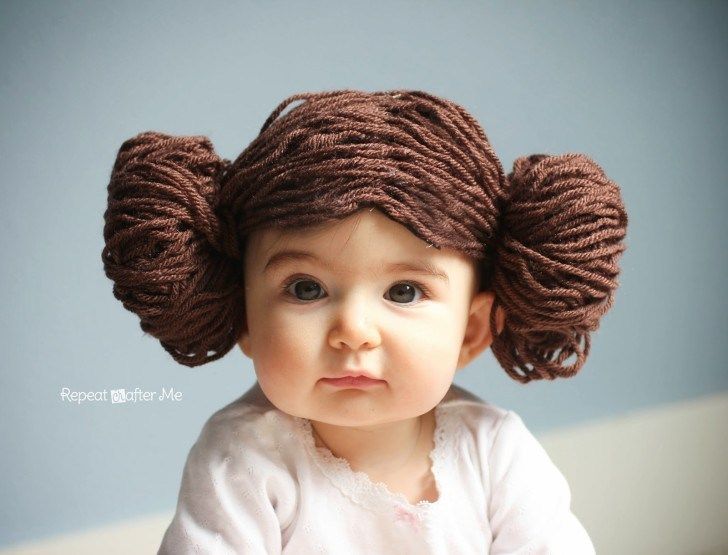 If your little princess needs some help to get those iconic Princess Leia side buns, check out Repeat Crafter Me's not-too-difficult DIY Princess Leia Yarn wig tutorial. Using yarn, socks, and a glue gun, this no-sew project won't take you very long, and the finished (and ridiculously adorable) product is definitely worth the effort.
Related: 14 wildly cool, creative sibling Halloween costumes to inspire you beyond superheroes and princesses.
Easy DIY Star Wars Costumes for Siblings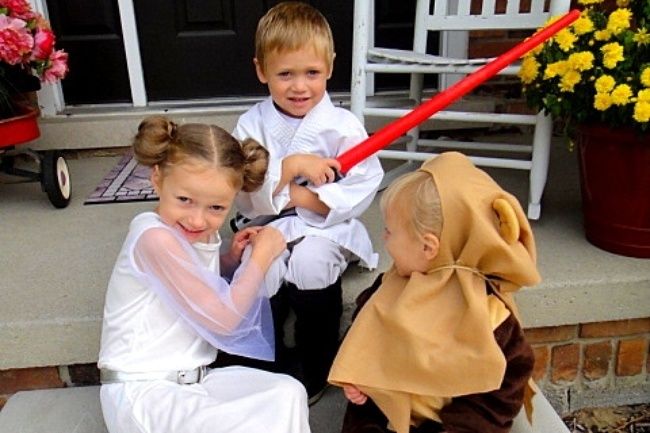 If you want to dress your whole crew for Halloween, go to All Things with Purpose to check out some ideas for easy DIY Star Wars Halloween costumes for siblings. On the site you can see how Sarah uses non-Star Wars costume pieces to create a very convincing-looking Luke, Leia, and a super-cute Ewok repurposed from a monkey costume. So clever! She even provides a you-can-do-this tutorial for Princess Leia's hair that looks pretty impressive — and no yarn required.
DIY BB-8 Droid Star Wars Costume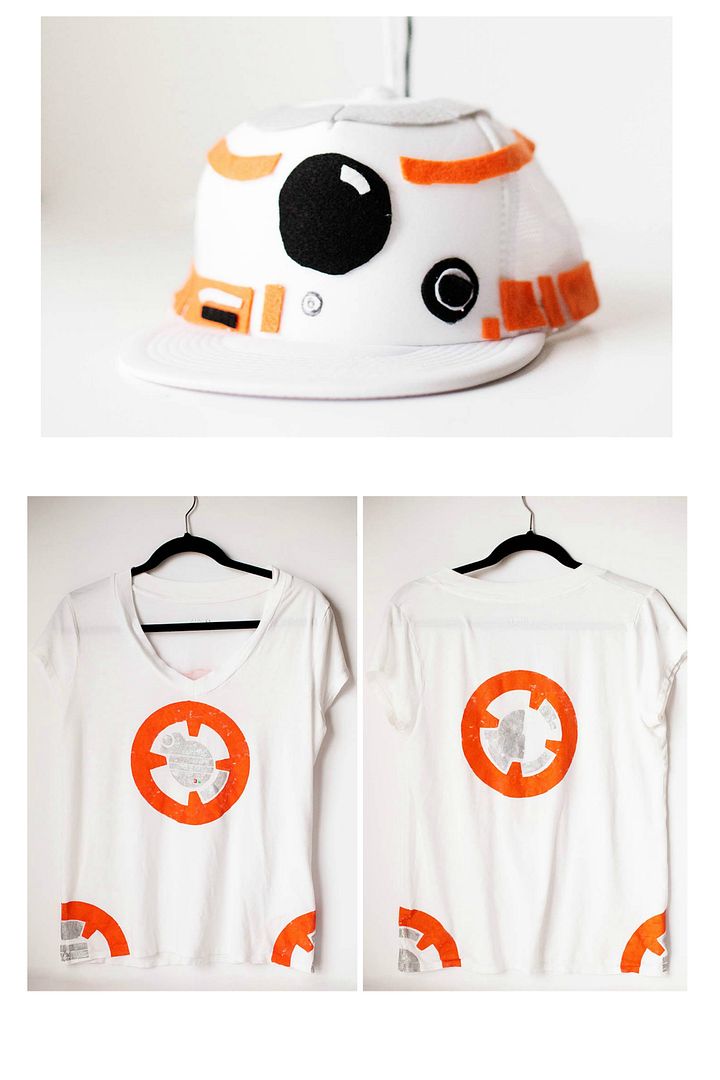 Dressing up as the newest droid is a whole lot easier using the free printable iron-on pattern from All for the Boys. To get started with this BB-8 Droid DIY Star Wars Halloween costume, you will just need a white shirt and then get a little crafty by adding some felt to create this one-of-a-kind baseball hat. Her tutorial wasn't originally created as a kids' costume, but it can be easily adapted for your smaller droid.
DIY Tie Fighter Costume for a Wheelchair or Stroller

Wherever Halloween takes you, this amazing DIY Tie Fighter Halloween costume will stop everyone in their tracks. I saw this on the Coolest Homemade Costumes website and love how the side panels totally transform a kid's wheelchair into an out-of-this world prop. With some ingenuity, you can even figure out how to add this to a baby stroller for your town's Halloween parade or the first trick-or-treating photo opp.
Homemade Darth Vader Halloween Costume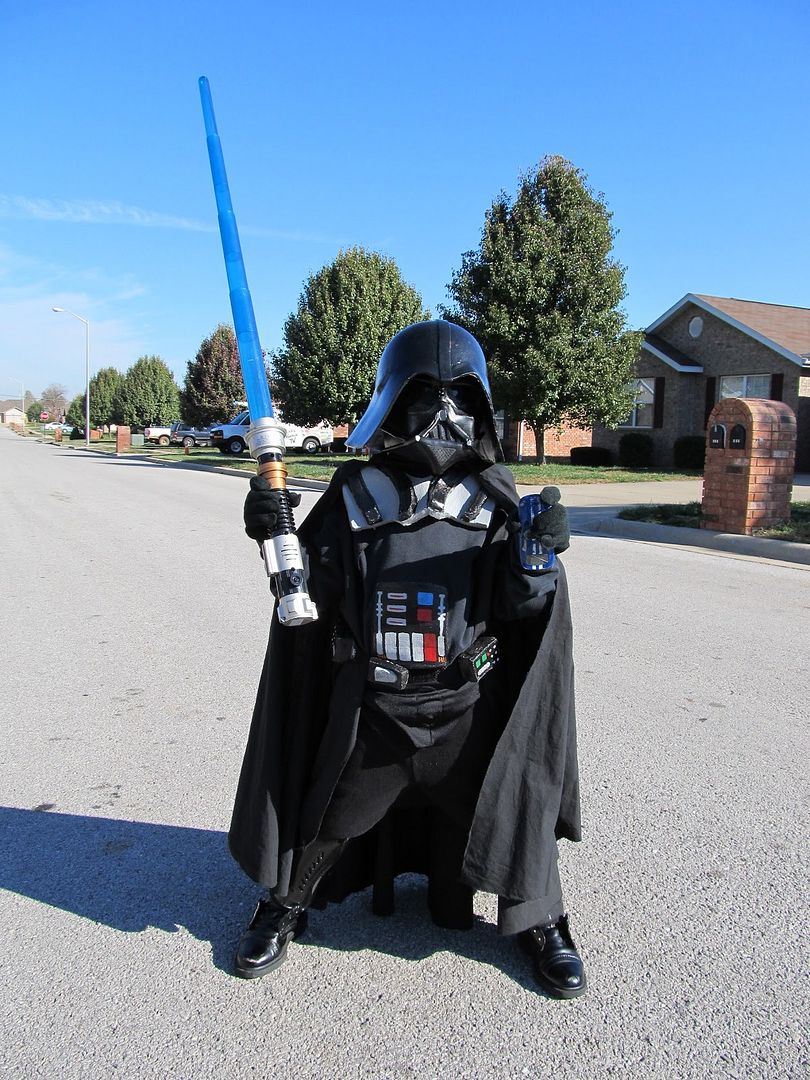 If you are really, really into DIY, then this homemade Darth Vader Halloween costume tutorial at DIY Project Crazy provides detailed instructions for making just about every piece of this amazing costume. For those of you who are less crafty, pick and choose which aspects you think you can tackle and then buy the rest. Semi-DIY still counts, right?
Semi- Homemade Baby Ewok Halloween Costume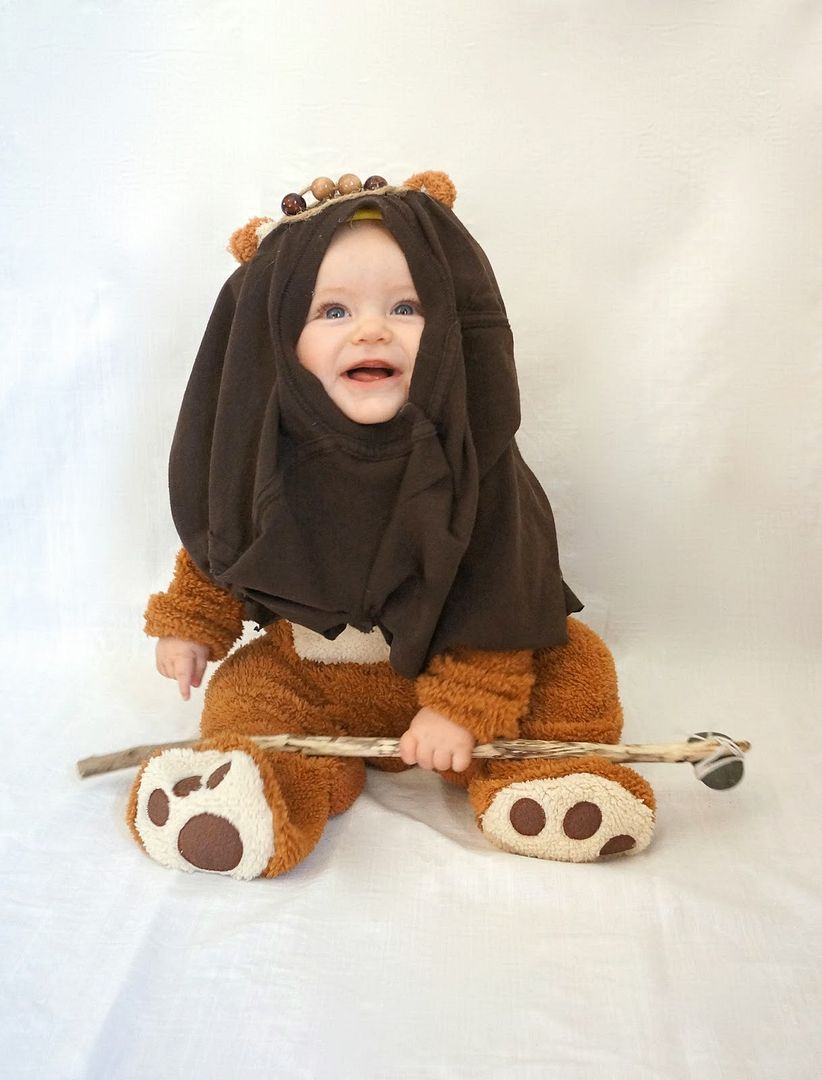 We love when a Halloween costume gets a second life, like in this tutorial for a semi- homemade Ewok Halloween costume. Laura of the Oakland Avenue blog turns a fuzzy bear costume into an adorable Ewok. Just follow her easy tutorial, and don't stress too much if your baby pulls off his hood every ten seconds. It's bound to happen.
Related: Cool Star Wars alphabet and counting posters: Learn ABCs you will.
Wearable DIY Darth Vader Fighter Costume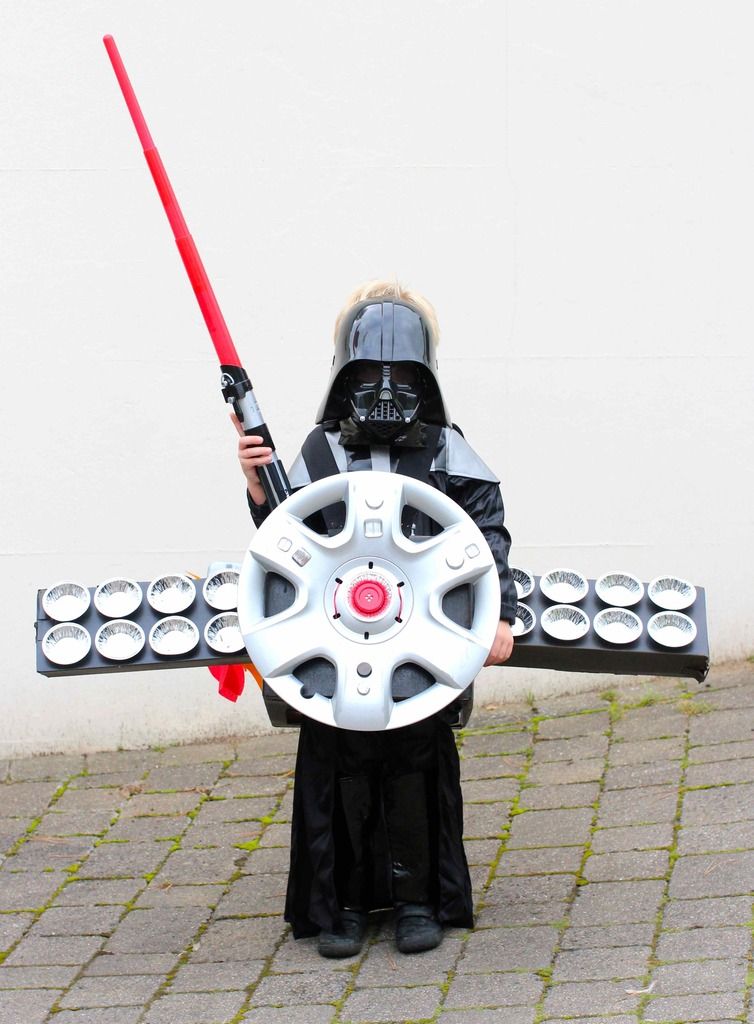 When a Darth Vader costume alone just won't do, check out this DIY Darth Vader fighter Halloween costume on Kate's Creative Space that we think is an unbelievable add-on to a handmade or store-bought Dark Lord costume. With loads of creative touches and details like rockets made out of tissue paper and old milk cartons, your little Darth Vader will make a huge impact in this awesome DIY costume. Just remind the Dark Lord to turn sideways when encountering doorways.
Handmade Jabba the Hutt Baby Halloween Costume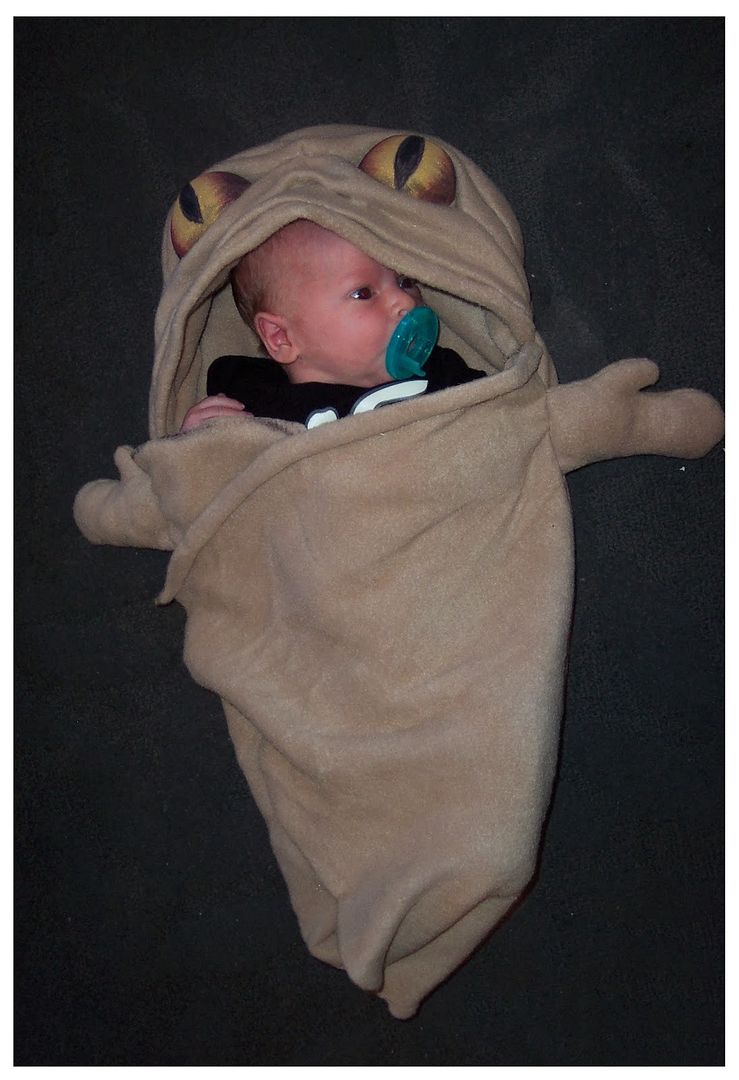 Jabba the Hutt has never looked cuter than when he's a baby wrapped in a soft fleece bunting. Made when her infant was just one-week-old, this super cute handmade Jabba the Hutt Halloween costume on Made by Creatively Lori is a bit beyond my own crafting ability, but I know there are others out there who could whip this up in no time; or try hacking a bunting or sleep sac that you already own.To be extra hip, stick Barbie in a gold bikini and nestle her into Jabba's folds. But don't leave it there too long, or your Jabba might stuff it in his mouth.