When we're browsing the seemingly endless soap aisle at the grocery store, it's easy to forget that the basics for good hygiene can still present a big challenge in many parts of the world. A bar of soap can literally save lives, preventing a child from dying from pneumonia or saving a mother and child during birth and delivery.
Enter Health 2 Humanity, or H2H, which sells vegan, cruelty-free, non-GMO, hypo-allergenic soap that's all made in California, and uses the proceeds to change lives in three African countries.
I tried all four scents, and they're lovely. The Lemon is my favorite — a bright and cheerful citrus that helps me wake up in the morning. The Lavender is great for handwashing throughout the day because it doesn't dry out my skin. The Peppermint has the strongest scent, but it veers toward herbal instead of candy cane, which I love. And the Unscented is really, truly 100% unscented, which is always a plus for kids and folks sensitive to fragrance.
Related: 19 beautiful gifts that give back beautifully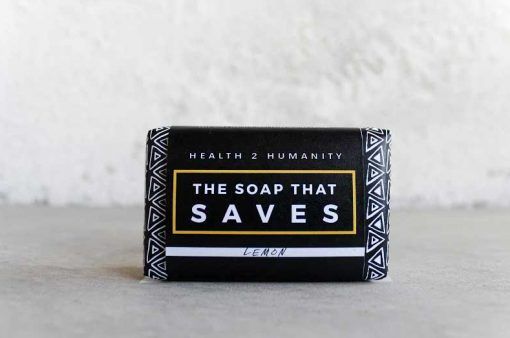 The H2H website states that 1.4 million deaths can be prevented each year just by handwashing with soap, and so I love that every purchase — either soap bars or a monthly subscription — goes to help develop good hygiene businesses, cut illness rates, create job opportunities and sustainable growth by working directly with communities in Kenya, Uganda, and Ghana. All you have to do to impact these lives is buy a bar of soap. Easy, right?
Finally, something to sing about in the shower.
Find Health 2 Humanity H2H soaps on their website, or in several stores on the west coast.