Not everyone has kids that want scary Halloween decorations around the house. Like mine, for example. Hosting a trick-or-treat party is one of my kids' favorite traditions of the year, and they totally love Halloween, but they'd prefer we do more non-scary Halloween crafts to get them excited for the day. They're too young to be into the whole fright-night thing, and so are their friends, so we keep things fun and light with pumpkins, silly monsters, funny skeletons, and the occasional friendly ghost.
Adding some not-scary Halloween crafts for kids to your evening like these 15 we've found — as an easy party activity or just fun with the family before you trick-or-treat — is a great way to get into the Halloween spirit while still ensuring your kids will sleep through the night.
Unless, of course, they go a little overboard with the candy stash…
At top: Mummy gift tags | White House Crafts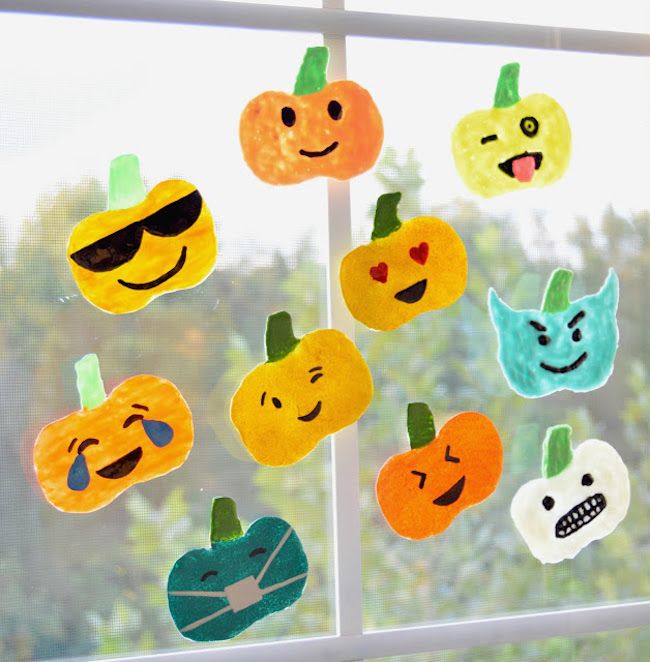 The emoji craze isn't going anywhere anytime soon, but this DIY pumpkin emoji window clings craft is a fun twist on the classic for Halloween. Just know this one does take 24 hours to dry before you can use them, so let your kids work on these ahead of Halloween.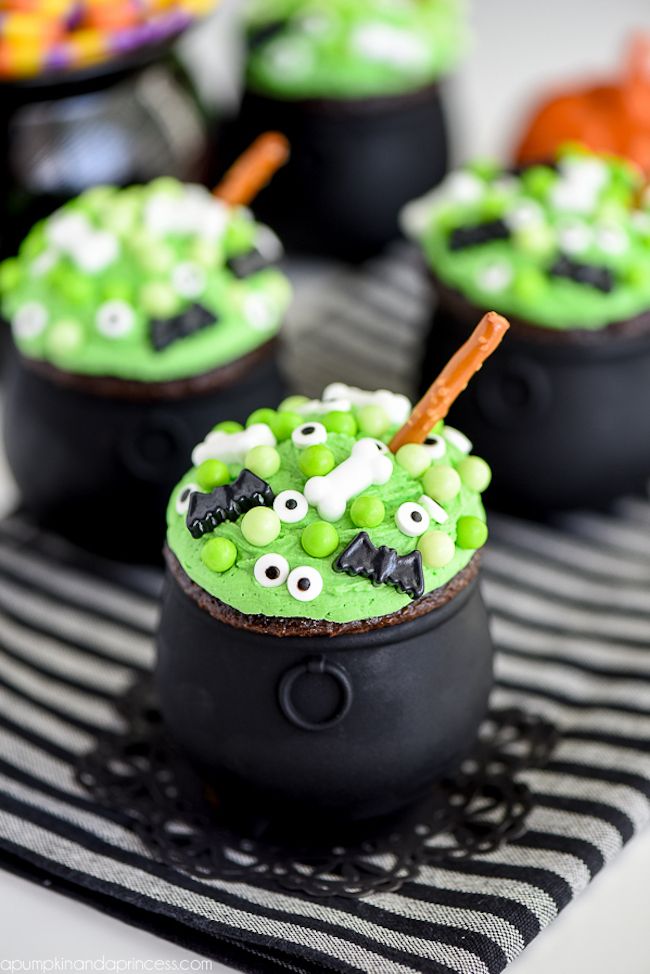 Whip up a batch of chocolate cupcakes, then let your kids make DIY Halloween cauldron cupcakes with this tutorial we found at A Pumpkin and a Princess. These are adorable, and even better — you can eat them when the kids are finished decorating them. A perfect not-scary Halloween craft, if you ask me.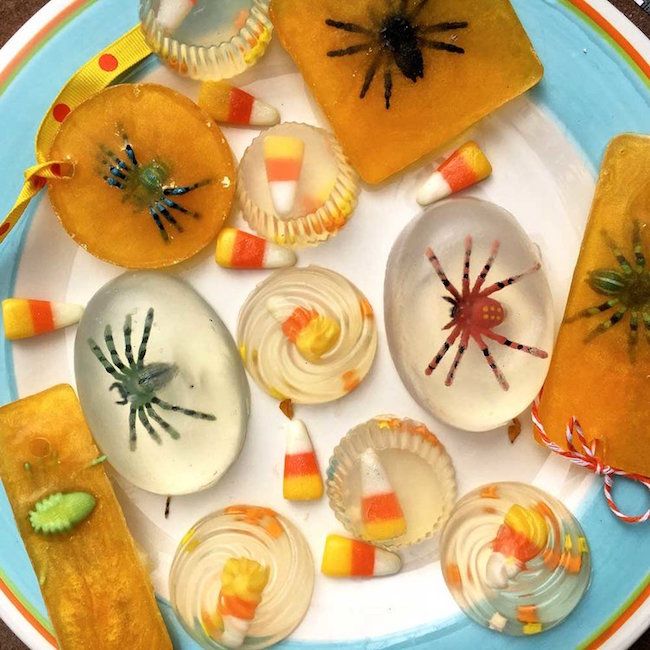 Making your own Halloween surprise soap is surprisingly easy, thanks to Pam Ash Design's tutorial that uses melt-and-pour glycerin soap. Let your kids choose the fun and creepy trinkets to put inside the molds, then leave them out on the bathroom and kitchen sinks for a spooky surprise for guests.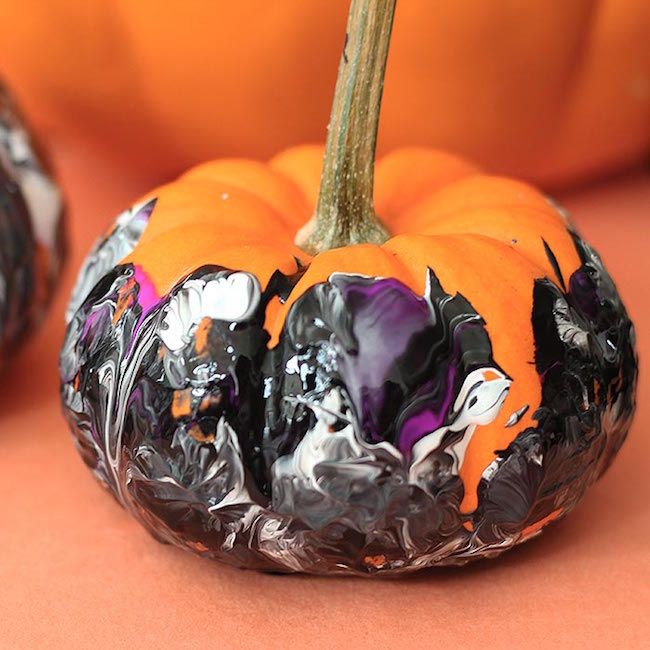 Ask everyone to BYOP — bring your own pumpkin — to the party, and set out paints for the kids to dip and dab to decorate their own without all the mess of carving. We love this pumpkin painting tutorial at Sunny Day Family, because it truly is no-mess. Fantastic not-scary Halloween craft for when you're having a lot of kids over. Or maybe you just don't want your own kids to get paint all over the kitchen.
Related: 15 fabulously easy no-carve pumpkin ideas for the kids
The simple mummy gift tags Halloween craft at White House Crafts (also at top) turns out so great…and yay for a not-scary Halloween craft that's so easy to do! Your kids can simply follow her tips on how to wrap the cards with washi tape, then you can add them to bags of candy corn as party favors. Or, I'd string them up in a group up to make a cute mummy bunting on your front door, in a window, or where the Halloween party food is being served.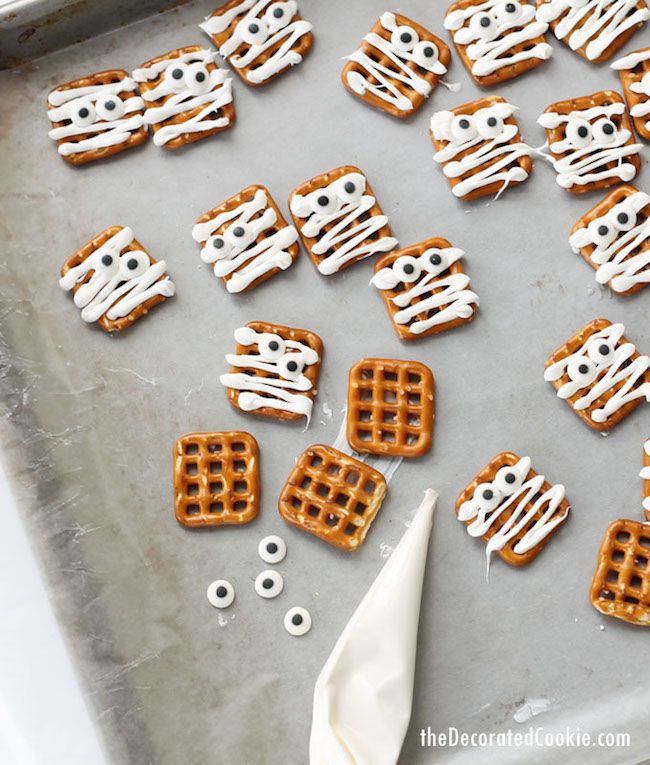 Because clearly I can't resist any Halloween craft with googly eyes: If you're having kids over for Halloween, set up cookie sheets at the kitchen table with piping bags of royal icing and let them go to town making these totally fun pretzel mummy treats found at The Decorated Cookie. Because a craft we can eat is a craft we like.
Related: 9 easy Halloween crafts for preschoolers with just the right amount of spookiness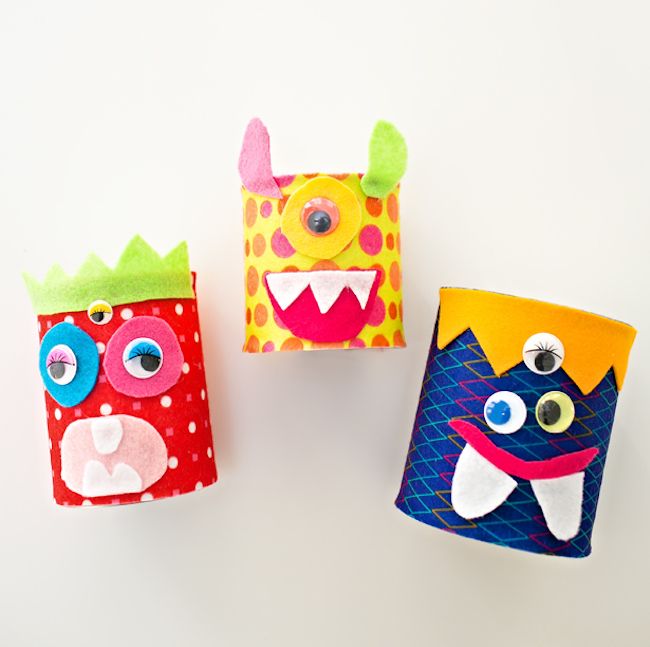 This silly felt monster cans craft at Hello, Wonderful is so charming and easy for Halloween. You probably already have all the supplies you need at home. But if you don't have felt, you could easily swap in construction paper. When you're finished, use the cans to hold fresh flowers, pens and pencils, or the obvious — leftover Halloween candy.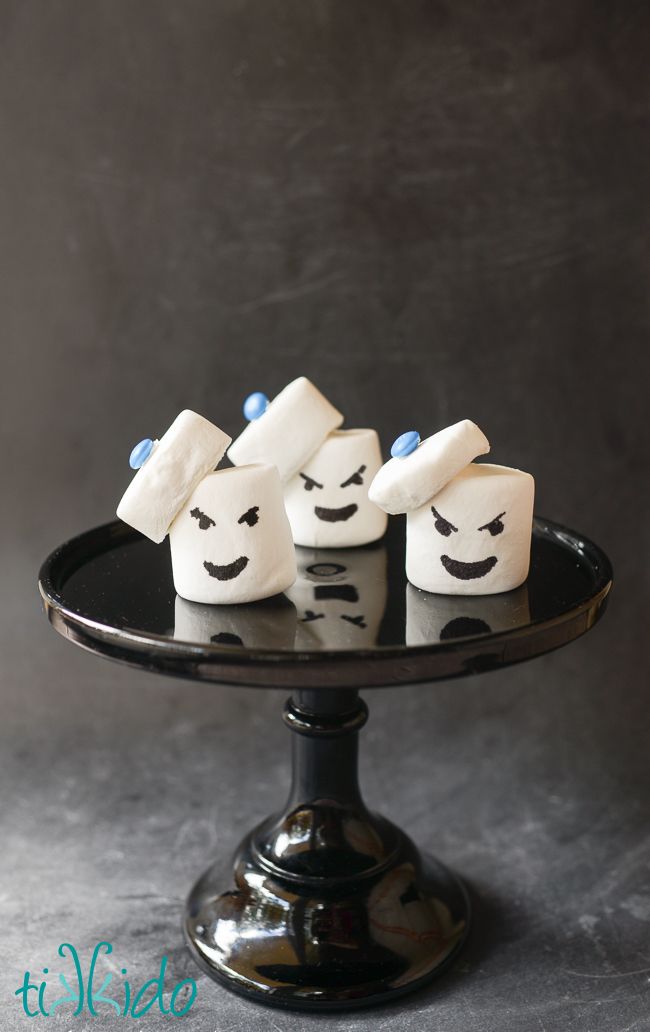 If your kids are little obsessed with Ghostbusters these days like ours our, this clever tutorial for Stay Puft Marshmallow Man treats at Tikkido is high on our list for not-scary Halloween craft projects for the kids. They're easy enough to make that even our preschoolers can handle it themselves, and we think they'd be pretty funny floating in a mug of hot chocolate.
There's absolutely nothing scary about these cute Jigglypuff and Poké ball pumpkins at Brite and Bubbly. However this is one Halloween craft I'd prep ahead of time for my kids, because, spray paint. But kids can definitely add the final touches — cutting out and gluing on the Pokémon details.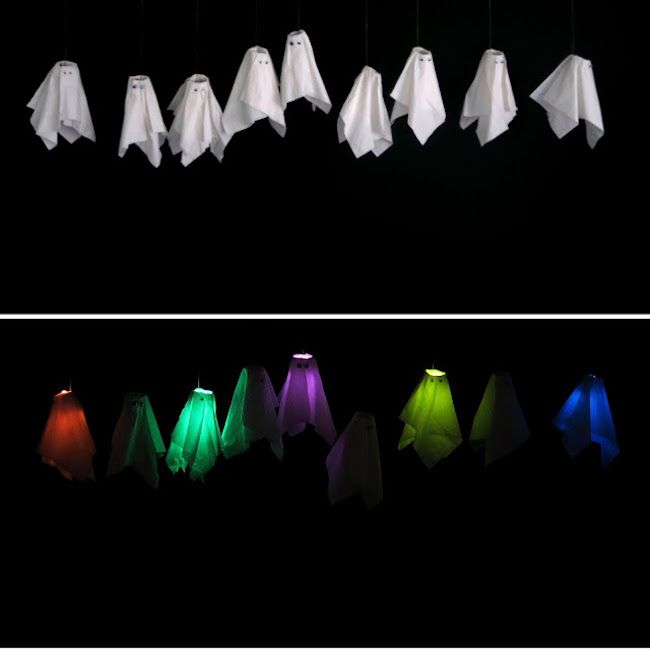 For another not-scary Halloween craft project, I really appreciate this fun paper tube Halloween ghost craft tutorial at Mama is Dreaming, because it uses items I typically have around my house like toilet paper tubes and tissues. The ghosts are adorable hanging around the front porch or kitchen counter as is, but the optional twist of sticking glow bracelets in each one for a colorful display once the lights go out is pretty genius.
Related: Easy, fun Halloween papercrafts for kids that don't require any special supplies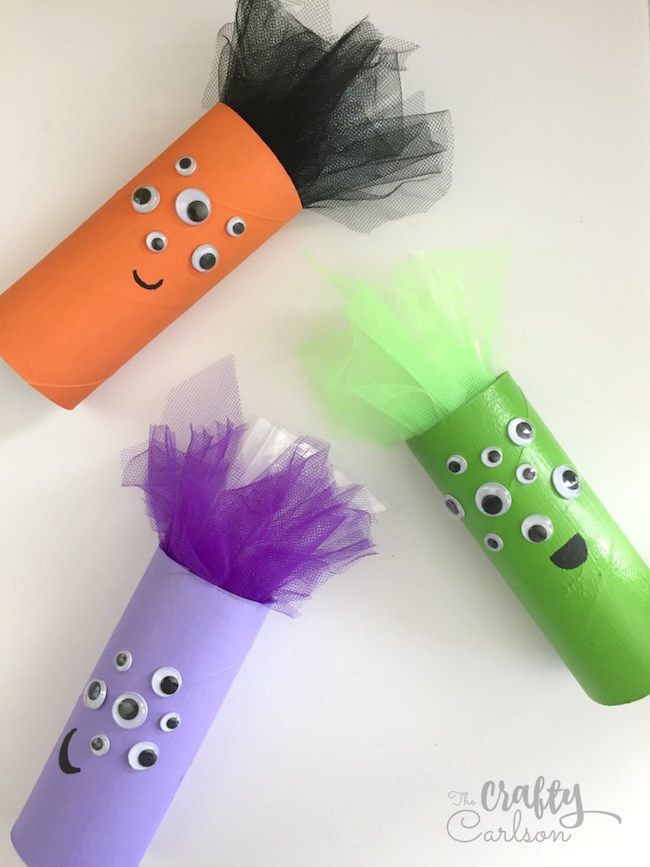 Another reason to save up your toilet paper or paper towel rolls is to make the silly monster tubes Halloween craft spotted at The Crafty Carlson. I think they're just perfect on their own and would be a fun way to decorate your buffet table if you're having a party. Or, you can also fill with non-candy Halloween treats — we even have 20 suggestions for you that you can make or buy.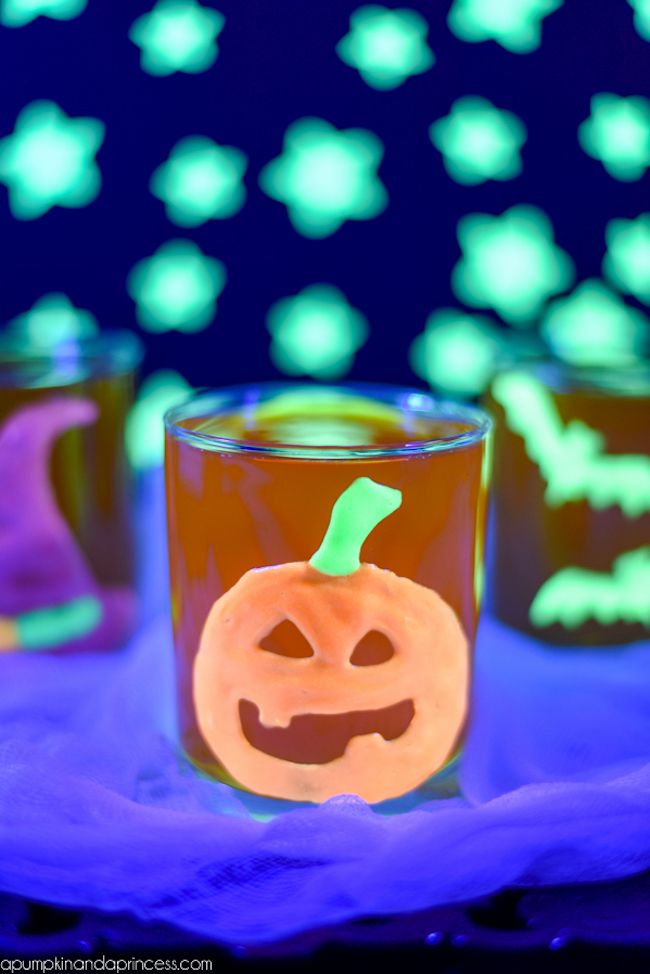 Make your Halloween drinks just a little bit spookier with these fun DY glow-in-the dark Halloween glass clings at A Pumpkin and a Princess. Your elementary-age kids can definitely make these all on their own by following the printable patterns, and they'll love decorating the whole family's glasses with some Halloween flair.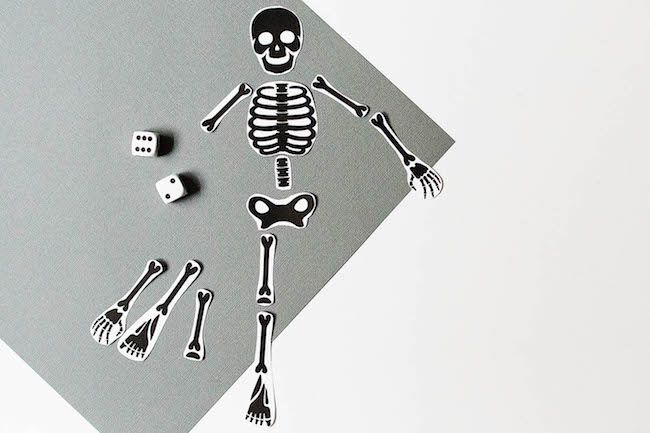 I love the idea of this free, printable Halloween skeleton game at All for the Boys. (Which, of course, is not just for boys.) Her instructions are simple: roll the dice in order to add bones to your skeleton,. That said, there are some alternative ways to play suggested too — I might turn it into Halloween Hangman. I'd just suggest it's probably a smart idea to laminate this one if you want it to last.
If you've got a kid who loves bling, this Princess Pumpkin craft is the one for them. Call it an Elsa Pumpkin, Cinderella Pumpkin, or name-your-own sparkly princess character. I would paint the pumpkin ahead of time for my littler kids, and let them "help me" use the glue gun to get the jewels on in just the right places. Be sure to click through to see her Minecraft and Hello Kitty pumpkins too — although her husband's pumpkin might be more your speed if pumpkin decorating isn't your thing. Ha.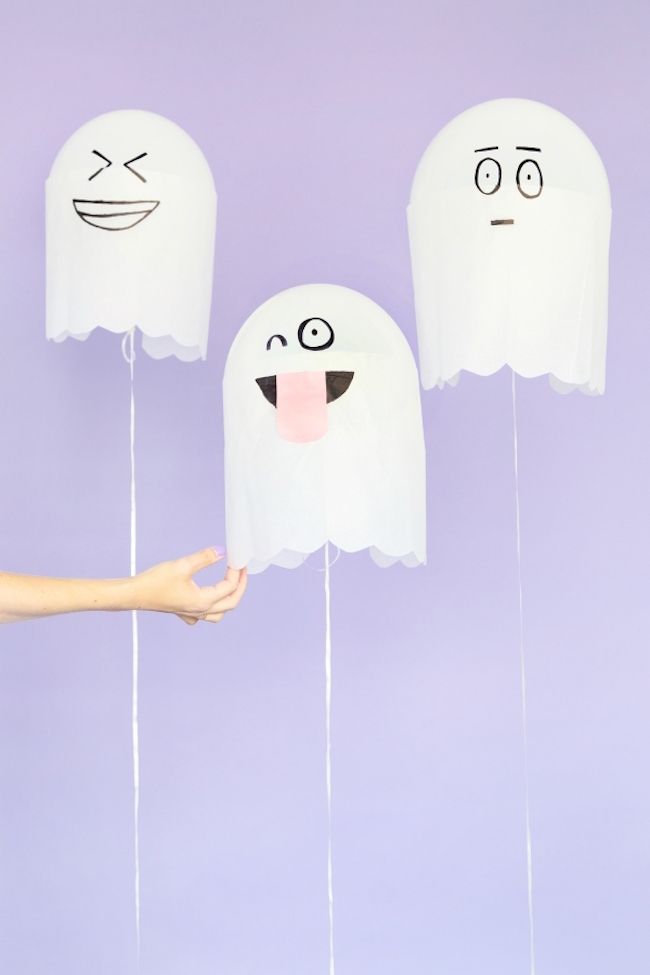 These silly ghost balloons at Studio DIY make me so happy! I'm not sure if it's that they float or those silly faces that stare back at me, but I think my kids would have a blast making these decidedly not-scary Halloween craft. The tissue paper part looks a little complicated, so I'd maybe practice that first (or do it ahead of time) if you're making it with younger kids, but you can otherwise just let them be creative with the faces and have tons of goofy fun with this one.