I'm barely getting to the store before all the good candy is gone, so I'm definitely not looking for over-the-top complicated crafts and activities that are going to impress my friends at our annual Halloween party. And when I'm charged with bringing the games for the classroom party, too, I want easy and fun. So, I've been searching for simple games my kids can play with their friends at school and before we head out for trick-or-treating.
These Halloween games for kids are easy to pull off — most are printable — and are actually a lot of fun. You can choose to give prizes to the winners, or just remind the kids they all earn a bucket full of candy at the end of the night.
At top: Pin the Spider on the Web | Ella Claire Inspired; Pop Goes the Pumpkin | Martha Stewart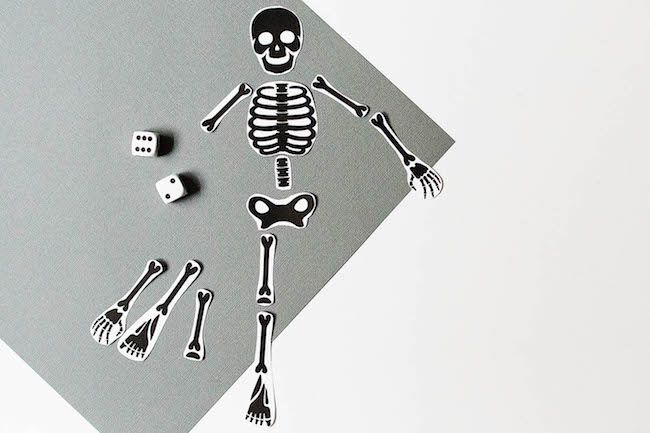 We found this Skeleton Dice Game at All for the Boys a few weeks ago and still think it's a really fun one for your kids to play on their own while they're waiting to go trick-or-treating. There are a few variations on the rules at the site, so it stays interesting. Also, we'd recommend laminating those tiny paper pieces if you plan to play more than just once.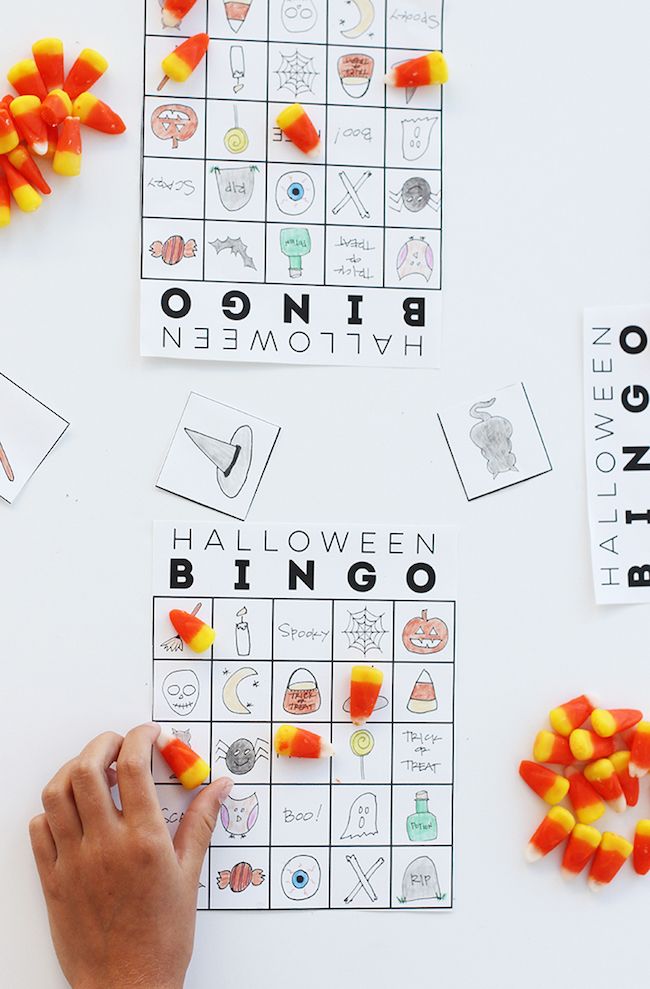 I love the idea of playing this free printable Halloween Bingo game at Alice and Lois with candy corn as your Bingo chips, although I'm not sure I'd be able to hold off eating them long enough to win. You could also play this with the kids after they get their candy loot, and give the prize of a coveted full-size candy bar to the winner.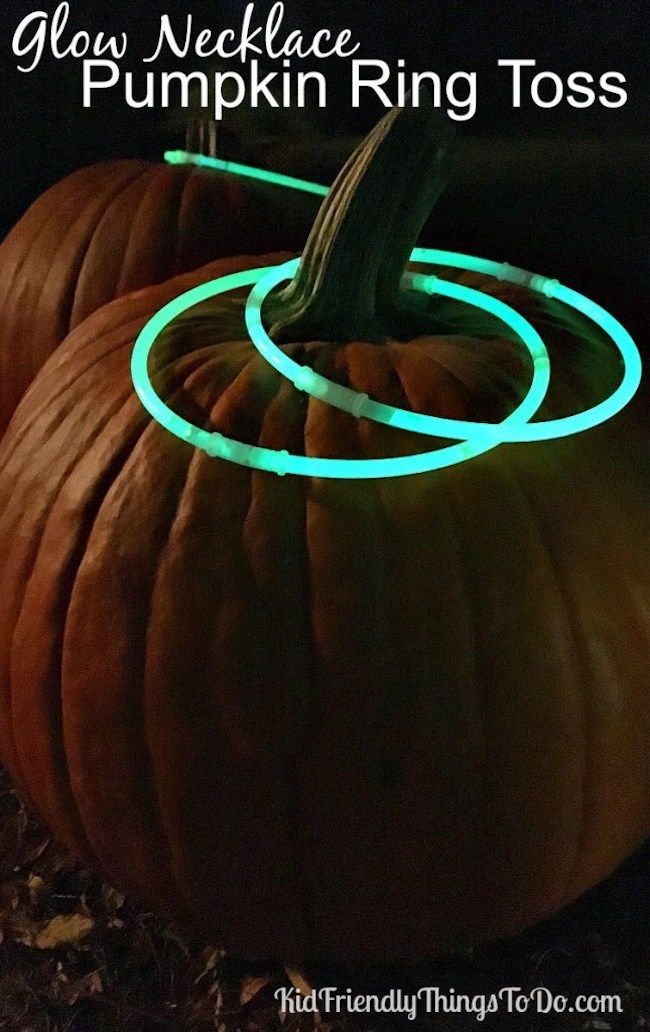 Sometimes the games that take the least amount of effort end up being the most fun, and I can see where this Glow Necklace Ring Toss game at Kid Friendly Things To Do would fit that category. It keeps the party going even after the sun has set, and everyone can leave with their own glow necklace as a party favor.
Related: 6 super cool ways to decorate pumpkins with black Sharpie. Lazy? Or brilliant!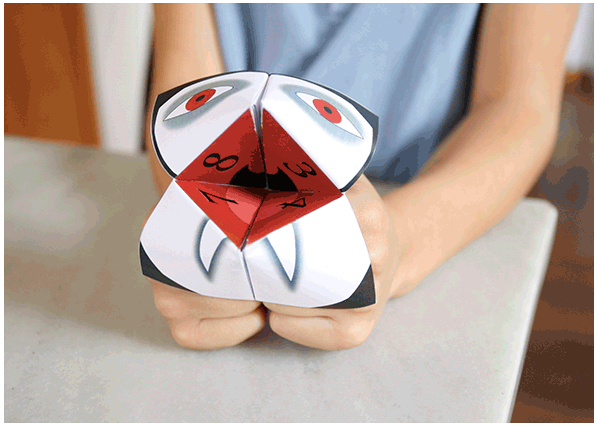 This silly Vampire Fortune Teller at El Hadad e Papel tells you the taste of your blood, and it should be a hit with your kids who have (ahem) less sophisticated sense of humor. As in, if Frankenstein Farts makes them giggle, this game is for you. The site is in Spanish with English translation, and she has both Spanish and English versions of the free printable too.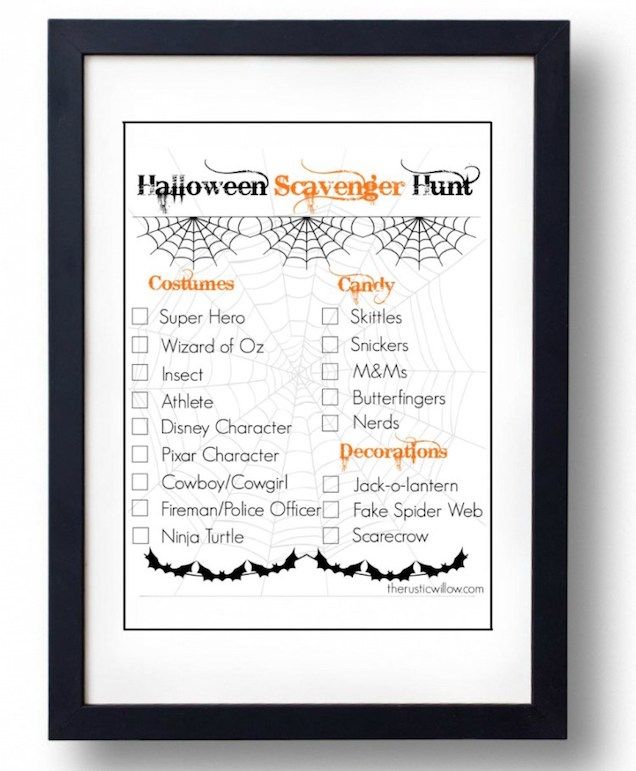 Of course, the real reason any kid goes out trick-or-treating is to get candy, but if you're looking for some alternate fun while you're out walking the block you could try this fun Scavenger Hunt list at The Rustic Willow. I'd say, whoever finds the most items from this list gets to go first on the candy trades when you get back to the house.
If you're in charge of a Halloween party in your child's classroom, definitely try this Sensory Spook Bowl at I Try DIY. The idea is that you reach your hand in the bowl without looking and try to identify what you're touching. Hardboiled eggs as eyes; cooked spaghetti as brains. Be sure to click through to see all her ideas of what to include, because, ewww, this is the perfect kind of gross.
Another incredibly simple, fun and tasty game is this Pumpkin Toss at Playground Park Bench. Just let the kids line up and toss their candy pumpkins into the cauldrons. It's like Halloween beer pong for kids. You can have prizes for whoever gets the most candy into the cauldrons, or just let them eat the candy pumpkins as their prize. That would be good enough for me.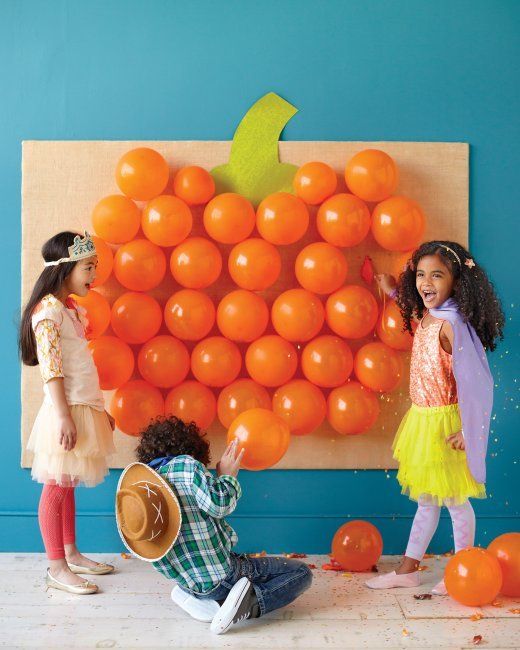 This Pop Goes the Pumpkin game at Martha Stewart is so fun, it might become a our new family Halloween tradition. Fill the balloons with small candy or tiny prizes, then let the kids take turns popping them. Note: this game works best with pins or darts, so it's really geared toward older kids. Also, we would not fill our balloons with glittery confetti like Martha did — I mean, can you imagine the mess?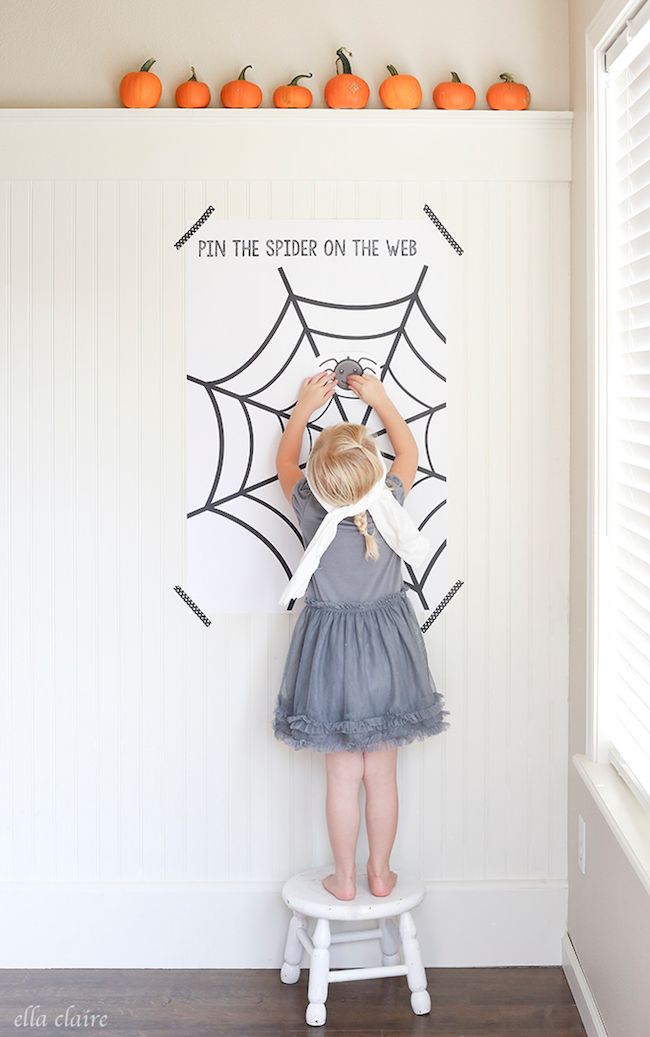 I'm all about some good old-fashioned fun, and this Pin the Spider on the Web game at Ella Claire Inspired is a cool twist on a classic. I love it because it requires minimal effort from me, and the kids love it because getting spun in a circle while blindfolded is always fun. Bonus: while you're not playing, it makes for some great party decor.