If you've been following our Halloween coverage this year, you won't be surprised that we've been seeking out cool Sharpie Halloween pumpkin decorating ideas. After all, we're busy! So we're all about cutting down on fuss, days of excessive pre-Halloween parental labor, and of course, the mess of pumpkin guts.
Don't get me wrong — I  appreciate a creative jack-o-lantern as much as the next person; but I also recognize many parents have their hands full already this time of year.
So I've gathered up 6 really fun and (mostly) mess-free ways to decorate pumpkins with black Sharpie, whatever your skill level. Just uh, keep an eye on the whereabouts of that Sharpie if you're handing it to little kids. Trust us on that one.
Related: 16 seriously creative no-carve pumpkin decorating ideas for all of the fun, non of the pumpkin guts!
Sharpie Owl Pumpkins
I love the Mexican folk art influence of these Sharpie Owl Pumpkins at Lil Blue Boo, which are made to look like sugar skull versions of your basic owl. So cool. Her level of detail blows my mind, but I also think these would look great as just basic owls. Big eyes, wings, ears…really great.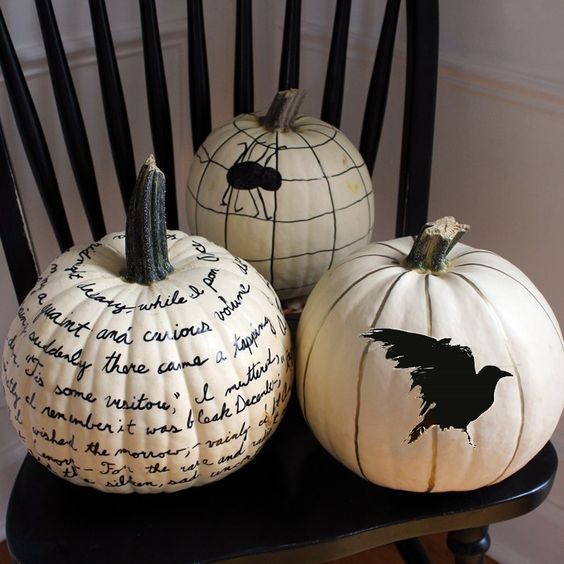 "The Raven" Sharpie Pumpkins
Props to Boxy Colonial for adding such a smart, literary air to Sharpie pumpkin decorating. The raven drawing may be a little out of my own artistic range, but I love the spider web and the excerpt from Edgar Allan Poe's own works — although if you have younger kids, you might want to use some choice lines from Nightmare Before Christmas or It's the Great Pumpkin, Charlie Brown instead. Either way, these Sharpie Pumpkins have me feeling inspired.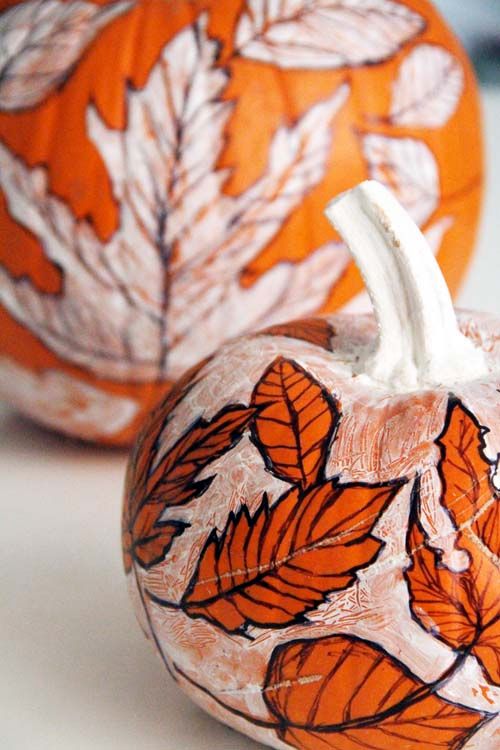 Sharpie Sketchbook Pumpkins
Okay, so technically this requires a little paint in addition to a Sharpie, but the overall effect of this Sketchbook Pumpkin craft from Alisa Burke is more picturesque autumn than campy Halloween. So pretty! Be sure to click over to find out just how she made this amazing work of pumpkin art.
Related: 29 cool Star Wars pumpkin ideas we've found for Halloween: The internet has taught us well.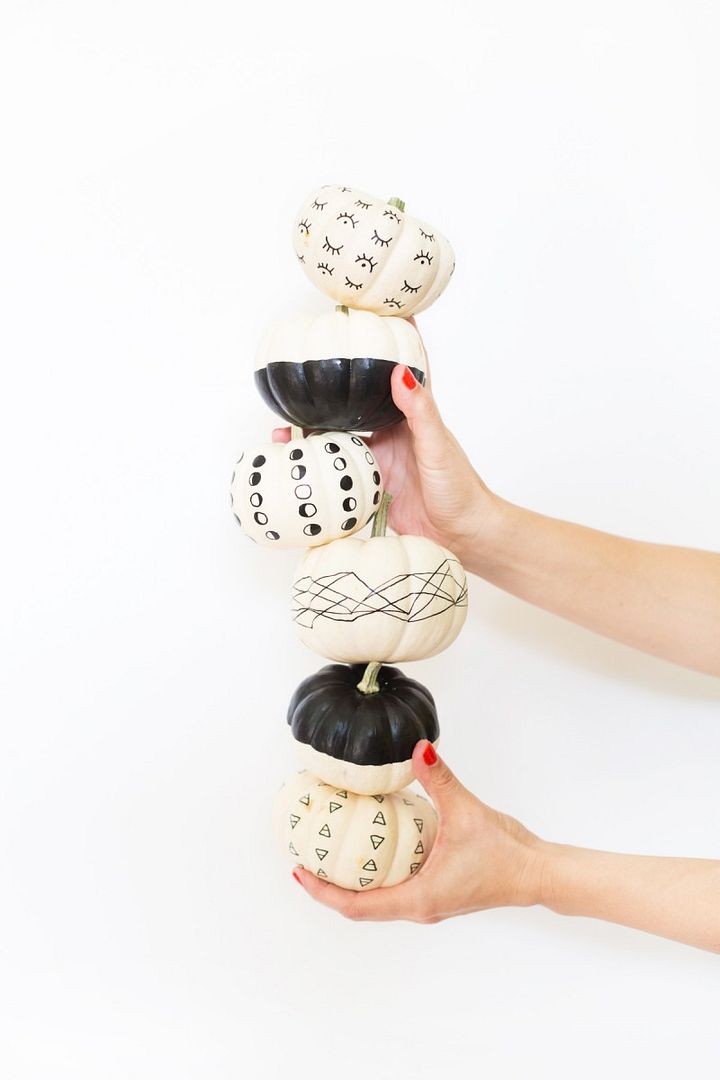 Sharpie Patterned Pumpkins
Chic, minimalist patterns can be fun for older kids and tweens to create, and these DIY Paint Pen Pattern No-Carve Pumpkins at Lovely Indeed are some of my favorites. Love the geometric shapes and winking eye motif. Check the site for her easy 5-minute DIY tutorial.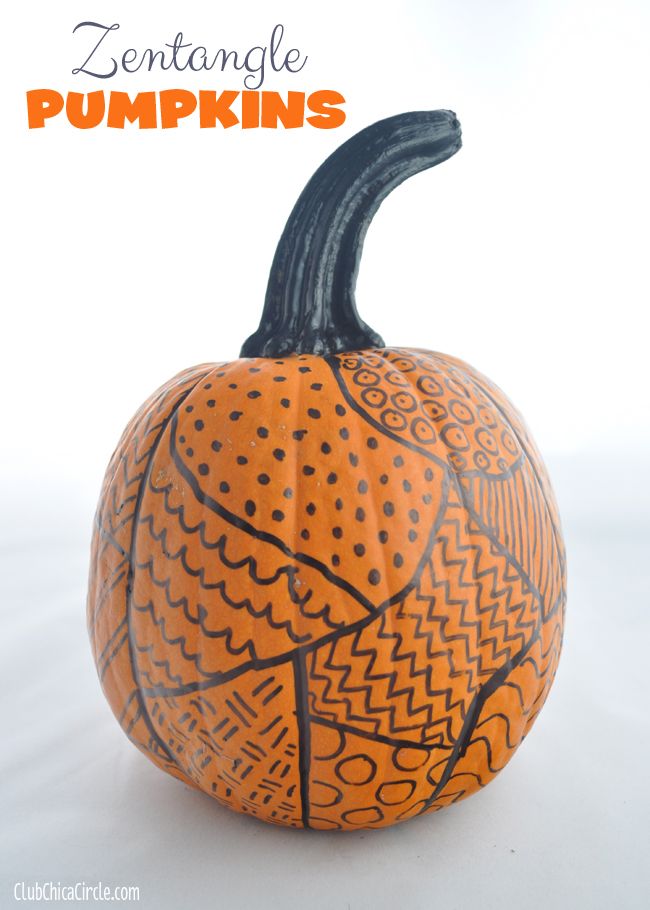 Zentangle Sharpie Pumpkins
I'm all about letting kids go wild with doodling on their pumpkins. Even if the end result (and we're not super concerned with Instagram-perfect craft results here at Cool Mom Picks) doesn't come out as beautiful as this one from Club Chica Circle. However she manages to make her Zentangle Pumpkin look amazing, even with its mismatched, quirky design, and has tips that I'm totally willing to follow if mine will come out even close to hers!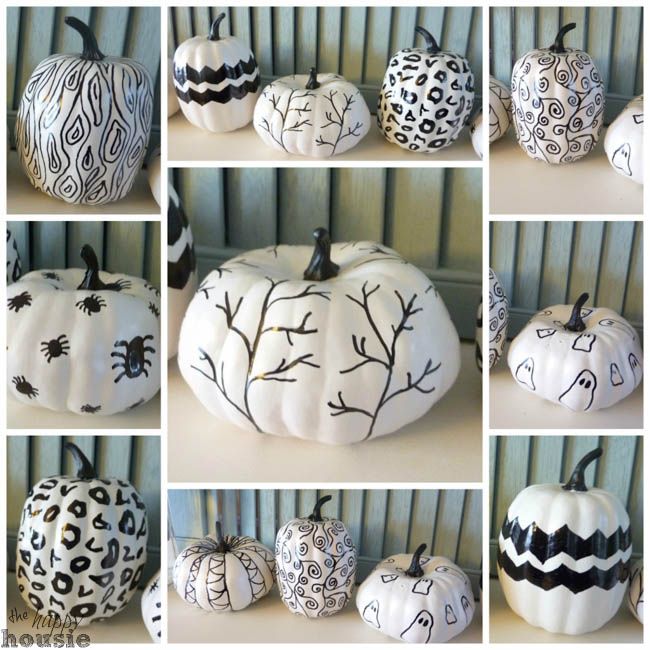 Hand Sketched Sharpie Pumpkins
I'm so happy to have found Krista at The Happy House, who offers her readers an endless supply of cute Hand Sketched Sharpie Pumpkin ideas. I'm especially fond of the Charlie Brown sweater-esque stripes (which would also be great against yellow, right?) but the leopard print is so fun too. Get lots of inspiration from her post, and then let your kids get to work coming up with their own wacky Sharpie pumpkin decorating patterns.