If you're looking to plan ahead for 2017 and impose some organization on the post-holiday chaos, we've scoured the web for beautiful printable 2017 calendars and put together 17 of our very favorites.
There are tons of cool designs available online, whether you want a clean, structural design or illustrations pretty enough to blend in with your wall art. Plus, plenty of these options are free, so you can switch motifs mid-year if the calendar you liked in January isn't jiving with your mood in July.
CMP is an rstyle affiliate
Related: One-word New Year's resolutions: The trick to making one you can finally keep.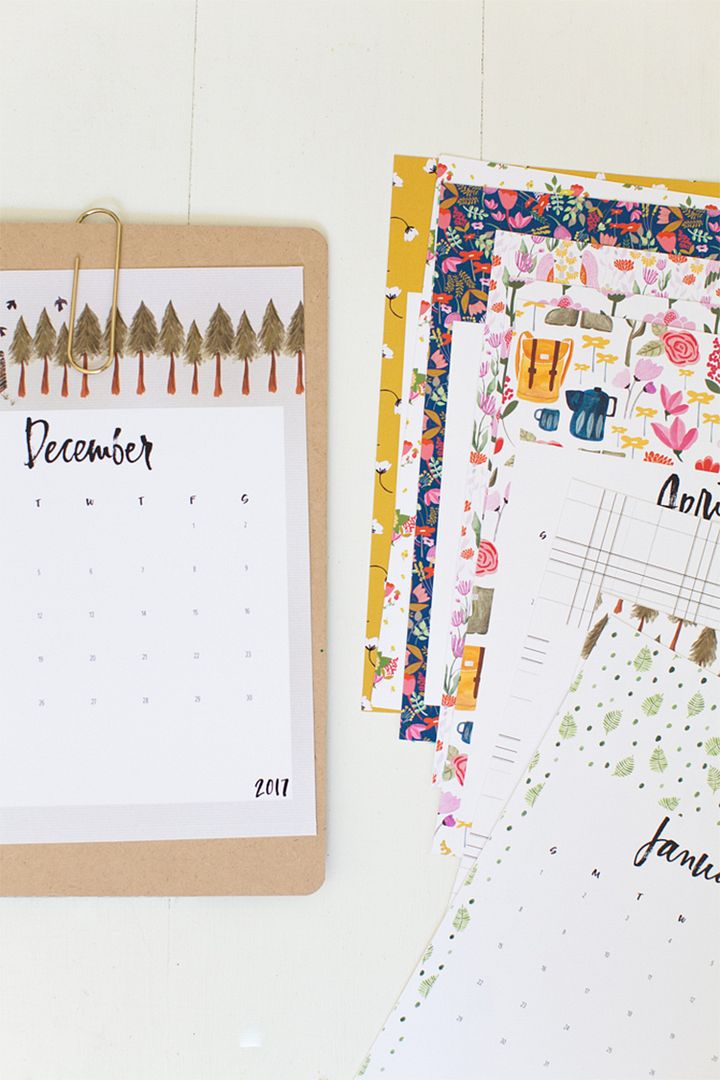 Free 2017 Printable Calendar | Jessica Keala
This seasonal decorations on this calendar are so pretty, I'd happily shell out a few bucks for it, but Jessica Keala's offering it for free this year (yay!). With a totally new illustration each month plus plenty of space to write, it's a happy medium between decorative and practical.
2017 Printable Calendar Cards | Mallow World
If you schedule most of your appointments on your phone or planner, all you really need in a calendar is an overview of the month that you can glance at to get your bearings. So I love these striking, modern calendar cards that deliver just that without giving up style, Order from Etsy artist Laurie Riesenberg in your choice of two sizes.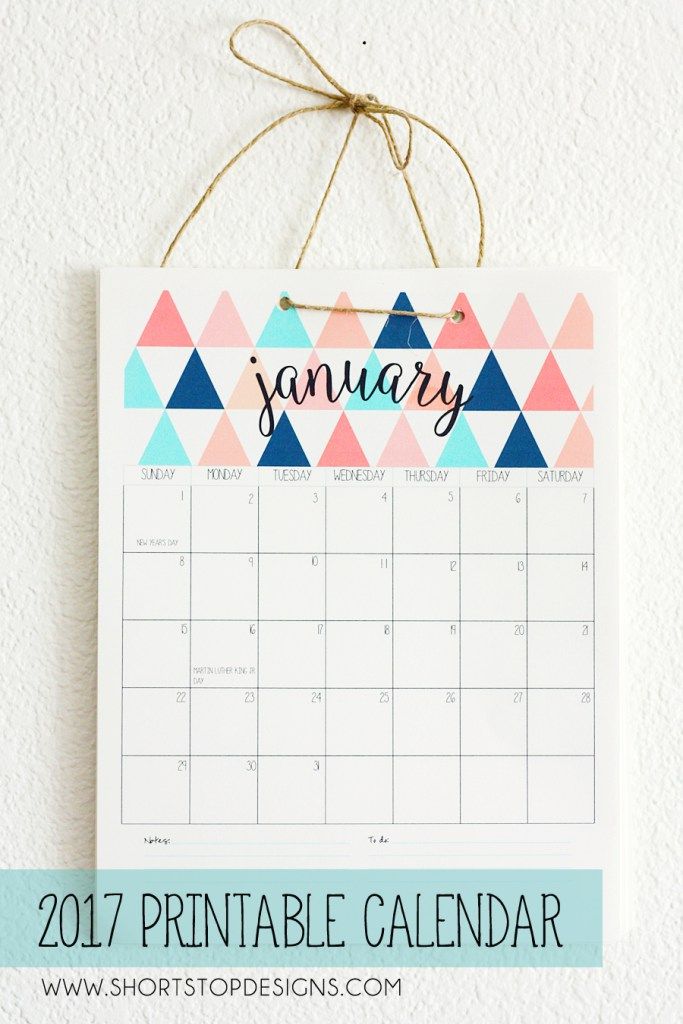 Free 2017 Printable Calendar | Short Stop Designs 
If you're looking for a clean, cheerful print with plenty of room to scribble in birthdays and appointments, check out this nice looking freebie. I also like her simple brown string method for hanging the calendar.
Related: 7 inspirational 2017 planners to help you own the new year like a boss.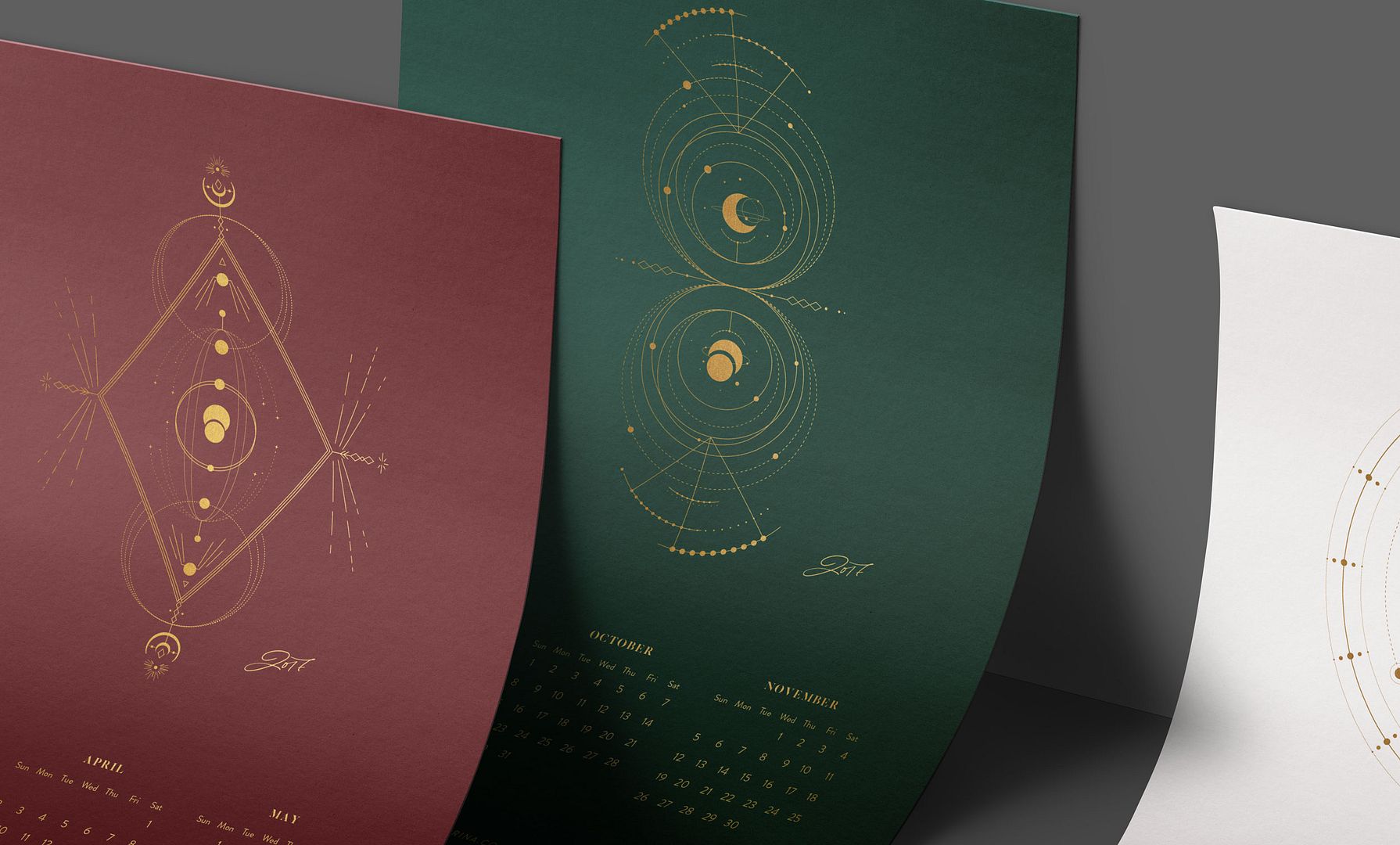 Free Downloadable 2017 Calendar Line Art | Cocorrina 
This sophisticated line art calendar from Cocorrina is a departure from the clean white styles we usually pick, but it's just so special, had to throw it in. The designs are frame-worthy — which also happens to be another way to display them in an office or by your bed.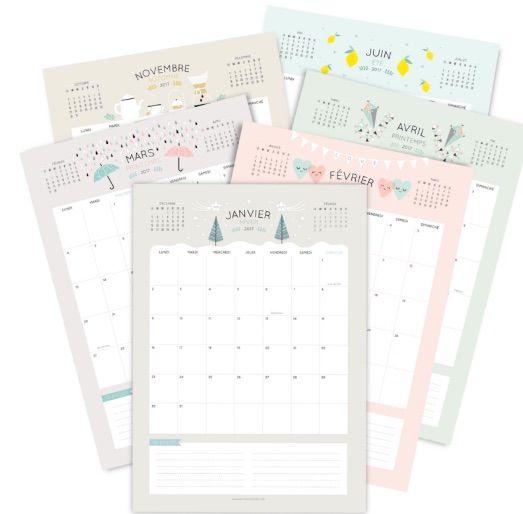 2017 French Printable Calendar | Zü (updated link)
We featured the 2016 version of this French calendar last year, and this year's is just as charming. As cute as it is (also featured at very top), I like that this calendar is among the more practical options, with a section for notes and plenty of space for each day. Just be sure to comb through her blog; she posts a new page each month.
2017 Printable Wall Calendar | Indigo Printables
I find this pretty, streamlined calendar so calming, and I appreciate the easy legibility of the numbers and days. There is a small fee for this one, but it's never a bad idea to start the year off with a purchase that supports an indie artist, right?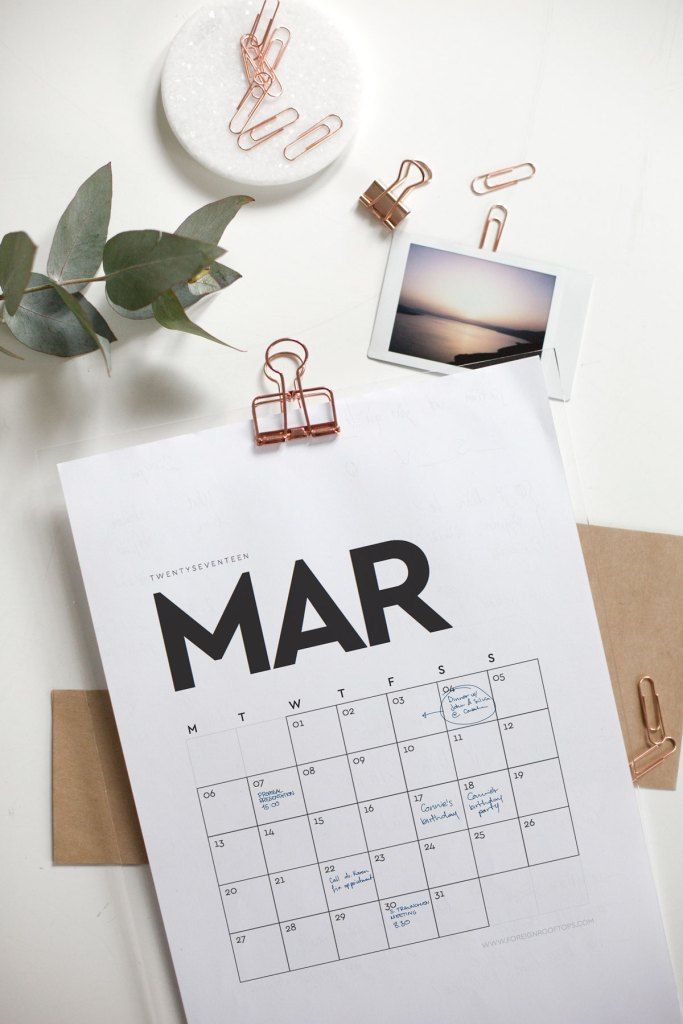 Free Printable Wall Calendar | Foreign Rooftops 
For those of you eschewing all things fussy and froufrou this year, I've found your printable 2017 calendar. The modern, strong typography gives it a clean look,  combining solid design with a get-down-to-business sensibility.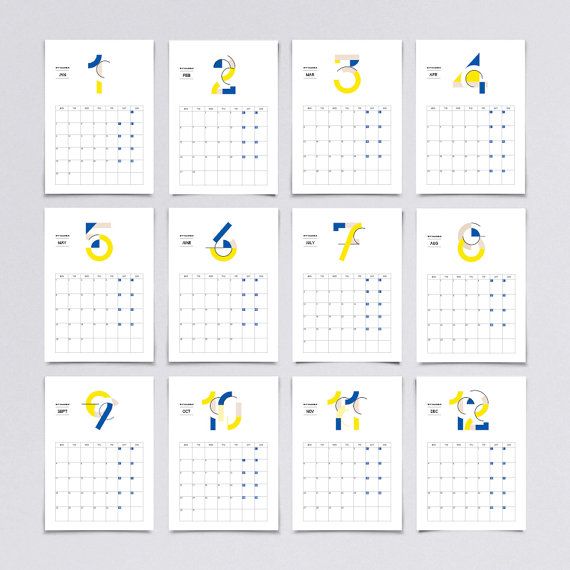 Printable Calendar 2017 | Sunberry Graphics
Liz discovered this cool geometric design from Sunberry Graphics last year, and I'm glad that they've reprinted them as printable 2017 calendars with a brand new, bold color scheme. Although last year's orange and blue is available this year too, if it feels more you.
Free 2017 Printable Calendar | Oh So Lovely 
If you're looking for a practical desk calendar that affords acres of space for writing, check out Oh So Lovely's array of simple, free printable calendars for 2017. The format's the same for all, but each offers a different border design.
Related: 11 fun things to learn to do this year that will make you coolest parent, aunt, uncle or grandparent ever.
Free Printable Calendar 2017 | Sara Woodrow
This calendar is so chic, I honestly can't believe Sara Woodrow's offering it for free. It's better for a monthly overview than day to day scheduling. But so beautiful! Definitely in the calendar-as-art category. Also note that the months appear Swedish, although they're similar enough you shouldn't confuse your Januari with your Juni.
Printable 2017 Calendar | Fearless Confetti
I love the pretty, spilled watercolor look of this calendar, with  different colors each month that feel seasonally on piont. Fearless Confetti offers a host of other simple, pretty options for those of you who want an easy-to-read layout with a splash of design.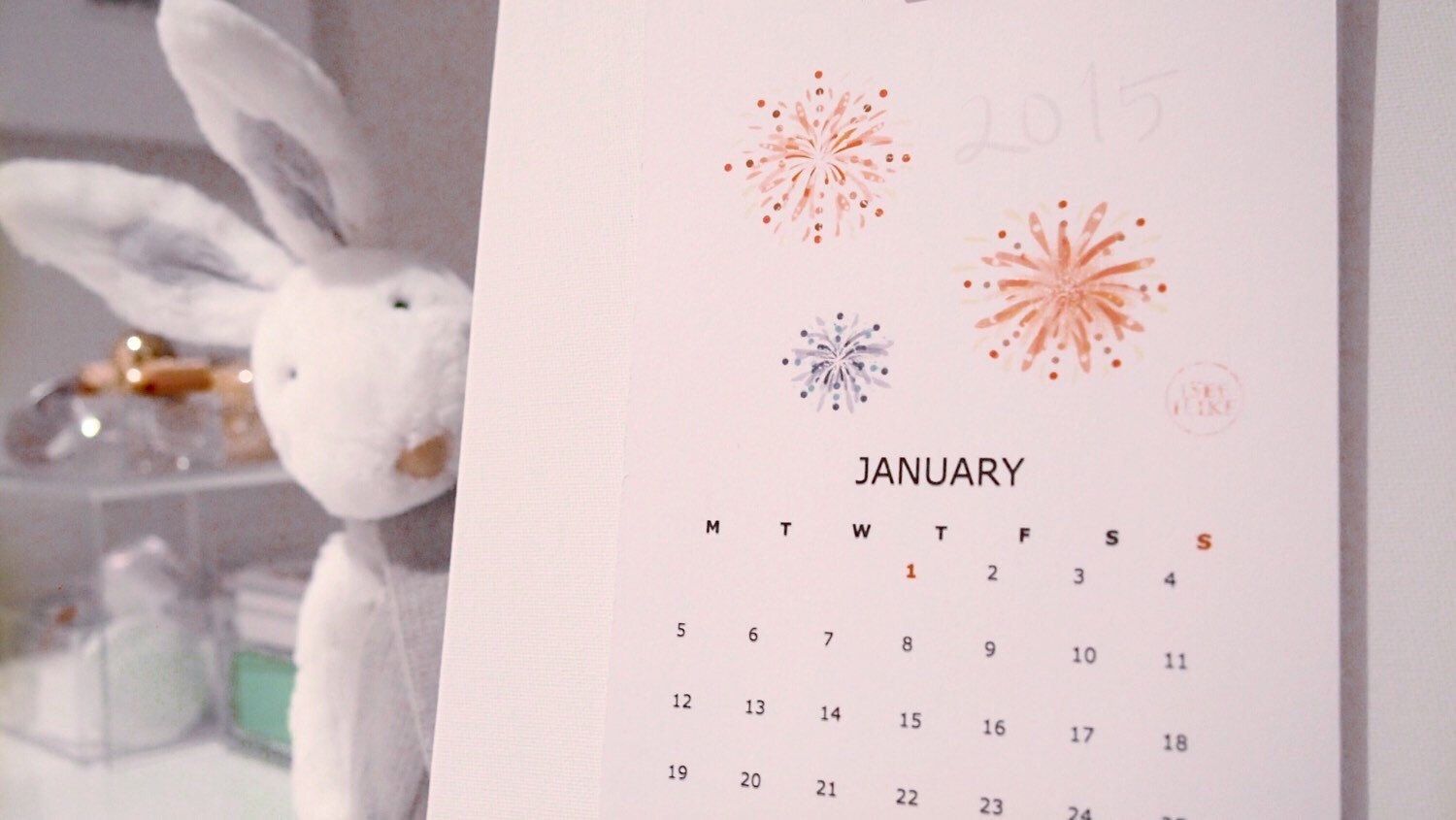 Printable Illustrated 2017 Calendar | I See I Like 
You have to check out I See I Like's Etsy shop to get a sense of the full range of this calendar's artwork. I adore May's colorful ferris wheel almost as much as November's cozy fair isle sweater. Note that the pictures in her Etsy shop still show the 2016 calendar, but it has been updated for 2017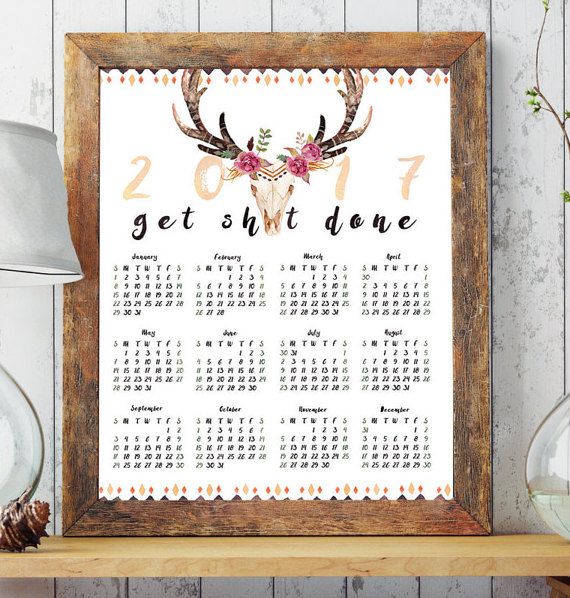 Printable Calendar 2017 | Design Your Love
This is a reminder I imagine plenty of us could use in 2017 and I love that the pretty hand-lettering betrays the edginess of the message. Frame it or pin it up as a poster –maybe in the office, out of the way of the kids?
2017 Antique Food Prints Monthly Calendar | Prints Project 
If you prefer more traditional designs, I'm loving the vintage feel of these antique food still life portraits on a nicely designed printable 2017 calendar that looks expensive (print on good card stock!) but can be yours for just $10.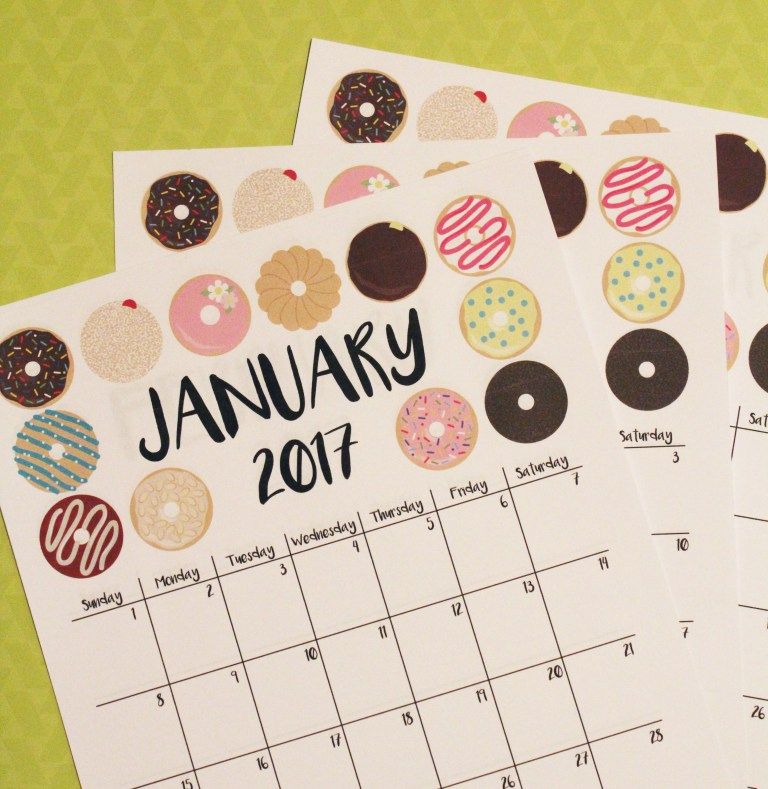 Free Printable 2017 Donut Calendar | The Little Surprises
Amidst all the talk of dieting and New Year's resolutions, I have to admit, I kind of appreciate artwork that shows my unabashed love for baked goods. Especially one that's as cute and colorful as this freebie calendar.
Free Old Stars, New Luck Printable 2017 Calendar | Feeist Mein Name 
If you're looking for pure inspiration from your calendar, I've found it in this design, appropriately titled Old Stars, New Luck. It offers a crisp new constellation each month — and hopefully some good luck, too? The design may not offer much help with in-detail weekly planning, but it's just so gorgeous.
Free Printable 2017 3-D Calendar | A Piece of Rainbow 
Liz found this amazing foldable calendar last year, and I am so glad it's out again and updated for 2017! Especially since it's teaching us all the word dodecahedron. I already feel accomplished.