There's a good chance that by now you've seen the Topshop Clear Knee Mom Jeans at Nordstrom that have been making the social media rounds (along with that weird tank top from Urban Outfitters). But, what you might not have noticed is that people are now leaving reviews on the Nordstrom website, and they are cracking us up.
Side note: Why are they called "mom jeans?" No mom we know would ever pay $95 for jeans with clear knees. Well, no mom we know would every pay any dollars for jeans with clear knees but that's beside the point.
But name aside, we picked out 10 our favorite "reviews" of the Topshop Clear Knee Mom Jeans that remind us how funny people can be, which now, more than ever, we deeply appreciate.
Cool Mom Picks is a reward style affiliate (in case you really need a pair of these)
Related: 5 fabulous pairs of spring shoes at Nordstrom that I need right now
1. Finally! After becoming a mom, finding jeans has been so hard. Pregnancy really did a number on my body. My hips have been retired as my best asset in favor of the only normal body parts left – my knees. I've looked for months for the perfect jeans, and then I found these! I can really cover up my hips and stomach, but I can still show off my beautiful knees. I'm giving 4 stars because unfortunately they do not cover my post pregnancy cankles. And just as a hack, you can use your baby's wet wipes to clean the sweat off your knees when the plastic starts to stick. A+. -merinc
2. Sometimes I wonder how my kneecaps are doing under my pants. This is the perfect solution! Also come in handy for when you need a tan solely on the knee area. -Mamiofboys
3. I've been looking for jeans that don't scream "I'm a mom!" and it looks like my search has ended! The styling of these jeans are amazing! I've always thought my knees were the most attractive part of my body, but wanted to be modest about showing them off. Now I can! The only downside is it gets foggy in there when my knees sweat, and I have to shave my hairy knees more often, a small price to pay for fashion. They also go great with my clear parka that I wear on the soccer field on rainy days. -OCRunnerShoeGirl
4. These are great, it allows me to safely slide across the living room floor so I can perform that scene from risky business safely. Not to mention the ladies at the breastfeeding club have all remarked on how slender and attractive my knees are. It's a head turner, the high waistband allows me to navigate Tupperware parties and hours of conversations with others mothers about how gifted my child is and how the baby can sign things like food , milk etc … my child is gifted. I spilled milk on my self and it glided right off my pants. A must get. -RafandChild
5. I got these to play with my kids. Dry erase markers work great! They sit quietly drawing on my knees for at least half an hour. And I can also use them to write my to do list or grocery list and keep it always with me. Talk about versatility! Lost points because kids aren't that great staying on the plastic and now my jeans are starting to look weird with marker marks around the edges. Maybe I'll try water-based markers next time. -Drawonme
Related: This bra stalked us on Facebook so we finally bought it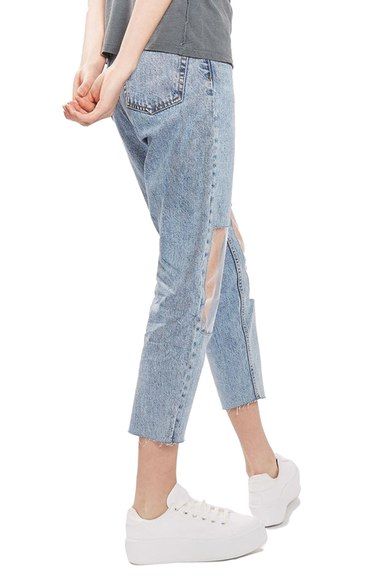 That side view, though. Rawr. 
6. A couple years ago when I first started momming I bought the clear elbows mom shirt, and was wondering when they would introduce the pants! I wait no longer and they match perfectly! I can't wait to wear my outfit to the next PTA meeting! – Lyndsey555
7. I bought these for my wife, who was cutting her designer jeans and lining them with Saran wrap for a similar look. Finally, a great time saver! -DigitalGhost
8. Two years ago I had two total knee replacements and I kept forgetting and put too much pressure on my knees. Well thanks to these pants I'll never forget, I just look down and I'm reminded of my surgery. I remember to take it lightly every time! -Mkayy17
9. I love me a sweaty knee. Definitely going to bust these out on a hot summer day, just to watch the condensation build in my knee-windows. -MlleJennifer
10. I can't wait to wear these with my clear boob mom sweatshirt! -Tedco