Having a new baby is completely life-changing in the best possible way…and, in some harder-to-embrace ways too. (Looking at you, complete lack of sleep.) If you're anything like me, a house that's in chaos will make you feel even more stressed than those post-pregnancy hormones will, so getting organized will make a big impact on your mood.
To help, I've rounded up some genius nursery organization tips that will let you focus more on your baby and less on finding your baby's stuff.
CMP is an rstyle affiliate
At top: laundry folding tips | Two Twenty One
Related: Eliminate clutter in your nursery with one of these best baby book apps.
1. Know what you have on hand.
Babies outgrow their clothes so quickly, so knowing that you have a stash of onesies the next size up is a big help. But, if you forget you have them (like I've done) you can outgrow a whole season's worth of clothes before you ever use them. These free printable inventory sheets at I Heart Organizing helps you keep track of what you have on hand.
And for when they do outgrow those onesies? Having a basket for "too small" clothes in your child's closet, like we spotted over at Reality Daydream, makes it easy to toss the outgrown items all in one place to save or donate.
2. Stash important bedtime items in one place.
There's nothing worse than having to hunt for a pacifier or blanket when you're ready to tuck the baby in for the night, so keep them all in one place where they're easy to see and even easier to find.
This modern basket of swaddle blankets at Thrifty Littles keeps everything clean and within eyesight, and you can pair it with another cute wire basket for loveys, pacifiers, and all those other critical comfort items your child will not sleep without.
3. Fold your child's clothes so you can see them all at once.
The Konmari method of folding clothes, which I use for my own drawers, involves rolling and storing your child's clothes so you can actually see them, like in this tutorial we found at Two Twenty One (also shown at top).
For the clothes that need to hang, you can use these printable closet dividers at Arthur Baby so you can see at a glance what you have in each size.
Related: 11 of our favorite nursery must-haves
 4. Store baby shoes on a rolling cart.
If your closet space is at a minimum, store your child's tiny, adorable shoes on a rolling cart, like this idea we found at The Glitter Guide. You can move it around wherever it's convenient — even if it's in the closet — and quickly see which pair goes best with that day's outfit. Because fashion always comes first. Ha.
5. Place toys up high.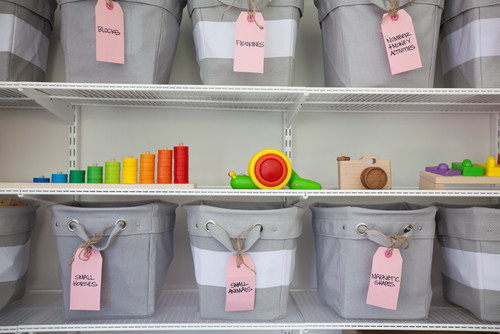 This is so simple, but somehow it took me four kids to figure it out. Putting my child's toys in buckets and baskets up high, where she can't pull them down and dump them all over the floor, is life-changing. I have a system similar to this one I found from NEAT Method Michigan on Houzz, and now I give my daughter just one toy bucket at a time to play with.
It still gives her plenty of toy options and gives me time back in my day I don't have to use cleaning up. Which means more time sitting and playing with my daughter — a much better way to spend my time.