If you're planning to throw a Stranger Things themed party for an upcoming birthday, for Halloween, or even a viewing party to celebrate the launch of the next season — counting the hours! — we've got you covered!
Check out these cool Stranger Things party ideas, from invites to snacks to photo booth props. Basically, everything you need to recreate the campy, creepy sci-fi vibe, and party like it's 1985 in Hawkins, Indiana.
CMP is an rstyle affiliate. 
Top: Christmas Light Cupcakes recipe at Baked Bree 
Related: Stranger Things gift ideas for your obsessed friends. That's all of them, right?
Stranger Things Party Invitation Ideas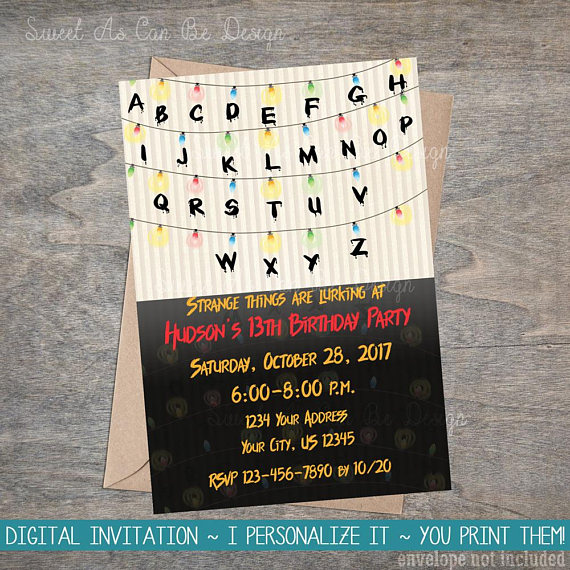 Hopefully you're not planning your party from The Upside Down, but you can still communicate through strategically placed Christmas lights like Will did, thanks to these printable Stranger Things Christmas Lights Invitations from Sweet As Can Be Design.
For those of us who love the simple, 1980s look of the Stranger Things title design, this Stranger Things Party Invitations is a perfect option. Just hop on over to LL Paper Goods to get it personalized in time for the big day. They have options, whether it's a Halloween party or a Stranger things birthday party invitation you need.
Yes, it's dark. But then, so is the series. And if guests of your party are fellow Stranger Things fanatics, you won't have to say much more than what's printed on this creepy Will Byers Missing Person poster from Paul Elder Designs. Because it's a printable, you could print it out on one side of a folded invitation, then make sure you write the time, place, and date on the inside before sending.
Stranger Things Party Food Ideas
What would a Stranger Things party be without Eggo's? Arrange El's favorite snack into a yummy spread and it becomes a creative Waffle Bar. Charley Curley Matthews of Foodlets.com contributed this clever idea to the Food Network site. We love how she writes the instructions right on the kraft paper tablecloth, and how she cuts the waffles in quarters to make it an easy, party-ready finger food. Click over for lots of clever combinations and topping ideas. Mmm…apple butter.
Related: The best Hamilton party ideas: Decor, invitations, treats, and more. WORK!
Another way to include waffles is to bring them into your dessert. I adore these delicious-looking Waffle Cupcakes from 40 Aprons. Though you might want to serve them on a black plate and in cupcake wrappers that are a little less happy. Your call.
The hilarious Stranger Wings for a Stranger Things party from Self-Proclaimed Foodie look like something out of a horror move to me. But thanks her yummy recipe including soy sauce, brown sugar and garlic, they don't sound nearly as scary as they look.
Don't these Christmas Light Cupcakes at Baked Bree make the most clever Stranger Things party food? I'm so excited for this idea! You can also try DIYing cupcake toppers using toothpicks and construction paper and writing a letter on each one. Then arrange them to spell out your party message: like Happy Halloween or R-U-N!
Stranger Things Party Decorations
You know you have to create your own Christmas light alphabet board, right? Basic colored Christmas Lights will do the trick, plus hand-drawn letters on pieces of paper. Easy!
If you really want to go all in on a Stranger Things party, you can recreate The Upside Down tree portal with this Paper Mâché Tree Tutorial from Green Arts. Have one room designated as the Upside Down or use it for the entrance to your house for some spooky porch decoration.
Or, use this as inspiration and just sketch one out on a giant roll of paper to hang on the wall. Pin the owl on the tree, anyone?
Police chief Hopper didn't hesitate to enter the off-limits lab, and I doubt a bunch of this free printable biohazard tape from Free Signage will keep your guests out of your home. Post it around the party or cover your front door with it. Or to make things easier on yourself, just try buy a roll of Keep Out Tape from Amazon for just over 6 bucks.
Related:  10 absolutely charming storybook themes for your child's birthday party
Stranger Things Party Photo Booth + Props
No party is complete without a killer photo booth these days. For a cool Stranger Things party backdrop idea, consider buying a print like this awesome Stranger Things Poster from Wonder Wall Art on Etsy, and ask the artist if it's okay to have your local print shop blow it up to epic proportions.
If you want something a little more subtle and creepy, check out this Forest Photo Booth Backdrop by Backdrops by BE and use the same method. It's definitely spendy, but you can use it for Halloween for the rest of eternity.
Fortunately, photo booth props for a Stranger Things party theme should be easy to find since you can just forage through your local thrift shop for cool 80s gear and clothing. If you want to make it extra legit, try adding this Vintage Dustin Trucker Hat at Halloween Spirit or a vintage style flashlight from Amazon or your local hardware store.
Then, just download one of our favorite photo booth apps and get ready to make memories. And, souvenirs.
Stranger Things Party Activities
Stranger Things Pumpkin Carving
If you're hosting a Stranger Things party for Halloween — or just close to it — provide small pumpkins for each guest and let them decorate to their heart's content. That is…drawing, not carving! Though I adore this Stranger Things Pumpkin created by Danielle Treadway Lazar and it would be great as a centerpiece for inspiration. You can even give out awards so that each guest gets recognized, whether they've come up with "best Christmas lights pumpkin" or "best depiction of Steve's hair."
Bobbing for Barbs
Ready to mix hilarious with horrible? Let guests take a turn as the demogorgon and go "Bobbing for Barbs" out of a bucket (A.K.A. "swimming pool") using the tips from Habitat at Home for a classic bobbing for apples activity. You can even draw or carve glasses into the apples to give them that signature Barb look.
Missing Person Hunt
Designate one party guest as Will — maybe they wear a cool vintage Puffy vest like this one I found from Flying Apple Vintage on Etsy. It's so much like the one he sports in the movie! Then "Will" hides and everyone looks for him.
If you have a lot of space, you can treat it like a mystery too, with a series of clue cards getting you from one point to the next until Will is found. (Staticky phone calls and flickering lights as clues are encouraged.)
We've rounded up several safe, natural, and easy slime recipes, and a Stranger Things party is the perfect time of year to use them. One favorite is this Borax-free DIY Slime from A Jeweled Rose. Have it around the house wherever you're recreating the lab — or turn it into a fun craft activity during the party.
Bike race/obstacle course
If you have room outside somewhere, it would be fun to have guests use bikes to compete against each other, or a designated villain — even if they're using modern bikes rather than this cool 1980s kids' bike. (I'd use this as an excuse to buy one, TBH.) You can even set up obstacles like "creepy government vehicles" — or as I think of them, minivans.
Thriller Dance Contest
By now, you've probably seen the awesome Stranger Things Season 2 trailer set to the tune of Michael Jackson's Thriller. Screen this Thriller dance tutorial from YouTube up on your big screen and make everyone learn the moves.
Spell It Out 
NRP shared this genius Stranger Things Christmas Light Advent Calendar, and I think it would make for a cool Stranger Things party activity. Let your guests take turns spelling out a message one letter a time that everyone has to guess. Use a laser pointer — or hey, just a pointer finger. It was the 80s after all.