Looking for some inspiration for your child's next birthday party that goes beyond animated movies? You may not have to look any farther than one of the well-worn storybooks your child lovingly keeps by their bedside. In fact, we love the idea of a storybook themed birthday party so much! Not only do classic picture books provide tons of ideas and inspiration, but they have the added benefit creating themes that parents can be really excited to bring to life. (With all due respect to Dora and friends.)
To help you get started thinking about some fantastic party ideas that will make your child's celebration memorable, we've rounded up 10 of our favorite picture books that inspire wonderful ideas for a literary themed birthday party.
From classics like The Little Prince and Where the Wild Things Are to more modern picks like Mo Willems' Don't Let the Pigeon Drive the Bus, I hope you find just the theme you're looking for — and enough inspiration, tips, and ideas to help you pull it off perfectly.
CMP is an rstyle affiliate
1. The Very Hungry Caterpillar Birthday Party Ideas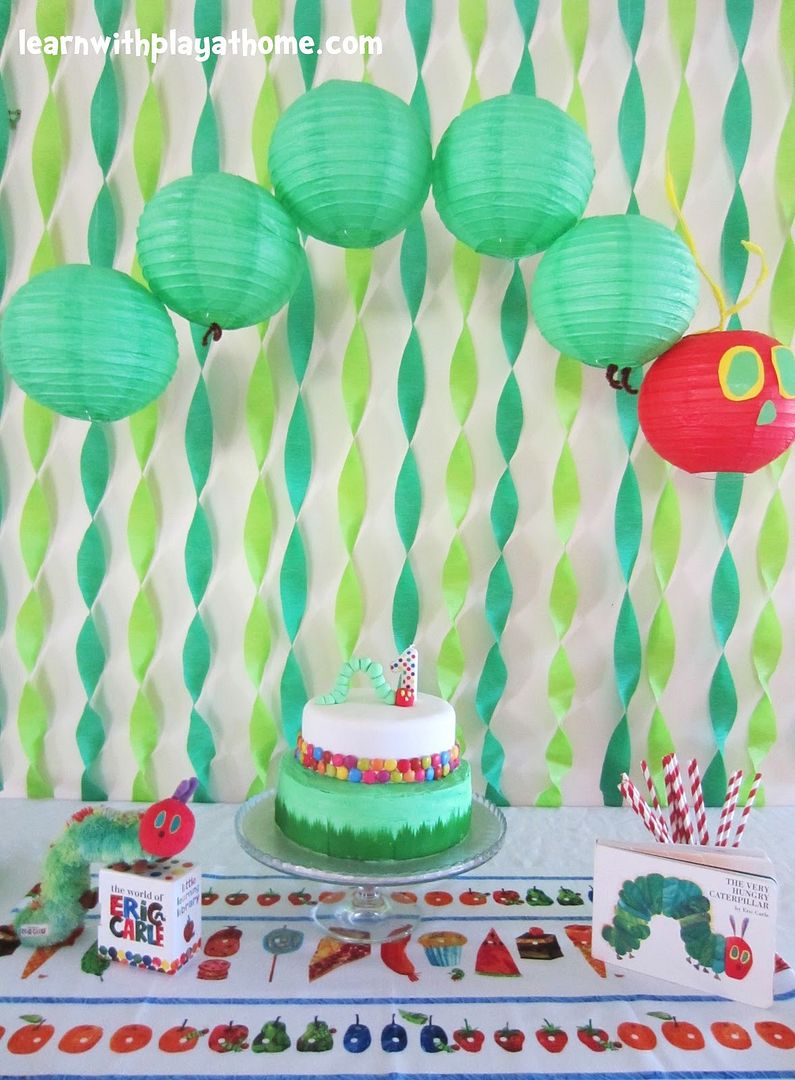 Eric Carle's colorful story about the famished caterpillar that (spoiler!) turns into a beautiful butterfly makes an absolutely adorable Very Hungry Caterpillar birthday party. I love the Very Hungry Caterpillar themed first birthday party seen at Learn with Play at Home that this Australian mama made for her own child. It includes easy-to-copy decorations like a giant happy caterpillar made of green paper lanterns — and we're all for easy. You'll also find loads of free printable food labels and cute activities to keep the kids busy, like clever sticky table that toddlers and preschoolers will love.
And, be sure to check out the amazing Hungry Caterpillar birthday cake  — it comes with a detailed DIY for how to create this treat that will fatten up all your own hungry bugs.
If you prefer to serve cupcakes, you have to visit Rhubarb and Rose and check out this instantly recognizable Very Hungry Caterpillar cupcake cake idea. It's almost too cute to take apart! And, if you need a "smash cake" for a 1 year old's birthday, that caterpillar head will work just perfectly.
There are some more fantastic Very Hungry Caterpillar party ideas at Home Deco 50 worth taking a peek at, including this inspired idea for a clever healthy snack that fits perfectly with the theme. Not that we'd skip the cupcake cake — she didn't either! And, oh my goodness, do we love the adorably edible Hungry Caterpillar grape skewers we featured on Cool Mom Eats from Little Food Junction. Healthy too!
2. Make Way for Ducklings Birthday Party Ideas
This year, Robert McCloskey's classic story about the Mallards turned 75 years old, so we think it's very fitting to celebrate with your own Make Way for Ducklings birthday party. We think you'll get lots of inspiration from this beautiful duckling adoption party from Kate Aspen. We'd also frame single pages from the book to act as table decoration. And grab two sets of the adorable faux faux-moss ducklings from Save On Crafts to represent Mr. & Mrs. Mallard and their offspring — just line them up on your table for the cutest-ever centerpiece.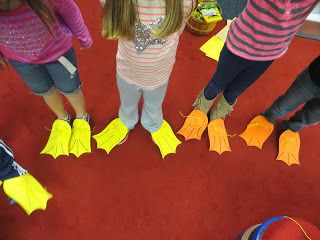 And for a great photo opp, check out First Grade Wow's idea to have each child try their hands at a make their own duck feet craft — super easy party activity (we love those too).
I also checked out Tiny Prints' Make Way for Ducklings baby shower which could easily be adapted for a birthday party with a few minor changes. I especially love this yellow Ducklings cake, though you could easily affix a printed picture of the mallards to the side of the cake if your illustration skills aren't quite as advanced.
Related: 10 summer party themes for kids: So much inspiration!
3. Curious George Birthday Party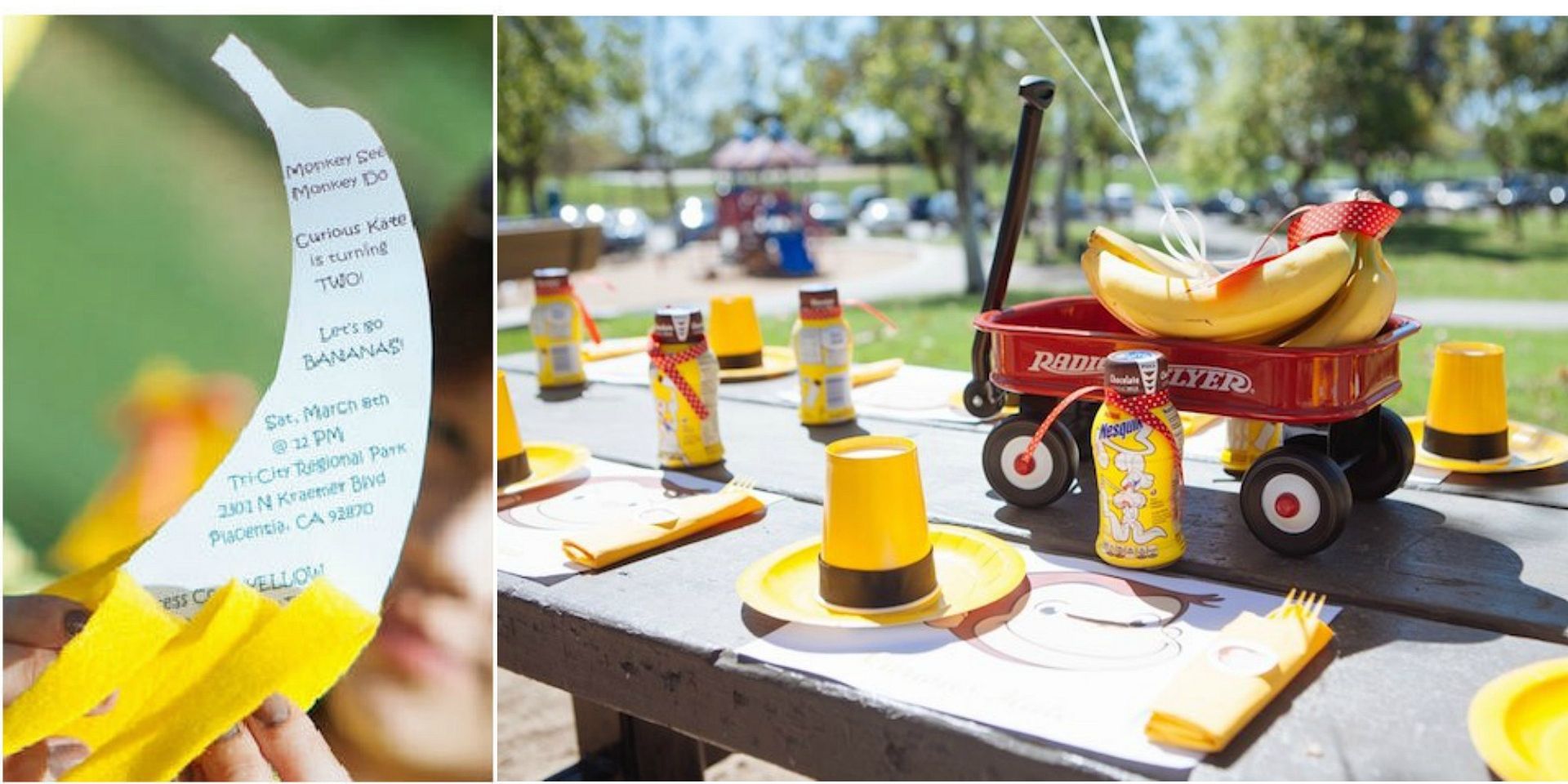 If your little monkey loves another famous little monkey like we all did as kids, a Curious George birthday party might be the perfect theme for you. (And hey, maybe it even was your own theme years ago? Here's to books with longevity!)
From the super clever DIY peeled-banana party invitation to the iconic yellow hat table settings (made from a yellow paper cup and a yellow paper plate — brilliant!), this Curious George birthday party from Sugar Blast Events at Kara's Party Ideas is cuter than a barrel full of you-know-what.
And if you're looking for something sweet but also healthier than a lot of party food, check out these delicious chocolate-dipped frozen bananas from Sugar Hero! We hear that little monkeys go ape for them.
Printables are a great way to decorate everything from water bottles to the tops of cupcakes to party favor bags, and I especially like the look of the Curious George printables at Etsy's Nine Lives are Not Enough. The chalkboard background really makes the colors pop, plus you can print out as much as you need from the comfort of home.
When it's time for your little monkeys to get moving, you'll find a couple of great ideas to borrow from the Curious George birthday party featured on Rust & Sunshine, like this ring toss using "yellow hat" cones. Another great resource is PBS Parents, where you'll find lots of clever Curious George party games to play.
4. Cat in the Hat Birthday Party Ideas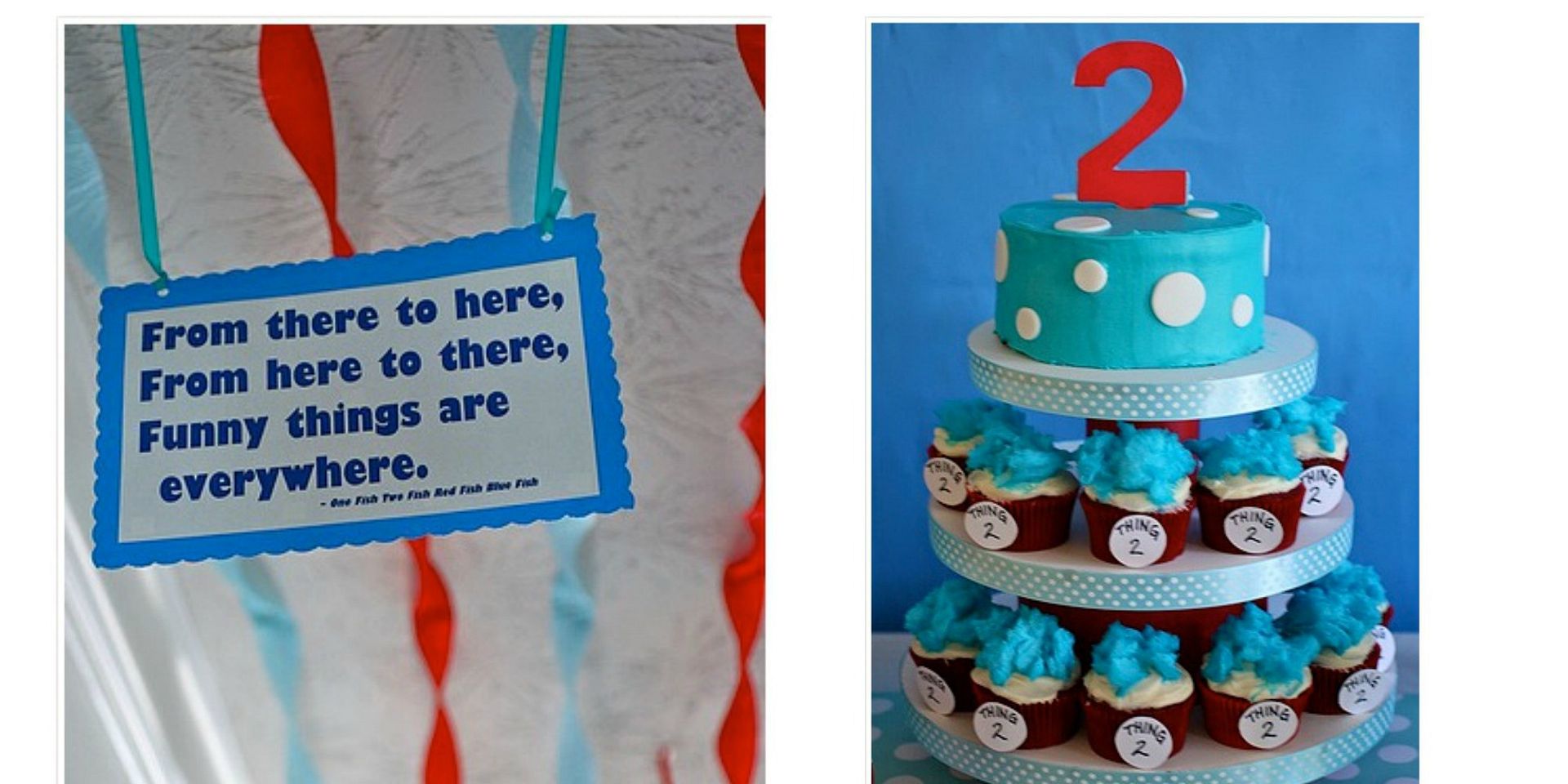 If you have a Thing 1 or a Thing 2 (or both!) that would love to celebrate their birthday with the Cat in the Hat, you should really check out the birthday party idea from Annie's Eats. We're loving how they use vibrant red and bright turquoise colors and quotes from Dr. Seuss to set the theme. And even I could handle making the Thing 1 and Thing 2 cupcakes that cleverly use blue cotton candy to achieve the "crazy hair" look in a most-delicious way.
Related: Dr. Seuss recipes are a delicious way to celebrate his birthday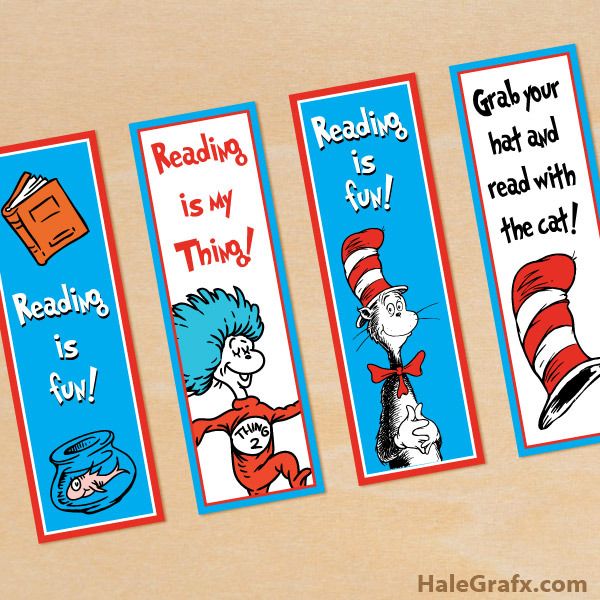 For activities, steer the kids away from tearing apart the house (ha) and more toward games like Pin the Hat on the Cat, or even get out the super-fun board game, I Can Do That! which can easily be modified to include all the kids at the party — it's kind of like Twister meets a Seussian obstacle course.
Then, when it's ready to return the partygoers back to their own homes, send them out with their own copy of the Cat in the Hat book and a free printable Cat in the Hat bookmark from Hale Grafx. Or grab these wonderful free printable Dr. Seuss note cards from Chickabug and attach it to a favor bag filled with little treats.
5. Chicka Chicka Boom Boom Birthday Party Ideas
The only book my son wanted to hear at night for a solid year was Chicka Chicka Boom Boom. And although I missed my chance to do throw him an alphabet themed party, I love the idea. The fun tone and graphics of the book provides tons of inspiration beyond just the ABCs.
How cute (and easy!) are these table decorations from the Chicka Chicka Boom Boom party by Double the Giggles? Plus, her ideas for personalized party favors that look like mini coconut trees are just adorable!
You can also party like Martha Stewart, or at least like her grandchildren, with this oh-so-cute and surprisingly doable coconut tree and alphabet snack platter. Made of cheese and fruit, a few of these placed where little hands can reach makes a nice, healthy snack. And don't forget the colorful alphabet tablecloth, which I found at Oriental Trading.
For sweets, have the kids spell out their name, or initials, in cookies that they can then decorate with frosting and sprinkles, as shown at iCandy Handmade's alphabet party. Make your own sugar cookie cutouts, or grab a couple of tubs of Trader Joe's Cinnamon Schoolbook Cookies to save a little time. Yay for store-bought hacks.
6. The Little Prince Birthday Party Ideas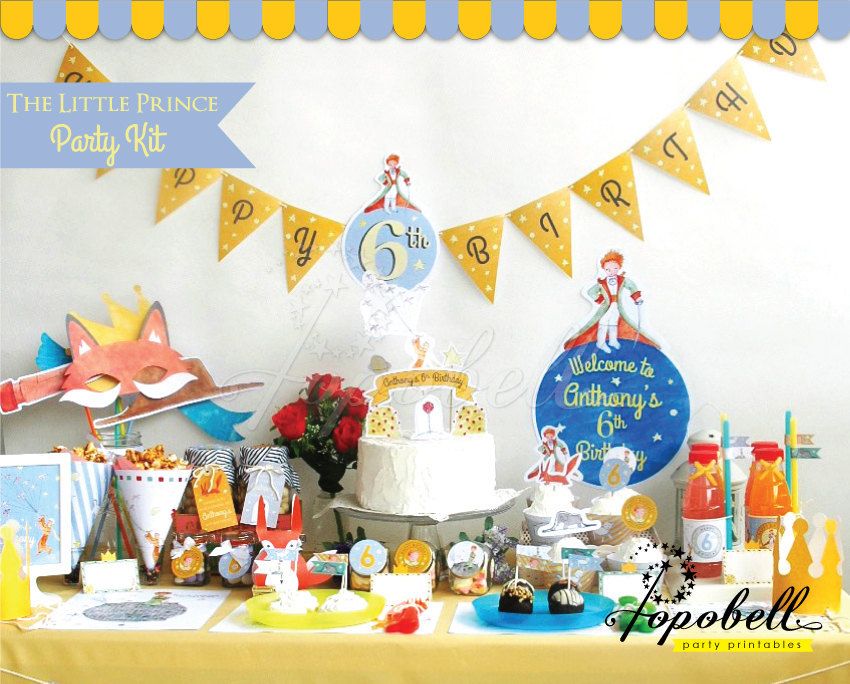 If your adventurous dreamer's favorite story is The Little Prince — or it's one of your own, and you're hoping your kids will follow in your footsteps one day — you may spark to the idea of this party. Find an entire printable and customizable Little Prince party from Etsy's Popobell. It comes completely with photo props, placemats, a welcome sign and banner, cupcake and cake toppers. There's even a cute foldable fox paper box. Just get that printer and scissors ready to pull together a party fit for a little prince — or princess.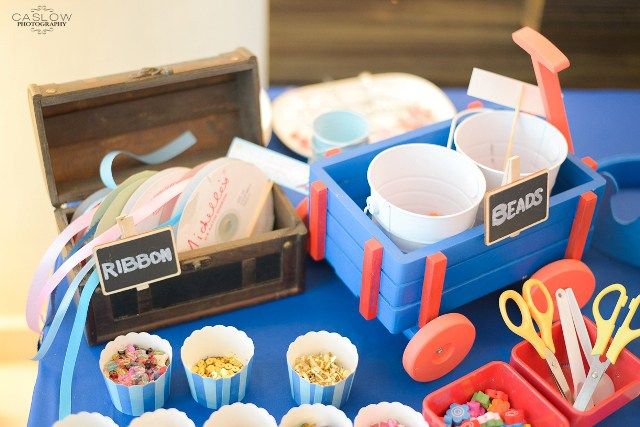 While much of the Little Prince party ideas at Party Doll Manila are over-the-top for us mere mortals without MFAs in Design, I do love how the color scheme ties together so much of the party. And her idea for a craft table that lets kids decorate their own crown and treasure box to bring home as party favors is a great way to keep them occupied before the cake comes out.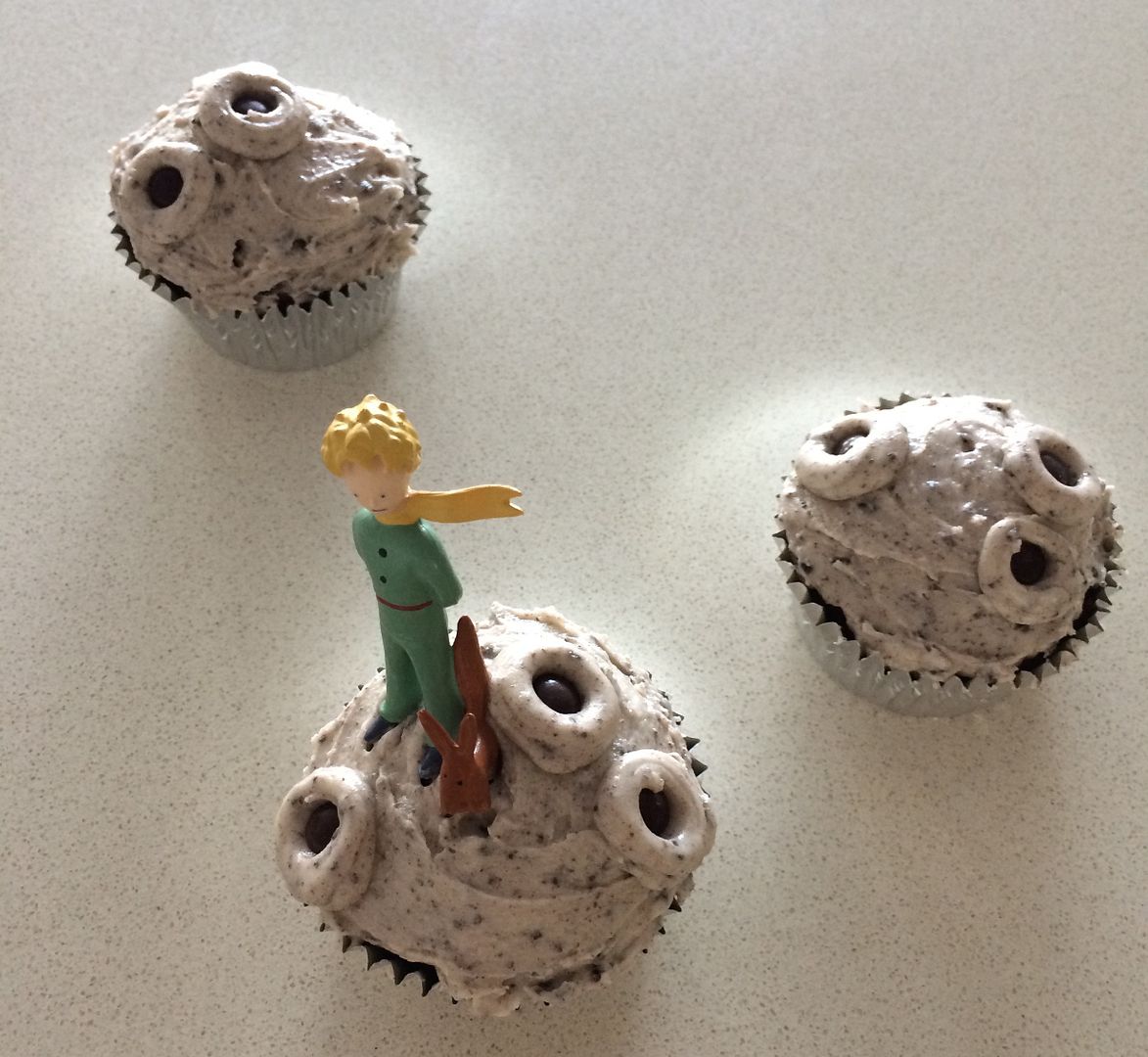 For those us who haven't majored in cake decorating, these Little Prince Cupcakes are totally doable cupcakes with store-bought figurines on top. Check out her instructions for creating her edible "asteroids" which fit the theme perfectly.
Related: The Ultimate Birthday Party Gift Guide: The coolest gifts for kids of every age
7. Madeline Birthday Party Ideas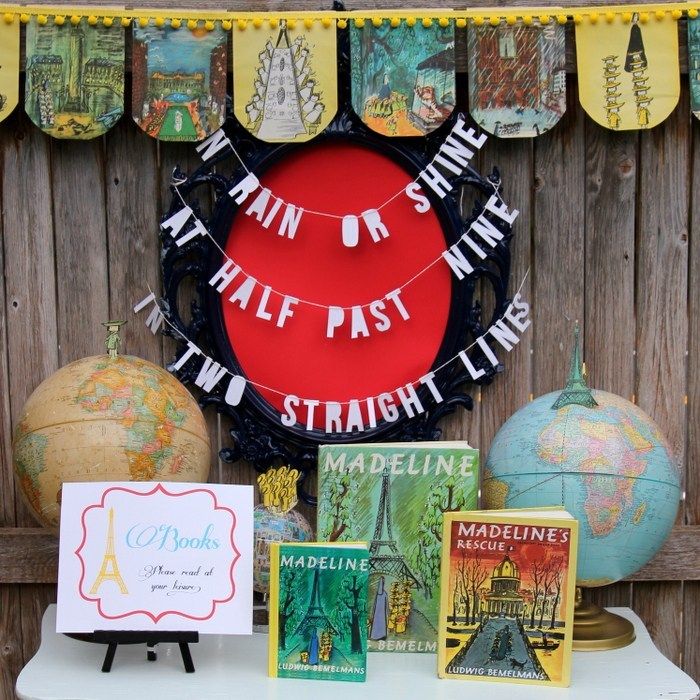 For kids who cannot get enough of Madeline and her fancy life in Paris, I love how this Madeline storybook party theme by Kojo Designs ties in The City of Light with the story of Madeline using storybooks, vintage Paris images and postcards, globes, and delicious French treats. Plus, I love her gardening activity which will keep the kids happily busy while also giving your plants a drink!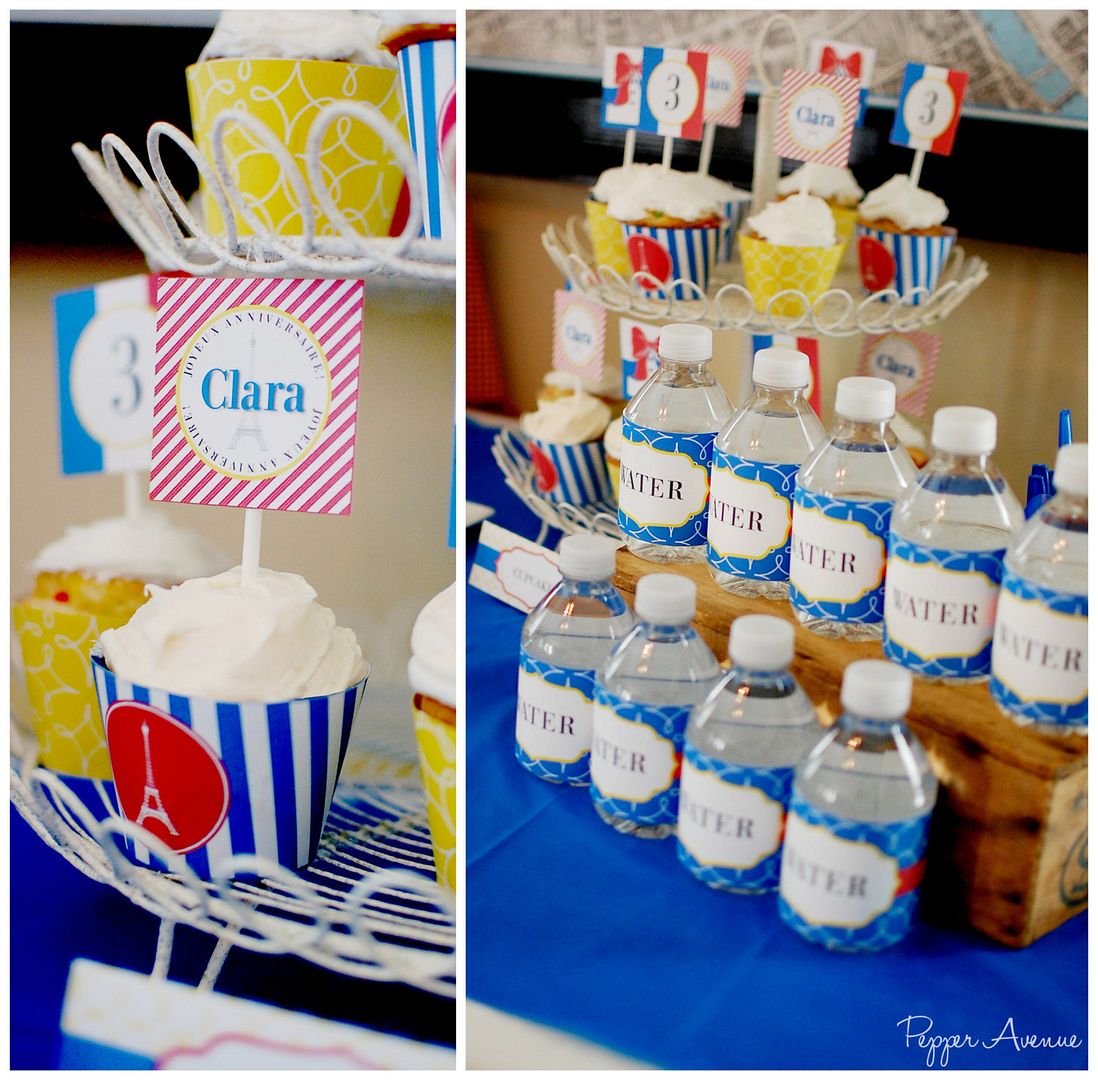 A Madeline birthday party can both très fantastique and très facile, when you download the customizable printable Madeline party from Pepper Avenue on Etsy. A blue tablecloth and a nice range of red, blue and yellow serving pieces tie it all together beautifully without needing to purchase lots of licensed character party goods. And if you're looking for something delicious to serve your guests, why not try to make your own macarons with these tips we rounded up for you on Cool Mom Eats? (Psst… we've also got a good source to get them delivered if you aren't quite so ambitious.)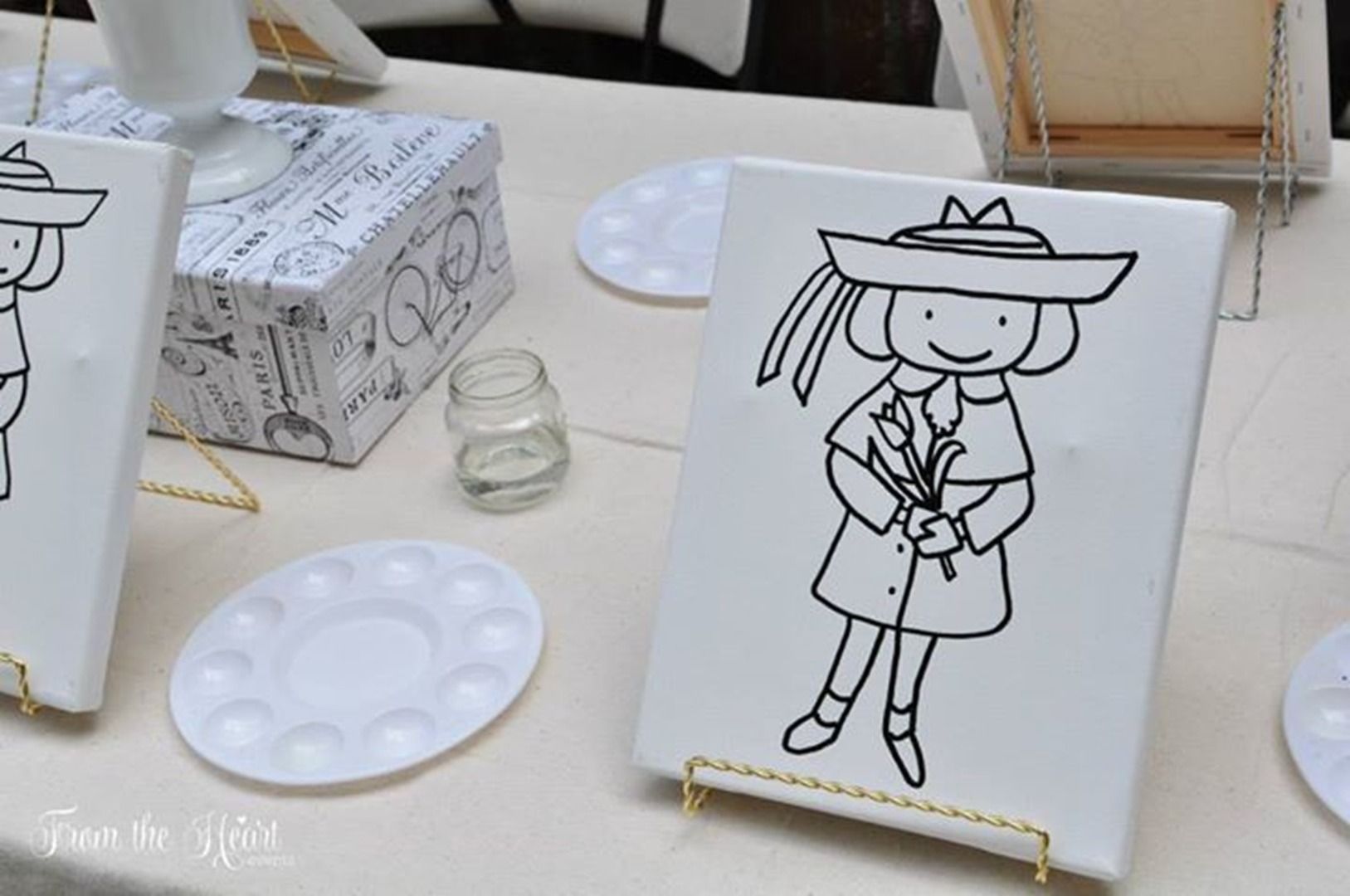 I think little artists will love painting their own picture of Madeline to take home after the party is over. This Madeline painting idea from From the Heart Events uses an image on stretched canvas, though a coloring page on heavy paper stock will work just as well.
Related: 10 birthday party craft ideas that double as party favors
8. Where the Wild Things Are Birthday Party Ideas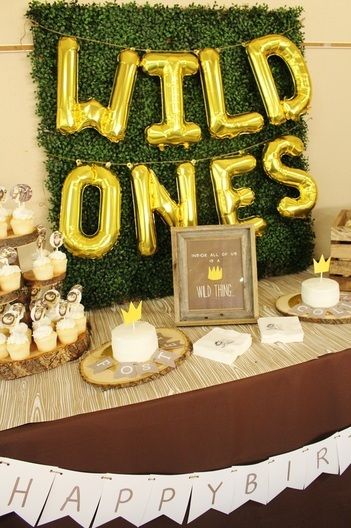 To honor one of our all-time favorite books, let the wild rumpus start with a Where the Wild Things Are birthday party filled with roaring monsters and thrill seekers. I love the beautiful head party table from Crowning Details with the big gold balloon letters and tastefully decorated treats. And be sure to check out her birthday cake crown idea — fit for a king, but easy for anyone to make.
And we know that kids will go wild for these super silly Cheese Monsters from Danya Banya. Put them out on a tray with some crackers and the kids will fill their bellies as they gobble up these non-sugary treats.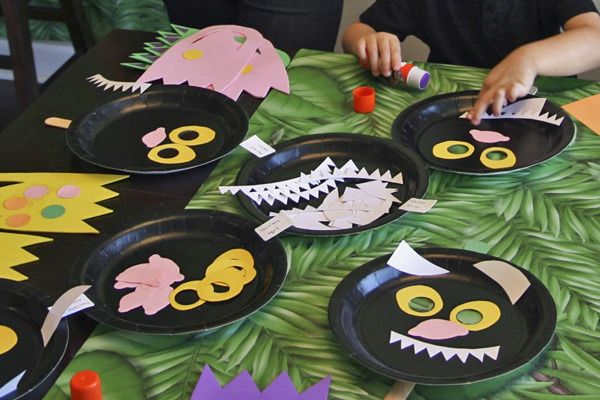 Also think about searching for jungle themed birthday party ideas, and there's tons of inspiration. In fact, your house can be turned into a jungle of sorts using this smart and easy Wild Things birthday party idea from Tea & Lime that turns grocery bags into tangled vines and green balloons into foliage. Plus kids will roar with approval when they get to make their own monster masks and feet.
Be sure to get a photo of them all together, doing their wildest impressions. We've even got recommendations for our favorite photo booth apps, because why have one crazy birthday photo when you can have four in a row? Especially when they're free.
9. Don't Let the Pigeon Drive the Bus Birthday Party Ideas
For a storybook birthday party theme that's a little more modern, be sure that silly pigeon never drives the bus with an awesome party based on Mo Willems' popular pigeon books. I am blown away by the Don't Let the Pigeon Drive the Bus party by Shauna Lynn (made for her 1-year-old son), which is so incredibly clever and yet, pretty doable for those of us who aren't big party planners. From the best pigeon balloons I have ever seen, to these adorable pigeon cake pops and a giant cardboard bus, she's got you covered with inspiration galore.
For a fun party craft activity for kids of all ages, look at the pigeon play-dough activity by Baby Loving Mama is a great way to keep little hands busy. Plus, if you buy small takeout boxes for each child, they can bring home their creation when they're ready to fly the coop.
10. Harold and the Purple Crayon Birthday Party Ideas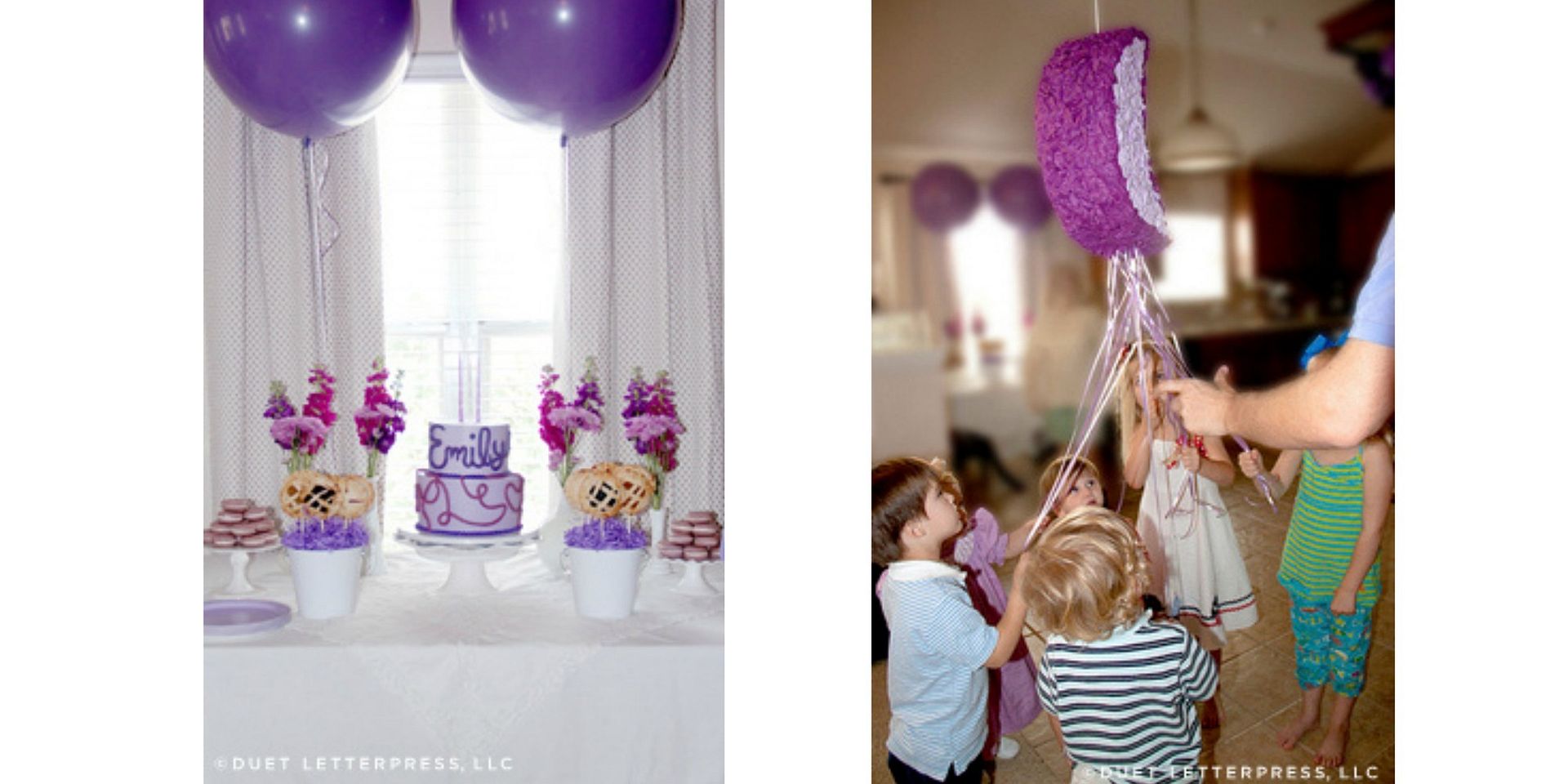 One of my own childhood favorites, Harold and the Purple Crayon, makes a cool storybook birthday party theme  for creative-minded kids — who also love purple. Get some decorating ideas at the Purple Crayon party featured on Duet Letterpress, like the awesome purple moon pull-string pinata. And, how can you resist her fantastic scribble-script cake?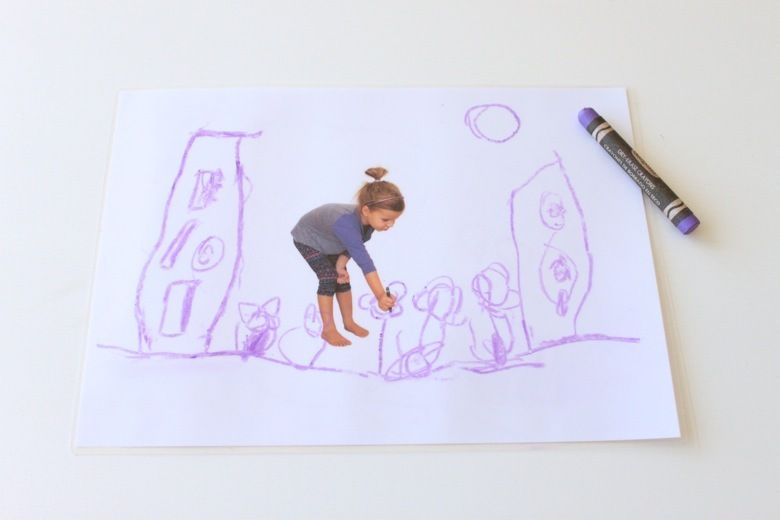 Hands-down, the best idea I have seen for a Harold storybook themed birthday party for kids is this Harold and the Purple Crayon Dry Erase Activity from Mama Papa Bubba. It basically blows all other party ideas right off the page. Click over to learn how to personalize this drawn-your-own-adventure activity. At the end of the party, finished pages could go home with the party guests, or ask them to leave them for the birthday child to be collected as a special birthday keepsake. Just, wow.