Our local bookstore has a kids' section that's a swath of red and green right now. But books like Clifford's Christmas or It's a SpongeBob Christmas are not my first choices.
(You guys, I totally just made up those titles in my head, searched…and they're real books. Gah!)
With all due respect to SpongeBob fans (hey, we would like to see the musical!), we've carefully read through stacks and curated this fantastic list of 2017's best Christmas books for kids. As in, the Christmas books parents don't mind reading. Or reading again and again and again.
Because you know it's going to happen.
These books are artfully designed, poignant without going too sappy-sentimental, or just fun and festive in the best possible way. In addition to The Snowy Day and other classics, I hope these are the books you'll want to keep in your family collection forever.
CMP is an rstyle affiliate
Related: The best new Christmas books of 2016 that we're still reading this year
The simple traditions of Christmas are celebrated in Pick a Pine Tree by Patricia Toht and illustrated by Jarvis. The story follows a family as they choose their tree, bring it home, decorate it, invite friends over, and more. My kids' favorite part was comparing our own traditions to those of the characters in the book.
Note: if you're looking for a fun way to add reading to your holiday traditions, try this with any of the books here:
Take 12 or 24 or 7 of your favorite Christmas books (they can be ones you already have) and wrap them in wrapping paper. Then, each night your kids can pick one to open and read as you countdown to Christmas.
I did this with my kids, and it was extra special on those (rare) slow nights when we could read it by the fire with hot chocolate. And, of course, there were a couple nights when I was reading two or three to catch up on those nights we missed some. Even so, it's become a fun new tradition we plan to continue.
I love the idea of a nighttime walk in the snow over the holidays, and that's exactly what happens in The Little Reindeer by Nicola Killen. Except the young girl in the story finds a missing reindeer, and the two set out on a fantastical journey. It's quirky, sweet, and calming — and it has gotten rave reviews from all our trusted sources.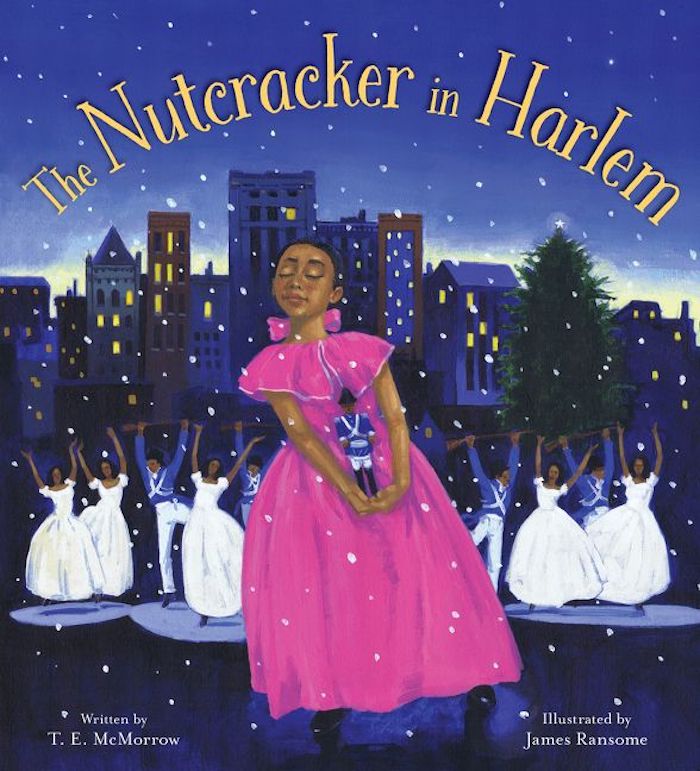 Set during the Harlem Renaissance, The Nutcracker in Harlem by T. E. McMorrow and illustrated by James Ransome is the story of the traditional ballet through a jazz-inspired lens. The art is dreamy and magical, just like Christmas should be. A must-have book for any child's bookshelf.
Related: More than 40 awesome holiday gifts for kids all under $15. And no, they don't feel like stocking stuffers!
For kids with an against-the-grain personality, Mice Skating by Annie Silvestro and illustrated by Teagan White will be a new favorite. Even though most mice burrow to stay warm in the winter, Lucy loves the cold — and ice skating. And she wants to convince her friends and family to be open-minded and join in the fun too. The book has tons of cheesy puns (get it?), like "her teeth were cheddar-ing" that will make your kids giggle and you roll your eyes in the best way.
Suzy Lee's new wordless book Lines isn't specifically about Christmas, but it captures the essence of winter's magic beautifully. It's a simple story about a young skater on a frozen pond and it's just gorgeous. It's not what my winters actually look like, but it's what I wish they could be.
If you've ever listened to the 12 Days of Christmas song and wondered where in the world she kept all those gifts, then The 12 Days of Christmas by Greg Pizzoli will have you laughing. The lords-a-leaping and swans-a-swimming, along with all the other presents, are piling up at Elephant's house and he's not sure what to do with them all. It's a nice break from traditional and sentimental, with just the right amount of humor.
We were hooked on Gergely Dudás's seek-and-find art when we saw it trending on social media, so we think his new Bear's Merry Book of Hidden Things is a great gift for those looking for an option to Waldo. But fair warning: these can be a lot harder than they look. Great for your older elementary aged kids.
Related: 6 gorgeously artful look-and-find books to put under the tree this year
I've always been fascinated by the different holiday traditions around the world. And, I love cookies. So, A World of Cookies for Santa by M. E. Furman and illustrated by Susan Gal is on our reading — and cooking — lists this year. The book shows children around the world setting out cookies for Santa, with recipes for them included. Yum.
For a really classic, traditional take on Christmas, you can't beat the beautifully illustrated The 12 Days of Christmas by Emma Randall. It's simply the lyrics to the song, but the art is beautiful. Plus, your kids kind of can't help but sing along as you read. Fun!
Fans of Goodnight, Goodnight, Construction Site will want to get their hands on The 12 Sleighs of Christmas by Sherri Duskey Rinker and illustrated by Jake Parker. This silly, fantastical book shows a huge range of ideas of what Santa's sleigh could be like — from motorcycles to zeppelins. If your kid loves cars, check this one out.
Our family's favorite geeky tradition is settling in to watch the Doctor Who Christmas special each year, so I'm a little too excited to read Dr. Tenth Christmas Surprise! by Roger Hargreaves to my youngest kids. Because what says Christmas more than evil snowman aliens?