I was really excited to spend a little time looking for easy, creative holiday gift wrapping ideas, especially as someone who blames her lackluster holiday gift wrapping on the kids (shhh). I've always wanted the gifts to look festive and pretty; I think I've just lacked the inspiration.
No longer!
Some of these creative holiday gift wrapping ideas are super easy, and some are a little more challenging, and some only require the free printables from the generous artists who are providing them. So whatever your level of interest and free time, you'll find a cool idea here to try out.
And hey — if elves can make everything look awesome, so can we. Right?
Related: 20+ cool DIY gifts you can make for an easy homemade holiday
I've found tons of holiday inspiration from Lovely Indeed this year — have you seen her adorable Elf Movie cookies in our funny gifts for hostesses roundup? — and look! Here's more. I am 100% we can all pull off this simple-yet-awesome lunch sack bag holiday gift wrapping by following her tutorial.
I just adore how Honestly Modern repurposed materials like aluminum foil, paper bags, and packing paper into smart and unexpectedly gorgeous holiday gift wrapping. Be sure to print her the clever (and free!) gift tags that she offers with each idea.
Related: 14 more creative gift wrapping ideas for the holidays that aren't hard at all.
And… even more gift wrap ideas to make gifts special. We have tons!

Okay, now here's a holiday gift wrapping idea that I really can pin on my kids: Splash of Something offers up a tutorial for this clever DIY fingerprint Christmas lights wrapping paper that makes it fun for kids to help out with the wrapping. If your recipient is a Stranger Things fan  you're going to score some major points here!
Ooh, my kids will freak out if they see these winter animal holiday gift wrapping from Hello Wonderful under the tree. I love that you can use whatever kind of cardstock you want (like the retro paper on the owl's belly) to really personalize the critters and make them even more fun than they already are..
Buggy and Buddy has a great tutorial on how to create your own DIY fabric gift wrap. The eco-friendly factor is a big appeal, but I also love that you're really giving two presents in one. (PS Did you find those cool naughty and nice tea towels we shared that are perfect for last-minute hostess gifts? Win!)
Another way to creatively wrap a gift in a another gift is using a festive BAGGU reusable bag, and you'll find a simple YouTube tutorial to help with boxes, and another YouTube tutorial for wrapping irregularly shaped items .Great quality and design, perfect for farmer's market runs or library drop-offs — oh, and whatever goodies you pack inside, too!
Related: 15 festive, fun, and free printable gift tags for the holidays. Get wrapping!
If your kids are expecting some gifts straight from the North Pole this year, you can follow the step-by-step instructions for making parcel gifts from the North Pole on the amazing LMNOP blogs. These would be so special to discover under the tree on Christmas morning.

The more I look at this impressive, very  creative holiday gift wrapping idea from Lines Across, the more I realize how easy it is compared to the wow it offers. And what kid wouldn't be totally thrilled to get a gift that they can play with before the box is even open?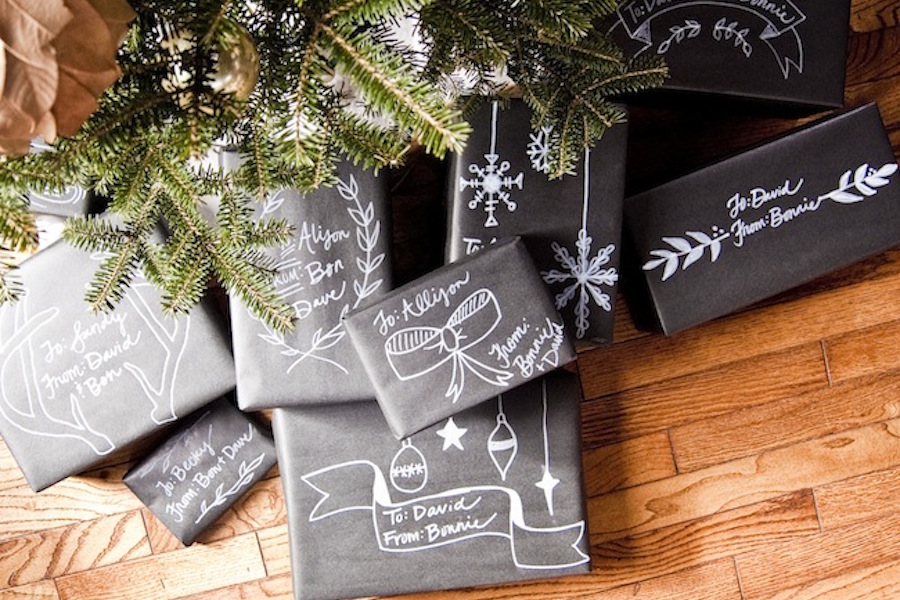 This DIY chalkboard Christmas gift wrapping idea I found at Going Home to Roost is so modern looking, and will look so clean and gorgeous underneath a tree of colorful ornaments. Bonus: It's one of the easiest wrapping ideas on this list — you only need two things to make it happen!
(Well, three if you count doodling talent.)
Part craft project, part gift wrap, the lovely free printable coloring page holiday gift wrapping (it's free!) from We Are Scout can is ready for your coloring skills. Though if you run out of time, the illustrated designs are pretty gorgeous all on their own in black-and-white, too. Just add a colorful ribbon and you're done! Or, tape on a small box of crayons and let the wrapping paper itself be a fun add-on gift.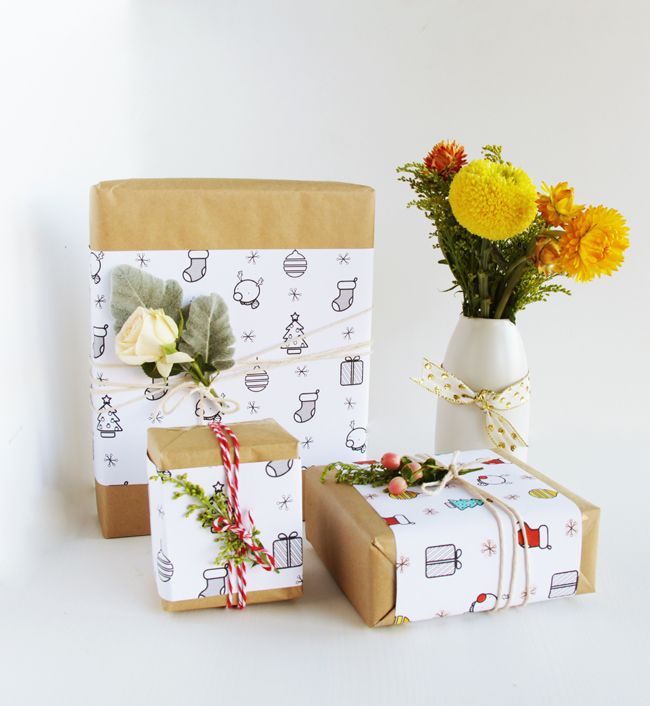 For another seriously adorable option, check out the free printable color-in Christmas wrapping paper from Design is Yay. You don't even have to cover the whole box, as she shows. Think: bove brown paper packages tied up with string.
If you have some homemade treats, jewelry found at a craft fair, or a little collection of small gift to wrap together– check out Caravan Shoppe's free printable bitty boxes for holiday gifts. The template makes them easy to print and fold, and you can color them in if you want (hand the kids the water colors!) so even  the smallest gifts will stand out under the tree.
Related: 70 great ideas for holiday gifts for adults and kids, all under $15!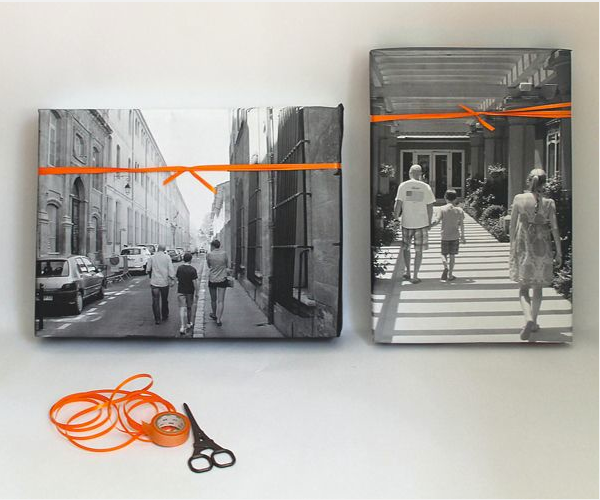 If you like a more modern look, you'll love the wonderful idea at Most Lovely Things for using your photography as gift wrap. Order an "engineering print" of your favorite black-and-white photos at your local copy store (unless you're using this to print smaller sheets you can do at home) then add some contrasting ribbon. She has great tips on her site.
If you're a little more traditional — and handy with the scissors and glue stick —  Simple as That offers up some truly nice creative DIY holiday gift wrapping ideas thanks to supplies like doilies, clip art, old holiday card covers, or craft paper ready to cut into buntings. With a simple kraft paper backdrop it won't look fussy.
Don't be afraid of tons of color under your tree. Sticking to just red and green all the time isn't for everybody. So if you're ready to kick up the festivities a notch, check out this lovely knotted yarn holiday gift wrapping idea seen on Abrams books, excerpted from Joelle Hoverson's Last Minute Knitted Gifts (available at our affiliate Amazon). It's so bright and cheerful, and I like that the kids could help me wrap gifts this way.
Just be warned…this isn't one for late-night Christmas Eve procrastinators.