I never thought I'd see the day that fanny packs were showing on the Fashion Week runways and touted by designers as a hot new accessory, and yet here we are. Only, don't call them fanny packs. They're belt bags, sweetie sweetie dahling.
If I'm going to be honest, I'm not entirely complaining. After all, why do men get to have all the hands-free fun while we're stuck schlepping around handbags?
I was browsing around the Nordstrom site this morning, and turns out they've got a pretty great selection of designer fanny packs (I mean, um, belt bags) in every price range, if you want to see what's what. Here are a few favorites. Some of which I can even afford!
CMP is an rstyle affiliate
Should you be down for a belt bag that is a step up from what you would find in some airport gift shop, with a price that's completely accessible, Herschel Supply Co to the rescue! In three colors (though I love the grey crosshatch) the Herschel Fifteen Bag Belt is lightweight, it's practical, it's stylish but  not over-the-top, and the price is fantastic. ($30)
Related: The 90s are calling. They want you to wear these handbags.
Rebecca Minkoff's Nylon Belt Bag in camo print  or black stays close to the classic fanny pack. Very close. Only it's from Rebecca Minkoff, so wear it proudly. The sporty styling is pretty great, only with trademark accents like black leather tassels  hanging from the hardware, meaning it's not really meant for the gym. ($95)
This Lions Head Purse Belt by TopShop (also at top) tops off a a metallic quilted bag with a funky lions head emblem, all without the Channel price tag. Not sure it can hold a day's worth of stuff, but for a night out with a phone, a lipstick, and a few credit cards, it's perfect. ($52)
I have to give it to California designer Clare V for totally owning the fanny pack moniker, with the Clare V Croc Embossed Leather Fanny Pack. I would totally wear this gorgeous, modern bag without apology, and I really like the structure and shape of that deeper pouch, which I imagine is far more practical than the traditional wide, slouchy fanny packs. ($289)
Related: Can you tell which of these crazy beauty trends are real and which are fake?
I also love Rebecca Minkoff's Calfskin Studded Leather Belt Bag which features that on-trend western look and boxy structure. In fact, if you wore a blazer or cardigan over this, it might even look like it had a shoulder strap hiding somewhere underneath. Plus, it's on sale! ($70.80 for a limited time; regularly $118)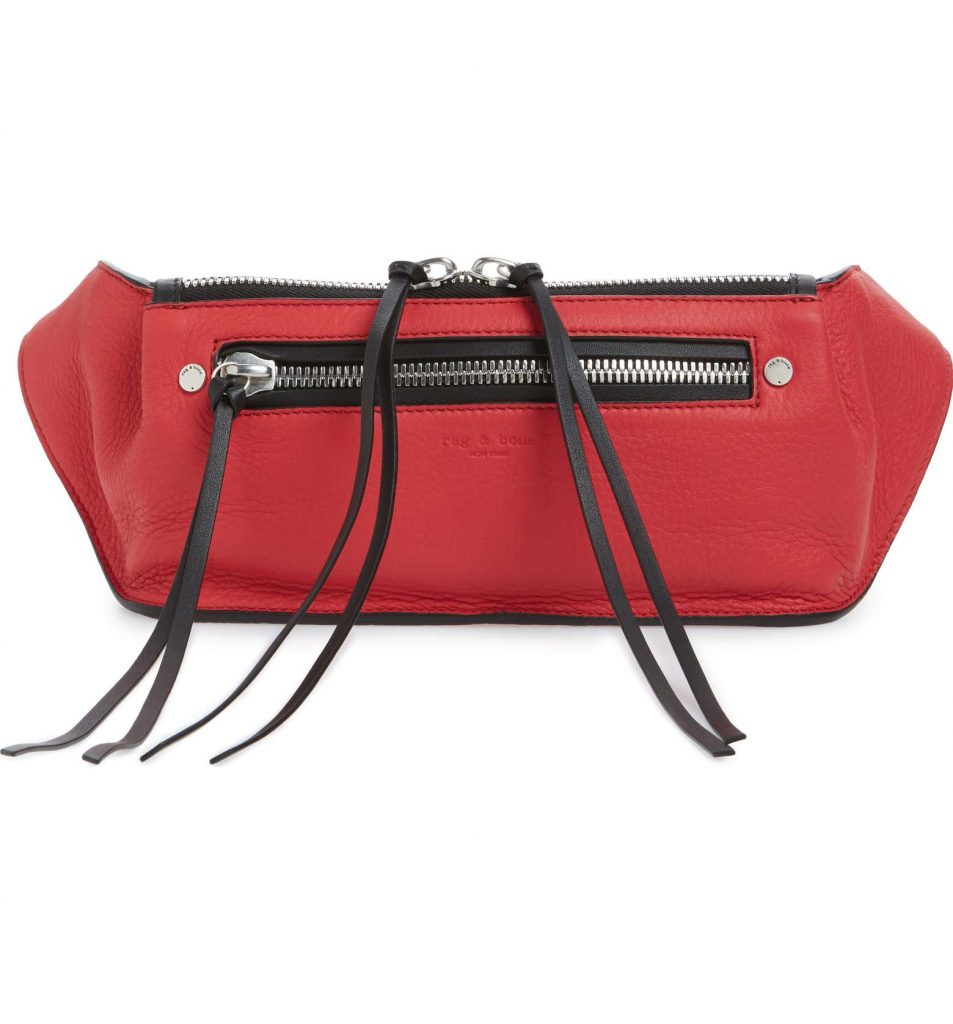 If you're so confident about the belt bag trend that you're willing to splurge, Rag & Bone's Large Ellis Leather Belt Bag is just amazing. Love the nod to the 80s with bright red leather, silver hardware, and black accents. But those leather fringes definitely make this belt bag all about 2018. And uh, the price does too. ($395)
You thought Rag & Bone's belt bag was a splurge? Ha! Wait until you see this stunner from Miu Miu. The Rider Matelassé Leather Belt Bag is making me yearn for the pre-child days that I could afford a few Miu Miu accessories here and there. For now, I'll just have to hope one of you can buy one so I can gaze at it longingly from afar — and pretend I'm not actually coveting a designer fanny pack, 18 years into the 21st century. ($1490)