We're lightening up the mood this week on the Spawned podcast, as we take a look at this year's hottest spring/summer fashion trends and…well, we laugh. And gasp. And covet — just a bit.
Take a listen this very fun episode of Spawned, and get our takes on some of the hot fashion trends from the big department store lookbooks.
Oh, and note to stores: Can you please stop cutting off women's heads on your websites? Ktxbye.
Take a listen right here right now, or listen to Spawned in iTunes or your favorite podcast app. This one is well worth your 34 minutes!
Some of the Trends Discussed in this Episode
Spring Fashion Trend: Belt Bags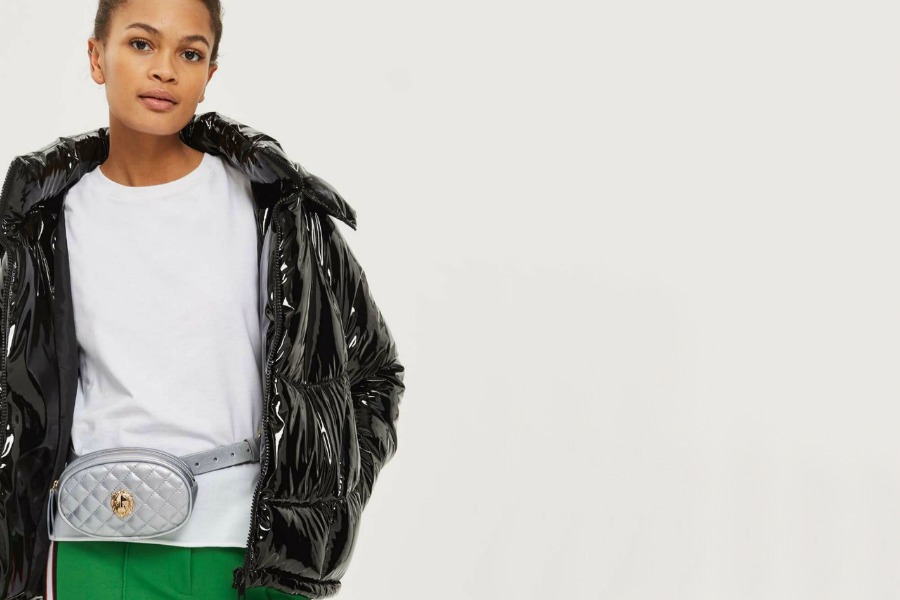 CMP is an rstyle affiliate
Fanny packs have been reincarnated as Designer Belt Bags  — or as Kristen calls them, "a fanny pack in wolf's clothing." And wow, do you all have some strong opinions on this!
Spring Fashion Trend: Bold Floral and Tropical Prints
We're split on this Tanya Taylor Maxi Dress – but it's out of our budgets anyway so, have at it, friends with hedge funds!
Thumbs up to the Tori Burch Floral Espadrille Mules which let you wear this spring fashion trend fairly affordably by changing up a few accessories.
Great print on this Milly Banana Leaf Swimsuit, even if we can't wear what we refer to as a Plunging "I Never Had Children" Neckline ourselves.
What happens when too many trends come together at once? This floral print cold shoulder silk top. But if it's calling your name, please keep your arms away from food — and open flames. Liz has a story about that one.
Spring Fashion Trend: Fringe, Feathers and Sequins
We're split on this spring fashion trend — partly because ZOMG the dry cleaning bills; and partly because the styles are…well, let's just say some of the items at the fringe shop at Saks gave us a good laugh.
These Marques'Almeida cropped and frayed denim jeans? Just…no. It looks like a curtain gone awry.
The Rachel Zoe Metallic Fringe Tank Top is full on Austin Powers. You decide whether that's a good thing.
Flip sequins: Good for kids, maybe not for adults. Although Liz is digging this Alice + Olivia rainbow sequin tee.
Pssst…You can see Liz in her Rose Gold sequin crop jacket by Erin Robertson in JCPenney's Project Runway collection here. Fun right? And affordable! It's now on clearance for $33 with discount code!
And should you not have a clear enough picture in your head of the ostrich-feather fringe-sleeved Pello Bello Normandy top that we described…here you go!
——————–
About our sponsor
Banish Kit is a best-selling, all-natural skincare kit to help take care of fine lines, dark marks, stretch marks, and acne scars. It was created by YouTube sensation Daisy, after having battled her own skincare problems her entire life. When the usual prescription medications weren't working for her, she researched and developed a more natural solution that healed her skin.
Banish products are all made-to-order same day you order, they're all vegan, and they're all cruelty-free. Plus a portion of all sales benefits charities like the Breast Cancer Research Association, Animal Friends Rescue Project, and School On Wheels, which tutors homeless children.
Visit banishacnescars.com through this link with code "spawned" for $10 off your first order,
and a 30-day money back guarantee.
——————–
Spring Fashion Trend: Metallics as Neutrals
Bergdorf describes metallics as the new neutrals and we're alllllll in on this fashion trend! Please, metallics, never go away!
Kristen's Metallic Rose Gold Slip-On Vans — fabulous! Meanwhile, Liz is coveting these silver glitter Puma low-top sneakers. But there are so many cool metallic shoes right now, you can really take your pick.
And here's the link if you want to catch Liz's holiday gifts Today Show segment with Julee Wilson, the incredible Fashion and Beauty Director of Essence Magazine, who got her super excited about these metallic glitter booties she found at Forever 21 for under $20.
Or you know, you can go high end, and grab the spendy designer Loeffler Randall knit metallic glitter booties for under (whispers) $400.
Spring Fashion Trend: Plaid, Checks, Flannel and Gingham
This is a hit or miss trend. You don't want to look like you just rummaged through someone's 90s stash, but on the other hand, designers have done a great job freshening it up. For about the third time since the Nirvana days.
Liz's hips and wallets can equally not afford this Fendi Check Pencil Midi Skirt so if you're going to 2018-up your spring wardrobe, check out this Delfi Collective Plaid Skirt which looks wearable and fun.
Kristen is a no on plaid blazers, a yes on plaid tights — for her 13 year old — but for herself, she's into plaid dresses the Plaid Tretorns with a black and white gingham print.
But this plaid cold shoulder top? Run away! Run away!
Spring Fashion Trend: Giant Logos
In a word: Nope. But shout-out to the wildly expensive Gucci GUCCY Sega-font handbag because, it's kind of fell-off-the-truck-in-Chinatown self-referentially hilarious.
Spring Fashion Trend: Kitten Heels and Pointy Toes
We're both a yes on this one, provided there's no pain involved. And you want to blend it with the metallics as neutral trend? Check out these Vince Camuto Kitten Heel Slingback Pumps.
Spring Fashion Trend: Straw Bags and Accessories
Yes to this! Because tip: straw accessories really never ever go out of fashion. A bag like this Straw Montauk Tote from mar Y sol will get so much use this spring and summer!
OUR COOL PICKS OF THE WEEK
Kristen: Apple AirPods. Read this post and see why she's a convert.
Liz: The City of Women NYC subway map. Visit The New Yorker, and you can magnify sections to look at it more closely. Or find it in the 2016 book Nonstop Metropolis: A New York City Atlas by Rebecca Solnit and Joshua Jelly-Schapiro
Cartography by Molly Roy, from "Nonstop Metropolis," by Rebecca Solnit and Joshua Jelly-Schapiro. Subway Route Symbols ® Metropolitan Transportation Authority
Catch the whole episode of Spawned with Kristen and Liz right here:
Thanks for listening!